Well, it had to happen: I'm running out of fresh images to populate Forgotten New York with, as I've been mostly restricted to eastern Queens with the Covid Crisis. Fear not, however, I have tens of thousands of images collected from my camera, as well as a wealth of archival material from my associates the Greater Astoria Historical Society, that includes quite a bit of stuff I've never used yet — so Let Me Take You Back to May 2014, when I roved through Richmond Hill and some of Woodhaven, scouting a (very successful) Forgotten New York tour that was held in June of that year. To my surprise, a good deal of this material hasn't been used, at least a whole lot of the images haven't. Forgive me if some of this stuff has already appeared, though!
New York City, at one time or another, has had three settlements named Richmond Hill: the one in Manhattan, in what is now the west Village, and the one in Staten Island, in what is now Richmondtown, have pretty much been absorbed into new neighborhoods. Queens' Richmond Hill has been more enduring. In 1869, developers Albon Platt Man and Edward Richmond laid out a new community just west of Jamaica with a post office and railroad station, and Richmond named the area for himself (or, perhaps, a London suburb, Richmond-On-Thames, a favorite royal stomping ground). It became a self-contained community of Queen Anne architecture west of Van Wyck Boulevard (now Expressway) that remains fairly intact to the present day. Journalist/activist Jacob Riis as well as the Marx Brothers were Richmond Hill residents in the early 20th Century.
Church of the Resurrection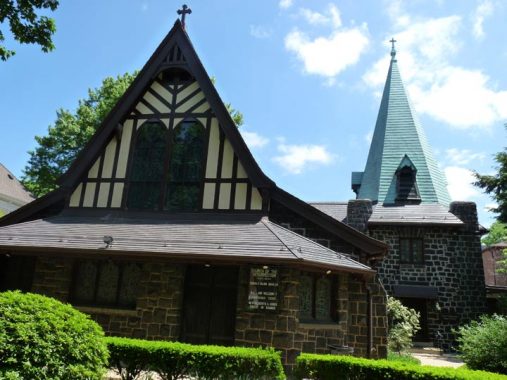 Albon Man also donated land for the Church of the Resurrection, facing 118th street just south of 85th Avenue, Richmond Hill's first church. A small wooden Gothic Revival building was built by architect Henry Dudley in 1874; this structure is preserved within the present French Gothic stone building, which was finished in 1904, though further extensions continued until 1926. Social reformer Jacob Riis was a parishioner, and New York State Governor Theodore Roosevelt attended Riis' daughter Clara's wedding to Dr. William Fiske on June 1, 1900. The Seal of the President of the USA can be found under the two arched stained glass windows above the entrance on 118th.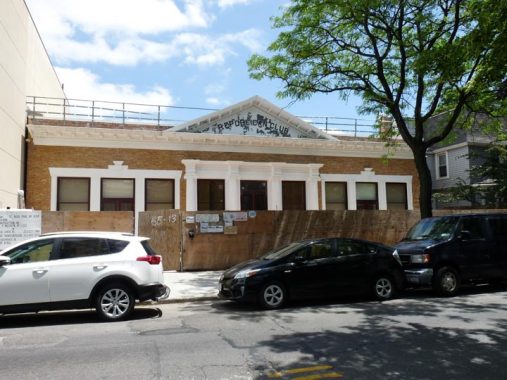 The Richmond Hill Republican Club is now fully restored as the Oligarch Restaurant (appropriate name eh?) and has lost its exterior plywood fencing. The landmarked building, on Lefferts Blvd. between Hillside and Jamaica Avenues, pretty much looks the same on the exterior as it was when it was built in a Colonial Revival style by architect Henry Haugaard in 1908.

The building has an illustrious history, though. The interior originally boasted oak pews, doors and paneling, a bowling alley-come-archery range, and signed photographs of Calvin Coolidge, Warren Harding and Theodore Roosevelt could still be found inside when it was inspected for landmarking, according to the Richmond Hill Historical Society. During World War I it became a canteen and a place for rest and relaxation for US armed forces. The club remained an important gathering place for the Republican Party throughout the 20th Century well into the 1980s. Presidents Teddy Roosevelt, Richard Nixon and Gerald Ford have all given speeches here, and Ronald Reagan appeared here during primary season in 1976 and during election season in 1980. Even Harry S Truman, a Democrat, nonetheless has spoken at the Richmond Hill Republican Club.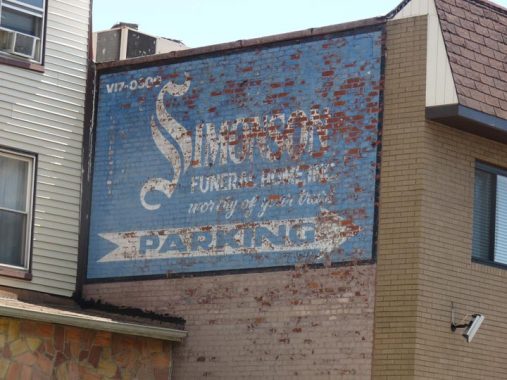 Simonson (ad on 86-25 Lefferts) has become part of Fox Funeral Home and now operates at Metropolitan and Ascan Avenues in Forest Hills. The VI in the telephone exchange stood for VIrginia.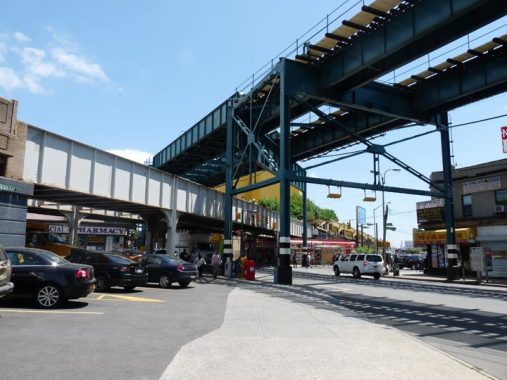 At the crossroads of Jamaica Avenue and Lefferts Boulevard there's also a railroad crossing of sorts, as the overhead Jamaica Avenue el (J train) rises high above the Long Island Rail Road Montauk Branch. Today a mildly busy freight line, it ran passenger trains until 1998, but the LIRR neglected the stations which were by then weedy clearings along the tracks on which diesel-pulled MP72 cars plied. When the LIRR announced the branch's closure in 1998 I was sure to grab one of the final rides! It cost more than $4 one way from Jamaica to LIC, even then, a good 22 years ago as of 2020.
I've been thinking that the LIRR line could be reactivated as a commuter or subway branch and this could become a fairly prominent transit hub, but there doesn't seem to be the money and certainly not the desire on behalf of locals for that to happen.
A sampler of the very old buildings along the south side of Jamaica Avenue between Lefferts and 118th Street. The date of construction of the Happy Days lounge building, 1899, is inscribed on the pediment.
The Classic Diner on the south side of Jamiaca Avenue was the site of the Richmoind Hill Palace, billed as "Richmond Hill's new quarter of a million dollar pleasure palace" when it opened in 1925. James Kendis's Blowing Bubbles Orchestra provided the music; Kendis wrote the pop song "I'm Forever Blowing Bubbles." Helen Keller was a prominent guest the first year.
Triangle Hofbrau
Almost as long as there's been a Richmond Hill, the Triangle Hotel building has marked the triangle where Myrtle Avenue meets Jamaica Avenue. It was built by Charles Paulson in 1868 and was originally rented out as a grocery and post office. By 1893 the building, now owned by John Kerz and operating as a hotel, included an eatery named the Wheelman's Restaurant in honor of the new bicycling craze. The hotel began lodging weary travelers going east on the turnpike from New York City or coming west from points on Long Island and has been known under various names through the years: the Mullins Hotel, Doyle's Triangle Hotel, Waldeier's Triangle Hotel, Triangle Hofbrau, and Four Brothers. Its mahogany bar was imported from Honduras, and a brass bell rang every time a round of drinks was purchased.
According to the Richmond Hill Historical Society, Babe Ruth (who was a golf enthusiast in nearby St. Albans) and Mae West were patrons of the Triangle Hofbrau in the 1920s; Miss West was routinely ejected for smoking (shocking!) and causing a "general commotion." Vaudeville pianist/composer Ernest Ball (1878-1927) wrote the now-standard "When Irish Eyes Are Smiling" in one of the hotel's guest rooms in 1912. A restaurant operated continuously in the Triangle building from 1893 to 1999. Remnants of this can be found especially on the Jamaica Avenue side where you see carvings of gnomes, beer barrels and grapes.
By 2020, the place is run as a Spanish-speaking church, Sala Evangelica (Evangelical Room). Renovations have left more of the actual building visible on the Myrtle Avenue side.
In what used to be a hardware store at the SW corner of Jamaica Avenue and 117th Street are two remaining bits of signage for Dutch Boy Paints, which were available within. Founded in 1907 by the National Lead Company, Dutch Boy is currently a subsidiary of, and is owned and operated by the Diversified Brands Division of the Sherwin-Williams Company, who acquired it in 1980. The Dutch Boy symbol was painted by Lawrence Carmichael Earle and modeled after an Irish-American boy who lived near the artist.
This magnificent (at least on the exterior) apartment building at the NW corner of Jamaica and 117th is labeled The Richmond on its Jamaica-side pediment, where the date of construction, 1918, is also emblazoned.
There's just a bit of bad news in Richmond Hill, where two panels of the historic Bangert's Florists sign at 8606 117th Street have been removed — so I noticed during a Richmond Hill ForgottenTour back in May. Just one of the blue panels is still there; the magnificent FTD logo with the rendering of the messenger god Mercury with his winged hat and feet has been removed.
Bangert's started out as Fluhr's in 1894 and was sold to the Bangert family in 1927, and from the looks of things, the original signage has been retained all these decades. Perhaps the framework was falling apart and had to be disassembled for safety's sake.
Hillside Avenue begins a magnificent run at Myrtle Avenue and 117th Street, roaring through Richmond Hill, Jamaica, Jamaica Hills, Bellerose and Floral Park as NYS Route 25B, not stopping until it joins Jericho Turnipke (Route 25) in Westbury Gardens in Nassau County. It forms the dividing line of several neighborhoods and runs south of the terminal moraine, or mid-borough hilly area, hence its name.
Richmond Hill preserves its very own classic movie palace of yore… and this one has a marquee that has at least retained the look it had in its halcyon days, with red neon-lit nameplates and a gold border. The theatre opened as the Keith's Richmond Hill about 1928 at 117-09 Hillside Avenue just east of Myrtle Avenue. The old marquee, which had been hidden under aluminum siding for some years, was restored in 2001 during production for a feature film, "The Guru." Until the 1960s, it also hosted stage shows; England's Dave Clark Five appeared there at the height of their popularity in 1965. Unfortunately the years have not been kind to its ornately constructed interior, though it's structurally sound. The theatre, which sat over 2200 customers, closed in the 1970s. Next door was Jahn's, a 1923-vintage ice cream shop, once of a chain started by John Jahn… yes, John Jahn… in the Bronx in 1897.
Current management, which runs the place as a flea market and bingo hall, unfortunately isn't keen on people shuffling into the lobby and taking photographs. The theater's terra cotta frontage and old marquee have been retained, which doesn't occur very often with former theaters.
One of my favorite infrastructural elements in Richmond Hill is the trestle that takes an elevated portion of the LIRR Montauk branch above Hillside Avenue. The portion over the sidewalks appear to have been fashioned as tunnels.
The view of the concrete Richmond Hill trestle from Hillside Avenue lets us see one of the Long Island Rail Road's more intriguing relics: the Keystone.
The LIRR was run under the auspices of the Pennsylvania Railroad from 1900 to 1949, and in those years, the LIRR signage adopted the "Pennsy" keystone symbol, since Pennsylvania is called the Keystone State. Until 1955, the LIRR's chuffing steam engines all carried a keystone plate on their noses, when the last steam engine was retired from active service. One of their complement, Steam Engine #39, is exhibited, Pennsy plate included, at the Railroad Museum of Long Island in Riverhead. The nearby Richmond Hill elevated station enjoyed passenger service until 1998.
Surprisingly, few Pennsylvania Railroad relics, aside from the name of the main terminal in New York City, remain from the LIRR's Pennsy days; this is one of the few.
Suspended over the sidewalks are forgotten lighting fixtures, a pair of 3438-1 units, still with nonfunctioning bulbs. This unit appeared frequently in outlying parts of the city beginning in the 1940s and was the predecessor of the somewhat lookalike Westinghouse AK-10 "cuplight" units. The "cuplights" were a little smaller and had glass diffuser covers.
North of here, the elevated trestle proceeds along Babbage and Bessemer Streets, and I discuss those oddly named routes, as well as the railroad, on this FNY page.
An inspection of the latest Street View suggests that the 3438-1 units may have been removed; new LED fixtures have been installed, in any case.
Directly across from the Republican Club at Hillside Avenue and Lefferts Boulevard is another noted and beautiful building in a neighborhood full of them: the Richmond Hill public library. It was built in 1905 by the architectural firm Tuthill and Higgins with a grant from philanthropist Andrew Carnegie on land donated by Albon Man, the founder of Richmond Hill. Inside is a large interior mural painted in 1936 by artist Philip Evergood showing Richmond Hill as a suburban alternative to the hustle and bustle of the big city.
As at a number of other local landmarks, the Richmond Hill Historical Society has installed handsome brown and yellow historic plaques that are reminiscent of New York State Historical Markers first installed in the 1930s.
Houses of Richmond Hill
Though Ditmas Park and Prospect Park South in Brooklyn and St. Paul's Avenue in Stapleton, Staten Island, give it a run for its money, Richmond Hill can claim NYC's greatest concentration of Queen Anne-style "painted lady" houses in eclectic configurations painted in every color pallette tastefully imaginable. Strolling the streets of Richmond Hill is a feast for the eyes as long as you forget you have to win the lottery in order to dream about owning any of them.
The Victorian era, roughly 1865-1900 and named for the long-reigning British queen, was a period characterized by a booming economy in many of its years, and architecture responded with an everything-but-the-kitchen-sink attitude. No color or design was written off, and no expense was spared in construction. Yet, nothing was tacky or tasteless and despite every house on the block being completely different from the other, Victorian neighborhoods retained a unity of spirit that can't be matched in these days of prefabricated junk. White is the color of choice for many Richmond Hill homes, although color was not a restricting factor and some houses are done in brilliant pinks, yellows, purples and greens.
Although there was no such thing as zoning in the late 1800s, Richmond Hill founder Albon Man had several means at his disposal to make sure the community developed according to his specifications. He obtained restrictive covenants to dictate, for example, the absence of front yard fences and uniform setbacks, that would give Richmond Hill a forestlike atmosphere with lots of green lawns, which persists to this day.
Most of the houses of Richmond Hill were constructed in what is called the American Queen Anne Shingle style though there are some examples of an earlier style called the "Stick Style" from its thin posts and rails.
Jacob Riis triangle, at 85th Avenue, 116th and Babbage Streets, is named for crusading journalist and photographer Riis (1849-1914) who made his home in Richmond Hill, Queens, beginning in 1886. In 1887, Riis photographed the squalid, inhumane conditions prevalent in New York City's tenements, and his 1890 book "How The Other Half Lives" has become an influential text to the present day. His cause was taken up by Police Commissioner Theodore Roosevelt, who encouraged legislation that would help ease the burden of NYC's poorest.
In his autobiography Riis wrote of finding Richmond Hill: "It was in the winter when all our children had the scarlet fever that one Sunday, when I was taking a long walk out on Long Island where I could do no one any harm, I came upon Richmond Hill, and thought it was the most beautiful spot I had ever seen, I went home and told my wife that I had found the place where we were going to live.…I picked out the lots I wanted. So before the next winter's snow, we were snug in the house, with a ridge of wooded hills, between New York and us. The very lights of the city were shut out. So was the slum and I could sleep." Riis's house was placed on the National Register for Historic Places, but such a designation does not protect a property. The home was torn down in the mid-1970's and replaced with a row of attached brick houses.
Richmond Hill Churches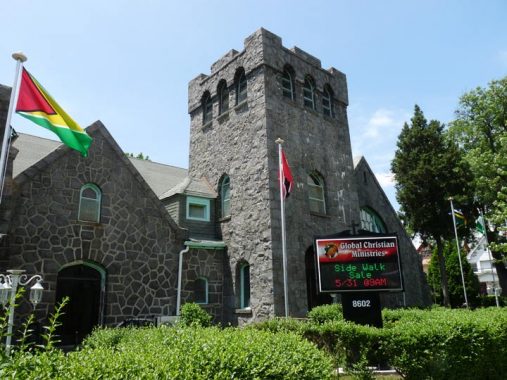 Inaugural services were held at Union Congregational Church, 115th Street and 86th Avenue, in 1884 and this new church was built here in 1902. In 1997 the interior of the Church was selected by Paramount Pictures for filming some scenes for the popular comedy film "In and Out", starring Kevin Kline and Tom Selleck.
The building is the present home of Global Christian Ministries.
A group of Lutheran pastors in Brooklyn met in the early 1900s, interested in founding a congregation in Richmond Hill. St. John's English Lutheran Church was founded in 1903, with the present structure at 86-20 114th Street dedicated in 1907.
Directly across 114th Street at 86-21 is a Mormon church, notable for its separated steeple.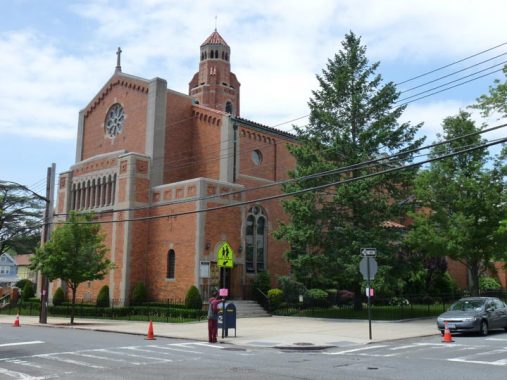 Church of the Holy Child Jesus, 111-11 86th Avenue, founded in 1901, was originally a "daughter" parish of St. Benedict Joseph Labre, Richmond Hill's first Catholic parish, organized in 1892 and located a few blocks away at 94-40 118th Street.
In 1930 the present church by architect Henry V. Murphy and described as Modern Romanesque, was dedicated. The presence of the school, rectory, parish hall and convent gives the appearance of a small town in the heart of Richmond Hill.
The Latin inscription over the doorway on 112th Street, haec est domus domini et porta caeli, means "this is the house of God and the gate of heaven."
This handsome Queen Anne house with stone-columned porch and eclectic windows is one of my favorites in Richmond Hill.
109th Street is subnamed Nancy Cataldi Way for the longtime president of the Richmond Hill Historical Society, whose efforts led to the landmarking of the Republican Club on Lefferts Boulevard (see above) in 2002. A photographer by trade, she worked for the New York Rangers and several newspapers and magazines. Cataldi passed away at the young age of 55 in 2008.
Services for Holy Trinity Methodist Church were first held on Jamaica Avenue and 108th Street in 1908. This unusual church, which resembles a private residence, was finished later that year and dedicated in January 1909.
Pipe Factory Apartments
The William Demuth Smoking Pipe Factory, 101st Street south of Park Lane South (the border of Forest Park) was a factory where briar was turned and polished to manufacture Frank Medico smoking pipes. It was built at a time when smoking pipes was quite popular and conversations centered on which shape burned coolest to the taste. The brickwork is embellished with stepped corbels under the cornice and basketweave on the tower. It was converted to condos in the 1990s; I had always admired it on bike trips from Flushing to Richmond Hill in the 1990s, and harbored a desire to buy an apartment here, but it would have been difficult travel to work.
St. Matthews Church, 85-36 96th Street, constructed in its current form in 1927, is a beautiful stone building that traces its roots back to a congregation first organized in 1900. Behind the church, though, is one of Woodhaven's closest-held secrets: a hidden, private cemetery.
Wyckoff-Snediker Cemetery
Behind the church is the Wyckoff-Snediker Family Cemetery, the final resting place of some of Richmond Hill and Woodhaven's earliest settlers.
Eldert, Ditmars, Wyckoff, Van Wicklen, and Lott are the names of some of those buried in the cemetery, whose gravestones go back to the late 18th Century. If you recognize them, it's because New York City locations have been named after them to honor their importance to NYC's history.
A buzz on the doorbell and a polite inquiry at the parish house may gain you admittance.
The Queens Tabernacle, 86-03 96th Street is located in what is evidently a former Masonic temple. A book open to the 133rd Psalm is sculpted above the entrance. The psalm begins: "Behold how good and how pleasant it is for brethren to dwell together in unity."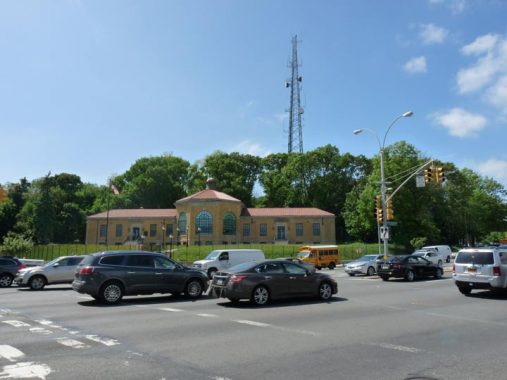 The FDNY Queens Communication Office is housed in a building that was built in the 1920s on the intersection of Park Lane South and Woodhaven Boulevard. The facility takes in all incoming fire emergency phone calls from Queens that are routed in from the citywide 911 service as well as calls from fire boxes placed throughout the borough.
The nearly 80-year-old building is a unique piece of architecture in the Woodhaven and Richmond Hill area. Its main entrance and center is an octagon and has a prominent cupola, which is supplemented by two rectangular wings on both sides of the building.
There are two other such fire communication centers, on Empire Boulevard in Brooklyn and East 180th Street in the Bronx.
Check out the ForgottenBook, take a look at the gift shop, and as always, "comment…as you see fit."
6/7/20