During the week I was scuttling around Floral Park, just south of Little Neck, testing out a healing sore calf and looking for some shade, since it was 95 degrees. And, since it had hit 95 degrees, I thought of 95th Avenue, the only numbered street in the metropolitan area that runs in three counties: Kings, Queens, and Nassau.
Before going any further, let's look at a few maps. Open Street Map is very helpful for stuff like this since county lines remain visible no matter how close you zoom in, unlike Google Maps. Here's a closeup of the Kings/Queens county line, as it zigs from Eldert Lane to Drew Street. North of the horizontal boundary it's Brooklyn; south of that, it's Queens. Thus, with the line running along 95th Avenue, the north end of 95th Avenue is technically in Brooklyn.
95th Avenue at Forbell Street, looking west to Eldert Lane. The right side of the photo is Queens; the left side is in Brooklyn. I have to say the the residences on the Brooklyn side of the two blocks of 95th Avenue have "Queens-style" hyphenated addresses, 73-12 and 73-14, despite what Open Street Map indicates. I'd be curious to know whether the Post Office considers both sides of 95th Avenue to be in Queens here.
Interestingly, Forbell Street addresses are 94-42, 94-44 et al. on the Queens side. Then, once you cross into Brooklyn, the cardinal sequence continues with the last two address digits, but the "94-" is dropped: 54, 58, 60 etc.
ForgottenFan Lawrence Hughes:
Your notes relating to the addresses along 95th Avenue and Forbell 
Street caught my attention. You duly noted that 95th Avenue in Brooklyn 
had previously been Glen Street. In Queens County, 95th Avenue had been 
Chichester Avenue, and before that, had been University Place. It 
appears that Glen Street and Chichester Avenue existed at the same time, 
the street changing names at the borough line. Sanborn maps show that 
the houses along Glen Street, between Eldert Lane and Forbell Street, 
were numbered 277 and 279 on the north side, and 278 and 280 on the 
south side. When the borough line was redrawn in the center of 95th 
Avenue, the north side houses became 73-11 and 73-13, while the south 
side houses appears to have retained, at least initially, their Brooklyn 
numbers (this is not entirely certain, given that the address for each 
side of the street are reported in separate atlases for the two 
boroughs). Presently, the NYC GIS map shows the north side houses to be 
73-11 and 73-13, and the south side houses to be 7312 and 7314 (no 
hyphens). The post office considers both sides of the street to be Ozone 
Park (the same being true for 95th Avenue between Forbell Street and 
Drew Street). There's another interesting anomaly as well. Eldert Lane 
is deemed to be 74th Street with respect to the addresses in Queens, 
between Jamaica Avenue and Atlantic Avenue. But south of Atlantic 
Avenue, Forbell Street is deemed to be 74th Street, and Eldert Lane is 
deemed to be 73rd Street. Thus, the house numbers along 95th Avenue are 
73-XX. However, on the south side of Atlantic Avenue, immediately east 
of Eldert Lane, there is a house with the number 74-10. It should really 
be 73-10 if Eldert Lane south of Atlantic Avenue is deemed 73rd Street, 
and Forbell Street is deemed 74th Street. The house was probably given 
the number 74-10, even though it is west of Forbell Street (74th Street) 
because all the other houses to the north, that are immediately east of 
Elder Lane, are numbered 74-XX. I have attached a few of the relevant 
Sanborn maps hereto.

I also note that 101st Avenue had been Jerome Avenue, and before that, 
had been Broadway. So as it was with Glen Street, Jerome Avenue was 
renamed as part of the general numbering of Queens streets, and its 
extension into Brooklyn got caught up in that general numbering scheme. 
But unlike Glen Street, after it was renamed 95th Avenue having its 
house numbers aligned with the Queens system, with the renaming of 
Jerome Avenue to 101st Avenue, the house numbers in Brooklyn remain 
unchanged. They begin at Liberty Avenue and continue using the Brooklyn 
system to the borough line, at which point they use the Queens system 
starting with 74-XX. And the post office considers the Brooklyn portion 
of 101st Avenue to be part of Brooklyn.
From here, 95th Avenue continues on a straight line through Woodhaven, interrupted a couple of times, ending at 150th Street. After that, though, the Long Island Rail Road occupies the space 95th Avenue would, so it doesn't pick up again until you are near the Queens-Nassau line:
95th Avenue begins again at 222nd just south of Jamaica Avenue and then runs east, a few blocks into Bellerose Terrace in Nassau County, ending up at 239th Street. The numbering sequence is a bit wonky here as well, jumping from 226th straight to 238th, which happens in both Queens and Nassau. Why? Well, you'd have to ask whoever determined this in the Queens Topographical Office in the 1920s, and they're all dead by now.
In Bellerose Terrace, things look very similar to Queens Village, from which we've just come, with the exception of the stacked street signs; this method hasn't been used in NYC in decades.
Know your Belleroses: Bellerose Terrace is a small hamlet of about 2000 residences, located in irregular borders, roughly along 225th Street, just east of Colnial Road, Jamaica Avenue at the Long Island Rail Road. Here's where it gets tricky because just east of here, you're in the Village of Bellerose in Nassau, and north of Jamaica Avenue, you're in the neighborhood of Bellerose in Queens.
Bellerose Terrace continues Queens' street numbering scheme in Nassau, with the whole shmegeggie including hyphenated house addresses. There are other parts of Nassau that do this, as well, including parts of Elmont (just south of here) and some "unincorporated" bits of Nassau just east of Little Neck formerly had Queens numbering.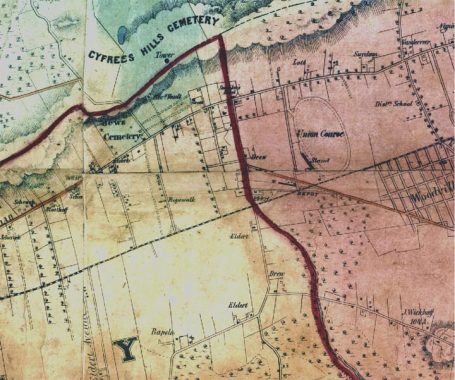 How did the south side of 95th Avenue wind up in Brooklyn for two blocks? It has to do with the redrawing of the Kings-Queens county line, which occurred in the mid-1920s. North of the Brooklyn-Queens cemetery belt the borough line was straight, cutting through blocks and in some cases, homes. It was redrawn to zig and zag along several streets and avenues.
Here's an except from a Kings/Queens map in 1852. Back then the area was mainly farms with a few small towns scattered about. At the top is the Jamaica Plank Road, today's Jamaica Avenue. The dotted line is the Long Island Rail Road. Rockaway Boulevard and the Union Race Course can be seen at right, and at the bottom is Old South Road which survives in bits and pieces today.
The big red gash is the Kings-Queens County Line, which in 1852 was defined by Spring Creek, and inlet of Jamaica Bay. The city once had high hopes for Jamaica Bay and the Spring Creek area, hoping to build a deepwater port and a railroad station, but the plans were abandoned and the area was landfilled and the Belt Parkway built at the southern end.
As late as 1922, the Spring Creek border was unaltered according to this Hagstrom.
Spring Creek's northern end was diverted into the sewer system, and the county line was changed here as well, so that it ran along Eldert Lane, Glen Street and Drew Street (among others) as it does today. Along the way, Glen Street was changed to 95th Avenue, though its section west of here that was completely in Brooklyn remained Glen Street.
95th Avenue isn't the only Queens numbered street that strays into Brooklyn: the westernmost half block of 101st Avenue, as it angles northeast from Liberty Avenue at Drew Street, is completely in Brooklyn!
Check out the ForgottenBook, take a look at the gift shop, and as always, "comment…as you see fit."
7/7/20