John Jacob Astor, né Ashdor, was the richest man in the United States for a time in the early 1800s. He was originally a dealer of musical instruments as a young man in Walldorf, Germany but while en route to Baltimore in 1783 he was told about the fur trade in America and set up shop on Water Street downtown, and subsequently made $30 million. The Waldorf-Astoria Hotel remembers both Astor and his hometown, as does Astoria, Queens, a town he never entered, and Astoria, Oregon, where he sent fur traders in 1811.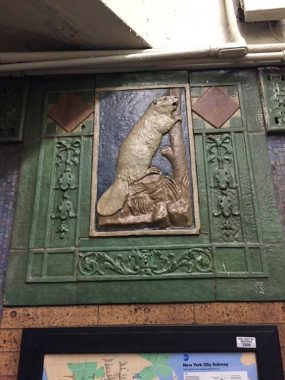 The beavers whose pelts made Astor rich are depicted in the station by Grueby Faience Company of Boston: "Faience" is a ceramic that differs from terra cotta in that it is double-fired for greater opacity and color brilliance.
Astor Place is the first IRT station on the line in which a graphic element of this type was executed: there would be many more in the IRT and continuing on new BMT construction on into the 1920s. While later stations would use mosaics, though, here faience was used, and you can see what we meant by rich color. The beaver, resting on a tree stump and gnawing on a trunk, is surrounded by the bellflower motif and also by the precise geometric shapes, squares and diamonds, that are also a hallmark of original subway stations: the diamond surrounded by four squares is repeated at other stations further up the line. At 22.5×14 inches these plaques are the largest in the system (excluding station name plaques), and the ten-inch borders give them added size.
The MTA sign shop made an error on this directional sign in the Astor Place station. What is it?
Photo: Bob Mulero
Robert Mulero is the webmaster of Street Lights of New York City and the co-author of The History and Design of New York City Streetlights, Past and Present  (2016, Dorrance)
Check out the ForgottenBook, take a look at the gift shop, and as always, "comment…as you see fit."
7/10/20