I was actually stumped about something to write about this week — I have plenty of unused photos, but not the inclination to write about any of their locales (they will eventually be gotten to); but my friend Joanna Ente proposed a half drive, half walk around Maspeth, her home for her first few decades before a recent move to Bayside, so off we went. Several of the locales mentioned here I've featured before, but that's to be expected after 21 years of Forgotten New York. By the way, you never appreciate air conditioning as much as you do after marching in 85-degree, 75-degree dew point weather, so both of us were glad to have a motorized vehicle at our disposal, especially since some New York Times columnists would like to eliminate them from Manhattan (if they succeed you bet they'll want to do it in other sections as well).
GOOGLE MAP: MASPETH WALK AND RIDE
If you look at a map of Maspeth it's on a rough grid system of streets that are interrupted by hills and topography. There are also large cemeteries, Old and New Calvary and Mount Zion, which are Catholic and Jewish cemeteries respectively. They were founded in the 1800s when the surrounding region was farmland, and the grid was later superimposed on it. Maurice Avenue, named for a prominent 19th Century Congressman who owned properties in the region, slants along Mount Zion Cemetery and so its parallel routes, 62nd and 63rd streets, are forced to slant with it. 63rd and 64th Streets meet at this triangle, which was given a name, Triangle One Eighty CLXXX by Parks Commissioner Henry Stern, who served under Rudy Giuliani in the 1990s.
The name is a puzzlement unless there are Triangles I through CLXXIX somewhere else in New York City.
The topography between 64th Street and 65th Place at 53rd Avenue was deemed to hilly to build a road so instead, a pedestrian staircase connects the two routes, between two separate apartment complexes.
In 2016 the staircase was named Easter Rising Way, commemorating the centennial of the Easter Rising, or Easter Rebellion, in which Irish Republicans staged an armed rebellion against the British Crown while it was otherwise occupied during World War I. The rebellion was unsuccessful, but Ireland's southern counties gained independence in 1920. The name was proposed by then-Congresswoman Elizabeth Crowley; persons of Irish descent are prominent in the region.
At one time it was my belief that Connolly's, a popular restaurant on Grand Avenue, was named for James Connolly, one of the rebellion leaders, but I have since been disabused of the notion.
The Type F lamppost midway on the staircase is Maspeth's only object recognized by the Landmarks Preservation Commission.
An additional staircase on 53rd Avenue leads into the Ridgewood Gardens high rise complex, three apartment buildings located in a wedge shaped plot defined by the Easter Rising steps, 62nd Street and 65th Place.
64th Street south of 53rd Avenue is quite pleasant and is lined with well kept Tudor-esque homes that were likely built by the same developer, and shaded with decades old street trees that were likely planted when the buildings were constructed.
A pair of large apartment houses on 53rd Drive (left) and 65th Place.
According to its website, O'Neill's at 53rd Drive and 65th Place opened as the Plateau Tavern by George O'Neill, Sr. the day Prohibition ended on December 5, 1933. It became a fully fledged restaurant in 1956. O'Neill's persevered after suffering a damaging fire in 2011. Rangers star Brian Leetch married one of the O'Neill daughters, Mary Beth.
We made a trip to 4th Calvary Cemetery south of the Queens Midtown Expressway, part of the "New Calvary"section defined by Queens Boulevard on the north, 55th Avenue on the south, 58th Street on the east and a varying, zigzagging plot corresponding to the line of 49th Street on the west. Old Calvary is the oldest section west of here, founded in 1847. Together, Old and New Calvary Cemeteries have over 3 million interments, the largest by number of any USA cemetery.
Stopping by the former location of the Haberman Long Island Rail Road station at 49th Street and 56th Road. Once fairly busy, by 1998 there were very few people getting on and off to work at the various factories and industries in this isolated section of Maspeth, and the LIRR decided to close the station along with several others on the "Montauk Branch" running from Long Island City to Jamaica via Maspeth, Glendale, and Richmond Hill. In 1998, when I rode the line, Haberman looked much as it does today: a clear patch in the weeds along the tracks, with no station sign.
According to the late LIRR historian Vincent Seyfried the station originally opened in 1892 and was named for the Haberman Steel Enamel Works in Berlin Village, a name formerly applied to this section of town, which featured a number of German immigrants.
This is one of the relatively few streets in NYC that has a grade crossing. The gates come down when a freight train is using the tracks. I'm fascinated with them, and did an FNY series on them in 2014.
A surprising hint to the neighborhood's past can be seen on this switch box at the former Haberman station, which lists the former name of 49th Street, Debevoise Avenue. I have included here an excerpt from a 1922 Hagstrom that shows former names of streets that either don't exist today or have been given numbers. Note the names of two German cities, Berlin and Cassel (spelled Kassel today).
The "Shining City" appears tantalizingly, looking west on the Montauk Branch tracks. There was one more station between Haberman and LIC, Penny Bridge, named for a Newtown Creek crossing eliminated in 1939 when the First Kosciuszko Bridge opened. These tracks see a couple of freight trains per day; sparse passenger service ended in 1998. New Yorkers use the tracks to deposit garbage.
The Second Kosciuszko Bridge is a twin-span cable-stayed bridge that opened in two separate sections, one in 2017 and the other in 2019. In late 2019, I did something I could never do on the Old K: I walked over the New K from Queens to Brooklyn. The walkway opened when the second span did.
The First Tadeusz Kościuszko Bridge, opened on 9/22/1940, was named for the Polish general who aided George Washington during the American Revolution; a large Polish population in Greenpoint and Maspeth, Queens had already been well-established. In 1940, Poland was occupied by Nazi Germany.
Greenpoint Avenue between Van Dam Street and Starr Avenue. I liked the older multifamily buildings but was also fascinated by the thickly wired utility posts, the tire repair shop, and the gravel-filled road used by thundering trucks. I walked Greenpoint Avenue's entire length in 2009.
We're still in Queens, but in a little-known subneighborhood known as Blissville.
Blissville is the small wedge of Queens positioned between Newtown Creek, Calvary Cemetery and the Queens-Midtown Expressway; it takes its name from Neziah Bliss, inventor, shipbuilder and industrialist, who owned most of the land here in the 1830s and 1840s. Bliss, a protegé of Robert Fulton, was an early steamboat pioneer and owned companies in Philadelphia and Cincinnati. Settling in Manhattan in 1827, his Novelty Iron Works supplied steamboat engines for area vessels. By 1832 he had acquired acreage on both sides of Newtown Creek, in Greenpoint and what would become the southern edge of Long Island City. Bliss laid out streets in Greenpoint to facilitate his riverside shipbuilding concern and built a turnpike connecting it with Astoria (now Franklin Street in Greenpoint, Vernon Blvd. in Queens); he also instituted ferry service with Manhattan. Though most of Bliss' activities were in Greenpoint, he is remembered chiefly by Blissville in Queens and by a stop on the Flushing Line subway (#7) that bears his family name: 46th Street was originally known as Bliss Street.
At the triangle formed by Van Dam and 35th Streets is Blissville's own mini Flatiron Building, and as per the habit of late 18th and early 19th Century architects, the date of completion is seen on the exterior. The S.M may have been the initials of the architect.
On the bottom floor of the Van Dam Flatiron we encountered this purveyor of reflective safety vests. I confess, I always wanted to sport an orange reflective vest when I run my tours. It would serve no real purpose, as we usually don't go into tunnels, but I'd just look snazzier and more official. Jo thought she heard some mutterings about "no photos" so she hurried to the car and cautioned me to do the same.
Fear of photography is common in NYC; me, I'm just afraid to have my own picture taken.
35th Street is the residential heart of Blissville. However the Department of Transportation has seen to it that drivers cannot go its entire length because it's one-way reverses at Bradley Avenue. Its finest manse is the 35th Street Manor, across the street from the Van Dam Flatiron.
Review Avenue is a lengthy stretch of road running mostly uninterrupted on the south side of Calvary Cemetery in Blissville. It's also protected from any impediments between 37th Street and Laurel Hill Boulevard by the freight tracks of the Long Island Rail Road Montauk Branch.
As for Review Avenue's name, it's long been speculated. Most likely it is named for funeral processions en route to the cemetery that are 'reviewed' by locals on the side of the road, or less likely, spectators in the cemetery could "review" ships passing down the Creek.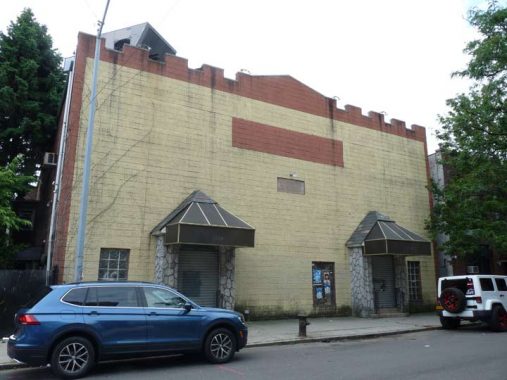 From the heart of Blissville we drove along the railroad tracks into the heart of Maspeth. For decades it has been a Polish and eastern European enclave.
As early as 1890, Polish immigrants chose Maspeth in which to settle. In 1921, the Polish National Home (or in Polish, "Polski Dom Narodowy") was founded in order to teach younger generations about their Polish heritage. This building was erected in 1934 on 56th Road near 64th Street. Members of this organization opened the 1939 World's Fair, dedicated Maurice Park and participated in the opening of the Kosciuszko Bridge. Maspeth has welcomed a new wave of Polish immigrants over the last decade; storefronts along Grand and Maspeth Avenues reveal that the Polish tongue is the most popular foreign language in town, and Polish food may be the most popular cuisine.
History of the Polish Community in Maspeth [Juniper Civic]
One of the most gorgeous buildings in Queens. The first Church of the Transfigurationwas built in 1909 to serve the swelling population of Lithuanian immigrants. The present structure at Perry Avenue near 64th Street dates from 1962. Lithuanian folk art elements adorn the inside of the church. The Lithuanian phrase above the doors, Mano Namai Maldos Namai means "My house is a house of prayer." Multiple Masses are still celebrated in the Lithuanian language each weekend. A replica of a Lithuanian roadside shrine sits in the churchyard of Transfiguration R.C. Church.
The first Transfiguration church was built in 1909 on Hull Avenue to serve the swelling population of Lithuanian immigrants. After that church burned down twice, the congregation moved to its present location on Perry Avenue, into what was St. Stanislaus Kostka's original building (see below). St. Stan's then built a new church on the site of Maspeth's defunct Quaker Meeting house and cemetery.
St. Stanislaus Kostka Church, 61st Street and Maspeth Avenue. The parish was established in 1872: at that time the nearest Catholic church was St. Mary's in Woodside (actually a smaller subneighborhood called Winfield). The present brickfaced church was built in 1923. There is also a St. Stan's in Greenpoint on Driggs Avenue & Humboldt Street; former Polish president Lech Walesa and the late Pope John Paul II have each visited that church.
Stanislaus Kostka (1550-1568) was a Polish Jesuit novice who walked from Vienna to Rome, likely contracting malaria on the journey, from which he died at age 17. He was canonized in 1726.
Who stole the keeshka? Hopefully not from either of these dueling delis on 61st Street and 56th Road and 56th Drive, respectively. Syrena is named for the "mermaid of Warsaw," who has appeared on the Polish city's coat of arms since the 1390s in altered forms over the centuries.
There are various legends about the Warsaw mermaid. The main one used in the City's literature and by tour guides says that the mermaid was swimming in the river when she stopped on a riverbank near the Old Town to rest. Liking it, she decided to stay. Local fishermen noticed that something was creating waves, tangling nets, and releasing their fish. They planned to trap the offender, but fell in love with her upon hearing her singing. Later, a rich merchant trapped the mermaid and imprisoned her. Hearing her cries, the fishermen rescued her, and ever since, the mermaid, armed with a sword and a shield, has been ready to help protect the city and its residents. wikipedia
Holy Cross Roman Catholic Church on 56th Road between 61st and 64th Streets may take a back seat to the nearby Church of the Transfiguration as far as flash is concerned, but the parish, established in 1912, is one of a few in northern Brooklyn and southwest Queens to have been visited by Cardinal Karol Wojtyla before he ascended to the papacy and became known as John Paul II in 1978.
The church message board is punctuated with Polish translations of English listings. When JPII was canonized, or made a saint, in 2014, the block was sub-named Pope John Paul II Way, and in an unusual situation (I haven't seen it before elsewhere) many of the private homes on the street have hung a Department of Transportation-issued Pope John Paul II Way street sign.
Entering Mount Olivet Cemetery, we found a plot containing members of the Hallett family, who settled a different part of Queens.
Astoria Village's pedigree dates to the mid-1600s, when William Hallett received a grant for the area surrounding what is now Hallett's Cove by Peter Stuyvesant. However, the oldest structures in the region date to the 1820s. Fur merchant Stephen Ailing Halsey incorporated the village in 1839.
Hallett's Cove today, the region in Astoria just south of Astoria Park and west of 21st Street, is today a mixture of breathtaking houses, ancient churches and graveyards, as well as forbidding, utilitatian housing projects and industrial buildings. The area near Astoria Park, as well as Ditmars to the north, feature views of the Hell Gate (1910) and Triborough (1936) bridges.
The historic plaque on the Hallett gravestone was added by the Newtown Historical Society (of which I am a board member) in 2011. It replaced an earlier plaque that had weathered into nonlegibility.
Mt. Olivet Cemetery, whose front gate at Grand Avenue and Remsen Place is shown here, was founded as an Episcopal cemetery in 1850 and opened to all faiths the following year. One of the founders, James Maurice, was a U.S. Congressman, Maspeth landholder and founder of the now disassembled St. Saviour's Church. He is buried here along with his 2 brothers and 3 sisters, none of whom ever married. Compared to larger cemeteries around town like Green-Wood, Woodlawn and Evergreens, Mt. Olivet is a bit short on star power; however, Prince Matchabelli and Helena Rubenstein of cosmetics fame are buried here, as is gangster Jack "Legs" Diamond, who according to legend, was a good dancer, hence the nickname.
The cemetery, named for Jerusalem's Mount of Olives where according to New Testament tradition, Jesus preached, was arrested at the Garden of Gethsemane and ascended into Heaven, occupies an irregular site stretching from Grand and 58th Avenues on the north to Eliot Avenue on the south, and from the rear of properties on 68th Street on the east to the rear of properties on 58th Road, 66th Street, 59th Avenue, 64th Street, 60th Avenue, 66th Street again, 60th Road, and, of course, Mount Olivet Crescent, on the west.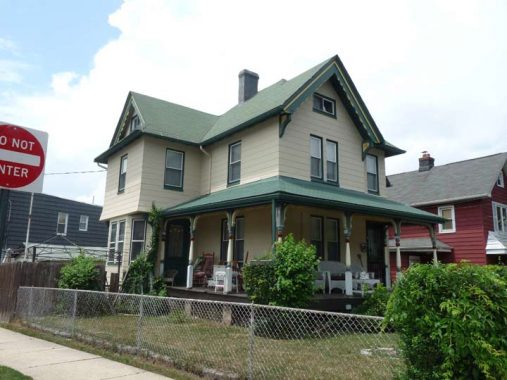 Gustav Haflinger, Maspeth's town butcher, built this house at Brown Place and 58th Avenue in the 1880s. Subsequent owners of his house have taken great care to keep it in good condition, down to the paint detailing on the railings. Several houses along Brown Place and 58th Avenue exhibit one-of-a-kind wooden craftsmanship.
We have met the Creek and it is us. The pilings and pier remnants at 58th Road are reminders that the Maspeth Plank Road, a connector from the City of Williamsburg(h) to Newtown once spanned the creek, but not since … 1875, though the bridge can be found on maps from the early 20th Century. The giant Maspeth gas tanks could once be seen from this vantage, but they were imploded in a controlled explosion in July 2001 — an eerie precursor to events two months later. 58th Road is a remnant of the Maspeth Plank Road, which is represented by Maspeth Avenue (which was redirected about 40 years ago and no longer follows its former plank-paved route here).
Our riding/walking tour ended at the magnificent and rickety Grand Street Bridge. Of the many bridges that cross the noxious and noisome Newtown Creek, which includes the Pulaski (McGuiness Boulevard), J.J. Byrne (Greenpoint Avenue) Kosciuszko (Brooklyn-Queens Expressway), the Metropolitan Avenue bridge, and the late lamented Penny Bridge, my favorite is the rattling Grand Street Bridge, which connects outlandishly remote sections of Brooklyn and Queens, two neighborhoods in East Williamsburg and western Maspeth you wouldn't visit unless you worked there.
While the other Newtown Creek bridges are relatively bland products of the mid-to-late 20th Century and are quite boring in aspect the Grand Street Bridge is a 1900 swing bridge that looks like something you would put together with an erector set when you were a kid.
The bridge is scheduled to be torn down in a year or two and replaced with a wider, traffic-friendly bridge that will no doubt be boring and purely functional. See this artifact while you can.
Thanks Joanna Ente for your efforts helping with this page.
Check out the ForgottenBook, take a look at the gift shop, and as always, "comment…as you see fit."
7/12/20