By a route obscure and lonely,
    Haunted by ill angels only,
    Where an Eidolon, named NIGHT,
    On a black throne reigns upright,
    I have reached these lands but newly
    From an ultimate dim Thule —
    From a wild weird clime that lieth, sublime,
          Out of SPACE — out of TIME. –"Dream-Land," E.A. Poe
As a rule, if a New York City street is named for a place or a neighborhood, your best bet is that it actually runs through that neighborhood. This holds for streets like Flatbush Avenue, Jamaica Avenue, Little Neck Parkway, and many more. In cases like Fort Hamilton Parkway, the western end of the street borders on NYC's only remaining active military fort.
There are a few exceptions: occasionally some streets are named for towns or neighborhoods that they lead to, or point toward; in some cases, they extended further into those neighborhoods at one time, but they have now been left high and dry, nowhere near the areas they're named for. I'll list a few of them on this page.
Flushing Avenue
Probably the most extreme case of this sort of thing is Flushing Avenue, which runs for miles from the Brooklyn Navy Yard east and northeast, ending at Grand Avenue in Maspeth, nowhere near its titular neighborhood; it would have to go a few miles more to get that far. How did this street become Flushing Avenue?
I'll quote from FNY's Flushing Avenue page: I walked its length several years ago.
Flushing Avenue takes its unusual name because of the relative isolation of Flushing, Queens. In the colonial era, marshy land and creeks cut Flushing off from traffic from the west, and as there were few good roads into Flushing, carts and coaches had to first go to Jamaica and travel north from there.
Flushing Avenue, in the past, was a toll road built to be an alternative to the southern approach. It would eventually lead to Newtown (a large area, known today as Elmhurst and northern Maspeth) and then to Flushing via North Hempstead Turnpike (what is now approximately 63rd Road) and then along either now-vanished roads (Strong's Causeway, obliterated in the 1950s by the Long Island Expressway) or all-but-vanished roads (Head of the Vly Road, now a short lane called Vleigh Place) into Flushing.
The westernmost section is the oldest, dating to the colonial era and earlier; it ran east from the now-filled Wallabout Mill Pond in what is now the Navy Yard east to Bushwick Avenue. (At its western end, Flushing Avenue becomes Nassau Street; further east, a short street just south of Flushing Avenue and Kent Avenue is called Little Nassau Street.) By about 1805, tolls were being charged and the road was known as the Brooklyn and Newtown Turnpike. (A long wooden pole, or pike, was placed across the road; this pike was turned, or moved out of the way, when the toll was collected.)
The B&N was extended to Broadway in 1850, and to Bushwick Avenue in 1858. Beyond Bushwick Avenue the road ran in a sinuous, circuitous fashion to avoid hills. In 1868, the hills were leveled, the road was straightened and, by 1893, the road had its present form and length it has today, extending out to the junction at Grand Street (later Avenue) and Maspeth Avenue. (To muddy the water even further, an even older road extended southwest from what would be the Brooklyn and Newtown Turnpike at what would be Broadway in the colonial era, joining a highway known as Cripplebush Road, which ran approximately in a north-south route where Bedford Avenue is today.)
Bayside Avenue/Bayside Lane
You might think both of these streets would be in Bayside, but they're on the Flushing/Murray Hill border. Bayside Avenue shows up on maps in the early 20th Century, and kept its name even after the vast majority of Queens streets received numbers. Bayside Avenue runs east from Union Street, running into 29th Avenue at 154th Street. A few blocks east of these, Bayside Lane cuts northeast across the grid to Francis Lewis Boulevard; from there, it would need to run about a mile more to reach Bay Terrace, the north end of Bayside.
Logically, if the street must have a name it would be Flushing Avenue… but Maspeth already has one!
White Plains Road
This is one of the Bronx's longest roads, running from the East River on the south all the way to the Mount Vernon border on the north. Most of the northern half of the road is shrouded by the elevated train carrying the #2 to Wakefield. It does not go directly to White Plains once you enter Westchester County though. To get to that town, your best bet is to take West 1st Avenue (which continues the route in Mount Vernon); turn left at West Lincoln; continue to NYS Route 22 (North Columbus Avenue) which runs into the heart of White Plains. In Bronxville, Route 22 is actually named White Plains Road.
The north end of the Bronx's White Plains Road from Pelham Parkway was laid out in 1863, while the southern half came later. It was named similarly to Flushing Avenue, as a network of roads would get you to White Plains from its northern end.
Westchester Avenue
In the Bronx, Westchester Avenue never approaches Westchester County: but it used to be in the heart of Westchester County.
Westchester Avenue is a very old road; according to the late great Bronx historian John McNamara in History in Asphalt, it was first traced in the colonial era as a path from the Morris family estate to the town of Westchester, whose seat is now called Westchester Square (see below). Until 1874 all of the Bronx was floated in Westchester County; it became part of NYC in sections, with most of the Bronx west of the Bronx River annexed that year, east of the Bronx River in 1895 (City Island the following year). The whole territory became the Borough of the Bronx when Greater New York was created in 1898, and finally, the Bronx became a county on its own in 1914.
Westchester Avenue was graded from Coles' Boston Road (now Third Avenue; see below) to the town of Westchester in 1867, when it was known as the Southern Westchester Turnpike (to differentiate it from Westchester Turnpike proper, now followed in great part by US Route 1). Sometime before the turn of the century, as the area gradually urbanized, the name was changed to Westchester Avenue.
Westchester Avenue has the distinction of "hosting" two separate elevated lines, one going to Wakefield (#2) and the other to Pelham Bay Park (#6).
Boston Road
Wait a minute, isn't Boston Road the southern leg of the Boston Post Road, the colonial-era route to Boston? Isn't it true that if you follow Boston Road/US Route 1 northeast, you'll wind up in Boston? All true. But the Bronx Boston Road is not the original Boston Post Road, no matter what the old theater marquee says.
According to John McNamara, Boston Road was constructed by surveyor John B. Coles in 1794. It is a reroute of the original Boston Post Road, which was started in 1672 as a mail route between Boston and NYC (a 270-mile distance), following a network of Indian trails. The original branched off north of the present Boston Road in the Bronx; its present route is marked by Kingsbridge Road in Mount Vernon and by Bussing Avenue, Barnes Avenue and Gun Hill Road in the northern Bronx. Lewis Morris, an early Bronx honcho (as were many of the Morrises) wanted the Post Road to run through his property; enter John Coles.
In fact, early on, that road was known as Coles' Boston Road. North of what would become the Bronx-Westchester line, the two roads converged and continued north. Further north, the Post Road would separate into more tributaries, each reaching Beantown via a separate route. In those days, what takes a few hours by car took a few days by horse or coach.
Some of Ben Franklin's original mile markers can still be found along Boston Post Road.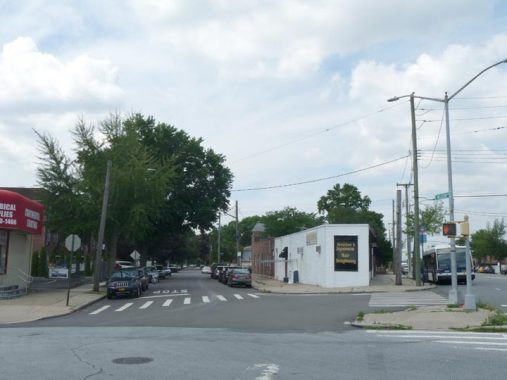 East Williston Avenue
East Williston Avenue runs on a slanting route for 13 blocks between Little Neck Parkway and Hillside Avenue at 268th Street, but it doesn't come near the Nassau County town of East Williston. Hillside Avenue picks up its eastern route from here, but you need to go several miles into Nassau along Hillside Avenue before you reach East Williston just past the LIRR Oyster Bay Branch.
Hillside Avenue and other streets in Floral Park were laid out in the early 20th Century; I can't account for why this street got its name other than the Flushing Avenue Effect (see above). There is no West Williston; Williston Park takes its place. The Willis family was prominent in 19th Century eastern Queens County, with the area belonging to Nassau County since it was formed in 1899.
Check out the ForgottenBook, take a look at the gift shop, and as always, "comment…as you see fit."
7/14/20