Eons ago, in the summer of 2006, I was scouting the West Village for old buildings, hidden parks, strange infrastructure: you know, the Forgotten New York usual — when I happened upon this extraordinary Federal-style building adjacent to St. Luke In The Fields Church and its "secret" garden. Amazingly enough I have had these photos in the hopper all these years and never wrote about them. The house goes back to 1825, according to the Landmark Preservation Commission report: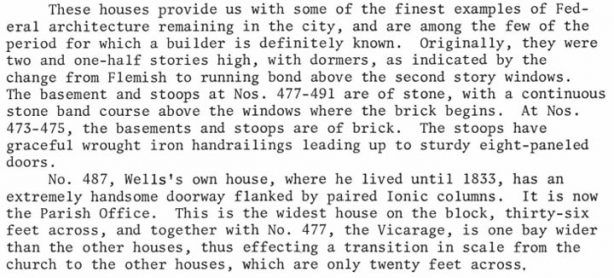 The Wells mentioned in the text is James N. Wells, who may be a familiar name since I've written about one of his other homes, in Chelsea. He was a business partner of Clement Clarke Moore (of "A Visit From St. Nicholas" fame) and developed other properties in that neighborhood, further uptown.
Apologies for the poor centering on this shot; perhaps I was overwhelmed by seeing a familiar name. Could this be the famed Canadian wrestler Bret Hart, the Excellence of Execution, the self-styled "best there is, best there was, the best there ever will be"? Actually, no. the "Hit Man" was from Calgary, Alberta and to my knowledge has never lived in NYC.
This Bret Harte — the one with the final "e" — was also familiar to me from my high school reading assignments. Bret Harte wrote fiction about the rough and ready American West of the Gold Rush era, with his most popular story, "The Luck of Roaring Camp" mentioned on the historic plaque. Harte (1836-1902) was born in Albany and bounced around with his family in the northeast, winding up here at 487 Hudson when he was about eight. When Harte turned 17, he moved west to San Francisco and wrote "Roaring Camp" in 1870. The following year he moved back to New York and spent his remaining days in NYC and later, Boston.
I may follow with more about St. Luke's and its gardens; we'll see.
Check out the ForgottenBook, take a look at the gift shop, and as always, "comment…as you see fit."
8/20/20