I'm going to mostly talk about a lost road in western Queens today, and as part of the whole thing, I'm also going to mention one of Queens' lost sports venues — Sunnyside had a number of them, as it turns out. In the colonial era, before a street grid was even conceived of in what became Sunnyside, a road ran generally northeast from Newtown Creek to Bowery Bay, an indentation of the East River that today lies just west of LaGuardia Airport and is bisected by the Rikers Island Bridge. That road carried several names, and it's likely that it was signed but rarely; for the most part, maps called it Old Bowery Road, but it was also known as the Old Road to Calvary and in sections, Celtic Avenue.
I'll begin as I often do with the 1852 Dripps map of Kings and Queens Counties, which I will liberally excerpt. On the map, I've identified some of the roads that exist today, as well as Old Bowery Road. I have also circled in red two extant pieces of the road on the above map, which I'll discuss presently.
This excerpt shows the southern stretch of Old Bowery Road. In 1852 Queens was mostly farmland, bisected by various farm to market roads, many of which led to ferries. Some roads, like Greenpoint Avenue, were built as plank roads that connected towns. The dotted areas of the map were marshes and swamps. Property owners were also listed on the map.
This excerpt shows the central section of Old Bowery Road. A section exists today as 51st Street bordering the Woodside Houses at Northern Boulevard (which didn't exist in 1852; it was built as a toll road by John Jackson from 1855-1858). Newtown Road was a colonial era route used by the British to march troops; it's part of a much lengthier road that includes Newtown and Woodside Avenues.
The northernmost section of Old Bowery Road paralleled what would become Hazen Street, which forms a divider between street grid orientations. The road petered out at the water's edge. I have circled in red a building that still stands today, the Lent-Riker-Smith House, which was built in the late 17th Century and fell into disrepair in the late 20th until it was rebuilt and restored by Michael Smith. His widow Marion Duckworth Smith occupies the building today.
This is a 1919 map of Sunnyside, or rather, Ward One; Queens' ward system was mostly abandoned after consolidation into Greater New York in 1898, but it was retained for awhile by mapmakers. Unfortunately the mapmakers had a maddening habit of not depicting wards outside of the featured ones, so teh top part of the map, showing the east, is blank; rest assured, streets were laid out there as well.
Old Bowery Road formed a divider between Wards 1 and 2 and ran northeast against the new Sunnyside street grid, which was just beginning to be built up and developed in 1919. However, the Queens Boulevard elevated viaduct was already in place, as it began construction in 1913 and opened for business in 1917. When Sunnyside was developed, the Flushing Line (then the Corona Line) would be ready to take people there.
One again, I've circled in red two sections of Old Bowery Road that exist today. One, on the right, is at 50th Avenue and 43rd Street, while the other, on the left, is at 43rd Avenue and 51st Street.
Here's a 1924 aerial view of Sunnyside, which I have marked with today's main routes. At the time, Sunnyside was at the beginning stages of its development and its streets were under construction. Old Bowery Road still exists, but as the plots were built upon with residences and businesses, the old road was demapped and most traces of it completely disappeared.
Celtic Park
Old Bowery Road bordered one of western Queens' major sports venues, Celtic Park. The Greater New York Irish Athletic Association purchased seven acres of land in southern Sunnyside from property owner George Thomson (his family is the source for the name of Thomson Avenue). The Association constructed a track and field oval, clearly visible on the aerial view, and its surrounds became not only a sports mecca but a gathering place for immigrant Irish. Celtic Park quickly became a training and competitive ground for world class athletes such as Jim Thorpe, 1912 Olympian. Celtic Park also bucked the prevailing blue laws at the time, which prohibited charging for sporting events on Sundays.
Celtic Park's legacy does not just include sports. Fraternal, social and political organizations attratcted crowds at the park thousands strong, including groups such as the Clan-a-Gael that agitated for Irish independence from England.
After World War I, Celtic Park declined and after a few years as a greyhound race track, the track and field oval was razed and parcels sold off to developers in 1930, and streets were built through the grounds and residences constructed.
There are a few reminders of Celtic Park to be found if you know where to look—including a piece of Old Bowery Road that has been called Celtic Avenue for many decades now, running a half block from 43rd Street northeast to 50th Avenue.
Celtic Avenue looking north toward 50th Avenue from 43rd Street.
Three older residences on Celtic Avenue. Their existence, and likely their owners' resistance to sell them in the 1930s, likely accounts for the survival of this short piece of Old Bowery Road. These buildings looked quite different in 1940 and it appeared Celtic Avenue was still unpaved.
FNY last mentioned Celtic Avenue in 2013, when the triangle shaped lot formed by Celtic and 43rd Street was empty. However, three very eccentric-looking attached houses have risen on the plot, with strange exterior colors and oddly placed square windows.
Looking south on Celtic Avenue toward the New Kosciuszko Bridge.
The Celtic Park Apartments, between 48th and 50th Avenues and 43rd and 44th Streets, were constructed in 1931 on the former park grounds.
One last reminder of the old Celtic Park era can be found at the entrances to this group of attached homes on 48th Street between 50th Avenue and the Queens Midtown Expressway. Above each door you will find a wood shamrock. Over the years, some have been removed, compromised or painted white, but a few still look the same way as when they were added.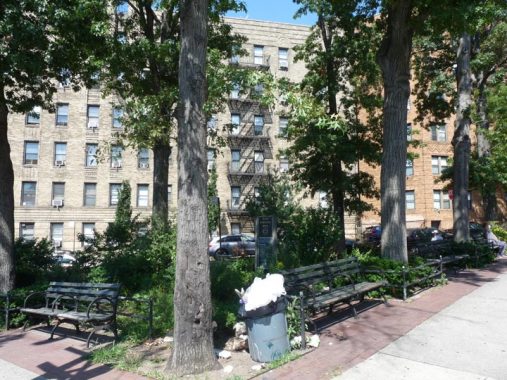 There is another existing piece of Old Bowery Road a couple of miles to the north, at 43rd Avenue and 51st Street. Here, 51st Street simply divides in two, surrounding tiny John Downing Park. The park remembers a firefighter at Woodside's Ladder 163 who was killed while battling a fire started by an explosion in a paint store on June 17, 2001.
Both of these streets are 51st today… but the one on the right was once Old Bowery Road.
Just as we saw a "triangle" building on Celtic Avenue above, here's another one, forced into its particular shape by the available building plot.
The section of 51st Street bordering the park is called Louis Rispoli Way. According to Gil Tauber's oldstreets, "Louis Rispoli, a 30 year resident of Sunnyside, was a gay rights activist and arts and music supporter. He had been out for a walk at 2:15am when he was attacked by three men. He died of his injuries five days later."
One more piece of Old Bowery Road remains, perhaps the busiest piece: the curving section of 51st Street at Northern Boulevard bordering the Woodside Houses; see above map.
Check out the ForgottenBook, take a look at the gift shop, and as always, "comment…as you see fit."
9/9/20