I confess, this week it'll be a bit shorter Sunday page than usual, but I've been trying to shorten them lately, anyway.
A couple of weeks ago Joanna and I packed off in her car and went down to Howard Beach. I had never been in the reconstructed Howard Beach station since its AirTrain connection opened in 2003 (I had last flown out of JFK before that, I think, to Chicago back in 2001) so I wanted to take a look. I also hadn't been to the area to the immediate south, West Hamilton Beach, in several years (collectively, Howard Beach and West Hamilton Beach were once called Ramblersville).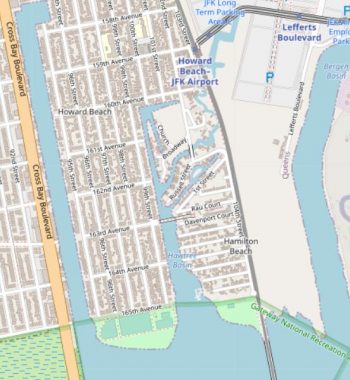 West Hamilton Beach (or plain old Hamilton Beach; the original Hamilton Beach was located along Bergen Basin east of the subway tracks) is that small, somewhat mysterious area east of Hawtree Creek and its rivulets, north of Jamaica Bay. While other bay inlets have been tamed and dredged into canals such as Shellbank Basin and Bergen Basin, Hawtree Creek flows pretty much as it always did (with one rivulet diverted underground into the sewer system). There is a small system of streets that has nothing to do with the rest of the Queens street grid, and they curve around the various rivulets.
Anyway I shot a new series of photos as did my friend Joanna (she is becoming a good photographer in her own right; her late husband, Bernie Ente, was a professional photographer and became a noted historian especially around Newtown Creek and other NYC waterways). However, after checking, I discovered I had already said everything I had to say about (West) Hamilton Beach and Ramblersville on these FNY pages:
End of the Earth [FNY, 12/22/13]
and this long-ago page with are historic images by now:
Ramblersville [FNY, 4/9/2000]
The only change I can ascertain in these areas is that the small streets are now marked by Department of Transportation street signs, instead of on wooden boards nailed onto telephone poles. I collected the October 2020 photos onto this Flickr page. It's a unique NYC region, and if you were thrown into the trunk of a car and bundled off here, well, "you'd never believe you're in NYC."
William Howard's resort complex was built on the shores of Jamaica Bay at the 19th Century's turn and became a ritzy bathing and boating center, quite a change from its earlier incarnation when the shoreline was bordered by fishing shacks. Howard, a glove manufacturer by trade, built the majestic Hotel Howard at the foot of today's 98th Street in 1899. A spectacular fire brought it down in 1907, after which the meadows and marshes were landfilled, Hawtree and Shellbank Basins were dug out and the residential community found there today arose. Recreational boating is a popular pastime for Howard Beachers today, yet there are some vestiges of its fishing village past still extant especially in Hamilton Beach.
Our Lady of Grace Church and parish house, at 159th Avenue and 101st Street in Howard Beach, is the neighborhood's Catholic Church. The parish was founded in 1906, before the street grid was established. Before that, Catholics in Howard Beach would have to use a horse and cart or the Long Island Rail Road (more on that later) to get to the nearest parish in Ozone Park. Home construction in Howard Beach was established on landfill around 1912, and later there was enough population to support the present church building, dedicated in 1921. Decades later, stained glass representations of American saints were installed. One of the pastors was Father William Flood, who had been one of my teachers at Cathedral Prep in the 1970s. The church was damaged, but left unbowed, by Hurricane Sandy in 2012. Sadly, the parish school closed in 2019, a victim of declining registrations.
As a rule funeral homes and florists, here across the street on 159th Avenue, are not far from churches.
The business section of Howard Beach faces its MTA subway station and clusters around 159th Avenue, 159th Road, 102nd and 103rd Streets. 103rd faces the subway and is known as Coleman Square, and its businesses are numbered 1 through 10 instead of the usual hyphenated Queens addresses. The Department of Transportation, though, doesn't acknowledge Coleman Square with a street sign. The square features a bar, pizzeria, groceries, pest control, Chinese food, liquor store, auto body, dog grooming, nails, bakery, hair styling, car service, tax preparer and post office, in a concentrated area walkable from everywhere east of Shellbank Creek. Of course Cross Bay Boulevard, to the west of the creek, is the main business drag.
Seaman Bernard Coleman was killed at age 20 during WWI when, aboard the USS Texas, he was killed when struck in the head by boxes of ship's stores. He was not killed in combat, but was the first "Howard Beacher" to die in WWI. A memorial to all area combatants killed in the USA's 20th Century wars is located at 159th Avenue and Coleman Square. He is buried in St. Raymond's Cemetery in Westchester Square in the Bronx.
We were engaged by some of the freestanding homes long Howard Beach's side streets…
A few streets such as 101st dead-end at Hawtree Creek. Along 160th Avenue between 99th and 102nd Streets, you can tie up your pleasure boat in the creek, with is immediately to the rear of the back yard.

In just over a century since 1913, the Howard Beach rapid-transit station has evolved from a literal shack by the tracks to a glass and metal behemoth that can connect you to Broad Channel, the Rockaways, Ozone Park, Cypress Hills, Bedford-Stuyvesant, downtown Brooklyn, midtown Manhattan, Hell's Kitchen, the Upper West Side, Washington Heights, Inwood, and with various subway and bus transfers, all over New York City. It can also connect you with airport terminals that can take you to every continent on the planet except Antarctica.
As this pair of images from the Greater Astoria Historical Society photo collection illustrates, the Howard Beach rapid transit station began as a modest stop on the Long Island Rail Road Rockaway Line to the peninsula in 1913. The stop, which was built concurrently when William Howard began developing the area, had been a flag stop for Jamaica Bay fishermen as early as 1899.
Change came to the LIRR Rockaway Line in 1950, when the Jamaica Bay railroad trestle burned down. The LIRR sold the right-of-way south of Ozone Park to the NYC Transit Authority, which rebuilt the line to subway IND/BMT specs and reopened it to Rockaway Park and Far Rockaway in 1956, severing the Far Rockaway IND connection and building a ramp to the Liberty Avenue El, the erstwhile east end of Brooklyn's Fulton Street El that had been retained.
Meanwhile, the LIRR continued to run the Rockaway Branch from the main line in Rego Park south to Ozone Park in 1962. The track right-of-way there has remained as is, awaiting redevelopment, if any, into a rapid transit line or a park (prediction: neither will happen).
Note: things are a bit more complicated than that; see subway historian Andy Sparberg's comment below.
You can see the "old" transit Authority Howard Beach station as it was between 1956 and 2002 on this NYC Subway page. Over the years after their "conversion" to subway tracks in the 1950s, some unusual service has taken place on these tracks, including Aqueduct Raceway service that emanated from a lower level of the 8th Avenue IND at 42nd Street (which you can see on this FNY page) as well as the "Train to the Plane," basically an A train super-express at a higher fare between 1978-1989 that took airport passengers to the Howard Beach station, whereupon a bus was boarded that took passengers to various JFK terminals (I have ridden that bus on my relatively few trips from JFK.)
So this was my first glimpse of the "new" Howard Beach station with a new connection to the Port Authority AitTrain since it had opened for business in 2003! Reconstruction included an expansion into a large train hall with glass windows that allow views toward the airport and south along the tracks toward Jamaica Bay. New escalators and elevators were also in place, though we did find them difficult to locate as signage was sparse.
I liked it. I admire older subway construction from the early days, with the mosaic and terra cotta, but I also really liked the new "rethink" of the Astoria Line stations a few years ago with nearly clear plastic walls that allow street views.
The AirTrain is run by the Port Authority of New York and New Jersey, and is at the same time a steroidal version of The Train To The Plane and also a sister line to the PATH train between 33rd Street, the World Trade Center, and Hoboken, Jersey City and Newark, and also a sister line to the older AirTrain monorail line from New Jersey Transit to Newark Airport. It is an automated line without a train operator.
The AirTrain opened between Jamaica and JFK and Howard Beach and JFK in 2003; in Howard Beach it replaced the old bus shuttle that ran through several parking lots on the way to JFK terminals. AirTrain offers a nonstop ride from both Jamaica and Howard Beach to the airport, where it stops at Terminals 1, 2, 3, 4, 5, 7 and 8. (The Jamaica AirTrain has an intermediary stop at Federal Circle).
The AirTrain fare was $5 one-way until 2019, when it was raised to $7.75 one-way. I have ridden it just once, when it first opened in 2003; it was the smoothest rapid transit ride I ever had. Today we skipped what would have been a $15 round trip for a joy ride.
Governor Andrew Cuomo supports a third AirTrain route, which will run between the Mets-Willets Point Long Island Rail Road station and LaGuardia Airport terminals; LGA is in the midst of a multi-year, multimillion-dollar reconstruction that began before the Covid crisis, which may or may not delay construction of the LGA AirTrain, whcih has been slammed by many area policy commentators as impractical.
A direct rapid-transit connection from midtown to NYC's airports has always been a bridge too far for area agencies, citing cost and the opposition of residents whose neighborhoods the transit would run through (the Jamaica AirTrain runs along the Van Wyck Expressway). Thus, NYC will not have such a direct connection, which cities such as London, Chicago and Atlanta do have.
Though the station is ultramodern, with high intensity LED platform lighting, a sense of Howard Beach's former railroading past can be glimpsed if you look along the tracks from the north or south ends of the platforms.
The A trains themselves use R-46 cars first introduced in 1978.
After a couple of hours rambling in Ramblersville we went to New Park Pizza, the premier place in Howard Beach at Cross Bay Boulevard and 157th Avenue. Fortunately the line formed after we sat down. Earlier in the year when there was no seating we ate slices on the tailgate in the parking lot.
Check out the ForgottenBook, take a look at the gift shop, and as always, "comment…as you see fit."
11/22/20