On a whim, I decided to walk the entire lengths of two Flushing roads for which I have always had some fascination, Station and Depot Roads in Flushing and Auburndale. The roads border the Long Island Rail Road Port Washington branch and can be found as far west as 156th Street and as far east as Francis Lewis Boulevard. Neither run continuously between those two streets, and they are frequently interrupted. It's possible, though, to trace the entire length of Station Road on foot, bike or car but here, I've done it so, as I frequently say, you don't have to.
Why am I drawn to these two roads? It's partly nostalgia: I lived in the eastern Flushing/western Auburndale neighborhood they are in for 14 years between 1993 and 2007. Indeed, I feel I was most connected to Queens in my Flushing days, since I had a side gig doing layouts for the Queens Times Ledger chain from 1996-2009 (this only ended when my job was not held for me when I had heart surgery in 2009; since it was only one or two days per week, I wasn't going to try to move heaven and earth to retain the gig).
Secondly, the two roads do hold some interest in that both of them change "personalities" and present much different aspects as you travel along them. Bear with me here, and I think you'll know what I mean. On this walk, which surprisingly went about five miles, I got over 100 photos.
GOOGLE MAP: STATION AND DEPOT ROADS
In the 1922 Hagstrom excerpt above the two streets are drawn to appear continuous, accompanying the railroad. This is no longer the case and may have never been the case. Subsequent editions over the next 70 years amended it to show where the interruptions occurred.
Station and Depot Roads are so named because they abut the LIRR Broadway station; Station Road also runs past the Auburndale station (see below). On this page, I'm not going to overly concentrate on the Broadway station, because I've already done a comprehensive page on it; Broadway was my home station for 14 years, and after I moved to Little Neck, it was completely rehabilitated from its decrepit condition to the pleasant suburban station we see today. It has entrances/exits on Northern Boulevard and 164th Street onto both Station and Depot Roads. The station is far from Queens' Broadway, which today is in Astoria and Elmhurst; until 1920 or so, Northern Boulevard was called Broadway from the Flushing River to the city line, and the neighborhood surrounding it was developed in the early 20th Century as Broadway-Flushing.
Northern Boulevard, as seen from the west end of the Manhattan-bound platform of the Broadway station. Referred to by me as "the old main drag," Northern Boulevard is part of a lengthy road along Long Island's north shore that runs the entire length of the island out to Orient Point on the North Fork. As stated, it's been called Northern Boulevard in Queens since about 1920, and the name now applies to the road as far east as the Suffolk County border. East of there, it's Route 25A, which eventually links up with NYS 25 in Suffolk.
I walked Station Road from west to east, and Depot Road, in general, in reverse.
To get to the west end of Station Road involves a somewhat convoluted path. I needed to travel west along Northern and make some twists and turns. The tall campanile is an unofficial landmark of the Broadway-Flushing neighborhood…
The parish of St. Andrew Avellino was organized in 1914. Previously, Catholics in eastern Flushing had to make a trek on often-unpaved roads in all weather to St. Michael's in downtown Flushing. Andrew Avellino was a 16th-Century prelate in Italy, patron saint of heart attack, stroke and sudden death victims. According to the New Advent Catholic Encyclopedia, "Being a handsome youth, his chastity was often exposed to danger from female admirers, and to escape their importunities he took ecclesiastical tonsure."
The first parish church building was a one-story wood structure built in 1916. Both that building and its still-standing successor can be seen in this 1940 photo from the NYC Municipal Archives. The present brick church with the tall campanile was dedicated that year, and the church's website deems it "the little cathedral on the boulevard." The old church was demolished in 1950.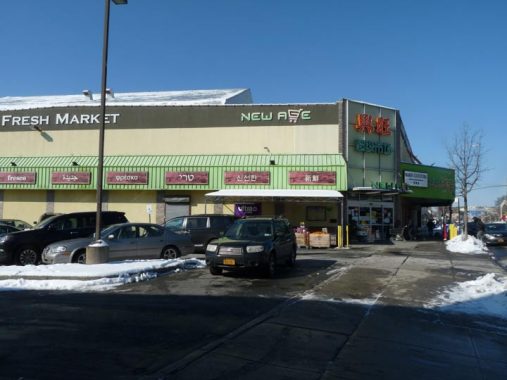 Since I arrived in the neighborhood in 1993, much has vanished including Labee Bicycles, the bar I frequented, Bridie's, and even the local McDonalds (though Northern Boulevard still has plenty of those). Presently the New Age supermarket occupies the shell of what was, in my memory, the UA Quartet Theatre at Northern Boulevard and 160th Street. Shortly after I moved here I saw Alec Baldwin in The Shadow there. The Quartet closed shortly after that with the building becoming a Macybed outlet, and now a supermarket.
When the theater opened in 1927 it was called the Roosevelt Theatre (even though Roosevelt Avenue terminates at Northern Boulevard about 5 blocks west). In 1971 it became Queens' first "quad" theater with four movie screens, and became the Quartet.
Station Road
When scouting this page, from Northern Boulevard I first had to find my way to Depot Road, duck under the railroad at 158th, then circle around to 157th and walk to Station Road's west end to begin to walk it east. I've decided to show the Depot Road photos when I discuss that road after I've finished with Station Road.
Reconsult the map that I made of my route, and you see why I've done it this way.
As stated before, Station Road runs on the south side of the LIRR. Walking north from Sanford Avenue on 157th, there's an immediate right onto Station Road…
…but a dead-end driveway is an indicator that Station Road once continued a block west to 156th Street.
Between 157th and 158th, both Station and Depot Roads are at their most rural, thin paved strips of road along the tracks. On Station Road, a concrete wall serves as a barrier to the tracks.
Not a lot of property faces Station Road at its west end, but this relatively new residence, #157-02 Station Road, is an exception.
Where it meets 158th Street there's a hint of what Station Road may have been paved with for its entire length, as there's still a patch of brick pavement at the intersection. The bricks are a relative square shape, unlike the oblong bricks more commonly used in Belgian block pavement elsewhere in the city.
Were it not for the 158th Street underpass, which vouchsafes 11'7″ of clearance, motor vehicles would need to cross the railroad at Murray Street or Northern Boulevard, several blocks to the east and west. The bridge was likely constructed when the railroad was placed on an embankment when grade crossings were eliminated around the year 1913. Some very old paintings showing pastoral and seaside scenes were on the underpass walls they year I arrived here in 1993.
Station Road, continuing along the tracks at 159th Street…
…where there's one of the many apartment buildings in the area. I lived in one such, at 43rd Avenue and 159th Street, for 14 years. The apartments were built, I'd say, between 1915-1935 when the area began to get more populated around the Murray Hill, Broadway and Auburndale stations. The stations are so close together that the LIRR only stops once per hour during non-peak hours.
At 160th Street, to stay on Station Road, motorists need to turn right, then quickly turn left again.
From 160th and Station Road, the back of the former UA Quartet Theatre can be seen.
This section of Station Road comes to an end at 162nd Street. When I did a page on 162nd, the business and shopping street of Broadway-Flushing, I inferred that it seemed to be preserved in amber, with many defunct storefronts remaining in place. 8 years later, I see that some of them are still there. That 162nd Street page turned out to be among FNY's most-commented pages.
When I first moved to Broadway-Flushing in 1993, an 'old man bar" called the Velvet Cup, still with its marvelous neon sign, was still located at 162nd and Station Road. These days the old men are long gone and the place is called Boomerang. For several years, LIRR passengers could see the old sign on the roof of the building.
Eons ago, a couple of teammates at the World's Biggest Direct Mail Company, Steven Molaro and Anthony Del Broccolo, wandered into the Velvet Cup and blogged recollections. Some time later, Steve gave me a copy of Adobe PageMill, on which the first (mostly execrably laid out) Forgotten NY pages were executed in 1999. Later, both Steve and Anthony moved to Los Angeles, where Steve was a producer and Anthony a writer for a show of which you may have heard called Big Bang Theory.
Here's a Port Washington bound train crossing the 162nd-Northern Boulevard overpass. On FNY's Broadway Station page, I recount how the station evolved, which meant depressing parts of both streets under the embankment so a 12'2″ clearance could be achieved.
Amazingly, the grouping shown here on the west side of 162nd Street, the grocery, pizzeria, and Steve's Coffee Shop, are all intact from when I first found them in 1993. And would you believe I have rarely, if ever, been in any of them? My groceries came from a place on the corner of Station and 162nd then called Milk Barn but is now White Noise Coffee.
Some of the massive, arched concrete pylons that carry the LIRR trestle over Northern Boulevard.
Station Road resumes its eastern course along the LIRR at Northern Boulevard and 163rd Street, where it borders the Broadway LIRR station…
Jean Shin's "Celadon Remnants" appears on the Broadway stationhouse as well as sprucing up the old concrete entrance stairs first installed after the grade cross elimination in 1913:
Fragments of traditional Korean ceramics are arranged into mosaic murals of vase silhouettes on the façade of the Broadway Long Island Railroad station in Flushing, Queens. Located in the heart of a vibrant Korean-American community, the abstract, green-blue silhouettes enhance the beauty of the Celadon itself, while the overall piece speaks to the rich, yet fractured, cultural history of the Korean diaspora. The pottery remnants were imported from Icheon, Korea as part of a cultural exchange. Jean Shin
Shin's artwork can also be seen in the 63rd Street/Lexington Avenue station of the 2nd Avenue Subway.
In 2008, engineers added an elaborate ramp to allow wheelchair-bound passengers to enter the platform. Further east is a much simpler eastbound platform entrance.
Broadway-Flushing's post office, which doesn't have a name but is simply called "Station A" is located at Station Road and 164th Street. The community's original post office building is still there on the other side of the tracks on Depot Road (see below).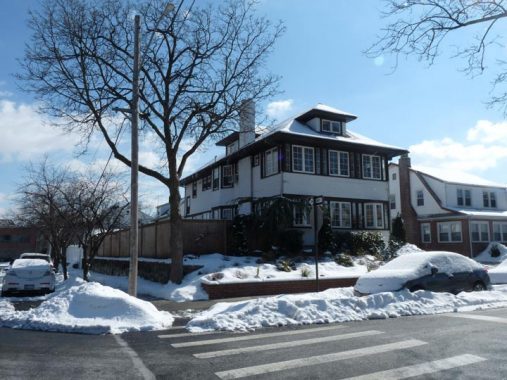 Though most of Broadway-Flushing's handsomer homes are located north of the tracks, here's a very interesting dwelling at Station Road and 167th Street. I have always desired a home with plenty of windows in multiple directions and small cupolas and dormers.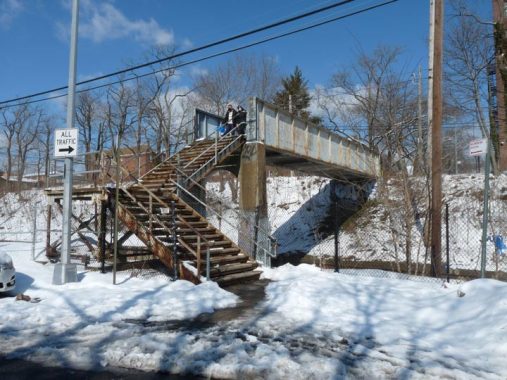 Though the convenient passenger crossing at 215th Street in Bayside has been demolished in recent years, the one shown here at Station Road and 167th is still intact and provides interesting views east and west along the tracks. There is also an underpass at 164th Street.
Station Road is interrupted again at 168th Street at a chalet-like building occupied by luxury car dealers the Helms Brothers.
To return to Station Road, you turn left at 41st Avenue and proceed three blocks to 171st Street. passing some more very interesting dwellings that include plenty of Tudor.
At the north end of 171st, there's a very short piece of Station Lane between 171st and Auburndale Lane that's about 15 feet long, or about two Shaquille O'Neals. No doubt Station Road once extended through the Nissan dealership between Auburndale and 172nd Street, but that connection was severed, leaving this extremely short stretch of road…
Also notice that at Auburndale Lane Station Road has a pull handle fire alarm, complete with scroll-masted indicator lamp and a sodium vapor lamp not yet replaced by a LED. Plenty of surprises if you know where to look!
Once again, to return to Station Road, a detour is necessary, south on Auburndale Lane to 42nd Avenue, then a left on 172nd Street and another right onto Station Lane…
…and once again, there's a signal that Station Road once ran continuously through, as a piece of it goes into the parking lot of this Nissan repair facility. This section of Auburndale is a car distributorship-repair haven; there are a number of "previously owned" dealers on Northern Boulevard.
Here's another Port Washington-bound set of M7 LIRR units on the trestle carrying it ac ross Utopia Parkway, which stands in for either 173rd or 188th Streets — the next numbered street is 189th.
Pauls dominate Station Road at 192nd Street, with the Paul Petrone auto repair facility and Paul's Market, which is bigger than a grocery store and smaller than a supermarket. I occasionally patronize Paul's Market since I like their baked chicken, and I may need it even more because plans call for the World's Smallest Stop & Shop to shutter sometime in 2021, leaving Little Neck without a supermarket readily available to people without cars.
Until the LIRR schedulers are able to thwart me by adjusting the train schedule, I have in effect hacked it. During the week, a westbound leaves me at Auburndale at about, let's say 12:30. I then have until 12:45 to shop for what I need at Paul's before the next eastbound arrives. if I happen to miss it, the next train back to Little Neck is at 1:45.
Now, this kind of local service isn't what the LIRR has in mind for this branch, because as often as not when I ride such a short distance, I don't get my ticket taken. Thus my assumption that the LIRR will eventually do something to close this window in the schedule.
The Auburndale station has been fully elevated since 1929, here above 192nd Street. It received a thorough remake approximately 15 years ago.
Between 192nd Street and its eastern end at Francis Lewis Boulevard, Station Road is its straightest and most stable, lined on both sides by attached brick apartment buildings, some with porches, some not. Under different names, this section of both Station and Depot Roads appear on maps as early as 1909.
Colorful vinyl awnings mark businesses on Station Road adjacent to Paul's Market.
Station Road finally comes to the end of its convoluted route at Francis Lewis Boulevard, built in the 1920s and extended south to Rosedale as Cross Island Boulevard. Its name was changed to honor a signer of the Declaration of Independence from Flushing several decades ago to avoid confusion with the Cross Island Parkway.
Depot Road
Depot Road also accompanies the Long Island Rail Road, this time on its north side, and also goes through metamorphoses similar to those of Station Road. You can follow the route on foot, like me, or drive west from Francis Lewis, as the narrow road turns out one-way westbound, eventually.
A handsome canopy of London plane trees covers 39th Avenue between 170th Street and FLB. Many decades ago this stretch was indeed called Depot Road, but when Queens got numbers, it was renamed.
Just east of 170th Street, 39th Avenue is home to a number of eclectic enterprises, including auto collision repair, a gymnastics studio and… the only archery range I know about in Queens. The range says it first opened in 1967. Yelp reviews are 5 stars nearly across the board. Might be an interesting place to take a date.
Update, 2/23/21: and I was incorrect about that, as a look in the FNY Archives shows the Pro Line Archery Lanes on 101st Avenue in Ozone Park.
A jog left on 170th, then a jog right and you are on the east end of Depot Road, which is quite narrow and wooded along the north side of the LIRR. Pardon the shady images, but it got quite dark for a few minutes as a snow flurry passed by.
At Depot Road and 166th, we're on a fairly high hill and on a clearer day the tall towers of mid-Manhattan are more readily visible. In 2009, I wrote a piece for the Huffington Post describing a house that used to be here and the demolition craze in Flushing in those days.
Between Northern Boulevard and 165th Street Depot Road gets considerably wider as it abuts a small parking lot for the LIRR Broadway station.
Here's a handsome mixed-use apartment building at Depot Road and 164th Street with Flemish-style stepped treatments.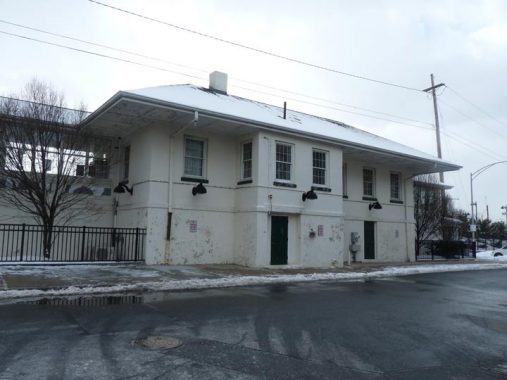 Across the street is the rear of the Broadway stationhouse. It was built in 1901 when service was still at grade; the current elevated platforms and passunder were built in 1913. The station had an unusual pebbled concrete rail that you can still see at the Hollis station on the main line.
From here on out are photos from earlier in the day, when it was sunnier. This building was Broadway-Flushing's original post office and you can see remnants of the post office insignia above the front entrance. Until a few years ago the flagpole on the roof was still there.
This grouping of buildings with Ionic pilasters (half columns) is relatively unchanged from a postcard view of a century ago; see it on FNY's Broadway station page.
The dormered group in the center along Depot Road just east of Northern Boulevard is also likely nearly 100 years old.
At its western end, Depot Road is attained by heading south from Northern Boulevard on 155th Street, then left on 41st Avenue, an abrupt right on 156th and then another left onto Depot Road…
…which runs for three blocks as a very narrow lane, echoing Station Road across the tracks, which are protected from Depot Road by a flimsy metal fence. One of my favorite houses in the area can be found on the corner of 157th; I can picture myself seated inside that indoor porch, waiting for the train to go by.
Here's a look in Street View during the summer, when the vegetation almost crowds out the roadway.
Depot Road ends at 158th Street, only to resume again at Northern Boulevard, as we've seen. But is this the last of Depot Road? Not quite…
if you walk south from Northern Boulevard on 159th Street toward the railroad, there's an unmarked section of Depot Road that goes to the parking lot of the New Age supermarket (formerly the UA Quintet) to the east, and into the parking lot of an Islamic center to the west. It's quite likely this section of Depot Road connected to the western end we've just seen.
And that about covers Station and Depot Roads, once an intrinsic part of my Flushing experience…
Check out the ForgottenBook, take a look at the gift shop, and as always, "comment…as you see fit."
2/21/21