In mid-February 2021, I was once again at my dentist's office in Bay Ridge for some routine X-rays (no cavities were detected). There's been a change there. I have been getting the chompers serviced at the same office since 1964, at first presided over by Dr. Leon Tempkin until his young protege, Dr. Mark DeBock, took over in the mid-1980s. Last year, Dr. DeBock retried from active "dentisting" as he has suffered some injuries and setbacks to his health, and is now merely supervising the office. Thus, I've now outlasted two dentists in the same office over 57 years!
Provided my mouth isn't numb from a needle, I have always treated myself to lunch after a dentist visit. In previous years, I'd head to Zeke's Roast Beef at either of its locations at 8th and 66th or later, 3rd and 78th. Well, they closed. Thus, I'd go to Nathan's at 7th and 86th. That closed after decades in the same location. The old abandoned building stands empty: it was worth more closed than open to its landlord. These days, I head to the Blimpie (one of the few remaining in NYC) or Pizza Wagon, which has been at 5th and 86th since 1966 but somehow escaped my notice during my 35 years in Bay Ridge. (I give the pizza there a 9 and the ambience a 2, but who cares since the pizza is a 9.)
Today, I resolved to walk to the D train through Dyker Heights. The name "Dyker" presents a bit of a puzzler for Brooklyn lexicologists. In Brooklyn By Name, Leonard Benardo and Jennifer Weiss assert that Dutch farmers who built dikes to drain the area's wetlands in the colonial era gave it its name. However Van Dyke is a common Dutch name and a family of that name did have a hand in its development in the mid-1700s. Strictly speaking Dyker Heights was more strictly defined when the Gowanus Expressway was completed in 1964, as the neighborhood's boundaries can be set at 86th Street (and the Dyker Park Golf Course, where Tiger Woods' father Earl was a pro) the expressway, 65th Street, and 14th Avenue. It's overwhelmingly residential and the only business streets are Fort Hamilton Parkway, 13th Avenue, and parts of 11th. The neighborhood is best-known and most heavily chronicled during the Christmas season, when many locals construct extravagant Christmas displays, especially along 84th Street between 11th and 12th Avenue.
Here's a grouping of storefronts along 86th Street between 5th and Gelston Avenues. It looks nondescript until you look more closely for a ghost sign, "Your Baker" in the center. In the 1970s, when my family was in Bay Ridge, this was the go-to baker after Ebinger's, a block away between 4th and 5th, shut down in the late 1960s.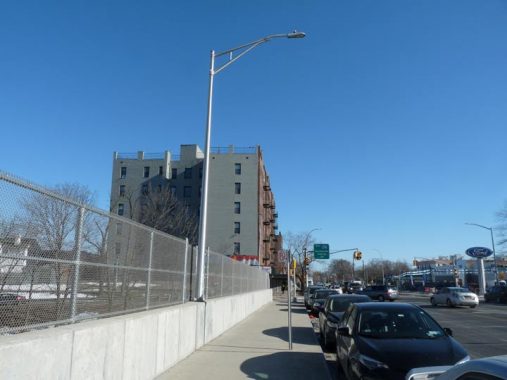 I was surprised to see that the bridge taking 86th Street over the Gowanus Expressway had received new fencing and lighting. This particular pole is nonstandard in NYC streets, though it may be more frequently seen on expressways.
This laundromat on 86th Street opposite Battery Avenue had been shedding letters from its sidewalk sign, one by one, for many years until just the last three letters are left. In any case… it's closed for good.
11th Avenue, in the streets just north of 86th Street, is peppered by mansions of varied fancifulness and frankly, farcicality. Have some of them been owned by members of our organized crime community? Perhaps, but best not to talk about it. Another clutch of similar wildly appointed dwellings can be seen several miles to the east, in Mill Basin. This one, at 11th and 84th, has a faux-bricked exterior, with sculptures of several different creatures from lions to goats to bare-breasted water girls decorating the entrances.
A sampler of several other houses along the same stretch. All seem to be festooned with statuary of some kind. What I presume were the owners could be seen outside for a couple of these, and thus, I got my photos from across the street, lest I get the familiar, "can I help you?"
I had always been under the impression that Dyker Heights was mainly settled in the 1920s and even later than that. However, I found a couple of pieces of evidence to the contrary. St. Philip's Episcopal Church occupies the entire frontage on 11th Avenue from 80th-81st Streets. According to the church's website, St. Philip's was completed in 1900, with the steeple added in 1907. It has been called "The Little Country Church on the Hill" and must have originally served farms and isolated homesteads in the region.
If you look at the NYC Landmarks map, Dyker Heights is severely landmark-challenged. This beautifully-apportioned firehouse, Engine 284/H&L 149, on 79th between 11th and 12th Avenues, should really be considered. It was built in 1912, when William Jay Gaynor was NYC mayor (he's immortalized with statuary in Cadman Plaza). Here are some interior photos.
I'm quite familiar with this block, where our family frequently visited a cousin of my grandmother's, Mary Wall, who everyone called "mom." She had a black cat named… Sammy Davis Jr.
The mighty have fallen at 13th Avenue and Bay Ridge Parkway, as this former Brooklyn Savings Bank branch, in its last incarnation an HSBC branch… is abandoned and awaiting its next use.
I'm unsure how long ago D'Onofrio Softball occupied this building at 13th Avenue and 61st Street. I'm also unsure if D'Onofrio sold softball supplies bike balls, bats, uniforms, etc. or if there was somehow an indoor softball field there. What I do know is that the painted sign is in a font called Cooper Black that was designed by Frederic Goudy.
Old school wholesale lumber and plumbing supplies place on 60th Street and 13th Avenue. I enjoy the smell of fresh cut wood.
Borough Park is thought of as an Orthodox and Hasidic Jewish neighborhood. But there is also an Eastern European pocket. I passed stores like Cracovia, which sells Polish imports, and Kek Duna, Hungarian. There are world within worlds, I like to say.
There are Catholics to be found anywhere in NYC, and Saint Frances de Chantal Church, 13th Avenue and 57th Street, sees to the needs of southern Borough Park's. This was the parish church, and former elementary school, of my aunt Mary, uncle Jim and their three kids, my cousins, when they lived for many years on 13th Avenue and 50th Street. The saint was a French nun (1572-1641) who founded the Order of the Visitation of Holy Mary. It's one of the older parishes, as the church's cornerstone was laid in 1892.
While many of the older dwellings on this stretch of 13th Avenue have succumbed, this handsome row of attached houses is hanging in. But get a load of that thing on the left.
Time to get the D train back to Manhattan. The King of All Buildings was once the undisputed King of the Horizon from the 50th Street platform, but it's been joined by usurpers. And there are more to come.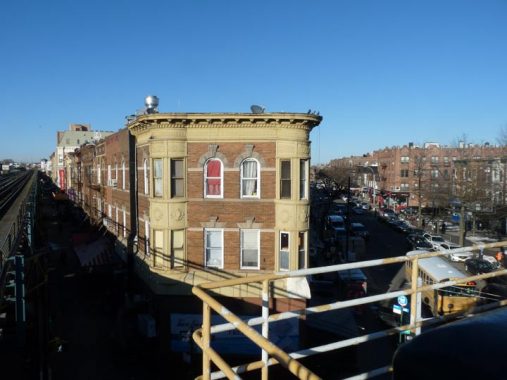 Most of the buildings seen here were built before there was an elevated train here and the trains ran on the surface of New Utrecht Avenue.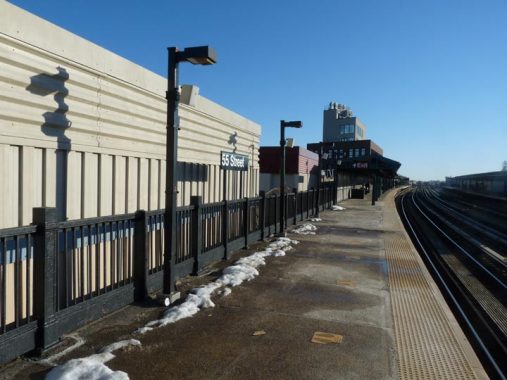 I should really do a whole series on subway platform lighting — they're lampposts too, of their own kind. It would mean an awful lot of getting on and off subways, though.
Check out the ForgottenBook, take a look at the gift shop, and as always, "comment…as you see fit." I earn a small payment when you click on any ad on the site.
4/22/21