I was stumbling down Greenpoint Avenue in the dead dog heat of May (as I write this on the Memorial Day weekend, it's 45 and pouring rain) and I saw one of my favorite buildings in Greenpoint, the Leviton electric works factory, stretched across three intersecting streets between Jewel and Newel.
Leviton has been gone from Greenpoint since 1973 but is still going strong. The company was founded by Isidor Leviton in 1906. The first product was brass mantle tips used in natural gas lighting fixtures, which were sold on pushcarts on the Bowery. The company's first major success were screw-in lampholders used for Edison lamps.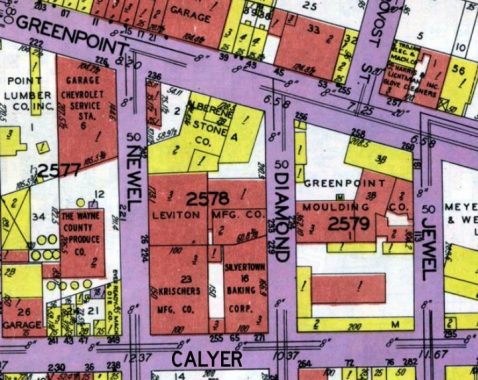 By the 1920s, Leviton was successful enough to build a complex in Greenpoint, Brooklyn between Newel and Diamond Streets. In 1936, though, Leviton bought the buildings on Greenpoint Avenue, demolished them and constructed the large building seen there today…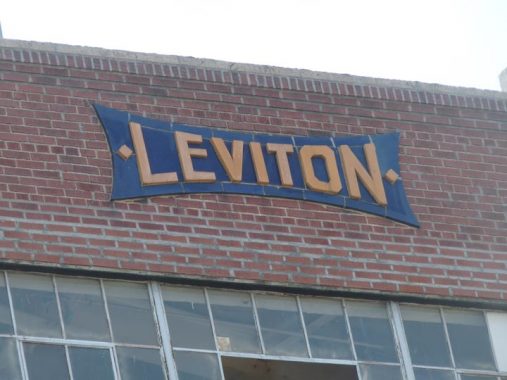 …that still bear "Leviton" terra cotta signs in blue and orange on the roofline. Diamond Street has since been demapped and today serves as a guarded entrance to the complex, which is now home to a number of manufacturing concerns.
In 1973 Leviton moved to a complex at Little Neck Parkway and the Long Island Expressway, and then to its present location in Melville, NY in 2009. Among the company's innovations are the Universal Dimming device line which dims any dimmable LED, incandescent or fluorescent lightbulb. No question, though, its most famed product is one that is now-universal wide, white Decora electric light toggle switch, which blends in better with walls, and replaced the more obvious black toggle switches installed throughout the 20th Century.
As always, "comment…as you see fit." I earn a small payment when you click on any ad on the site.
5/29/21