Historic Richmondtown, or Richmond Town (both ways seem correct) sits near the geographic center of Staten Island, far from any major parkways or expressways, but at the confluence of three major roads: Richmond Road, which points east toward the ferry to Manhattan; Arthur Kill Road, whcih gets you west to Tottenville; and Richmond Hill Road, which climbs up and down the hills of LaTourette Park and golf course to New Springville and the Staten Island Mall.
Richmondtown's collection of colonial-era buildings from all over Staten Island has been one of my favorite parts of town for years. Yet, it hadn't been since a July 4 celebration in 2008 since I had spent any time there! Since I was a kid, I had been riding the buses in Staten Island yet, until this website was founded in 1999, I hadn't considered Richmondtown as a destination at all; I knew it as the place where the S74 bus made a left turn on the way to Tottenville. (These days, the S74 goes to an asphalt field called Bricktown Mall.)
But I began studying it in earnest when working on the website and gaining an acute sense for finding older, colonial-era buildings. It's one of two such "restorations" in the NYC metropolitan area, the other being Old Bethpage Village in Long Island, which I have meant to visit but have yet to do so. While Richmondtown is open year-round, I've been there on at least 2 or 3 4ths of July (sounds awkward, I know). One year, there was this truck selling slices of pie and I had the best slice of cherry pie I have ever had, before or since. In 2000, ForgottenTour #8 visited Richmondtown and surprisingly, it was one of the least-attended of that FNY era. I may give it another try when Covid-19 restrictions are completely lifted.
Knowing the toll modernization was taking on the island, and perhaps presciently imagining the devastation to be wreaked on Staten Island's old and out-of-the-way places by the opening of the Verrazano-Narrows Bridge, Historic Richmond Town was established in 1958 by the Staten Island Historical Society and the City of New York at the area surrounding the junction of Richmond, Richmond Hill, and Arthur Kill Roads. Colonial-era homes from all over the island were moved to this 25-acre site over the ensuing years.
As far back as 1685, the area was an important crossroads, and a town called Cocclestown was established, named for the oysters found in Richmond Creek and other area streams. The town gradually gained in importance and became the county seat, and a town called Richmond and later, Richmond Town, evolved.
I have visited in the dead of a January weekday when the only sound was the exhaust from the rare bus passing down Richmond Road. This day, I was there on an early May, clear, cool Saturday. Still under Covid restrictions, the buildings were closed, and I had the complex mostly to myself, except for a wedding party seeking photo opportunities, another occasional wanderer, and the Eggers ice cream shack, where I indulged myself for lunch, getting a vanilla and chocolate scoop.
While the Restoration's website has its own detailed map, my own favorite can be found in the Bible of Staten Island exploration, Bruce Kershner's Secret Places of Staten Island. I just wish it was spiral-bound so it could be lain flat.
Richmondtown's buildings have been arranged along Richmond Road, Center Street, Court Place, and Arthur Kill and Richmond Hill Roads. The area is more properly called Richmond and is located at the foot of the ridge of high hills at the center of the island that include Ward's, Grymes, Emerson, Todt and Lighthouse Hills. Richmond Creek, a thin stream here , becomes much wider as it enters the Fresh Kills Landfill several miles to the west. Near Richmondtown we find expansive LaTourette Park and Golf Course, the picturesque Staten Island Lighthouse, the Jacques Marchais Tibetan Museum, "Crimson Beech" (Frank Lloyd Wright's only residential building in NYC) and the spooky ruin at Heyerdahl Hill. It's not near the Staten Island Railway, but can be accessed via the S74 bus, Tottenville-bound, from the ferry terminal. Motorists can use the Staten Island Expressway, exiting at Slosson Avenue and then following Manor Road, Rockland Avenue, and Richmond Road to the village.
On this day, I contented myself with attempting to get a photo of every structure in the complex. (I missed a couple!) I also found some "no photography" signs around. Perhaps they meant that for the interiors, a moot point today; but no one was there to tell me to cease and desist.
Just outside Historic Richmondtown proper, but no less historic, is St. Patrick's Roman Catholic Church, on a country lane, sidewalk-free St. Patrick's Place. Constructed between 1860 and 1862 and little altered since, it is an early example of Romanesque Revival. It received Landmarked status fairly early, in 1968.
Also falling just outside Richmond Town is Richmond Engine Company #1, Richmond Road east of St. Patrick's Place, a volunteer fire company founded in 1903. The company works in tandem with the FDNY in local assignments. It's one of Staten Island's two volunteer fire companies, the other being Oceanic Hook and Ladder #1 on Victory Boulevard in Travis.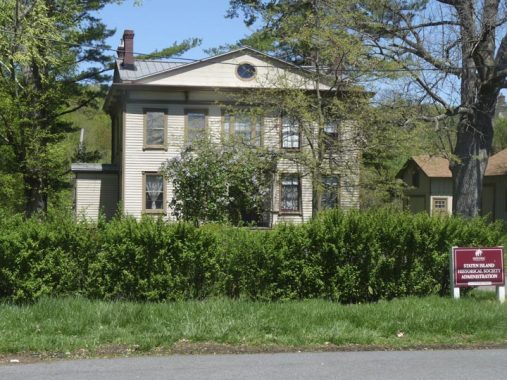 The Stephens-Prier House, a painted Greek Revival/Italianate clapboard house at St. Patrick's Place and Center Street constructed in 1859 for Daniel Lake Stephens, was occupied by several Stephens family members, including judge Stephen Stephens, until it was acquired by butcher James E. Prier in 1886. Subsequent owner William F. Rigby saved the house from dilapidation and in 1991, Richmondtown made it its administrative office.
The sun just wasn't in a good spot for me to do the former PS 28 justice, a building catercorner to Stephens-Prier house across St. Patrick's Place. But the Richmondtown website has a better photo. The school was built in 1908, designed by prolific schools architect C.B. J. Snyder. When the school closed in 1965, it was reused as a library and for storage by Richmondtown.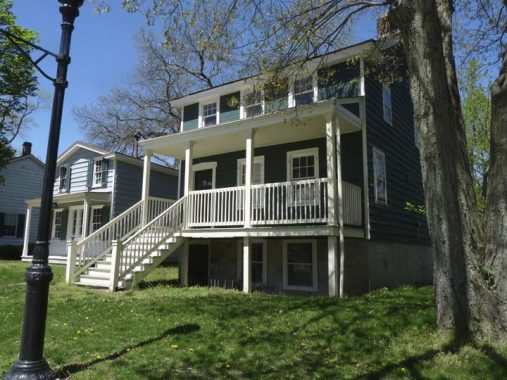 The Henry I. Seaman Cottage, complete with a new staircase, can be seen on Center Street. The Greek Revival cottage was built in 1837. Seaman, a member of the Whig political party, was elected to Congress representing Richmond and also Kings County (then consisting of Brooklyn and five other towns) in 1846. He also became the director of Staten Island RR, later Staten Island rapid Transit and SI Railway.
It was in 1836, though, that Seaman laid out the village of Richmond, now Richmondtown Restoration, plotting Center Street and Court Place and building several cottages, including this one. This house originally sat across Center Street and was moved to its present location in 2005.
The Richmondtown Tinsmith Shop was built as a residence and grocery for the Colon family , James Colon and Mary Anne Winant, a few miles west on Woodrow Road in the 1840s. It was relocated to Bloomingdale Road early in the 20th Century and then to Richmondtown in 1969. The Colon and Winant names can be found on street signs and gravestones in southern Staten Island.
I mentioned Stephen Stephens earlier, and he and wife Elizabeth Johnson Stephens built this house in its present location on the corner of Center Street and Court Place in 1837, purchasing the land from Henry I. Seaman. Interior shots can be seen here. The interior has been marvelously restored to reflect the period in which it was built. It was Landmarked in 1969.
The Richmondtown General Store, arguably my favorite building in Richmondtown for its pot belly stove alone, is attached to the rear of the Stephens house. It was built in this location on Court Place in the 1840s, but collapsed from dilapidation; this is a faithful reproduction dating to the 1940s. It was the centerpiece of Richmond Village, a spot to gather, chew the fat and the tobacco. In the 1870s, Stephens sold the store to the Black family, who ran it with the aid of 12 children. The store remained with the Blacks until 1926.
Somewhere in a drawer, I still have a handbill printed at the Richmondtown print shop, which uses old-fashioned hot type printing press. Capital and small letters were sorted in different cases, hence "upper and lower" case, and to add space between lines, lead bars of different sizes were inserted…hence "leading." Had I been around in the 1800s and early 1900s, I would no doubt have worked in a print shop.
Until it was moved to Richmondtown in 1961, this was a general store on Amboy Road in Eltingville by at least 1860. The printing press was added in 1967.
Next door on Court Place is the Richmondtown Carpentry Shop. The small building was constructed using timbers from other colonial-era buildings on Staten Island that were otherwise unsalvageable, employing new timbers and building materials. It was complete by 1967.
The Edwards-Barton House, at the SW corner of Court Place and Richmond Road, was built in this location in 1869 for Webley J. Edwards, a tailor by trade who became Richmond County treasurer and a vestryman at St. Andrews's Church (see below) and a justice of the peace. He occupied the house with his wife for just a brief time, passing away in 1870. His daughter Ella married Willis Barton and raised a large family here, occupying the house until about 1915. Later, Nicola and Antonietta Aquilino purchased the house and turned it into a billiard hall and pizzeria. The restaurant addition was removed in 1966.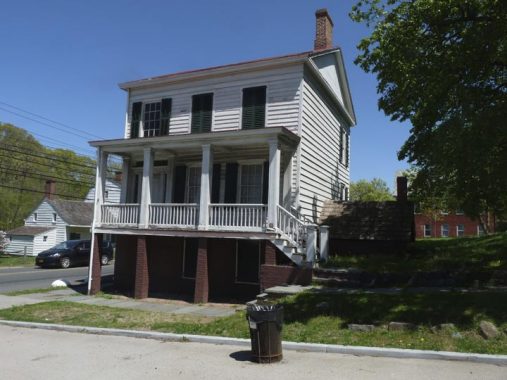 Across Court Place from the Edwards-Barton House is the John Bennett House, built in 1839 on land owned by Henry I. Seaman. It was originally owned by baker Austin Burk; there is still a commercial-sized oven in the basement. Burk sold the building by 1842 and by 1849 it was owned by ship merchant, captain and Quarantine officer John Bennett; his son Billop inherited it and resided here until 1917. In mid-century it served as a general store, restaurant, post office and even a bus terminal building. A woman named "Sloppy Sally" ran the restaurant. The house gained Landmark status in 1969.
This columned Greek Revival building stands at Richmond Town's core at Center Street and Court Place, which was named for it. It was the borough of Richmond's main courthouse between 1837 and 1919 and today hosts the visitor center and museum store. In 1837, Henry I. Seaman transferred the plot to Richmond County for $1.00, provided that a courthouse was built on the site. Besides the seat of county government, the court in the building saw 82 cases tried. The Richmond County Jail stood behind the courthouse from 1860 to 1959; a parking lot has replaced it.
The Rezeau-Van Pelt family burial ground sits just to the west of the courthouse. It predates the Restoration, the courthouse and Henry I. Seaman. It was established in the 1780s on family property; the iron fence was added in 1850. The Rezeau-Van Pelt family sold to Richard Tysen in 1854, and his name is on the short street, Tysen Court, that runs south from Center Street. The Rezeaus were French Protestants, or Huguenots, who moved to Staten Island and New Jersey to escape religious persecution.
This trio of guard shacks can be found near the Clarke Avenue end of the parking lot. I can't tell if they're historic structures or not.
Richmondtown Restoration boasts a pair of (very) old former Staten Island Railroad (Rapid Transit/Railway) station houses, this one New Dorp's. It was built in 1883 at New Dorp Plaza (formerly 6th Street) and Rose Avenue. It's still got some colored stained glass window panes and original wood boards and brackets. New Dorp was among the last SIR stations to be placed in an open cut to get rid of grade crossings, and the station stood in place until 1965, when it was moved to Richmondtown. The former Annadale station is also on the grounds.
Egger's Ice Cream was founded in Port Richmond in 1932 by Richard Egger and has been wildly successful in a number of Staten Island locations since. In 2018 it came to Richmondtown in this nonhistoric structure built to resemble and oldtime railcar diner (I believe it's left over from the set of Boardwalk Empire, which filmed extensively in Staten Island.)
This horse trough on Center Place bears the inscription "Erected by Philemon Literary and Historical Society 1912."
From the Facebook group, Tottenville Historical Society:
The history of the Philemon Literary and Historical Society, founded in 1897 as the Philemon Club of Tottenville by a group of young, educated women, epitomizes the women's club movement in America. With worldly ideas, their goal was self-improvement and community reform. Throughout the 1800s all across America, women were organizing to address issues related to religion, temperance, missionary, benevolence, antislavery and voting. "The object of the Society is to engage in and promote the study and love of literature, history and patriotism, to promote and urge the preservation of buildings and lands of historical interest in the Borough of Richmond." By 1910 they had successfully campaigned for a new library and the preservation and restoration of the Conference House. The group's emblem was the oak leaf. How appropriate, we thought. The oak tree is the symbol of great strength, deep roots, and resilience. Their stationery was embossed with a simple logo — an oak tree branch bisected with a banner bearing the name "Philemon."The women's group disbanded in the 1960s, leaving all remaining funds in their treasury to charity.
The Epistle to Philemon can be found in the Bible New Testament.
This stone barn foundation was constructed by Richmondtown Historical employing stones from a historic barn, now disassembled, in New Springville. The Society was going to reconstruct a barn found in Travis in this location, but it proved too unstable and the work wasn't completed.
In Part 2: along Richmond, Arthur Kill and Richmond Hill Roads
As always, "comment…as you see fit." I earn a small payment when you click on any ad on the site.
5/30/21