For my purposes the one-block stretch of 101st Avenue between Forbell and Drew Streets is one of the most unusual in the city. Why? Well, it's the only street in the Queens street numbering system that's completely within Brooklyn. It used to be easier to tell where the undefended Brooklyn-Queens border was, especially between the years 1964 and 1984 when NYC street signs were color coded by borough … you crossed from Brooklyn into Queens when the signs turned from black to white. Ultimately, this arrangement wasn't really a factor. Only on two occasions do NYC boroughs have land borders: Brooklyn/Queens, and a very short stretch of Bronx/Manhattan in Marble Hill.
I have been in these parts before. In the same vicinity, western Woodhaven/Ozone Park, I checked out 95th Avenue which is actually in three separate New York counties. However: the piece of 101st Avenue shown here on the title card, between Forbell and Drew Streets, is totally and undeniably within Brooklyn. On this page, I'll try to illustrate how that happened.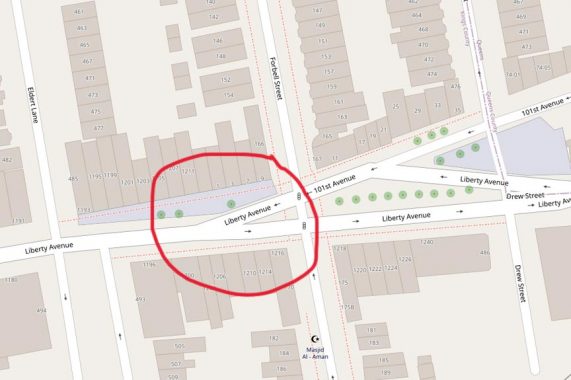 An excerpt from OpenStreetMap in June 2021. You can see the Brooklyn-Queens line on Drew Street (showing county borders is a courtesy that Google Maps does not vouchsafe) and then running east along Liberty Avenue. If you look carefully, you can see the Brooklyn-style house numbers 11 through 35 on the north side of 101st Avenue, and then, once in Queens, 101st Avenue assumes the familiar Queens house numbering scheme beginning with 74-01.
But there's something odd going on on that bit of Liberty Avenue west of Forbell. There, OpenStreetMap labels the buildings on this piece of Liberty, which is really the west end of 101st, with house numbers 1 through 9. I can confirm that this is an error. Those buildings carry Liberty Avenue, Brooklyn, addresses in the 1200s. Once crossing into Queens, Liberty Avenue assumes 74-xx Queens house numbers.
Number 35 101st Avenue, corner of Drew, is the An-Noor Pharmacy…
#17 and 19 101st Avenues
Looking east from Forbell Street where 101st Avenue (left) separates from Liberty Avenue (right)
A look at most of the addresses on the block of 101st Avenue within Brooklyn.
The Brooklyn neighborhood of Cypress Hills can be found just west of the Queens line, but many still call it "City Line." For a few years in the late 19th Century, this was where the City of Brooklyn ended and where you entered the county of Queens. That name became moot in 1897, when Brooklyn residents narrowly voted to become part of Greater New York on January 1, 1898. This pizzeria gets in the old spirit.
Here, I screen grabbed the borderline area of Brooklyn and Queens in 1909. I have circled the junction of Liberty Avenue and 101st Avenue, as well as the Liberty Avenue label and 101st Avenue's name in 1909… Broadway.
Moving forward to 1918, we can see that Broadway had been renamed Jerome Avenue, possibly to avoid confusion with Queens' other Broadway in Astoria (in 1918, there was also a piece of it in Elmhurst, and the two pieces would be connected when the IND Subway was built in the 1930s).
Duplicate street names, as well as duplicate numbered streets in different neighborhoods, were a major impetus behind Queens getting an overall street and house numbering plan beginning in the 1920s…but that did not end the problem of duplicate numbers, as there's an area in Maspeth where seemingly every street is numbered 60.
Thus, we can see that when the street grid was built at the Kings and Queens County border, the street numbering system we have today was not in effect, i.e. there was no 101st Avenue laid out in Brooklyn because it was named Broadway and then Jerome Avenue. It's an accident of geography that one block of 101st Avenue wound up in Brooklyn.
Something interesting happens when you dial up Google Maps and click on the block of 101st Avenue between Forbell and Drew. A box pops up that labels it Jerome Avenue! That means one of two things. a) The Google Maps people do research older maps or b) locals call this block Jerome Avenue instead of 101st Avenue.
If you know, Comments, as always, are open.
6/22/21