HAVE you ever been wandering in northern Tribeca…just south of Canal Street…and encountered 6th Avenue and wondered, what the heck is a numbered NYC avenue doing this far south? After all most NYC numbered avenues begin in Greenwich Village or at East Houston Street! 6th Avenue, though, branches away from Church Street at Franklin and roars north from there, stopped only by Central Park South.
NYC has never tired of monkeying with 6th Avenue over the decades. 6th Avenue was laid out before Central Park was designed and built, and used to continue north of the park. However, there it was renamed Lenox Avenue in 1887 for James Lenox, whose collection became the basis of the New York Public Library and the son of Robert Lenox, the landowner for whom Lenox Hill was named. One hundred years later, Lenox Avenue was subnamed for the civil rights leader Malcolm X. Hence, all three iterations of 6th Avenue above Central Park have an "x" in their names. Formerly northbound auto traffic along 6th Avenue could continue into the park via Center Drive, but auto traffic was banned from the park except for emergency vehicles during the 2010s.
South of the park, Mayor Fiorello LaGuardia, honoring the Organization of American States, renamed 6th Avenue "Avenue of the Americas." When modern octagonal lampposts were placed along the avenue in 1960, they were outfitted with circular metal signs upon which the coats of arms, or shields, of member countries of the OAS were imprinted, which I call the "medallions of the hemisphere." Renovations and lamp replacements over the decades sadly claimed many of the signs, which today are limited to a few blocks north of Canal and a couple of blocks near Central Park. In the 1980s the Department of Transportation gave in and ceded to public usage, restoring "6th Avenue" signs alongside the "Avenue of the Americas" signs.
Why does 6th Avenue begin all the way down here? It didn't, always. Formerly it began at Carmine Street and Minetta Lane in Greenwich Village and was extended south along the route of the new IND Subway carrying A, C and E trains, with 6th and 8th Avenue IND lines separating at Greenwich Avenue. Prep work that included demolition of condemned buildings began in 1926, with the new, "southern" portion of 6th Avenue opening in 1930. All addresses were renumbered to accommodate the extension — unlike 7th Avenue, whose own southern extension atop a new IRT extension a decade earlier was a separate street entirely, called 7th Avenue South, with its own house numbers. Today, 7th Avenue still begins its house numbering at Greenwich Avenue, as it always did.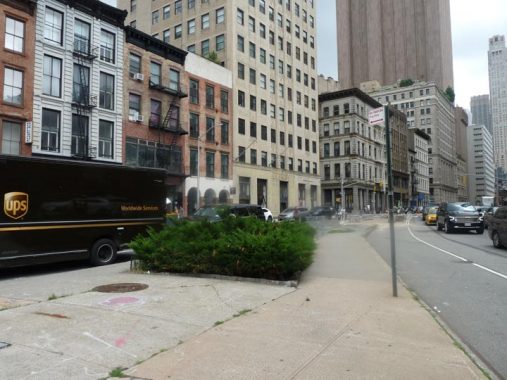 Even today, 6th Avenue has somewhat of a rough and ready unfinished quality below Carmine and Bleecker Streets. You can see the sides of houses on cross streets, as relatively few houses have been built that face 6th Avenue in the over-90 years since 1926, and you can also discern where streets like Hancock (at Houston) and Clark (at Watts) Streets have been obliterated or absorbed by 6th Avenue.
The triangle where 6th Avenue diverges from Church Street runs through a fairly nondescript region for a block or two. It was improved by the construction about 15 years ago of the Roxy Hotel, but things still look fairly rough. That triangle has a name, until recently unmarked: Barnett Newman Square, named for the Abstract Expressionist painter (1905-1970) who lived in his nearby studio at #35 White Street. (I have to tell you, Newman's work, which often consisted of squares featuring one or two colors, looks like something I could do myself, but… context is king.)
As always, "comment…as you see fit." I earn a small payment when you click on any ad on the site.
Forgotten New York never gets tired of monkeying with 6th Avenue, either.
7/15/21