REALLY, I could have sworn I hadn't been back in the Bushwick and Ridgewood area for a couple of years, but the internet doesn't lie (well, some of it does), and I had covered quite a bit of territory there during a December 2019 walk posted in January 2020, just before the Covid Pandemic. Fortunately that tour did not cover the ground that I did on July 4, 2021, in which I desired to cover the area's "greatest hits", or at least my greatest hits that may differ from yours.
GOOGLE MAP: BUSHWICK & RIDGEWOOD 2021
I jumped on a L train and exited at Jefferson Street and Wyckoff Avenue, which forms one of the main business streets on the border of Ridgewood and Bushwick. In fact, beginning in 1925, it's been the literal Brooklyn-Queens border from Gates Avenue to Eldert Street. I wish I could have been there between 1964 and 1984 when, I presume, there were two color street signs on each side of Ridgewood's border streets, black for Brooklyn and white for Queens! At least that's how I presume they did it. Does anyone living there then remember?
I like Wyckoff Avenue so much I have walked its length on two occasions.
About 15 years ago (as of 2021) Wyckoff Avenue was given a set of Type F scrolled retro lamps, as well as Type G bracket lamps on its telephone poles. However, one lone Bishop Crook can be found at Troutman Street.
Many streets in Bushwick and Ridgewood, especially the streets just south of Flushing Avenue, feature large wall murals, some of them very well-executed.
The artwork on St. Nicholas Avenue and Troutman Street was produced by a variety of artists under the Bushwick Collective umbrella; officially, we're a block west of the Brooklyn-Queens line, so officially in Bushwick.
The accidental curator of the collective is Joseph Ficalora, a Native of Bushwick and Brooklyn. In 1991, Joseph's father, Ignazio Ficalora, was killed on the way home from the family steel fabrication business. He was murdered for a few dollars in his wallet and the gold chain he had around his neck. At the time Joseph was only twelve years old. A few years ago, in 2011, Joseph experienced another tragedy, the loss of his mother, who battled a brain tumor for four years.

Joseph is now learning to heal from his years of growing up in a dirty and crime-ridden neighborhood by transforming the neighborhood and the walls of Bushwick into a safe & hip outdoor gallery. He has learned to wrangle the permits needed to legally display hundred of artist's work. There is so much artwork to see you won't be able to stop talking about it for days to come. [Free Tours By Foot]
Scott Avenue meets St. Nicholas Avenue and Troutman Street at an angle. Actually Scott Avenue belongs to the East Williamsburg street grid north of Flushing Avenue and is the only such avenue to venture this far south. And, Knickerbocker Avenue is the only avenue in the Bushwick-Ridgewood street grid to venture north of Flushing Avenue. Both streets were extended from their original lengths between 1900 and 1912.
Echo Bravo, a wings restaurant on the corner of Scott and Troutman, is located in a former garage/gas station, and employs a former sign stanchion to light its outdoor patio area. You can see this on Street View when you move the date back to 2012.
Bohack, the well-known NYC supermarket chain closed well over 40 years ago. German immigrant Henry C. Bohack opened his first grocery in 1887 and over the years Bohack developed into one of the first powerhouse grocery store chains. Grand Union, Key Food and all the rest were to follow. When the Depression arrived in late 1929, Bohack responded by actually opening more stores to provide employment. The founder passed away in 1930.
Bohack prospered until 1974 when the chain went bankrupt. After an attempted merger with Shoprite failed, Bohack disappeared into the history books in 1977. Occasionally, though, an old awning or sign is taken down and the Big B is in evidence briefly once more. The chain had a massive distribution/warehouse center at Flushing and Metropolitan Avenue, and the words "Bohack" and "Warehouse" can still be seen on this building on the Troutman Street side.
Not only did Bohack have a distribution center here, but also a retail restaurant! A building now used as a warehouse in the triangle formed by Flushing Avenue and Troutman Street still has those B's emblazoned on the sides of the building. As this photo from the 1930s demonstrates, this building once housed a Bohack's restaurant.
With some exceptions, as we'll see, the stretch of Flushing Avenue between Irving and Metropolitan Avenues is full of cheap goods purveyors, wholesale places, car parts and car repair palaces. However…
…it wasn't too long ago, let's say a few decades, that this stretch of Flushing Avenue was lined with historic houses built by Dutch immigrants in the colonial era, the 1700s and 1800s.
Flushing Avenue was once a toll road known as the Brooklyn-Newtown Turnpike (graded in 1809 along a winding colonial route). Further east, it connected with the North Hempstead Turnpike (now 57th Avenue and 62nd Drive) which crossed the southern Flushing Meadows into eastern Queens. The Covert, Webb and Woodward houses seen here were all demolished by 1940.

I wasn't satisfied with the Onderdonk House photos I got on July 4, so I'll instead use some I got from a visit in early 2008.
The Onderdonk House, 18-20 Flushing Avenue at Onderdonk Avenue, is the lone survivor of what was once many colonial farmhouses along this stretch of Flushing Avenue.
While the Onderdonk-Van Der Ende House isn't the oldest colonial house in NYC (the honor goes to the Peter Claesen Wyckoff House in East Flatbush, first built in 1652) it's the oldest Dutch Colonial stone house. There has been a structure in this site, at Flushing and Onderdonk Avenues, since 1660 when Hendrick Barents Smidt built a small dwelling here. Paulus Van Der Ende of Flatbush had purchased Smidt's farm ( a total of 58 acres — most of what is now Ridgewood) and began constructing the present building in 1709. Van Der Ende, in turn, sold the property to Adrian Onderdonk in 1821, who built the house as we know it today with a gambrel roof, Dutch doors divided in half, and a central hallway with rooms on each side.
The house passed through many owners after the Onderdonks sold in the early 20th Century. When Louise Gmelin purchased the house in 1908, along with 1.5 acres (about the limit of the present property) she operated a livery stable on the property and dealt in scrap glass — there were many glass factories and breweries in the area. The Onderdonk House has also been a speakeasy, livery stable, greenhouse manufacturer, and fascinatingly, a factory for spare parts for the Apollo space program.
The Greater Ridgewood Historical Society entered the picture in the late 1970s and largely rebuilt the house after a devastating fire. The house opened to the public in 1982 as a historic site. It has been home to tours, historic exhibits of Dutch colonial history, and has even hosted weddings and concerts in the decades since.
Here are some scenes from Forgotten NY Tour #38 in 2009, in which we got a tour of the building by the GRHS.
Onderdonk House as it appeared in the 1940s.
I detoured down Woodward Avenue to see its grade crossing where it meets the Long Island Rail Road Bushwick Branch, a rough and ready freight line that diverges from the also freight LIRR Montauk Branch at Andrews Avenue about a mile to the east. It won't win prizes for esthetics, but it's a vital means of moving goods and yes, garbage from businesses in Bushwick and Ridgewood. It was a passenger line a long, long time ago.
A few years ago I chronicled all of NYC's RR grade crossings on public streets. Yes, I do this so you don't have to.
I was sure to visit Charlotte Street, an amazing residential cul de sac amid the car crash joints on Flushing Avenue between Onderdonk and Woodward, just to see how it was doing. I discussed Charlotte Street and its history extensively on this FNY page from 2008.
Stockholm Street, and the surrounding neighborhood in Ridgewood, is dominated by the twin-towered St. Aloysius Roman Catholic Church at Onderdonk Avenue (pronounced Allo-ISH-us). It was built between 1907 and 1917 (Francis Berlenbach, arch.) and can be seen for miles in its perimeter. The parish celebrated its 125th anniversary in 2017. The church is the largest building in the city constructed with Kreischer brick (see below). At 165 feet in height its twin campaniles are rivaled in the general area only by the Spanish Baroque St. Barbara's R.C. Church at Central Avenue and Bleecker Street, eight avenues to the south. The twin towers can be seen as far away as Calvary Cemetery, a fair distance to the north across Newtown Creek.

Follow the yellow brick road to one of my favorite blocks not just in Queens, but in all of NYC. The street's main claim to fame is a charming landmarked block boasting 36 homes built with yellow brick from the Balthazar Kreischer kilns of Staten Island.
There are similar rows of yellow brick houses elsewhere in Ridgewood and in Long Island City, but only these have the added attraction of thin, Doric-columned porches. The yellow-brick homes — which sit on the northeastern end of the street, between Onderdonk and Woodward Avenues — were nearly all constructed between 1907 and 1910, when German-Americans and immigrants from Germany were developing Ridgewood. The homes were developed by the architectural firm of Louis Berger & Company and built by Joseph Weiss & Co. Previously I had thought that the original yellow brick paving used Kreischer bricks, but according to Landmarks, the original bricks on Stockholm Street were produced by the S.B.T. Company, a major manufacturer of clay products, located in Clearfield, Pennsylvania. The yellow bricks were replaced by smoother versions with the same color in the late 1990s. Meanwhile, Type G telephone pole lamppost masts were installed by the city a few years later.
From 2009-2014, three other areas in Ridgewood were awarded NYC Landmarks status.
On July 4th, a relative few boasted flags, including the house owned by Forgotten NY correspondent and president of the Newtown Historical Society Christina Wilkinson.
There are actually two Linden Hill Cemeteries between Woodward, Grandview and Metropolitan Avenues and Starr and Stanhope Streets: Linden Hill Methodist, accessible from Woodward Avenue and Hart Street, and Linden Hill Jewish, on Metropolitan Avenue east of Starr Street. The Jewish cemetery is the final resting place of longtime NYS Senator Jacob Javits (1904-1986), while a notable permanent occupant of the Methodist cemetery is playwright and Broadway producer David Belasco (1853-1931). This small area of Ridgewood was originally called Linden Hill, and there is a Linden Street nearby.
In a process known as 'enameling,' photographs of the deceased are burned into porcelain (in a process described in detail in John Yang's book, "Mount Zion: Sepulchral Photographs.") This was a custom brought to the USA by Jewish immigrants from Eastern Europe. Many more of these examples can be found in nearby Calvary and Mount Zion Cemeteries.
Greenpoint is renowned for its Polish population, which largely arrived in the early 20th Century when Greenpoint's waterfront had thousands of dockwork jobs. There are also Polish pockets in other NYC neighborhoods such as Maspeth and Borough Park, and the Cracovia Grocery proves there are Poles in Ridgewood.
Various storefronts along Forest Avenue, some defunct but the signs remain. I suspect the two Joe's Restaurants are the same Joe. I'm always happy to find old neon or plastic signage and gold leaf glass inscriptions.
Monuments honoring those who perished in the Korean War, in which the USA was involved from 1950 to 1953, are few and far between (despite a substantial one in Queens' Kissena Park). This tablet was placed in the triangle at Forest and Grandview Avenues at Palmetto Street in 1955.
There are, undoubtedly, a lot of houses in Ridgewood like 66-45 Forest, off of Woodbine. However, you can't tell because their fine Italianate detailing is covered by aluminum siding. Woodframe houses like this have, in fact, been outlawed for many years because of fire regulations, but I'm glad the owners over the years haven't seen fit to insulate it.
Oddly this house isn't included in one of Ridgewood's nearby Landmarked areas, so it's vulnerable to developer predation.
The Meyerrose House was built on Forest Avenue and Putnam Avenue in 1906 for the Sheriff of Queens County, Joseph Meyerrose (1859-1940). It subsequently served as a political clubhouse, a restaurant and a knitting mill. Today it is a Romanian church.
Beginning at Palmetto and Onderdonk Avenue, and running east and north to Metropolitan Avenue at All Faiths (Lutheran) Cemetery, Ridgewood features a NYC oddity: an elevated train running on its own right of way instead of over a street as is usually the case in NYC. It runs on a ROW between Putnam Avenue and 67th Avenue as far east as Fresh Pond Road, straight through the now-landmarked Central Ridgewood Historic District. Most of the brick homes in the district were built between 1905 and 1915 when a steam railroad ran through the area now occupied by the el.The el carries the M train and was built in the mid-1910s. The ROW cotinues through the Fresh Pond LIRR yard to Metropolitan Avenue.
60th Street, 60th Place and 60th Lane all cross under the elevated. If you look carefully under the el, you will see tracks and perhaps some Belgian block paving. This is the remnant of the #58 trolley route, which ran beneath the tracks until 1949. Today's Q 58 bus to Flushing is a descendant of the trolley route. There had been a massive trolley depot at Myrtle and Wyckoff Avenues at Palmetto Street until mid-century.
At 60th Place and the el, you find what appears to be a driveway but is actually one of Queens' more obscure alleys, Kleupfel Court. I discussed it on this FNY page.
From FNY's first Ridgewood page in 2005:
In the first decade of the 20th Century Paul Stier built more than 750 houses in Ridgewood under his own name, and after he partnered with August Bauer, they together built 200 more. The area bordered by Fresh Pond Road and 71st, Putnam and Forest Avenues had at one time been called 'Stierville,' since that is where many of his homes were built. He sold his single-family houses for $5,600.
In 1915, Stier won the election for Sheriff of Queens County. This new venture proved to be his downfall. The German immigrant, who came here with nothing and fulfilled his version of the American dream, was shot dead by a crazy man in Whitestone while attempting to execute a contempt-of-court warrant in 1916. He was 42 years old at the time of his death.
Other groups of light-bricked houses in Ridgewood were built by Gustave X. Mathews and the partnership of Walter F. Ring and William R. Gibson. They make up the blocks included in the Central, North and South Ridgewood landmarked areas.
The still-active Ridgewood Democratic Club at Putnam Avenue and Stier Place, just west of Fresh Pond Road, is a building still pretty much in the same condition it was back in the 1930s, at the very least. Its original stained glass windows, still marked with an interlocking RDC, are still in place although cracked and somewhat the worse for wear. In New York, the Democratic symbol, used on ballots until recently, is a five-pointed star.
According to Charles Ober, former President of the Ridgewood Democratic Club, the building, formerly owned by Paul Stier, was purchased by the Ridgewood Democratic Club (founded 1908) in 1916. It was expanded and renovated to the current configuration in 1917 and the club moved in that year. A large two-story extension with a full basement was built to the rear of the building at that time. Shortly after the club moved into the building membership hit 1400 members; the membership hit a height of 2,000 and declined after 1950. There are currently 200 people on the club's mailing list and approximately 100 members. The lobby of the club is rather interesting: the floor has a mosaic with the name of the club in it, and there is a painting of the founder (Carl Berger, who served as president for some twenty years) with a brass plaque under it. In 2021, the most important elected official associated with the club is Assemblywoman Catherine Nolan, who is a Ridgewood native.
I finished at the Fresh Pond Road station, to which I rode to the Lower East Side (one of the marvels of the NYC subways is that different lines connect neighborhoods that otherwise have nothing to do with the other). The station, located at another former trolley depot that is currently a bus depot, is accessed by a lengthy walkway from Fresh Pond Road. I noticed an ancient pendant lamp whose incandescent bulbs haven't worked in decades.
The Seneca, Forest Avenue and Fresh Pond Road stations are quite roomy platforms, the widest of any elevated station center platform, possibly as a result on being on a right of way instead of built over streets.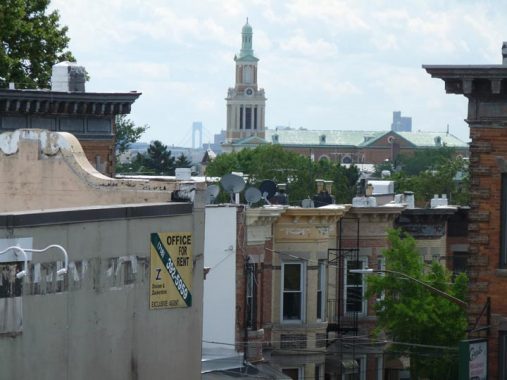 Other than St. Aloysius on Onderdonk Avenue and Stockholm Street (see above), St. Matthias Church on Catalpa between Woodward and Onderdonk is the tallest building in Ridgewood.
St. Matthias Parish, named for the apostle that replaced Judas Iscariot, was established in 1908 and the church originally occupied the building now home to the parish school — much like my home parish, St. Anselm in Bay Ridge. When the church outgrew the building, the new church was built between 1924-1926.
Speaking of Bay Ridge, the distant Verrazzano-Narrows Bridge can be seen from the Fresh Pond Road station platform.
More Forgotten New York in Ridgewood
As always, "comment…as you see fit." I earn a small payment when you click on any ad on the site.
7/18/21