CLARKSON Street runs between West Street and a rare intersection where four streets come together (I'll get into that later). While slouching around in the West Village in the ungodly oppressive heat on a July Saturday, I realized I had never walked its entire length and since the street is only three blocks long, it wouldn't be hard to do. Way back in 1996, I had an evening job in this general area as a book compositor but it only lasted a couple of weeks (I wasn't good at it; I was better with laying out newspapers and advertising brochures, which I was also doing at the time; I don't even remember the name of the outfit which likely has long since gone kaput.)
The street was named for a Revolutionary War soldier, Matthew Clarkson, an aide to Benedict Arnold before his defection. He was a philanthropist, donating to New York Hospital, and an early proponent of slavery abolition. There is a lengthier Clarkson Avenue in Flatbush, Brooklyn, named for a landowner from before streets were laid out in the area.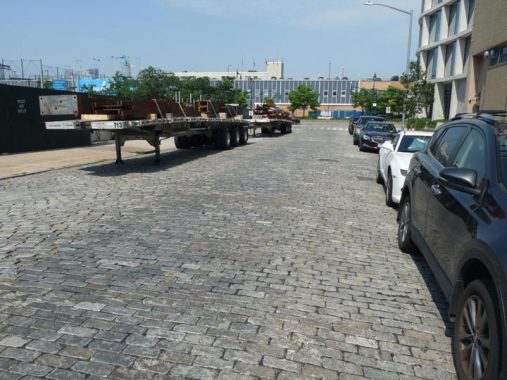 Clarkson Street has retained its Belgian block pavement between West and Washington Streets and even retains some unusual bricking patterns, like a vertical divider. The south side of the street used to face the north end of #550 Washington Street, a vast warehouse complex called St. John's Terminal or St. John's Center, the southern end of the old West Side Elevated Railroad (aka the High Line) and the name "St. John's Center" actually goes back to the 19th Century: it remembers the former St. John's Chapel of Trinity Church, which stood on nearby Varick Street until it was razed in 1918. The church is also recalled in the subway station mosaics at the IRT Canal Street station at Varick.
Currently, much of the building is under construction as it is being refashioned into Google's main Manhattan campus; the northern block was torn down, and I am currently stumped about what plans are in store for the space.
Mid-Greenwich Street is dotted with buildings that were constructed as mere warehouses, but have the casual brick and masonry elegance common to pre-WWII architecture. 603 Greenwich at Clarkson was built from 1900 to 1903.
A massive school, built in 1912, fronts on Clarkson but extends back to West Houston Street between Hudson and Varick Streets. (I cannot ascertain what the original public school this was) but the building is so massive it is home to two schools, City As School (founded in 1972) and PS 721, the Occupational Training Center (interior views are available at the link).
The building is also so massive that it supports three different murals, one by Eduardo Kobra (who has become NYC's unofficial muralist; this one celebrates NYC's immigrants from Ellis Island), one by Magda Love. Regarding the flamingos, I am unsure; it doesn't resemble Al Diaz or Eric Mangen, whose names are associated with the building; fill me in in Comments.
James J. Walker Park was once an uptown branch of Trinity Cemetery, established in 1801 as a churchyard for the long-razed St. John's Chapel; it was bordered by Hudson, Carmine, and Clarkson Streets in Greenwich Village. Meanwhile, Leroy Street went only from Hudson to West Street. Leroy was extended past the cemetery in 1845, with the connector named for St. Luke in the Fields Church, still standing at Hudson and Grove.
Though the cemetery inspired Edgar Allan Poe to write several macabre tales when he lived in the area in the 1830s, it was closed by 1898 and turned into Hudson Park, a high-concept collection of lush marble terraces and gazebos built by renowned architects Carrere and Hastings. In ensuing decades the gazebos and terraces were removed, and it became a standard-issue playground named for Jimmy "Beau James" Walker, NYC mayor between 1925 and 1932. He left office under a cloud of corruption charges, and was succeeded by the "Little Flower" Fiorello LaGuardia. By the ornamental stonework on the Clarkson Street entrance, you can tell this park was once more "high-concept" than it is today.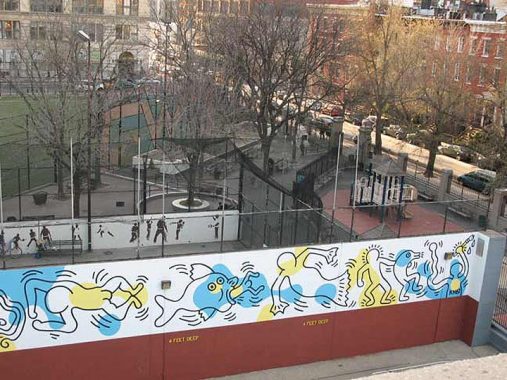 The facility's swimming pool, seen here in winter, located on Leroy St/St. Luke's Place and opened in 1939, boasts a lengthy original mural by Keith Haring (1958-1990) on the swimming pool wall with a sea theme. Measuring 18 feet high by 170 feet long and taking its cue from the hues of the pool's underwater surface, the mural depicts bold, stylized motifs of fish and children as well as abstract shapes in black, white, yellow and blue.
I had always been intrigued by the Tony Dapolito Recreation Center, which stands guard at the cusp of two worlds on 7th Avenue South and Clarkson Street. It is here that Clarkson Street becomes Carmine Street, Varick Street becomes 7th Avenue South, and SoHo becomes Greenwich Village. Yet, the building itself always looked like it was older than the usual park administration buildings that you see next to some public parks.
As it turns out, the Dapolito Recreation Center opened as the Carmine Street Bathhouse in 1908, one of many bathing and washing facilities opened around town at a time when not all tenements enjoyed hot water. It was designed by Renwick, Aspinwall and Tucker and cost about $135,000. The structure was built with a gymnasium and classrooms as well as bathing facilities.
The building has had several additions over the years and attained its current configuration when 7th Avenue South was extended from Greenwich Avenue to Varick Street in 1914. In 2004 the facility was renamed for Anthony V. Dapolito (1920-2003), the owner of the Vesuvio Bakery on Prince Street and a local community leader who helped lead the fight against Robert Moses' projects. The "Master Builder" wanted to build a road through Washington Square Park and connect the Holland Tunnel and Manhattan Bridge with the Lower Manhattan Expressway, which would have run on Broome Street.
When Forgotten New York The Book came out in 2006, this was one of the venues where I gave a chat for the book's initial promotion. I'm told the center is currently closed because of structural problems.
As always, "comment…as you see fit." I earn a small payment when you click on any ad on the site.
7/27/21