What follows is an expansion of a piece that recently appeared in SpliceToday. I added more information and photos taken during a recent walk in Astoria's northern end.
After fur merchant Stephen Ailing Halsey had incorporated the village in 1839 on the northwest end of Queens south of the present Astoria Park, Astoria was named for a man who apparently never set foot in it. A bitter battle for naming the village was finally named by supporters and friends of John Jacob Astor (1763-1848). Astor, entrepreneur and real estate tycoon, had become the wealthiest man in America by 1840 with a net worth of over $40 million. (As it turns out, Astor did live in "Astoria"—his summer home, built on what is now E. 87th Street near York Avenue—from which he could see the new Long Island Village named for him.)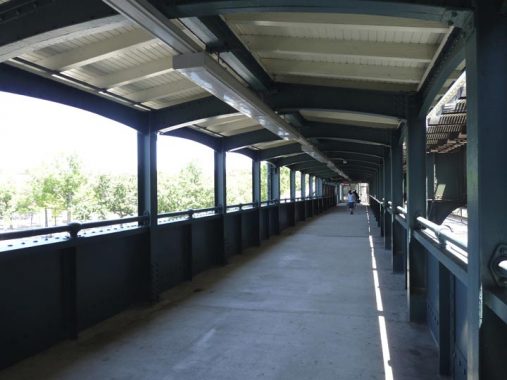 The view seen in the title card is from the Astoria Boulevard station of the elevated train, which runs above 31st Street Built in 1917, it has an unusual configuration, with extended pedestrian walkways (above) that were needed after the Grand Central Parkway and Triboro Bridge were built in 1936.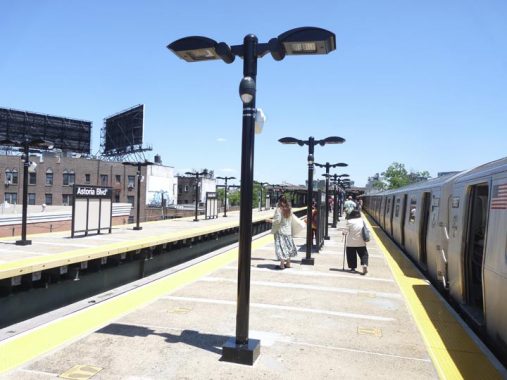 One of the reasons I came up this way was to take a look at the Astoria Boulevard station renovations. Despite its center track the Astoria Line has never had regular express service (it only exists now when there's trackwork on a local track) yet two stations, Ditmars Boulevard and Astoria Boulevard, were designed as express stations with center platforms. When the line was built in 1917, Astoria Boulevard was an important east-west route, but in the 1930s this stop became much more complicated when the Triboro and Grand Central Parkway were built, necessitating lengthy walkways spanning the auto route on each side. In the 1910s this was an important intersection nonetheless as Debevoise (31st), Astoria and Hoyt Avenues all came together.
In 2017 the MTA renovated the Astoria Line stations (39th, 36th, Broadway, 30th, Astoria, Ditmars). I'm a big fan of these renovations because the MTA introduced semitransparent plastic panels on the local stations with side platforms, allowing the stations wide vistas of their surrounding areas. New artwork and lighting was also introduced.
The express stations feature new black lamp stanchions that have high intensity LED lamps and artwork panels on the staircases and mezzanines, at Astoria titled "I Am a Rainbow Too" by Jeffrey Gibson. The new main attraction is a glass-walled elevator on the east side of the station, bringing passengers onto Columbus Square. Since this station has a mezzanine, no elevator was deemed necessary on the west side. Astoria station was closed for 9 months in 2019 to complete the work, with the elevator taking longer than that.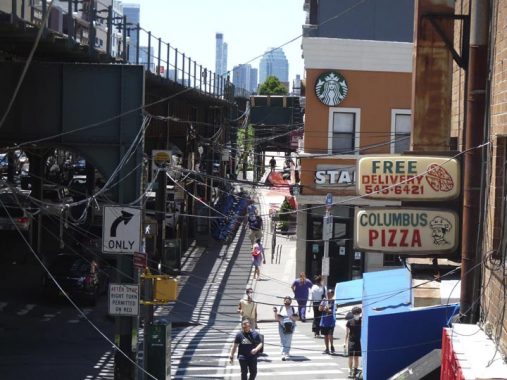 Looking south on 31st Street from station steps. the skyscrapers in the distance, including the former Citibank tower, are in both Queens and Manhattan. Note the old fashioned illuminated plastic signs for the pizzeria.
Looking east on Astoria Boulevard, which accompanies the Grand Central Parkway.
Columbus Square (modern signage calls it Columbus Triangle) is where Astoria Blvd., coming in from the west, becomes the Grand Central Parkway service road at 31st Street. Sculpted by artist Angelo Racioppi, the statue depicting Christopher Columbus was dedicated on October 12, 1941. The statue has a convoluted history. It was ready for installation before World War II, but wasn't dedicated because no money could be raised for the base, and no doubt there was some anti-Italian sentiment when Mussolini allied with Hitler. The statue spent the war years in a city warehouse, and then to the basement of Queens Borough Hall in Kew Gardens. It was finally installed after the war. I don't know if it was subject to any abuse when statues were toppling in the summer of 2020, but it doesn't seem the worse for wear.
A perfectly unassuming apartment building at 32nd Street and 24th Road. But look closely. The building supports a gaggle of cellphone receptors in addition to massive billboards that can be seen from the Astoria El and the GCP. That telephone pole supports dozens of electrical, telephone and cable TV wiring. (I like a busy telephone pole.)
All over town, diners are under siege as developers seek their footprints to build high rise housing. The Neptune at 31st Street and Hoyt Avenue North is no exception. The Neptune has dodged the bullets so far, but developers may offer its owners an unrefusable sum. The Neptune's owners have already opened a Bayside outpost located in a metal diner building formerly home to Jackson Hole hamburgers at Bell Boulevard and 35th Avenue.
Some decades ago while filming The Hunger, the late David Bowie and Catherine Deneuve stopped into the Neptune.
Crossing 31st Street, a playground faces Hoyt Avenue North and Dorothy Place, a private dead end, faces 29th Street north of the playground. The Dorothy it is named for is unknown, to me at least.
Most of 29th Street, all of 28th, and the east side of 27th Streets between Hoyt Avenue North and 24th Avenue is dominated by these utilitarian multifamily buildings, which were built between 1915 and 1920. The name of the developer escapes me, though I've seen it someplace.
7/13/21: It turns out they are called the Crystal Gardens Apartments.
For many Astoria denizens, lazy summer evenings mean drinking pitcher after pitcher of pilsner, seated on wooden picnic tables in the concrete beer garden of Bohemian Hall to an oompah soundtrack. The 24th Avenue institution was opened by the Bohemian Citizens' Benevolent Society in 1910 and its garden by 1919, when most of Astoria was still meadow and farmland. The menu has to be carefully scrutinized, as the large print is in Czech and the small print in English. The beer garden is the last of a once-numerous New York City breed, though new "wannabes" have arrived in recent years. The Bohemian, thankfully, has weathered the pandemic and looks like it will be here for some time. The inscription over the door means "Czech home."
I have noted the presence of Italian social clubs on recent FNY pages discussing Brooklyn locales like Bensonhurst, and there is ample evidence of a strong Greek influence in Astoria; seen here are two such evidences on 29th Street. Cephalonia is an island off the Greek coast in the Ionian Sea, while the Stathakion Center, adjoining the Hell Gate stone arch, is a community center with theatrical stage fully equipped with lights, sound, video projection and other accommodations for live performances and cultural functions on the second level and a performance and meeting hall on the main level.
I have a fascination with the stone arches (likely with an iron understructure) that carry railroad trains above Astoria's streets en roue to and from the Hell Gate Bridge. For wont of a better phrase, they just look cool to me. And, as illustrated on this FNY page, they cross many of Astoria's streets — 29th in this case — but no two are precisely alike; the trestle is higher, or the arches are wider or thinner, that kind of thing. I may have mischaracterized them in the past as being concrete; in fact they may well not be.
Someone is getting 29th Street at 23rd Avenue subnamed for them. Who? You'll just have to stroll past and find out; the sign hadn't been revealed in June 2021.
I want to clarify my word "subnamed." New reports routinely call these "street renamings" but that is hardly true. Residents will still say they live on 29th Street. When a street is renamed, the signs for its old name come down, and new ones go up. Most recently this happened in Jamaica, when all South Road signs came down and new ones for Tuskegee Airmen Way went up. In the past, streets have been so renamed, but the older ones stuck in collective consciousnesses. I prefer to call these cases subnaming.
When 6th Avenue was renamed Avenue of the Americas in 1945, New Yorkers continued to call it 6th Avenue; it was just easier that way. Under Ed Koch in the 1980s, the DOT gave in and added 6th Avenue signs from Church Street to Central Park South (though a lamppost replacement program in the 1990s cost the road most of its Medallions of the Hemisphere signs).
Immaculate Conception Roman Catholic Church, at Ditmars Blvd. and 29th Street, ushers in the northwestern boundary of the sub-neighborhood of Steinway, named for the piano manufacturer, Steinway and Sons (more specifically the firm's founder, German immigrant Henry Steinway), that still retains a complex here. Ditmars Boulevard functions as the main NW-SE shopping strip, with 31st Street assuming the role on the other axis (Steinway Street is mainly residential north of the Grand Central Parkway).
I am unsure why the cornerstone has "1935" on it (the other, 1950, is correct; the current building's cornerstone was laid that year) as the parish history states it was founded in 1924, with the present school building on 29th also serving as the first church building.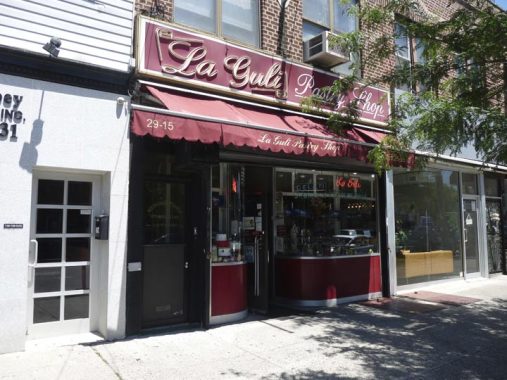 Though Astoria is best-known for its Greek American population, Steinway has some Italian and Irish pockets as well; Immaculate Conception offers services in Italian (as well as Spanish).
As its informative website reports, La Guli Pastry, 3 doors away from the church (an older sign said "pasticceria") has been in business at this location since 1937.
"Regulars rave about the buttery cookies and rich, ricotta cream-filled cannoli. Come summertime, authentic Italian ices are all the rage, and during winter, biscotti and hot chocolate are some of the preferred indulgences," says NYCGO.
The Acropolis (named, of course, for the ancient chief cultural and historic site in Athens) between Ditmars Boulevard, 21st Avenue and 33rd-35th Streets (there's no 34th Street here), is a mixed development of rentals and co-ops, a complex built in 1923 consisting of brick buildings surrounding verdant courtyards. Reports of mismanagement have surfaced in the past.
On a Thursday afternoon on what was one of the last low-humidity days of the summer I was pleased to see how well the restaurants were doing as the outdoor eating areas were packed. This, though, could be a reflection of NYC's still 10% unemployment rate as the Covid Pandemic continues. One of the restaurants employs a motorized trolley car replica.
I was also happy to see the plethora of new sidewalk signage along Ditmars, which I had not walked for a few years, some of which is quite innovative design-wise. I presume the Jack Jones tavern has nothing to do with the "Love Boat Theme" singer.
The Steinway family, master piano builders, transit magnates, and resort developers, put a personal stamp on the neighborhoods in which they resided that is visible even today. Henry Steinweg, a German piano manufacturer, immigrated to New York City from Seesen, Germany, in 1853. His sons Henry Jr. and Theodore set about making the finest pianos ever. Henry Jr.'s and Theodore's younger brother, William, continued the family tradition (advertising their instruments as "the standard piano of the world") and moved the operations of Steinway Pianos to Astoria, Queens.
Between 1870 and 1873, William Steinway purchased 400 acres of land in northern Astoria and not only built the spacious Steinway piano factory, which still cuts an imposing figure, but a small town with a library, a church, a kindergarten, housing for factory workers, and a public trolley line. From 1877-1879, Steinway constructed a group of handsome row houses on Winthrop Ave. (today's 20th Avenue) and on Albert and Theodore (41st and 42nd) Streets. Even the street names bore witness to the Steinway family, since Albert and Theodore were sons of Henry Steinway. These homes were rented by the Steinways to their workers. William Steinway's mansion, on 41st St., still stands on a high hill that has never been leveled, unlike the surrounding area.
Steinway Reformed Church, Ditmars Blvd. and 41st Street, was built in 1891 as the Union Protestant Church but likely switched monikers after Henry Steinway donated a pipe organ. The Steinway name is still appended to the church, which offers services in English, Korean and Greek.
At 45th Street and Ditmars Blvd., we find Pistilli Manor, which was once a forbidding-looking building indeed when I first moved to Queens, when it was a warehouse and adjunct factory associated with Steinway Pianos, whose main plant remains in Astoria few blocks to the northwest. Joseph Pistilli also converted an Eagle Electric factory next to Astoria Park to apartments, with predictable leaking results.
In north Astoria, the Brooklyn Queens Expressway cleaves in two, with the western section going to the Triboro Bridge via the GCP, and the eastern section to LaGuardia Airport and beyond. Trucks and buses have to leave the BQE before the intersection, with large vehicles wishing to take the Triboro accessing it from the service road, Astoria Blvd.
St. Michael's Cemetery (88 acres) is accessible from 49th Street, here, and also from Astoria Blvd. south on the south GCP service road. St. Michael's, named for an Episcopal congregation in Manhattan, is one of Queens' larger cemeteries (though much smaller than Cypress Hills, Calvary or Evergreens) and lies north of Queens' larger cemetery belts defined by Calvary/Mt.Olivet/Mt.Zion and Evergreens/Holy Trinity/Cypress Hills. It was established in 1852 and is the "permanent residence" of boxer Emile Griffith, inventor Granville Woods, and mobster Frank Costello …
…but it was exactly the wrong time of day to visit Scott Joplin's gravesite, since the uneven shadows of a nearby tree had settled on his stone when I arrived. A memorial bench has also been installed nearby.
Scott Joplin was born in 1867 or 1868 (the date is disputed) and grew up in a family of musicians in Texarkana, Arkansas, and picked up the ragtime style while working as a railroad worker and itinerant piano teacher across the southern states. In 1895 his "Maple Leaf Rag" became a best seller when music was published on paper for people to play on their household pianos, or on rolls for player pianos. He was never really able to follow it up, but sales did keep him afloat for the rest of his days. He died of syphilis in 1917 at Manhattan State Hospital and was buried here in St. Michael's. His music earned a second life in the 1970s when it was used in The Sting and his opera Treemonisha, unknown during his lifetime, was finally staged. His grave marker in St. Michael's was placed by ASCAP in 1974, the same year Marvin Hamlisch had a hit with Joplin's 1902 rag "The Entertainer." The honorary bench was added years later.
St. Michael's Cemetery is difficult to reach, but provides a pleasant walk, nonetheless.
As always, "comment…as you see fit." I earn a small payment when you click on any ad on the site.
7/11/21