AFTER posting the item on #4 New York Plaza at Broad and Water Streets recently, I needed a quick Sunday feature because of time constraints. The day I shot that photo I walked north on Broad Street as far as its northern end at Wall and then tried to enter Trinity Cemetery; but both church and cemetery remain closed during the Covid Pandemic. (I soldiered on with other locales that day.) I realized I had not done a dedicated walk up Broad, I think, ever. The street has just been sitting there, ripe for the FNY taking.
There are two streets in lower Manhattan, laid out during the Dutch era in the early to mid-1600s, that have "Broad" in the name and they arrived at the name for two different reasons. Broadway, or Brede Weg in the Dutch days, was simply wider than the other streets and was so named for that reason. (By today's standards, Broadway isn't especially broad until it gets to Columbus Circle and adds a couple of extra lanes.)
Broad Street, meanwhile, was also "broader" but in the Dutch era, it was a waterway, one of the many "slips" found on the East River downtown. To this day the "slips" retain their names, as sailing vessels would "slip" into them to unload cargo. Broad Street was the lengthiest of the lot and could be considered a canal, not a slip. Two streets were bridged over the canal, one of which to no surprise was called Bridge Street.
Unusually, Broad Street house numbering runs north to south, from Wall to South Streets.
#105 Broad Street, also known as #22 Water, is part of the Fraunces Tavern Block Historic District, which consists of the block formed by Broad, Water, and Pearl Streets and Coenties Alley. This spot has been occupied by restaurants for quite awhile. In 1709 it was the Exchange Coffee House and later became the Sign of the King's Arms and then the Fountain Tavern. The present building went up as a multifamily tenement in 1882-1883 — the date 1882 can be found at the roofline on the Broad Street side.
On the ground floor is a diner called Rockwell's which I never knew about until passing it here. When I have tours in lower Manhattan, the postgame show has usually been at George's at Greenwich and Rector. Rockwell's Yelp ratings are somewhat low.
This curious low-slung building at #100 Broad between Bridge and Pearl, till recently the home of Essen Fast Slow Food, was built in 1962 as the New York Clearing House Association (a regulatory operation assuring banks clear checks; it has nothing to do with the direct mail powerhouse Publishers Clearing House). Before 1962, a much handsomer building occupied the site, the Bush Terminal Building, owned by Irving T. Bush, most famous for his warehousing and manufacturing acreage along the waterfront in Sunset Park, Brooklyn.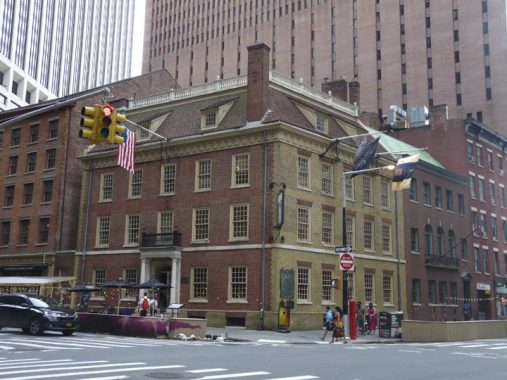 I have only had lunch at this historic structure once, with some out of town folks about 10 or 12 years ago.
Fraunces Tavern, at Pearl and Broad streets, is one of Downtown's most popular tourist attractions and so it's hardly "forgotten." It's a museum and somewhat pricey restaurant combined into one. However, a lot of people who visit NYC, and probably most of the people who work Downtown and pass it every day believe they are walking by the very same Fraunces Tavern where George Washington bade farewell to his charges at the end of the Revolutionary War in 1783. The truth is rather cloudier.
Samuel Fraunces, a West Indian by birth, was famed for his cooking and operated the Queen's Head Tavern for several decades in the 18th Century, hosting meetings of the Sons of Liberty and later the New York Provincial Congress, but the British occupancy of New York ruined him financially. He was employed by Washington as a steward and chef, and his tavern became a meeting place for the nascent Departments of Treasury, Foreign Affairs and War.
This is a photo of the Fraunces Tavern building shortly before it was slated for demolition in 1902. It was, however, saved and "reimagined" as a Colonial Revival building under architect William Mersereau. The Long Room, in which Washington made his speech, presents a typical 18th Century tavern room. Many tour guides show it as the "Real McCoy" but since of course no photos exist of the tavern as it was in 1783, the restoration was highly conjectural.
On the exterior of Fraunces Tavern are placed a number of plaques and memorials, some quite intricately made such as this one placed in 1883 to celebrate the centennial of Washington's speech and the organization of the Sons of the Revolution the same year. The plaque was placed in 1907 after the "reimagining" of the tavern had been completed. The plaque also memorializes Frederick Samuel Tallmadge, Frederick Samuel Tallmadge (c.1823–1904), president of the New York Society of the Sons of the Revolution from 1884 until his death in 1904.
The Other White Horse.
At #25 Bridge just off Broad, in the only 19th-Century structure remaining on the street, you will find the "other" White Horse Tavern, which is somewhat lesser-known than its Greenwich Village counterpart even though it can be said to have as rich a history. There was a brewery on this site during the Dutch colonial era. Fur trader Philip Geraerdy became the first tavern owner in New Netherland, naming it the Wooden Horse for a torture device! Later, he was prevailed upon to rename it the White Horse. Two large murals appear close to the White Horse.
This White Horse Tavern was founded in 1933 and named for its colonial predecessor. Here it is in a Municipal Archives photo in 1940.
I know little about #90 Broad except that it's an Art Deco tower constructed about 1930; the lobby is supposed to retain some Deco ornamentation, and i liked the sidewalk canopy.
#88 Broad, at the NW corner of Stone, is a tidy brick building with terra cotta trim. See that lengthwise sidewalk neon sign for a current tenant, Broadstone Bar and Kitchen?
Until the early 2010s it held a magnificent neon sign for defunct office furniture maker A. Blank (established 1899). The internet is mostly blank on A. Blank, but New York Neon reports the sign was installed in 1958.
#67-75 Broad Street, in 2021 obscured by ever present sidewalk scaffolds, has a chamfered, or angled, corner at the SE corner of Broad and Beaver Streets. This 35-story Art Deco building went up in 1928 and soon after became the headquarters of the International Telephone & Telegraph Company. "During World War II the building was a hub for communications with American submarines operating in the Atlantic Ocean. ITT moved out long ago, and over the years 75 Broad became a multi-tenant office building." and "The arch in the chamfered corner on South William Street has two entrances, each set within a rounded metal frame adorned with classical colonnettes, with a decorative metal grille above. In the apse is a polychromatic mosaic showing the eastern and western hemispheres of the globe, and an angel, clouds, sun and stars which unites the world with electricity. Below this are ornamental bands with alternating images of a human figure and a telephone pole."-wikimapia. (You'll just have to see all this if they ever remove the scaffolds.) Millennium High School, founded in 2002, occupies a couple of floors.
I seem to recall Manufacturers Hanover having offices in the building, as my mother worked here before their move to #4 New York Plaza in 1969.
As Forgotten Fans know I'm a connoisseur of obscure alleys, which Manhattan has relatively few. One is Marketfield Street, which is one of the city's few L-shaped routes, proceeding from Broad opposite #75 and then doglegging west and north to Beaver and North Streets. I'm showing it from both access points at Broad and Beaver. Nothing to write home to Mother much about here; Marketfield is mainly home to service entrances. I did check to see if there were some remaining window shutters on the back walls of some Beaver Street-facing structures and indeed a couple are still there.
"Marketfield" is an English transliteration of the Dutch term "marktveldt" or "field market" — it once led to the Battery Park area, which was a livestock and produce market in the Dutch days. Marketfield Street was once called "Petticoat Lane", a name I wish had been kept (you will find discarded bras at Jeremy's Ale House on nearby Front Street in the Seaport area).
What does #70 Wall Street at Beaver Street, the former American Bank Note Company building, have to do with the Maharishi Mahesh Yogi, the seer that the Beatles and other notables visited in India in 1968? Plenty, as the building is now home to the Center For Leadership Performance, an institute offering instruction in Transcendental Meditation (TM), a technique professed by the Maharishi.
The building itself is a landmarked neoclassical structure built from 1907-1908 (Kirby, Petit & Green) and it did indeed at one time produce bank notes, stamps, stock certificates and other pieces of paper used for currency and backed by the US government. After outgrowing this location it expanded to other locales in NYC, including the former American Bank Note Building in Hunt's Point. American Bank Note was associated with the building until 1988.
#55 Broad Street, at the NE corner of Beaver, looks like the usual bland 1960s office tower, the original home of investment firm Drexel Burnham Lambert, but in 1995 it was a true pioneer as it was completely wired for the internet, the first Manhattan office building to do so. Back then, there was near instantaneous broadband, which this building featured, and dial-up modems that squeaked and squawked for everyone else (remember them?)
It's the bland leading the bland across the street at #60 Broad, built in 1962 (Emery Roth & Sons, same as 55 Broad). It is home to office space sponsored by the Bond Collective, whose executives seem impossibly young to me; to them, I seem impossibly old.
North of Beaver Street, Broad Street is open to government and local official vehicles only. Some years ago, it was flat-brick paved, with nearly square pavers. Unlike Belgian blocks, they are easily navigable by foot.
There are some buildings in NYC whose lack of landmarking totally amazes me, such as #50 Broad. In my naivety, I thought the term "bulls" and bears" for stock market optimists (buyers) and pessimists (sellers) was a recent invention. Actually the terms had been around since the late 18th Century. This amazing-looking building has plenty of terra cotta on the exterior, featuring faces and cherubs growing out of foliage…as well as bull and bear heads. The building went up in 1915 (Willauer, Shape & Bready) and surrently serves as…what else, shared office space. Does anyone know what the trigram above the entrance stands for? A "B" is prominent.
The Broad Exchange Building was named simply, for the corner it's on, Broad and Exchange Place. it's an early example of the skyscraper genre, built in 1902 (Clinton and Russell) with 326,500 square feet of rentable floor area. These days it's residential, as the Financial District now has more living space than it has had since the colonial era.
Originally confronting the brass bull at Bowling Green, Fearless Girl, now duly "masked up" during the Covid Pandemic, since November 2018 confronts traders at the New York Stock Exchange HQ on Broad Street. Originally installed in March 2017, the sculpture wasn't a spontaneous development by lone sculptor Kristin Visbal, but was commissioned by the asset management company State Street Global Investors "…to advertise for an index fund that comprises gender-diverse companies that have a relatively high percentage of women among their senior leadership."
"The largest stock exchange in the world, the New York Stock Exchange was founded on Wall Street in 1792 under a buttonwood tree; the exchange moved indoors in 1817 but did not prohibit trading in the street, known as "curb trading" until 1836. It moved here in 1903, into a neoclassical landmark designed by George B. Post. The pediment, designed by J.Q.A. Ward, depicts Integrity surrounded by Agriculture, Mining, Science, Industry and Invention; the 90-ton sculpture had to be replaced in 1936 with a lighter hollow-lead version."
The first building seen when walking north on Nassau Street from Wall and Broad is, of course, Federal Hall, completed in 1842. This building replaced the second NYC City Hall, built here in 1700 and later remodeled extensively in 1788-1789 (by Pierre L'Enfant, the architect/urban planner who laid out Washington, DC) when it became the first United States Capitol building, a function it held for one year. George Washington took his oath of office as President at that building. It came to be called the original Federal Hall.
The old Federal Hall gradually fell into disuse and disrepair, and it was sold and subsequently demolished in 1812. Thirty years later, in 1842, the United States Customs House was built on the spot, joining the likewise Greek Revival U.S. Assay Office that had been built from 1823-1826. The old Assay Office was demolished in 1915, but it's still recalled by a sidewalk plaque, and its façade was dismantled and later reconstructed in the Metropolitan Museum on Fifth Avenue.
Most intriguing from a Forgotten NY point of view about the Federal Hall National Monument is a plaque on the Nassau Street end depicting the state of Ohio. With all the history that has occurred here since 1701…why Ohio?
The answer lies in America's desire for westward expansion that would be later distilled by a phrase coined in 1845 by Democratic Review editor John O'Sullivan, envisioning an America that would extend from the Atlantic to the Pacific, to be its "manifest destiny." Yet as early as 1786, some Americans were already making plans to extend our boundaries west. An organization called the Ohio Company of Associates, consisting of former revolutionary war officers and Massachusetts soldiers, was formed that year to plan the purchase and settlement of lands along the Ohio River, sending Massachusetts attorney and minister Manasseh Cutler to negotiate with Congress, which would soon pass the Northwest Ordinance in 1787 that divided the western lands into territories. Cutler and partner William Duer negotiated two contracts that led to the settlement of Ohio with the first settlement at Marietta in 1788.
George Washington had already surveyed lands in the Ohio River Valley by 1770. After the Revolutionary War, those loyal to the union were not paid with cash but with warrants for land in this so-called Northwest territory. The Northwest Ordinance ceded ownership of the territory to the U.S. Government and so became the template by which western lands were settled and later divided into states. Ohio itself would become a state in 1803 with its first capital at Chillicothe. The plaque at Federal Hall commemorates the Ohio Company.
As always, "comment…as you see fit." I earn a small payment when you click on any ad on the site.
8/1/21