As I have mentioned on a (much) earlier Forgotten New York page back in 2001, Staten Island is rife with natural areas and ponds that never made the traditional maps, but nonetheless have been there for decades. They were more or less cultivated in the northern area of the island between the ferry and the Verrazzano Bridge, but in the island's southern tier, they're in areas that were simply slow to be developed, and eventually the city came to the realization that development wouldn't happen and they were thus then cultivated as natural areas.
I was puttering around in Great Kills in May 2021, en route from Richmondtown Restoration (still mostly deserted during the Covid Pandemic) to the Staten Island Railway on Amboy Road. As it happened, the SIR was under repair and was completely out on its northern sections, with shuttle buses replacing it. I duly shuffled on… and was delayed for an hour by an accident on Amboy Road and it took an hour to get back to the ferry. How did your May Saturdays go?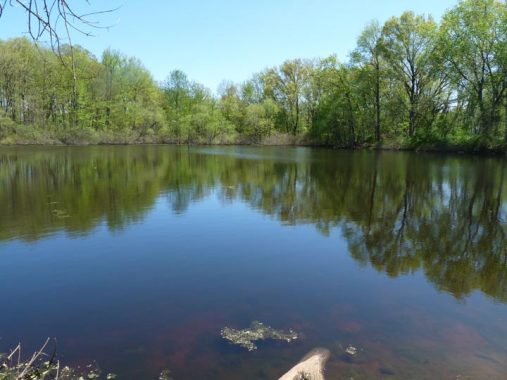 I walked south on Miles and Graves Avenues, past Kingfisher Pond Park (seen at the above link) and then past a natural area I'd never been in, Siedenburg Park, located between Greaves and Corbin Avenues and fairfield, Islington Street and Barlow Avenue. It's 23 acres of complete naturality, named for a 25 year old firefighter, Christopher John Siedenburg, who perished battling a SoHo fire in 1994.
The park was created, as Evergreen Park, in 1982 as the result of a land exchange deal between the City and the Arthur Walkill Corporation of real estate developers. as late as that year, southern Staten Island was not completely built out. The swamp seen here, near the Greaves Avenue entrance shown above, is home to great blue herons, mallard ducks, egrets , green herons, and red-winged blackbirds who subsist on the fish in the swamp and the plants surrounding it. The park is dominated by oak forest and according to NYC Parks, hosts several varieties of ferns, pink-ladies-slipper orchids , wild blueberries, azaleas and other, similar shrubs. Some evergreens and red maples can also be found in this vast woodland and unique species to this park, such as royal ferns, netted chain ferns, and Indian cucumber roots.
As always, "comment…as you see fit." I earn a small payment when you click on any ad on the site.
8/13/21