THE New York City Department of Transportation is having an argument with itself about what to call a lengthy east-west avenue in South Jamaica, on the north end of Addisleigh Park. It's pretty much decided to split the baby and use both of the names that have been devised for the road for the past 90 years or so.
It's Brinkerhoff Avenue, which runs from 111th Avenue at 142nd Street (two numbered avenues meeting up is unusual in Brooklyn, but not in Queens) and runs northeast as a two way road all the way to 180th Street where Sayres Avenue meets both on an angle. There's it's interrupted by the Long Island Rail Road, but it resumes at Dunkirk Street on the other side and runs again out to Liberty Avenue.
Why name the street Brinkerhoff? They're an old Queens colonial Dutch immigrant family, and a cemetery once belonging to the Brin(c)kerhoffs can be seen on 182nd Street near 73rd Avenue in Hillcrest.
Along its western "section" The DOT awkwardly stuffs the two street names onto one sign, making it hard to read either. (Very occasionally, two signs are used, and sometimes you see just a 110th Avenue sign.) This is not a unique arrangement, as further north, both "Jewel Avenue" and "Harry Von Arsdale Junior Avenue" are crammed into one on all the road's street signs.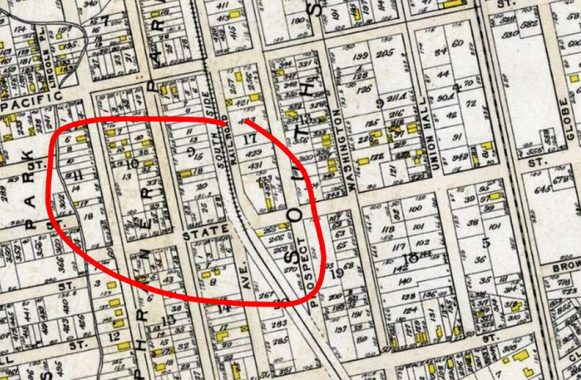 Was the road always called Brinkerhoff Avenue? The historical map evidence says no. This 1909 map shows it as State Street…
…and jumping forward to 1915, State Street is still on the map but we do see some new Queens numbering, as well as the Brinkerhoff Avenue label. Thus the Queens Topographical Bureau decided to honor the Brinkerhoff family in 1915 and in South Jamaica, which leads me to think the area was a family stronghold.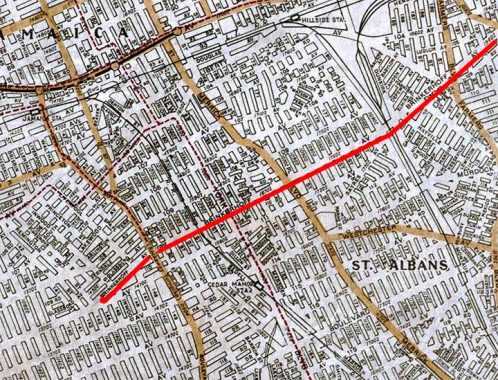 By the time this 1922 map by Hagstrom was made, the new Queens house and street numbering was taking hold but the entire length of Brinkerhoff Avenue was depicted, without the 110th Avenue number. I have outlined it in red here.
When this survey photo by E.E. Rutter was shot on October 26, 1928, it was labeled Brinkerhoff Avenue and that would seem to be its sole name.In fact Google Maps still renders Brinkerhoff Avenue as the road's sole name.
But closer to our time, the DOT decided that it would rename Brinkerhoff as 110th Avenue…at least in its western section. But it didn't go all the way; instead it put two names on one sign. I wonder if a local historical or neighborhood group got wind of the plan and petitioned the DOT to keep the Brinkerhoff name, and the DOT compromised.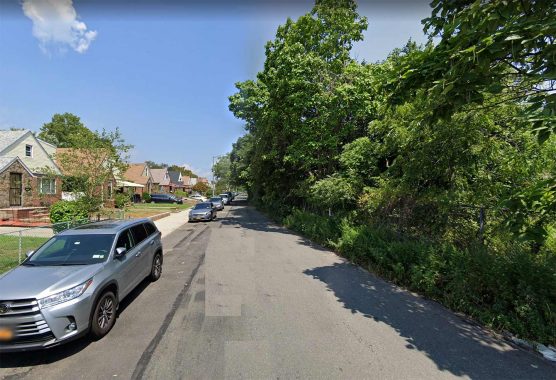 East of the LIRR cut, it's a different story as the DOT signs the road as Brinkerhoff Avenue, with no 110th Avenue addendum. Here at Dunkirk Street, we see an empty lot with no sidewalk, one of the last remaining indicators of Queens' former rurality.
The DOT didn't misspell Brinkerhoff with three f's; the Google Street View truck likely hit a bump in the road, making the camera jiggle.
East of here, Brinkerhoff Avenue gains a center mall and becomes rather pleasant. But there's still a mystery about why the Brinkerhoffs are honored here, and the DOT's weird inconsistent treatment on the street signage.
As always, "comment…as you see fit." I earn a small payment when you click on any ad on the site.
9/14/21