QUITE possibly the shortest named street in Queens can be found issuing from Northern Boulevard at 37th Avenue, dead ending at the Sunnyside rail yards after just a few feet. Yet, it can be considered a fairly busy road since not one but two parking garages issue traffic onto it. But what could Standard Lane be named for? A long lost newspaper perhaps? (The intersection of 4th, Atlantic and Flatbush Avenues was called Times Plaza for many years, named for a long lost newspaper in the downtown Brooklyn area). No, it's named for one of my former workplaces.
Though some of my gigs haven't ended the way I would've liked, I'm pretty proud of where I've been over the years. My longest term was two stints totaling 12 years at Publishers Clearing House, the direct mail business that runs the sweepstakes. I have also put in 4 years at the World's Biggest Store, Macy's; the city's largest typographic business, Photo-Lettering, when type houses were a thing; Tiffany & Co.; and Pearson, one of the country's biggest publishers of schoolbooks. Right now I am doing some work for Marquis Who's Who, publishers of the famed registers.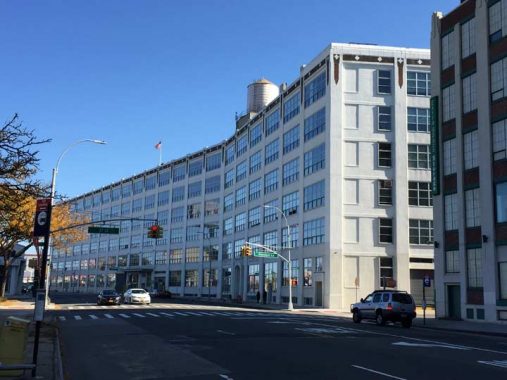 This huge building stretching along 37-18 Northern Boulevard in Long Island City is home to Standard Motor Products. SMP was founded in 1919 by Elias Fife and Ralph Van Allen, producing electric parts for the auto industry, then poised to become a major player in the 20th Century. The firm moved to Queens as early as 1921 and bought its present-day behemoth in 1936. SMP has sold the building since, but remains a tenant.
I filled in here for just two weeks after my first layoff from Publishers Clearing House in November 1999, but I'm happy to have been involved with such a longstanding institution. Many of the interiors had seemingly been left unchanged in decades, and I especially liked the bathrooms. Why? I could look out the windows onto the Sunnyside RR yards, which are just behind the building. The city and real estate developers consider the yards a waste of real estate, and are looking to deck them over and build condo towers on them.
For the last decade, 37-18 Northern Boulevard has had an added function: commercial farming at the Brooklyn Grange.
As always, "comment…as you see fit." I earn a small payment when you click on any ad on the site.
9/28/21