DURING one of the five humidity-free days in July 2021, I lit off down Court Street, a walk I have done before both for Forgotten NY and long before that. Court Street runs from Brooklyn Heights southwest to Red Hook, and I frequented that area most days of my life between late 1975 and early 1981, when I went to school and worked in the area, so the experience of being there was quite formative. First long-term employment, first real girlfriend, struggling through college. I never used the degree I obtained but I took the basics from working on the college newspaper…the picas, points and type sizes and fonts…and worked for much of the next forty years in type as a proofreader, compositor, copy editor and writer; I learned the basics of writing from the newspaper but when I consult the few issues I have saved from that time, I cringe with embarrassment. Fortunately that does not happen when I look at the Forgotten NY archive the past 22 years, so I perhaps reached a level of aptitude I was comfortable with (both Harper Collins and Arcadia Publishing seemed to agree, since both published me in 2006 and 2013). I do intend to write another book, which would involve convincing a publisher to do it…you never know.
To get to Court Street's northern end I took an A train to High Street and soon found myself on Tillary Street. When looking over Brooklyn maps as a kid I was convinced that "tillary" referred to a till of some kind in the area; perhaps this was a banking district? Instead, Dr. James Tillary provided assistance to area patients during yellow fever epidemics. It runs from Cadman Plaza east to Navy Street and is heavily trafficked, with 6 lanes., and connects to the Brooklyn-Queens Expressway. When it was laid out and built in the very early 1800s, it was much narrower. By 1940, Municipal Archives photos seem to show a wider than normal street. 1929 maps show Tillary as 50 feet wide, same as its parallel streets. Thus, Tillary seems to have been widened in the 1930s.
It turns out my guess was correct. The New York Times reported that a judge granted the city permission to expand Tillary Street in 1937 over the objection of local property owners. During the same era, Houston Street was similarly widened to accommodate a subway.
Looking again at the Tillary Street photo, note the tall tower in the center at the west end of the street. This is 280 Cadman Plaza West, a 36-story luxury residential tower that replaced the Brooklyn Business Library, where I had my first long-term job from 1978 to 1981. I was a general handyman, stocking shelves, labeling books, and returning books left by patrons to shelves. (A particular treat for me was placing newspapers on those lengthy wooden sticks library newspapers are mounted on). I was never promoted to desk work, because in those days I resembled a stoner, though I was never stoned. The librarians were generally friendly, though the headmistress, a woman named Sylvia Mechanic, was a stuffy matron who had an instant dislike of me. There had been noise about relocating the BBL to 280 Cadman when it was completed, but for now, it resides on the second floor of the Central Library in Grand Army Plaza.
Of particular interest for me at the BBL were its worldwide phone book collection and its collection of bound Brooklyn Eagles, some of which contained 4-color maps of Brooklyn as it was in previous decades. I also found a crumbling 4-volume Belcher-Hyde Brooklyn Desk Atlas, which I pored over as if it was the Talmud, or maybe the Catholic catechism written by Aquinas himself. Much of the ancient collections were on celluloid squares called microfiche, and we had to file those correctly as well.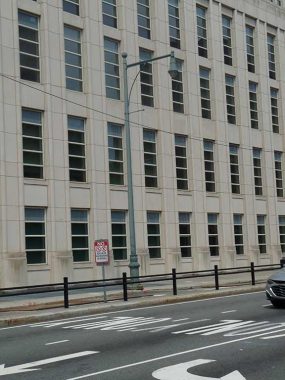 In downtown Brooklyn, and elsewhere, there are these L-shaped, bracketed lampposts. According to the Department of Transportation street design manual, these are officially "Flatbush Avenue posts" because they first appeared there in 1988. But there are variations: the ones on Adams Street, seen here, have thick Type B bases, based on the lamps you see in parks, but thicker; they're mostly seen on Eastern Parkway. Also: at the top of the shaft, there's a ball finial instead of the tapered peak seen most often. Since modern lampposts are made of composite parts, the DOT can mix and match. Also: these are pale green; they're most often painted black.
I had never noticed that there was a Korean War Veterans memorial at Cadman Plaza West (formerly Fulton Street) all the time I was around the area between 1975 and 1981, and even after that. That's because this particular memorial was installed in 1992. Korean War memorials in NYC are rather sparse; there's a substantial one in KIsssena Park, but it's deep in the park, far from the nearest street, Rose Avenue. In Staten Island, Richmond Parkway, which started lout as local-access Drumgoole Boulevard and connects Richmond Avenue with the Outerbridge Crossing, was renamed Korean War Veterans Parkway.
One of the most monumental buildings in Brooklyn, the Romanesque US Post Office, Johnson Street between Cadman Plaza East (Washington Street) and Adams was built in stages from 1885 to 1933, with Mifflin Bell the architect. I distinctly recall the old man visiting this post office on numerous occasions when I was a kid. He shipped and received a great deal of reel to reel tape recordings and was a member of a club called Tapeworms International. He had "tape pals" as far away as Cape Town, South Africa. I remember him using a scale to determine how much postage he had to use.
Brooklyn moved its main postal facility way out east to near the undefended Brooklyn-Queens border several decades ago, but this building is still quite busy. I wonder if a different fate awaits it, like the James Farley Building's transformation into the Moynihan Train Hall.
Brooklyn's City Hall was originally built in 1848 in the Greek Revival style in Tuckahoe marble, designed by architects Gamaliel King and Calvin Pollard. In 1898 it was "demoted" to Borough Hall as the county of Kings was absorbed into Greater New York. That same year it received its present cupola and gilded statue of Justice; the originals had been destroyed in an 1895 fire. Believe it or not there was a push to demolish the structure in the 1930s as some critics felt its design wasn't sufficiently attractive. The depression and war ended whatever plans there were for a new Boro Hall, and in 1966 the building received designation by NYC Landmarks. The sign from the opening credits of Welcome Back, Kotter that read "Welcome to Brooklyn, 4th largest city in America, Hon. Sebastian Leone Borough President" (1976) currently hangs in the lobby of Borough Hall. And, a tile representation of Boro Hall can be found on the walls of the #2/3 IRT platform underground.
This path, adjacent to Boro Hall, is a remnant of Fulton Street, which is a very old road going back to the early 1700s as the British forged what they called "King's Highway" that reached from what was the Fulton Ferry landing south along what is now Old Fulton Street, Cadman Plaza West, Fulton Street, Flatbush Avenue, and the modern Kings Highway all the way to Midwood in the heart of Brooklyn. When Cadman Plaza was built in the early 1950s, this section of Fulton Street was closed to traffic and turned into a pedestrian path. Creating Cadman Plaza meant the closing of several streets and razing nearly a hundred buildings. In addition, the Fulton Street El also ran along this section of the street until it was eliminated west of Rockaway Avenue in 1942. Other sections were later torn down, until only the part that runs along Liberty Avenue in Ozone Park remains today.
Here at Court and Remsen Streets, we see a line of very tall office buildings constructed in the 1910s and 1920s in the Borough Hall Skyscraper Landmarked District. The building on the corner, #32 Court, was home to the office of one of my oral surgeons, as was One Hanson, the Williamsburg Bank Tower.
There's also a string of some of the earliest batch of Retro-Bishop Crooks, among the first to appear around the start of the 1980s. They're shorter than the usual Crook height, but the city made better matches later on.
I get somewhat awash in nostalgia on the north end of Court Street. Queen Italian Restaurant and its neon sign were here during my (St. Francis Brooklyn) college era, 1975-1980.
My first-ever paying job was in this building at the SE corner of Court and Schermerhorn: I was hired by my friend Anthony Casale, recently deceased, to sweep up and develop photos in the darkroom of a passport photo studio he co-owned on the ground floor. The parable goes you should never work for your friends for any length of time and our friendship was bruised during the summer I worked there in 1978. However, it recovered and I knew him a long time.
South Brooklyn Savings Institution, 130 Court, NW corner of Atlantic Avenue. Trader Joe's moved in in early 2009. John de Cesare's equestrian relief of George Washington marks the spot in Cobble Hill where General George Washington observed some of the Battle of Brooklyn in what is now Prospect Park in August 1776. The hill, high in the colonial era, was gradually leveled over the ensuing decades.
"South Brooklyn" was once the generic term for the neighborhoods of Cobble Hill, Carroll Gardens, and Red Hook since they were located directly south of downtown Brooklyn.
I found two examples of the DOT's Curbside Haiku by John Morse at Court Street and Atlantic Avenue.
New York City's Department of Transportation launched Curbside Haiku, a safety education and public art campaign of twelve bright, eye-catching designs by artist John Morse that mimic the style of traditional street safety signs, in November 2011. Each sign is accompanied by a haiku poem, also written by Morse. Ten of the haiku are in English and two are in Spanish. The Curbside Haiku installation can be seen on 144 signs promoting road safety throughout the city's five boroughs. Each design and haiku delivers a safety message by focusing on various transportation modes such as cycling and walking. Placed at eye level adjacent to high-crash locations near cultural institutions and schools, the colorful signs draw attention to the critical importance of shared responsibility among pedestrians, bicyclists and motorists in keeping New York City's streets safe. [Americans for the Arts]
I have to admit, I haven't figured out what Morse is talking about in some of these…
Hot Bird, cold world. The last remaining Hot Bird sign is fading fast. In the 1970s there were a string of barbecue chicken joints advertised by these wall paintings. One was here on Court Street and another on Vanderbilt Avenue; the sign there prompted the opening of a bar by the same name that closed in 2018 and demolished for a skyscraper soon after.
Embarking now on an examination of some of the interesting Court Street sidewalk signs…
Sol Moscot is a longtime Lower East Side staple — the company was founded by Hyman Moscot who sold eyeglasses from a pushcart in 1899. Recently, they expanded to #159 Court Street, where the company continues its black and yellow signage theme.
Lemongrass Grill, #156 Court between Amity and Pacific gets style points for color-coordinating its storefront and gutter seating in pale yellow/green.
Court Street serves as sort of a divider between street systems in Cobble Hill, with a number of streets interrupted and not running through. You cannot drive straight through on any street crossing Court Street between Atlantic Avenue and Degraw Street.
St. Paul's Church, Court and Congress Street. Rather, St. Peter's. More properly, St. Paul's, St. Peter's, Our Lady of Pilar Church. A very old church built in 1838 by Gamaliel King on land formerly owned by a furrier, Irish immigrant Cornelius Heeney, who served as a guardian to a boy named John McCluskey, who later became the USA's first Cardinal. While Heeney donated some of his property to this church, he also donated some of his Manhattan Island holdings so that St. Patrick's Cathedral in Midtown could be built, and also donated pews and gallery fittings to St. Peter's on Barclay Street in lower Manhattan – thus, Heeney had a hand in some of NYC's oldest extant Roman Catholic buildings. Heeney is interred in the churchyard here.
Angela's Ashes author Frank McCourt was baptized here in 1930 before his family returned to Limerick, Ireland in 1934.
Foster Block, Court Street facing Wyckoff. In the late 19th Century buildings facing entire blocks were often given their own titles; not many of these survive in Brookly but I have seen some in Staten Island and more numerous ones in New England. Here, in the combined apartments and storefronts facing Wyckoff, the Foster name and the year of construction, 1898, are still plainly in view. The fencing may be the original.
Congress (Bar) opened in 2013 at #208 Court Street at Warren in the place of the Jim & Andy Fruit and Produce Market, whose sign they kept. Street View has a photo of the place as a grocery, make sure the clock is set prior to that year.
Note the longhorn skull above the door at Lobo, a Tex Mex restaurant at #218 Court.
Staubitz Market at #222 Court (between Warren and Baltic) calls itself the oldest butcher in NYC; it was established by John Staubitz in 1917 and has been in the McFadden family for over 50 years. A look at #222 Court in 1940 shows the site, with an awning covering the sidewalk sign.
A couple of doors down is Cobble Hill Cleaners and Laundry. I liked the green and gold sign lettered in Goudy Bold as well as the gold leaf lettering on the window. Quality stuff.
Sam's Italian restaurant, #238 Court opposite Baltic, advertises steaks and chops in the window, but go for the pizza if you're there for lunch, served in no-nonsense fashion. Sam's is a Cobble Hill Legend. More than one postgame show on a Forgotten NY tour has been here.
To eat at Sam's is to know Louis Migliaccio. Louis is the waiter, bartender, sometime cook and chief bottle washer at this Court Street institution, and the son of Mario Migliaccio, who has made pizzas at this timeless, basement-level, red-and-white-checked-tablecloth joint for sixty years, and is or is not retired now, depending on what article you read.
Louis is tall, with thick black hair, and dresses professionally in black slacks and a tight, white, button-down, short-sleeved shirt. He has a gold chain around his neck, and a pack of Marlboros in his shirt pocket. You can't miss him, and whether or not you like Sam's depends a lot of whether or not you like Louis. He will take a while getting to your table, and longer getting the food, and doesn't take guff. I know some who have objected to his blunt manner and vowed never to go back to Sam's. But plenty of others find his gruffness appealingly Old School. And many, many others—meaning Sam's many Old Neighborhood regulars—have known him and his dad too long to care. But, whoever you may be, you've got to come to terms with the no-nonsense service here before entering. It's Louis' world. You just eat in it. So leave your fancy-pants fussiness at the door and enjoy the meal…
Mario probably made pizzas for longer than anyone else in New York. He used to sometimes talk about how his pies were as good at Di Fara's. They aren't, but they are damn fine, and arguably the best in the neighborhood. The green-olive pizza is a rarity in the pizza world and delicious. Even better, in my estimation are the sausage and meatball heros, which are delicately crispy on the outside, moist, tender and flavorful on the inside. They're cooked in the same brick oven as the pizza, and they melt in your mouth. There are also a variety of old school cocktails on the menu (Stinger, Black Russian), which I don't necessarily recommend. But it's nice to see them there. [Brooks of Sheffield of Lost City fame, in Eater]
Though neighborhood theaters seem to be going the way of the phone booth and the typewriter, Cobble Hill Cinemas is still hanging on at Butler Street. The theater was built in the mid-1920s and was originally called the Lido. I've seen a movie here…in December 1984; though I forget what it was.
#268 and 270 Court have kept their exquisite etched-glass house numbers, and they're not retro imitations: see them in this 1940 tax photo, when they were a barber and beauty parlor.
#292 Court, near Degraw, gives every impression of being a former theater, with that tragedian mask at the roofline, and indeed it was: the Paras Court Theatre, here seen in 1940, active from 1924 to 1959.
A pair of old school signs, Court Pastry Shop at #298, with signage in Italian flag colors, white, red and green, and a "privilege" sign originally paid for by Optimo Cigars, at the corner of Degraw Street.
Yet another classic, #314 Court between Degraw and Sackett Streets.
Court Street does not lack inmpressive churches, and even has impressive former churches. The former South Congregational Church at Court and President Streets dates to 1851. It was converted to apartment units in the late 1990s.
Louis Valentino Jr. Ballfield, part of Carroll Park, Court Street between President and Carroll Streets, named for a hero fireman who spent his early years in Red Hook and Carroll Gardens. Valentino gave his life while searching for three injured firefighters in a Flatlands garage fire on February 5, 1996. Valentino is also remembered by the Louis Valentino Jr. Park and Pier at the end of Coffey Street in Red Hook.
One of the more unremarked-upon sets of numbered streets in Brooklyn are the numbered Places in Carroll Gardens, 1st through 4th. Looking at the map, they seem to be, but aren't quite, western extensions of 1st through 4th Streets. #98 1st Place is an unusual residence most of whose frontage is on Court Street.
Handpainted sign for Carroll Gardens Wines and Liquors, #427 Court, off 3rd Place. Liquor signs are often durable and last for decades; this one seems to have been spared sun bleaching.
The Court Street Tavern (est. 2020) and Giuliana's Sweet Shoppe, #449 Court Street at 4th Place, have gone all out, bedecking themselves with blooms. Court Street Tavern is the successor to longtime occupant P.J. Hanley's, which was founded by a Norwegian immigrant and was successively owned by Jack Ryan and starting in 1956, P.J. Hanley. Hanley's held down the space until 2014. The CST has maintained the 1890-era oak bar.
Sorry about the blurry photo. I yanked the camera before the shutter. Black Gold, #461 Court, sells coffee. It also sells antiques and 33 RPM records. This is not a unique combination: I've seen it elsewhere. I have read that some laundromats will also sell liquor, which you can imbibe while watching the clothes go 'round.
Frank's, #465 at the corner of Luquer, does not vend hot dogs, which disappointed me; it's a wine bar, but it odes have a newly installed retro-style neon shingle sign.
Frank's is not to be confused with Frankie's, a few doors down at #457, though they do share ownership.
St. Mary Star of the Sea (Stella Maris) Church at Court and Luquer Streets. In Brooklyn By Name, Leonard Benardo and Jennifer Weiss say the church was established in 1855 with sailors and merchant mariners a large part of the parish's early congregants, hence the name of the church. The underworld's Al Capone married Mae Coughlin here in 1918.
The Mystery Worshipper weighs in…
To those of us of a certain age who were brought up in the Latin Roman Catholic tradition, St Mary's is the typical old-style Catholic church we remember so well. Located at 467 Court Street, in Brooklyn's Carroll Gardens neighborhood, St Mary's is a large red brick building with granite facade. The somewhat overdecorated interior is cream with dark wooden pews. The high altar and communion table are marble. The rococo-style reredos features statues of the four evangelists. Prominent stained glass windows depict the five joyful mysteries and scenes from the life of Christ. I especially liked a window of Christ teaching in the temple, in which one of the elders was dressed in a ruby red robe of brilliant hue. An elaborate Victorian organ case graces the gallery, although the original pipe organ has been replaced with an electronic instrument and all but the first row of decorative diapason pipes have been removed.
Longtime residents often pronounce Luquer Street as if it had another "e," which it used to on some maps, but the definitive pronunciation and spelling remain… a mystery.
I knew nothing at all about Hamilton Savings & Loan, #496A Court opposite the church, thus I turned to Not Another Brooklyn Blog:
…the Hamilton Savings and Loan Association was chartered January 1, 1890 (which I would note is pretty close to the 1889 on the building). 1929 is when this particular building went up…
So presumably, "1889-1929" pays tribute to Hamilton's glorious past and encapsulates its hopes for a long and even more glorious future in its brand, spanking new limestone building. The builders had no way to know that "1929" would soon take on ominous connotations.
Hamilton Savings and Loan survived the 1929 crash and the ensuing wave of bank failures, changing from a state to federal charter in 1935. In 1976, with federal assistance, it acquired a failed S&L (Terrace Savings and Loan Association) and was eventually (1998) merged into North Fork Bank …
Reversal of fortune: Court Street Grocers (an expensive sandwich shop that sells groceries) at #485 Court reverses the color scheme on its two storefronts as well as the type in the signage.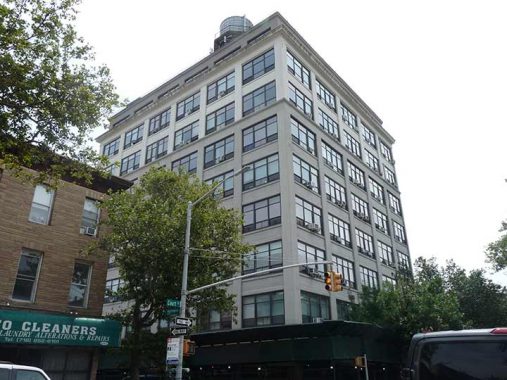 I worked briefly for StreetEasy in 2019 and you can find out some interesting things there, such as this massive loft building turned condominiums at #505 Court Street at Huntington was constructed in 1918 as… a candy factory.
The Brooklyn-Queens-Gowanus Expressway was constructed piecemeal, in stages, between 1940 and 1964 and connects the Grand Central Parkway/Triboro Bridge with the Verrazzano-Narrows Bridge, with the extremely high section above Hamilton Avenue completed in 1950. It is high because it needs to clear shipping on the Gowanus Canal.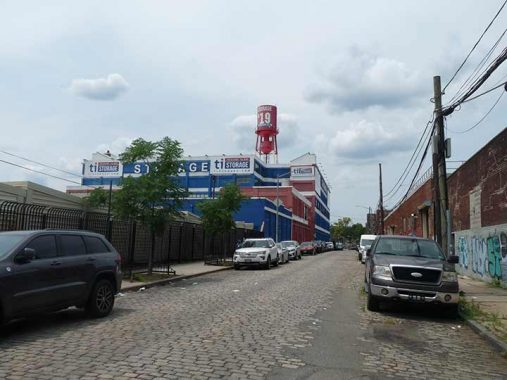 Once past the BQE, Court Street enters Red Hook. I was tiring a bit by now and reversed course down Henry Street to return to the subway, but I did squeeze off some photos such as Bush Street, one of the handful of remaining Belgian-blocked streets in Brooklyn (there are a number in Dumbo though they are disappearing).
Cadillac Linen Service figures in Scorsese's latest mob epic "The Irishman" (2020) and who knows, maybe he got the idea from the real Cadillac Linen Service on Court and Bay Streets. One never knows.
Update: Turns out this IS a prop from "The Irishman."
As always, "comment…as you see fit." I earn a small payment when you click on any ad on the site.
9/26/21