THANKSGIVING is a time for…walking. I have done some epics in the past, like a few years ago when I walked from Sunset Park to Maspeth, a distance of approximately 12 miles. In November the weather is just right: I do a lot of walking in the summer but the humidity debilitates me enough to preclude anything really lengthy. As long as it's not extraordinarily windy and cold I can last all day in the fall. I missed out on the Thanksgiving feast in 2020 but I was determined not to do it again and I was going to order in if I had gotten no invitations, but fortunately cousins in Plainview came through. Thus walking was confined to between 10 and about 2.
I was interested in seeing some things in Gowanus, so I was able to get in some walking in the morning and early afternoon. The weather was pretty mild, in the 50s. I returned for some unfinished business in Carroll Gardens and Red Hook the Saturday after Thanksgiving, and actually went about 7 miles even though that was a much windier, cold day. I will show my findings a bit later, but today I'll focus on the Gowanus area. I ran across several items that have been featured in FNY in the past, but they're favorites and I check on them every time I'm around. Unfortunately some longtime Gowanus features have disappeared. I do think I have found some things I overlooked before.
The Gowanus Canal in Brooklyn is old: it was begun in 1849, other accounts say 1855 (finished in the 1860s) by narrowing its predecessor, the Gowanus Creek, into a one-and-a-half-mile long commercial waterway to provide commercial access to Gowanus Bay. Developer Edwin Litchfield formed the Brooklyn Improvement Company for the purpose of dredging the Gowanus Creek, then a fresh stream, and making it navigable. With the creation of the new waterway, barges brought in sandstone from New Jersey that was used to build the beautiful brownstones that today still line the streets of surrounding Boerum Hill and Park Slope.
The surrounding area's raw sewage would be pumped directly into the canal, and the new gasworks, coal yards and soap factories along the canal's length also dropped tons of pollutants directly into it. As early as the 1880s the canal was foul and miasmic and its color had changed to a dark Pepto-Bismol shade, prompting locals to call it "Lavender Lake."
In the 2000s, the flush pump (which was first built in the 1910s) was repaired and the Canal become cleaner, with some wildlife returning to it, but by 2011 the pump was broken again and the Canal had reverted to its fetid state. The pump has been going off and on since then, but the canal is now a Superfund site, so eventually, it'll be returned to a clean state, though that may take decades.
GOOGLE MAP: GOWANUS AREA NOVEMBER 2021
Previously: Gowanus, 2019
Formerly one of the tallest edifices in Brooklyn, St. Agnes Roman Catholic Church, Hoyt and Sackett Streets, was dedicated in 1888 by Brooklyn's Bishop John Laughlin. Among the biggest Catholic churches in Brooklyn, its medieval Gothic Newark stone gargoyled tower is 130 feet tall and the nave is 174 feet in length. 20 stained glass windows, imported from Munich, Germany, depict the life of St. Agnes of Rome. Cobble Hiller Katia Kelly was inside a few years ago.
At the NE corner of Hoyt and Union is the Black Mountain Winehouse, which follows a tradition in some parts of town in not making the name of the the business immediately apparent. I liked the woodcut bird logo.
If you want to drink wine in a cabin on a mountaintop, this is the closest you're going to get in NYC. There's even a fireplace. They also have a lot of different wines by the glass, which is perfect if you're with someone who doesn't know what they like. For food, there's your standard cheese selection, and some satisfying small plates. Overall, this place is perfect for a cozy, casual glass of wine, and it will feel like a nice escape. Unless you live in a cabin. [The Infatuation]
Known as "the hipster church," St. Lydia's, the 1,000-square-foot congregation at 304 Bond Street, between Union and Sackett, is a co-working space for freelancers by day. The regular Sunday and Monday night services, Christian but nondenominational, are staged as dinner parties. There is an actual Catholic Saint Lydia: she was a dyemaker and as mentioned in Acts of the Apostles, St. Paul's first convert at Philippi.
I was also attracted to its woodcut sidewalk sign in the Garamond type font.
I have always been attracted to the stub end of Sackett east of Bond that abuts the canal. For one thing its Belgian blocked pavement survives, and they're also coolly uneven, not having been worn down by a lot of auto traffic. It also has a curved-mast lamppost, one of the early versions of the octagonal pole installed in the 1950s.
Unfortunately you used to be able to get right to the edhge of the cala from here, as shown on the 2019 Gowanus FNY page linked above. Now, there is some Superfund work on the canal that has blocked off access from all the stub streets that dead end on it.
A door was open and I stuck the camera in to find a Pacific Steel Boiler which, despite the name, was built in Waukegan, Illinois. It was likely also installed in the 1950s.
Tiny Jungles, SW corner of Bond and Sackett, sells decorative houseplants and the containers that display them.
The Union Street Drawbridge, the northernmost of the five vehicular bridges that cross Gowanus Canal, is classified by the Department of Transportation as a double leaf Scherzer rolling leaf bascule bridge. It is 109 feet long, 56 feet wide and first opened March 4, 1905. The bridge seems rickety and fragile — it was scheduled for a major renovation in 2017, but it seemed as if the work should begin before that and I'm not sure how much was done (the latest work was done in late summer 2021). Its twin bridge, the 3rd Street over the Gowanus, opened a few weeks later in 1905. This bridge seems to lose out a little in Brooklyn lore to the Carroll Street Bridge, a rare retractile bridge that dates to 1889.
The Carroll Street Bridge a few block south, a retractile bridge built in 1889, is stuck in an open position. Given its age, it periodically closes for repairs; in 1971, the city tired to close it permanently but a neighborhood outcry prompted repairs instead.
One of my favorite buildings in the area, James Dykeman's box factory on the NW corner of Nevins and Union.
Dykeman "was a carpenter by trade who established himself in the box business in 1877," according to The Disston Crucible, a Magazine for millmen. "Two large buildings occupy the whole block at Union, Nevins, and Sackett Streets, the fourth side of the property facing the canal, making it possible to bring lumber to the mill."
Cabinet Magazine, an art/culture quarterly, has offices in the box factory, as well as an exhibit space. Its banner, designed like a classic heraldry shield, features a fox and a hedgehog. The publication explains that the fox knows many small things, but the hedgehog knows only one big thing. Me, I know about lampposts.
In addition, the building also hosts this handmade ceramic pottery business run by Claire Weissberg.
I found this item, advising coal as a Christmas gift, on an iron fence next to the Cabinet offices in the box factory building. Coal was once the main heating source in the USA and I don't doubt this clipping is legit, but the Cabinet folks probably affixed it in an ironic mood. The only reference I can find to William Nungasser is in a NY Times clipping in 1907; Nungasser almost "drowned" in 200 tons of coal at his business located at 3rd Street and the Gowanus Canal, as it says in the ad. He was fished out alive.
The Adams Book Company occupies, or occupied, a warehouse on Nevins between Sackett and DeGraw. The sign obscures the original name over the doorway, "Majestic," on Sackett. According to their website, they have been in business since 1946 and [are] "the nation's largest K-12 educational clearinghouse for new textbooks, used textbooks, new workbooks, paperback novels, and reference materials. We serve the K-12 educational community as a single source provider of any book in print. We are committed to supplying teachers with new paperback literature, new textbooks and reconditioned used textbooks all at the best possible prices."
It was somewhat surprising to find a book distributer here on the banks of the swiftly flowing Gowanus!
It's not immediately apparent… again… what "Victor" is on the SE corner of Sackett and Nevins, but an internet query reveals that it's a Mediterranean-cuisine restaurant; as the review in Eater says, it gets decent crowds. I remember this as the former location of Freek's Mill, a previous bar/restaurant. (It's for people who like oysters, prawns, octopus, cauliflower etc., which I stay away from, since I unashamedly have the culinary sensibilities of an 8-year-old.)
I found this place at #562 Sackett, marked off by multicolored triangles (which were once also embedded in the sidewalk) called "Lost in Triangulation" likely inspired by the Bill Murray vehicle from several years ago about a big-time actor shipped to Japan to do some liquor ads. This is an art gallery run by French Immigrant Philippe Regard:
In 2008, Philippe discovered an abandoned industrial garage just a few steps away from the Gowanus Cnal. He spent a year re-modeling and transforming it into his idyllic artist studio with his own hands. [Brooklyn Patch]
I liked the renovations at #576 Sackett especially the yellow door. The building has looked like this since 2014 with they yellow paint job done in 2016.
Theatre Mitu has occupied this former glass recycling factory at #580 Sackett since 2018. It hosts house art exhibitions and film screenings as well as theater and dance performances. The company was founded by Ruben Polendo in 1997.
Turning right from Sackett onto 3rd Avenue I quickly found Union, which has, or had, several interesting items. Previously, I hadn't found anything about #548-550 Union or anything about who George F. Driscoll was on older maps. Today, though, I found this obituary in the Brooklyn Eagle in 1941. Apparently he involved in the construction of buildings such as Grover Cleveland High School in Ridgewood and sections of the West Side Highway.
And there's this(!)
George F. Driscoll probably built this here building because he was a building contractor. He was born in New York in 1871, most likely the youngest son of Thomas and Eliza. According to the 1870 census, Thomas owned an "Eating Saloon" in NYC. George was only nine years old by the time his mom died, sometime between 1877 & 1880. Eventually he took on the trade of bricklayer and in 1892 can be found living in Brooklyn with his big brother, William the plumber. By 1901 he had gotten married and started his own company which was incorporated in 1911. And so on it went until George passed away in 1941. From what I can tell, the business continued until at least the 1950's, possibly run by one or all of his sons…
In 1931 he got the contract for the enormous postal facility at 29th street and 10th Ave in Manhattan. He also built Abraham Lincoln HS in Brooklyn and several bank buildings in Long Island – although I suspect they meant Queens since parts of that borough were still referred to as Long Island back then. After his death, his company built the "new" Brooklyn Red Cross Center on a plot of land bounded by Washington, Old High, Nassau and Adams Streets in 1954. [My Old NY Just Ain't What She Used to Be]
The site was written by Karen Wagner; this was the last item to date in 2012.
It appears that the Brooklyn Casket Company on Union street has gone out of business. I had it on a tour in the area just a few years ago.
From FNY's Union Street page:
On Union Street there's a sort of subgenre of the funerary industry. We will all spend an awfully long time in caskets, and they have to come from somewhere — I'm glad Brooklyn has casket manufacturers (I saw a faded painted ad for another one on Rockwell Place, but that one had long vanished). Awhile ago during one of my interregnums between jobs — they come frequently — I think this was 2000 — I scored a temp job typesetting those glossy prayer cards that you get at wakes. I didn't find it fulfilling and left after a short time. That was on Union Street by the canal, too.
The company was founded in 1931 by Thomas Pontone and was more recently acquired by the larger Milso Industries, which is the name on the trucks you will see carrying the coffins out of the low brick buildings in Gowanus and to their customers. But the buildings haven't changed, they're still ramshackle and a bit ominous. You might find yourself lingering there, watching the boxes come out in bunches, and wondering who will lie inside them. [Jeremiah's Vanishing New York]
#548 Union: From an online review: A one-of-a kind, boutique fitness center in Brooklyn with small group classes focusing on HIIT (High Intensity Interval Training). Battle Ropes, Sandbells, ViPRs, Wall Balls, kettlebells, WaterRowers, turf work and more.
So I learned a new acronym. The establishment is apparently temporarily COVID closed.

It occurred to me that I hadn't paid a whole lot of attention to 3rd Avenue between here and Prospect Avenue, the point where it starts to run under the BQE, very much over the years. I had though taken the B37 bus on 3rd Avenue as a kid with my parents to get to A&S (now Macy's) on Fulton Street, and I would also use it occasionally to get to St. Francis College during my years there (1975-1980). But I thought that today I'd do a "drilldown" as I call it on the avenue and check out things I hadn't previously paid mind.
2 Toms Restaurant, 3rd Avenue just off Union, has been a Gowanus mainstay since 1948, a whopping 71 years. Traveling down 3rd Avenue on the B37 bus as a kid, I would note this very same sign going by. However, owner Anthony Catapano, who has managed the place for fifty years has decided to retire and the restaurant will retire along with him at the end of 2019.
It's an end of an era. Though old-school red sauce spots continue to thrive throughout Brooklyn, Two Toms is among the last of its kind in post-industrial Gowanus. It is small, wood-paneled, and tableclothed. It is only open four days a week, and the menu rarely changes. Catapano does the prepping, cooking, serving — and reservation booking. [Eater]
Two Toms, a Red-Sauce Gem Off the Gowanus Canal [Eater]
Another Italian restaurant, Fai Bene, now occupies the space. The first 2 reviews on Yelp as of November 2021 were… 5 star and 1 star.
Being Thanksgiving morning, Canal Bar at 3rd and President was locked up. But sometimes you have to look a bit harder. Right next to it I found this item about a John Romanelli, who poisoned 100 with fake whisky spiked with embalming fluid. Oh those undertakers! He died across the street, at #271 3rd Avenue.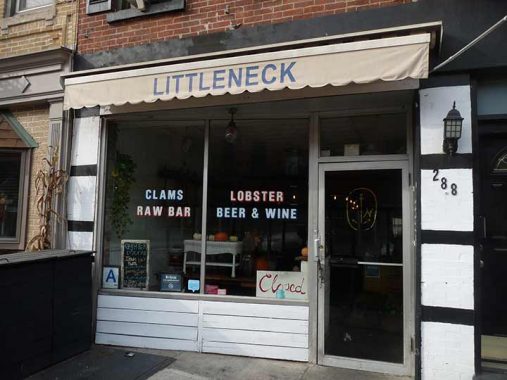 At #288 3rd between President and Carroll, "Little Neck" refers to the Queens neighborhood on the Nassau border only tangentially as it vends clams and oysters, which were one (long ago) harvested from Little Neck Bay.
As a rule, bakeries have large display windows where bread loaves and cakes are set out for inspection. Everybody Eats at #294 3rd Avenue off carroll breaks this rule in every way as it appears to have been fashioned out of a first-floor apartment. The door opens up to a foyer between the owner's office and kitchen. The bakery features gluten and nut free products, as owner Pedro Arroba has Celiac Disease and founded a bakery specifically for people with the affliction, though the baked goods can be enjoyed by everyone.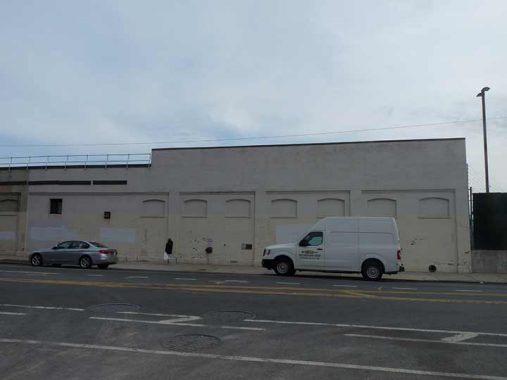 The wall you see here on 3rd Avenue east of 3rd Street is the very same wall that baseballs hit by a major-league Brooklyn franchise, and their opponents, went over. This is not Ebbets Field, but the site of Washington Park, where the Brooklyn Superbas, later known as the Trolley Dodgers and then as the Dodgers, played between 1898 and 1912. The property is owned by Con Edison on Third Avenue, Brooklyn.
The entrance, long since vanished, was at Fourth Avenue and Third Street. In that era, the Dodgers used the nearby Old Gowanus Stone House, built in the late 1600s (later torn down and rebuilt), as a clubhouse.
After the Dodgers vacated Washington Park in 1912 for the new Ebbets Field in 1913, the Brooklyn Tip Tops of the new Federal League played here for a couple of years until the Federal League folded. The grandstand and field of Washington Park were demolished in 1926. The back of the grandstand is what you see here.
Con Edison quickly snapped up the site and retained the 20-foot high left field wall. This is the oldest section of any former major league ballpark still standing in the country.
A magnificent building indeed, the Somers Bros. Decorated Tinware Company was built at 3rd Avenue and 3rd Street in 1885. American Can was occupying it by the 1920s. The 5th Street Basin of the Gowanus Canal is situated in the back of the building and it's likely that both companies utilized the canal to ship and bring in materials.
The building is currently occupied by small businesses but its most intriguing use in recent years has happened on its roof, where the Rooftop Films series used it as a venue for the past few years. Of special note are the diamond-shaped windows on the top floor of the 3rd Avenue side.
This Beaux-Arts building on the SW corner of 3rd and 3rd, in a corner of the fairly new Whole Foods complex, housed the offices of the Brooklyn Improvement Company, founded by Edwin Litchfield for the express purpose of dredging the Gowanus Creek, then a fresh stream, and making it vessel-worthy.
It was built in 1882 by the NY & LI Coignet Stone Company and leased to Litchfield, the Brooklyn Improvement office was incorporated into a new Whole Foods site but is now available for lease. It was in ruins for many years, but oddly, the top to bottom renovation it received is unsatisfactory compared to what it looked like in its classic era.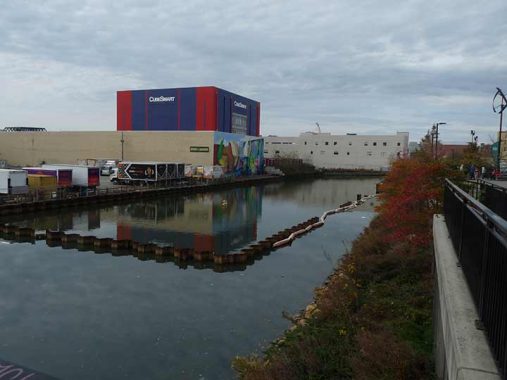 The Gowanus Canal has several "tributaries," originally small feeder streams. When Edwin Litchfield dredged the canal in the 1880s, he also created several attendant basins that include the 4th Street Basin shown here. It currently abuts the Whole foods complex on its north side.
Who was William H. Nicolay, whose name appears on this handsome slope-roofed building at the NW corner of 3rd Avenue and 6th Street whose corner tenant is sandwich shop The Sideboard, which employs signage reminiscent of 1940s design?
A quick look at Page 15 of Brooklyn Life, June 12, 1915 has the answer.
Other tenants in the Nicolay Building include Hyperakt, a design studio whose political bent is displayed on the front window; its logo looks awfully like Hillary Clinton's 2016 presidential run symbol) and Curious Jane, a girls' crafts center.
[nggallety id=11801]
You can find nautical-themed bar Halyards on the Sw corner of 3rd and 6th. In sailing, a halyard or halliard is a line (rope) that is used to hoist a ladder, sail, flag or yard. The term halyard comes from the phrase "to haul yards." A bollard used to tie ships is displayed out front. I seem to recall it elsewhere on this stretch of 3rd Avenue, so I think the bar co-opted it.
Across the street until 2013 could be found the giant Eagle Clothes neon billboard, since replaced by an apartment building.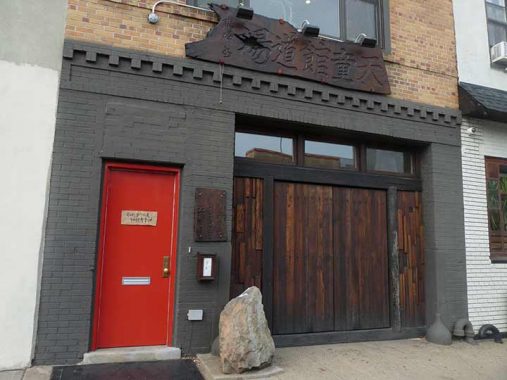 Brooklyn Aikikai, #408 3rd Avenue, bills itself as
aa community of learners dedicated to the practice of aikido, iaido, zen and misogi. At Brooklyn Aikikai we believe that the understanding and performance of these practices is a way to deepen the quality of individual lives and to contribute to the betterment of humanity's condition. We aim to strengthen our connections both to our local community and to the larger world of aikido in order to spread our practice and make it available to as many people as possible now and into the future.
Third Avenue Clay, #418 3rd Avenue between 6th and 7th Street, is another very low key 3rd Avenue exterior, but the interior is chockablock full of pottery and sculpted materials. It has been owned and operated for over 40 years by claymaster Adrienne Yurick, an instructor in the art of clay throwing and ceramics.
A great place to take a date: From 2014-2016 this building at the corner of 3rd Avenue and 7th Street hosted the Morbid Anatomy Museum, an exhibition space founded in 2014 by a group of historians and artists led by Joanna Ebenstein. The space focused on forgotten or neglected histories through exhibitions, education and public programming. Themes included nature, death and society, anatomy, medicine, arcane media, and curiosity and curiosities broadly considered. The artifacts featured in its rotating exhibitions were drawn from private collections and museums' storage space.
While its exhibits and artwork, many concentrated round the human body and its diseases and aberrations (much like Philly's Mütter Museum), were well-received by its cognoscenti, the museum didn't earn enough to make rent and unfortunately closed in December of 2016. I had visited in October 2015 and got some photos of what was on view.
Bespoke pie shop Four and Twenty Blackbirds, 3rd Avenue and 8th Street, was open on Thanksgiving, though by noontime whole pies had sold out. Fresh pies are baked daily. The shop was founded by sisters Melissa and Emily Essen in 2009. Typically, handmade whole pies here cost over $40.
One wishes he could enjoy more and more pies.
If you are a regular Four and Twenty Blackbirds customer you will need to do some work at the Pilates Garage across 8th Street.
A brecently restored State Education Department of New York sign, created in 1952, hangs in front of an American Legion hall at 3rd Avenue and 9th Street, stating that remains of the 1st Maryland Regiment, which engaged the British during the battle at the nearby Old Stone House (which is now a museum) in August 1776 and enabled the main line of US troops to escape relatively undecimated, are buried there. The sign is not quite correct, as some say that evidence points to those remains existing beneath an empty lot a block away at 3rd Avenue and 8th Street.
The leader of the find-the-Marylanders group is Bob Furman, a Brooklyn historian and president of the Brooklyn Preservation Council, a nonprofit organization dedicated to maintaining brownstone Brooklyn's look and feel. "The evidence is quite strong," Mr. Furman said. "I'm confident enough that I tell everyone I know."

But Mr. Furman has no way to test his theory. Right now, the site he is targeting is a vacant, concrete-covered lot studded with weeds and surrounded by a chain-link fence. The owners, who say they are interested in developing the property themselves or selling it to someone who will, have rebuffed his inquiries about conducting an archaeological probe on the site. NY Times, 8/26/12
This large mural on an apartment building adjacent to the Legion hall depicts the Kentile Floors neon sign, which formerly was mounted at 9th Street and 2nd Avenue. It was built to attract business from the passing IND trains on the viaduct, looms over 9th Street. It is one of a number of now-defunct large neon signs that were found in the Gowanus and Red Hook areas, springing up from the 30s through the 50s to be noticed by IND riders and passing Gowanus expressway motorists.
Kentile was founded in 1898 by Arthur Kennedy, hence Ken-Tile, and went out of business in 1992. It opened a factory on 2nd Avenue in the Gowanus area in 1949 — presumably when the neon sign was erected — which closed during the 1980s. Kentile sales fell off sharply after new discoveries regarding asbestos, heavily used in Kentile flooring and other products, and the cancer asbestos produces, were brought to light.
Sweet Talk is a Hawaiian-themed bistro at the SE corner of 3rd Avenue and 9th Street. I was fascinated by their chamfered windows. I really think they should invest in metal rolldown gates, since these must be seen as vandalism targets by local youth.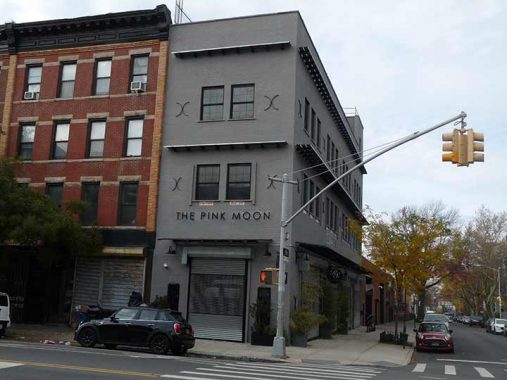 The Pink Moon is a customizable "event space" on 3rd Avenue and 10th Street; I can't help but wonder if the owners ever heard of the late British folk singer Nick Drake: "Pink Moon" is one of his more anthologized songs, as it was used in a Volkswagen commercial.
In a half century, this will make a great "faded ad" for Table 87, pizza at the SE corner of 3rd and 10th.
The IND subway viaduct rises to a full height of about 90 feet as it crosses the Gowanus Canal, to allow the occasional tall-masted vessel to pass. These very high trestles over 2nd and 3rd Avenues are relatively unremarked-upon, but along with the brief section above Smith Street, they're the only IND els in the city. In the 1930s and 1940s, the IND was going to build a Second System that would have included some elevateds, and it's fun to speculate the supports would have been concrete-clad, as they are here. A depression and WWII intervened and the Second System plans gathered dust.
Second System map from Vanshnookenraggen (you can download the PDF to zoom in for detail)
Signs new and old: Gowanus Wine Merchants, 3rd Avenue and 11th Street, employs gold leaf lettering on a curve, frequently seen on office doors in mid-century. The Scarlino Brothers painted fuel oil sign was still partially hidden by a foliated tree on November 25, a possible sign of climate change.
Before 3rd Avenue ducks under the BQE, I noticed these modest 2-story dwellings at 15th Street. They may be some of the oldest surviving structures on this stretch.
The "Whitestone" lamppost was first used on the Whitestone Bridge and was used on many major NYC parkways and expressways until the 1960s, usually carrying Gumball or Westinghouse "cuplights." Beginning in the 1960s, they were replaced with newer models, but some have hung on for dear life; today, the only working numbers seem to be here at 3rd Avenue and 17th Street, using a Holophane "bucket." There are a couple at the Brooklyn Bridge approach in Brooklyn Heights, using LEDs and sodiums. They were never used on regular streets.
The city "retired" its remaining high pressure fire hydrants over 20 years ago, but has overlooked to remove a couple here and there; this one at 3rd Avenue and 19th Street is out of the way. Its replacement, rising rather high for a hydrant, is cross the street.
To kick it in the head before heading to the feast of the holy bird, I wanted to check out the stub ends of streets in the 20s west of 3rd Avenue that formerly led to the docks. I remember going by in a bus as a kid and seeing these huge vessels docked at the Moore and McCormick shipyard that used to be here. These days, things are somewhat more sleepy.
As always, "comment…as you see fit." I earn a small payment when you click on any ad on the site.
11/28/21