In November 2021 it occurred to me that I had never walked the full length of Forest Avenue in Staten Island. I embarked on it, but did about half, getting as far as Port Richmond, from where I headed to Richmond Terrace and caught a bus back to the ferry. I intend to walk the rest of Forest Avenue, which gets you to the new Goethals Bridge — but I'll do that when it's a bit warmer and the light lasts a little longer.
Forest Avenue runs from Victory Boulevard to the Goethals through the neighborhoods of Randall Manor, West Brighton, Port Richmond and Mariners Harbor. It was not always continuous and evolved from a number of streets: Prospect Street and Forest Avenue in West Brighton, Cherry Lane in Port Richmond and Washington Avenue in Mariners Harbor. By 1917 it was continuous and most of it was called Forest Avenue, though the Washington Avenue section hung tough. Today, Staten Island's Washington Avenue is a short one, in Willowbrook.
Date of photography: November 20, 2021
Photos in batch: 167; using about 100 here
West of Victory Boulevard, Forest Avenue skirts the northern end of Silver Lake Park, and the lake itself shows up after just a short intrusion into the park.
Glaciers formed the original Silver Lake, converted into the southern end of New York's Catskill water supply system as a reservoir in 1913, filling this function until 1971. The reservoir today is part of the drainage system for underground storage tanks. 209-acre Silver Lake Park, stretching between Victory Blvd., Forest Avenue and Lakewood Road, exists due to the efforts of Staten Island writer John DeMorgan, who pressed the State Assembly Committee on Cities to appropriate funds to establish Silver Lake Park in February 1900. The park began to acquire its current appearance in the four years following, making it Staten Island's oldest large park. When land from the old Marine Cemetery was added in 1924 and converted to a golf course in 1929, it was later discovered that many Irish immigrants may have been buried here with the 18th hole built over their remains. We'll talk about another buried cemetery a little later.
One thing we have had to get used to the last few years is that autumn is coming later than it used to in the NYC area. Thus, we had peak leaf colors in late November, as opposed to earlier in the month and even late October as I seem to remember it. A quite mild October may have contributed to the delay.
North of Silver Lake Park is the neighborhood of Randall Manor and there are several handsome single family homes in the area, like these on the north side of Forest Avenue. This is not a landmarked area — Staten Island has relatively few; thus details such as year of construction require more digging than I'm willing to do here. Suffice it to say… I like them.
A prime area for landmarking…if Staten Island could have more such designations…is Haven Esplanade, which gathers several freestanding homes around a grassy center mall between Forest and Castleton Avenues. Though the esplanade could be considered a "haven" of sorts it was actually named for Silas Nathaniel Havens (1827-1897), a prominent 19th-century New Brighton businessman. The flora in the center mall contains the usual London planes (Robert Moses' favorite street tree; that's why there are so many of them) plus white cedar, upright yew and several varieties of euonymus and forsythia.
Some of these homes are feasts for the eyes.
Canopies of color along Silver Lake Park/Forest Avenue.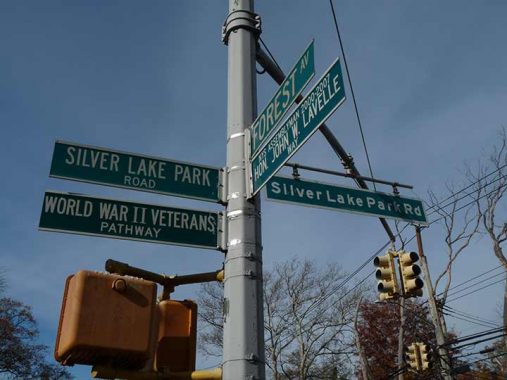 That's a lot of street signs. Here's the wikipedia entry for Assemblyman John W. Lavelle (1949-2007):
Lavelle, a former executive with Met Life, was a champion for the poor and less fortunate. He served as a member of the New York State Charter Commission for Staten Island in 1993, and became Staten Island Democratic Party Chairman in 1999. He was first elected to the New York State Assembly in 2000, filling the seat formerly occupied by Assemblywoman Betty Connelly. He served on a number of committees, including Government Employees, Social Services, Veterans Affairs and Mental Health, among others. Assemblyman Lavelle was known for sponsoring bills calling for the same benefits of those who died in the 1993 World Trade Center bombing as those who died in the 2001 attack and for being an advocate for stronger gun control laws.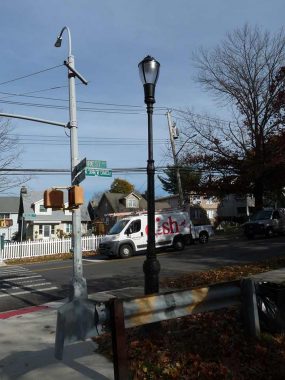 Another thing I noticed about Silver Lake Park is that it contains a number of Type E park lampposts, which are discernible from the equally tall Type A poles by that little bit of ornamentation halfway up the pole. I talk about NYC's lettered lampposts on this FNY page.
Hart Boulevard, which runs south from Forest Avenue, also has a center mall but not nearly as wide or spectacular as Haven Esplanade. However it does feature something unusual: two big apartment house complexes, which are relatively rare on Staten Island.
A pair of law practices in this small A-frame house at #391 Forest Avenue.
A number of streets as well as drugstore awnings bear the name of Randall. They don't honor Tony Randall, who played hundreds of roles over decades in showbiz but is perhaps remembered best for playing fussy photographer Felix Unger on TV's "The Odd Couple," but a fellow named Robert Richard Randall. This drugstore can be found on the corner of Forest and Walbrooke Avenues in New Brighton, south of Randall Manor, where you can find Sailors' Snug Harbor.
Sailors' Snug Harbor, an 83-acre National Historic Landmarked District facing Richmond Terrace between Tysen Street and Snug Harbor Road, was founded in the Washington Square area of Manhattan by Robert Richard Randall when he specified that his fortune be left to the care of retired seamen without other means of support. Randall was the bachelor son of a privateer and knew well the toll a life at sea can take on the body and psyche. After Randall's death in 1801, over twenty years was spent in adjudicating claims to Randall's fortune, and by 1821, lower Manhattan had grown considerably and land for the sort of retreat Randall had had in mind was unavailable. Snug Harbor trustees purchased Isaac Housman's farm in then-rural Richmond County in the 1830s. Architect Minard Lefever was commissioned to build Snug Harbor's magnificent Greek Revival edifices, only some of which remain today. At its peak Snug Harbor was home to over 1000 seamen; by 1976 operations had relocated to North Carolina. The buildings were allowed to deteriorate for awhile, and some were demolished, but seven have been landmarked and Snug Harbor is in the process of becoming a premier cultural center in NYC. The institute includes Staten Island Botanical Garden and Children's Museum, which all occupy the same space. Consult snug-harbor.org for hours.
I was perplexed at first by the "Ho' Brah" on this building at #412 Forest Avenue, and had to look it up. All I could think of was "Erin Go Bragh" (Ireland Forever) but this is actually a Hawaiian-themed taco joint, with the Ho'Brah derived from surfer slang in turn derived from Hawaiian, meaning "the prelude to something wonderful."
This part of Forest Avenue does indeed have an Irish-themed pub, along with sushi, acai, Italian and even a "natural" place, Beans and Leaves.
Sally's Southern, #427 Forest, features kegs in its exterior ornamentation and offers "southern comfort" food such as fried chicken. I suspect this is a decades-old house that has been redecorated over the years but alas, it's not recorded in the 1940 Municipal Archives.
At City Boulevard and Forest Avenue I found a modern-design church with an old tombstone, dating to 1929. Perplexed, I searched for another cornerstone, proving I was right that the church is fairly recent. The Our Saviour's Lutheran congregation was founded here in 1893 and is currently on its third church building, constructed in 1958. The parsonage round the back likely dates to the 1920s.
Sunset Hill was a planned real estate development in Staten Island several decades ago. Strictly speaking, it consists of three north-south streets south of Forest Avenue: Metropolitan Avenue, City Boulevard, and the short cross streets between them. The homes found in Sunset Hill are occasionally picturesque cottages and there are some even smaller buildings interspersed between them.
There isn't much to be perplexed about in West Brighton except, perhaps, some naming conventions. I photographed this house I liked at the corner of Forest and North Mada Avenue, and wondered, is there a South Mada? Or just plain Mada? Nope, nowhere to be found. A few blocks away is North Burgher: but that makes some sense, as there is a Burgher Avenue several miles to the south, in Dongan Hills. Maybe there was a Mada Avenue at one time that was renamed.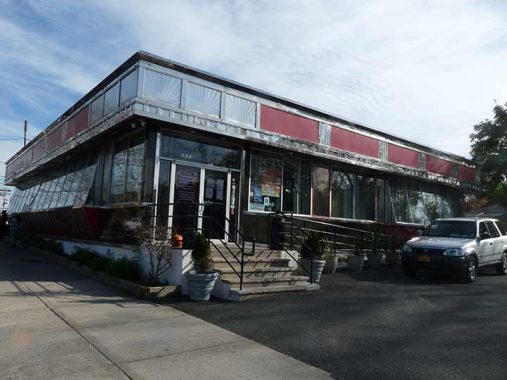 The King's Arms Diner across Forest Avenue has earned a number of one-star reviews on Yelp, but if I'm here with company I try all diners and make up my own mind.
You wouldn't think Staten Island would be known for its street art murals, but I found a number of them today. At Davis and Forest is a mural devoted to Angela "Big Ang" (pronounced Anj) Raiola (1960-2016) a star of the VH1 series Mob Wives. Raiola, a member of the Genovese crime family, proved an engaging reality TV star. Other than that, not being a reality TV fan, I'm out of my depth here and will refer you to her wikipedia page. Prior to her TV career, Ang was convicted of selling cocaine and was sentenced to 3 years' probation and 4 months' home confinement.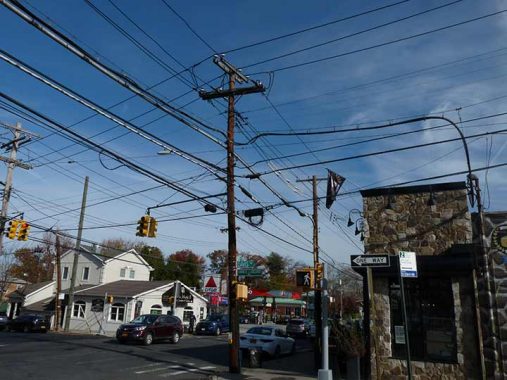 Across Davis Avenue, that's one loaded telephone pole. Somebody let me know what all those wires are…comments are open.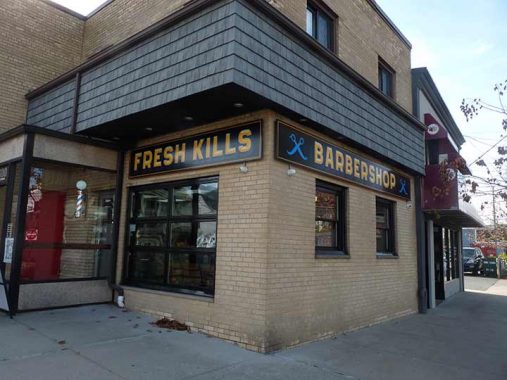 Though hunting was a staple on Staten Island in decades past, "Fresh Kills" has nothing to do with hunting. The name itself refers to the Dutch term for strait, or narrow body of water, that is "fresh" or containing unsalty water. However West Brighton is nowhere near Fresh Kills, which is miles away on the southern part of the island. It formerly hosted the world's largest dump, most of which is now being converted to a park built atop landfill.
I mentioned plenty of murals. But what do cattle have to do with coffee, at Northside Coffee?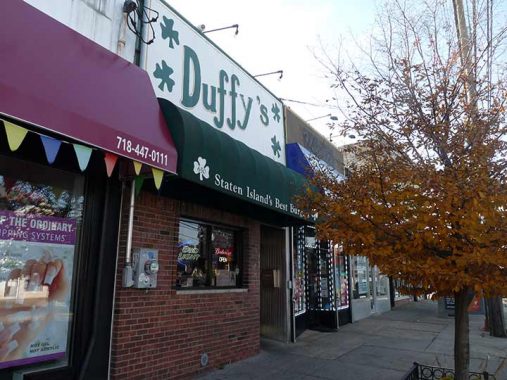 I did not have the time to test the proposition of "Staten Island's Best Burger" at Duffy's. Does it? Yelp reviews are positive.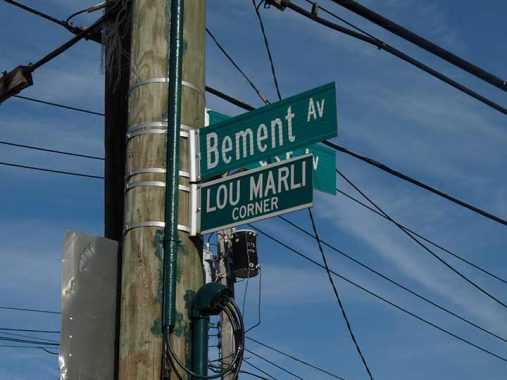 The Staten Island Sports Hall of Fame describes Lou Marli thusly:
Lou Marli, a onetime baseball and track star – city champion in the 300-yard dash and leadoff hitter for a championship baseball team at Monroe High School in the Bronx– had his competitive career ended by an injury.

After becoming a West Brighton pharmacist, Marli spent the rest of his life sponsoring neighborhood baseball teams, track meets, benefit games and the Island's longest-running event, the Turkey Day Trot on Thanksgiving, renamed the Lou Marli Run in his honor.
The pronunciation of "Bement," like Joralemon and Cortelyou, has always amused me; instead of BEMMENT, as I'd expect, it's actually "BEE-ment."
That's a lot of US flags surrounding the parking lot at catering hall LiGreci's Staaten, which uses the original double-A Dutch spelling (as in Haarlem). The big K indicates that the service organization Kiwanis Club meets here.
All NYC boroughs have a Broadway (Manhattan and Bronx share a Broadway) and Staten Island's is in West Brighton. I've been quite familiar with it, as the S53 bus from Bay Ridge uses it. The corner of Forest and Broadway also has a snazzy red street sign, which the department of Transportation uses for local firefighters killed in action.
Prall Playground was named for Anning Smith Prall (1870-1937) , who served three terms as President of the Board of Education and as Congressman in Staten Island. Prall is a very old Staten Island name with Pralls appearing on the island in the 1690s, and Staten Island cemeteries feature plenty of Prall tombstones. There is a Prall Avenue in Huguenot, and even a Prall's Island, used as a bird sanctuary, in the Arthur Kill.
Forest Avenue also runs along the north end of Clove Lakes Park, as it did Silver Lake Park. I was also surprised to see an unmapped bridge spanning a small creek here.
This 198-acre park's name, and that of the road that borders it, has nothing to do with clover; instead, it is derived from the Dutch term for "cleft," and to gain perspective on why, observe how the nearby Staten Island Expressway divides Grymes Hill to its north and Emerson Hill to its south; the expressway describes Clove Road's former route "cleaving" the hills.
Of all Staten Island's green spaces this, along with Silver Lake Park to the east, is the most developed and most closely resembles landscaped Central and Prospect Parks; it's dominated by picturesque bridges, winding walkways, close-cropped grass and artificial brooks. Rent a boat or a horse, and traverse its ponds and bridle paths. In 1965, I exercised a nascent desire to explore by wandering away from my father into the park's hills, necessitating an afternoon-long search and a smack on the rear once found.
The brook that wanders through the park, Clove Brook, is a tributary of Palmer's Run, which eventually empties into the Kill Van Kull. Beginning in 1825 by miller Abraham Britton, it was dammed into a series of ponds, Brooks Lake, Martling's Pond, and Clove Lake. Where the brook meets the ponds, you will see a succession of picturesque waterfalls, the only ones on the island. North of Forest Avenue, most of it is in the sewer system, with a brief stream aboveground at Richmond Terrace.
West of the park, Forest Avenue enters another residential stretch with several near-spectacular houses.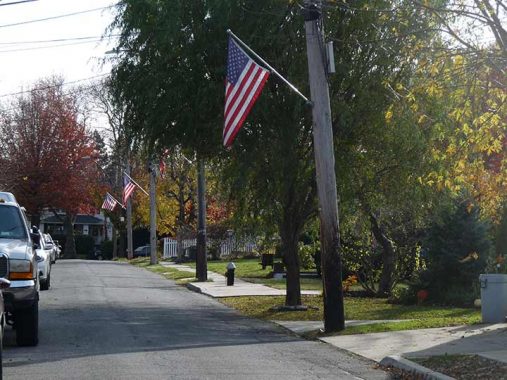 The short Raymond Place has featured American flags on all its telephone poles at least since 2018.
Doc Hennigan's is actually co-owned by a real doctor, Craig Campbell.
The Church of the Blessed Sacrament (Roman Catholic) at Forest Avenue and Manor Road was founded in 1910, with the present church building dedicated in 1952.
Egger's Ice Cream was founded in Port Richmond in 1932 by Richard Egger and has been wildly successful in a number of Staten Island locations since. Egger's website indicates its #1194 Forest Avenue (at Llewellyn Place) location has been here since 1964, but this mini-mall seems newer than that. I can attest to its quality, having sampled in its Richmondtown Restoration location as well as at the now-closed Tottenville.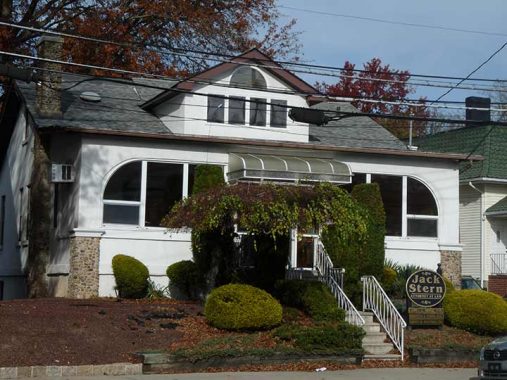 This building across Forest Avenue with the unusual windows is home to several law practices.
Jewett Avenue runs from Richmond Terrace south to Victory Boulevard and generally speaking, forms the boundary between Port Richmond and West Brighton. The avenue is named for John Jewett and his sons, who ran a linseed oil and later, a white lead (a lead paint ingredient since banned for poisonous properties) factory on Richmond Terrace from 1830-1898. The Jewett-Taintor House, which formerly stood at 2105 Richmond Terrace in Port Richmond was the house where the last slave was born on Staten Island, Benjamin Perine (d. 1900). The large mansion was demolished in the 1950s. Slavery was outlawed in NYS in 1827.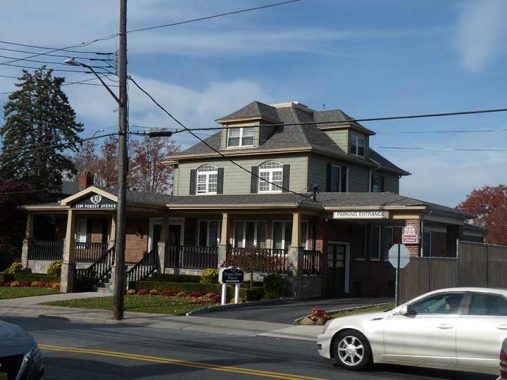 The thing about funeral homes is, they're often the handsomest buildings in any given area; yet the guests of honor are unable to enjoy the craftsmanship, as with the Chrubini McInerney Funeral Home, #1289 Forest Avenue.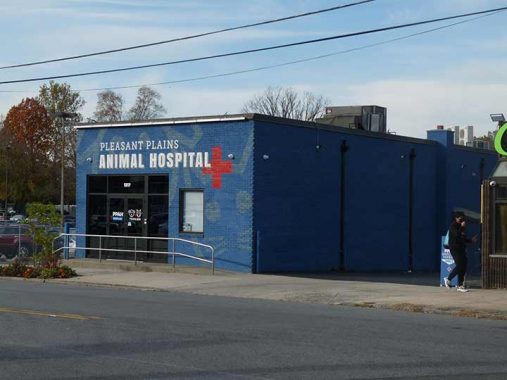 For those unfamiliar with the Staten Island topography, Pleasant Plains is a few miles away in Staten Island's south shore, near the Outerbridge Crossing. The original hospital remains in that neighborhood.
For those needing an interpretation, the sign means that everything on offer is $1.00 or more. Which, if you think about it, is true of just about every store in the United States.
Past Hamlin Place, as Forest Avenue takes a southwest bend, it suddenly enters Mall City USA, that includes a Chicken Wars faceoff between KFC and Boston Market, as well as a full-size Target.
There's one mini-mall here, just east of Livermore Avenue where it meets Forest, that's of particular interest. To explain why let's take a look at a map of the area from 1873:
In 1873 Forest Avenue in Port Richmond was still called Cherry Lane and at that bend you find a cemetery marked AFME, for African Methodist Episcopal. It was the cemetery for a long-vanished AFME church in the area, and the only cemetery in this part of Staten Island that would admit African American deceased. The church and cemetery were founded in the 1850s, with the cemetery admitting interments until the early 20th Century. Eventually the site was paved over, additional streets laid out, and a filling station occupying the former cemetery property. Some of the interred may have been moved to Moravian Cemetery but many more stayed put, including the aforementioned Benjamin Perine, who was buried here in 1900. The New York City Cemetery Project has perhaps the most comprehensive story on this still extant cemetery that sits under asphalt.
On this 1949 map, the cemetery is under what was then Forest and North Avenues. Today, the cemetery is likely beneath the Santander Bank seen in the gallery above.
My friend and teammate on the Greater Astoria Historical Society executive board, Heather Quinlan, is preparing a film to raise consciousness about the existence of the cemetery and has interviewed some of Benjamin Perine's relatives. Here is a report from WNBC TV in October 2021; hope they keep the link active.
Just past the Target, at #1520 Forest Avenue, the road is bridged over another rivulet. This no longer shows up on modern maps, but it can be seen on both the 1873 and 1949 maps shown above. It is another tributary of Palmer's Run with several of them, very narrow and inconspicuous, occasionally coming to the surface from the sewer system.
This rivulet once formed the boundary of the Staten Island towns Castleton and Northfield. When Staten Island became part of Greater New York in 1898, the Staten Island towns were abolished (just as the city of Brooklyn annexed Kings County towns before the 1898 absorption).
Looking at maps of the region since I was a kid I was fascinated with the name "Arnprior." Apparently some landowners here had relatives in Ontario or in Scotland where there are towns with this name; the word is derived from Scots Gaelic 'earrann' or division of land; the the Earl of Menteith founded Inchmahome Priory at Arnprior in 1238. There's a` story behind every name.
Will finish here with a look at the Olympic Diner, at Forest Avenue and Willowbrook Road where I ate a few years ago before come cemetery hunting. I found some and will reveal one of them when I continue this page next time.
As always, "comment…as you see fit." I earn a small payment when you click on any ad on the site.
1/16/22