THE other Saturday I was puttering around in the Brooklyn Battery (Hugh Carey) Tunnel area in the arctic cold and then investigated Battery Park City, where I have acquired two batches of photos but never seem to publish them because where I find the idea of Battery Park City of interest, to me its architecture is same-y and leaves me indifferent. I did find some interesting infrastructural stuff that I may share.
However I did check Morris Street and its pair of ancient Corvingtons. These aren't modern retro knockoffs, kidz– they're the real McCoys, installed no later than the 1940s and are some of the last remaining Type 24 Corvs found anywhere in NYC, though new versions can be found in plenty of places.
If you look at a map of lower Manhattan there are, in effect, two Morris Streets, one between West and Washington Streets and another between Greenwich and Broadway. The two were once continuous, but the construction of the Hugh Brooklyn Battery Carey Tunnel in the 1940s severed it into two nearly equal halves. The city recently subnamed the western section for Teddy Gleason, president of the International Longshoremen's Association from 1963 to 1987. Lower Manhattan used to have a working waterfront.
Two of the early 20th Century Corvs beat the odds and survived, but not without being saddled by two different versions of sodium vapor fixtures that light up bright yellow at night. The first was installed in the 1980s and the second, seen here in 2018, in 2009.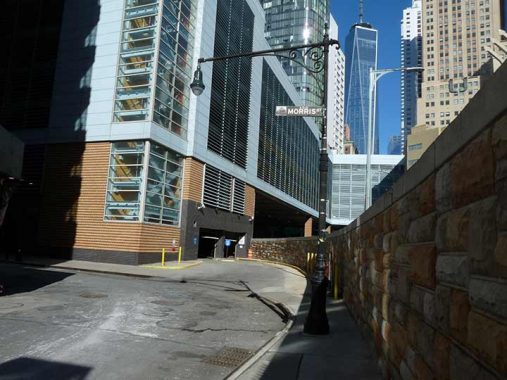 However in late 2021, these old soldiers were finally provided with new LED lamps; the city is determined to replace every old incandescent, mercury or sodium lamp with the new energy-efficient LED.
What the Department of Transportation was unable to do is employ the traditional connection sconce that joins the pendant Bells with the masts, so an improvisation was devised. (The traditional sconces do find their way to retro versions of this Corvington.)
As always, "comment…as you see fit." I earn a small payment when you click on any ad on the site.
1/26/22