The following is an expanded version of my SpliceToday piece from February 9th, 2022 with additional text and photos.
WAY back in early 2009, when I and the world were much younger, I did a quick survey of West 12th Street west of Greenwich Avenue and in early January, the day after a snow storm, I was able to mostly complete the job, heading east on 12th into the East Village. As with any cross street in Manhattan there's a wide variety of architecture and plenty of things to comment on.
Photos taken on January 8, 2022
Photos in batch: 72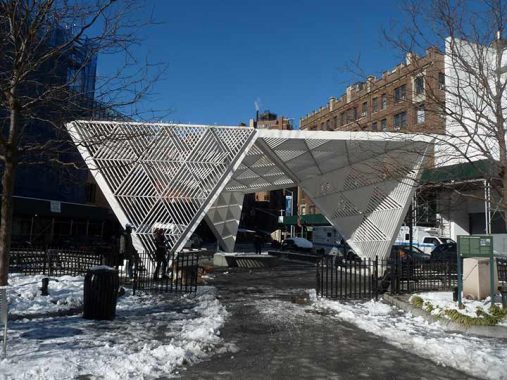 Where is 12th St., on either side of 5th Ave.? In Greenwich Village? The East Village? The Union Square area? I can't tell. I've scuttled furtively in the area in various eras, most recently the day after a snowstorm in January, and while going through photos I discovered that I'd acquired a treasure trove here. The plot formed by 7th Ave., W. 12th St. and Greenwich Ave. is now called the NYC AIDS Memorial Park at St. Vincent's Triangle. The park opened in 2010 after St. Vincent's Hospital was closed and by 2013, razed. The hospital was a beachhead in combatting the AIDS virus. It established the first hospital ward dedicated to fighting the disease. The AIDS Memorial, which dominates the north end of the park, was dedicated on World AIDS Day, December 1, 2016. It was designed by Studio AI architects and Jenny Holzer, who included passages from Walt Whitman's "Song of Myself" in the construction.
Though Greenwich Village touchtone St. Vincent's Hospital was closed and torn down almost a decade ago as of 2022, some of the administrative buildings remain on West 11th and 12th Streets, and are easily recognizable because of the carven images of women wearing nurses' former headgear above the doorways.
According to Jim Naureckas at Songllnes, before SVH was built, the SE corner of 7th Avenue and West 12th was home to a salon frequented by Djuna Barnes, Berenice Abbott, Malcolm Cowley and Dorothy Day. Before that, French Prime Minister Georges Clemenceau lived here in the 1860s; I remember the name primarily from General Ripper from Doctor Strangelove:
'Mandrake, do you recall what Clemenceau once said about war? … He said "War is too important to be left to the generals." When he said that, fifty years ago, he may have been right. But today war is too important to be left to the politicians. They have neither the time, the training, nor the inclination for strategic thought. I can no longer sit back and allow Communist infiltration, Communist indoctrination, Communist subversion, and the international Communist conspiracy to sap and impurify all of our precious bodily fluids!'
The O'Toole Medical Services Building, an architecturally unique building compared in the AIA Guide to NYC Architecture to Frank Lloyd Wright's Guggenheim Museum building. It was completed in 1964 by Albert Ledner & Associates and revised in 1977. Ledner was a Wright student. For several years it was part of the St. Vincent's Hospital complex, and is the only tangible remnant of the hospital except for some chipping subway signs. The building has returned to medicine and now hosts the North Shore-Long Island Jewish Health System as well as emergency room services. This was originally the National Maritime Building… hence the wave-like designs.
Great living at the pair of apartment buildings numbered #145-151 West 12th. How do I know? Must be, with a pair of entrance lampposts at each door.
Reportedly, the John Adams Apartments, #101 West 12th at 6th Avenue, is not named for the 2nd President (who lived briefly downtown in SoHo) but for the architect's two sons, John and Adam.
A pair of excellently maintained townhouses, #78 and 80 West 12th, both built in 1843.
This object is abutting them just to the east,. Though it was constructed as long ago as 1930 it seems to fit right in with postwar design. The New School was "new" in 1919. The inside is considerably better, with an Art Deco lobby and auditorium and murals by Thomas Hart Benton and Jose Clemente Orozco.
However, pleasant architecture resumes once again to the New School's east, with this row of 3-story attached houses from #54-62. They, too, were all built in 1843, which was a very good year for the block. It was kind of a quiet year, history-wise. John Tyler was president; one of his grandsons is still around!
#45 W. 12th Street is a brick townhouse on a handsome block full of them. But a closer look reveals one difference—the west side of the building has an oblique angle. When the building was constructed in the early- to mid-1800s, Minetta Brook (or Creek) still ran along the surface, and the building ran along the brook. Two streams converged just south of 12th St., down to the Hudson River in Washington Square and  along Minetta and Downing Sts. The brook was redirected underground decades ago.
Sorry about the shadows; winter photography isn't easy for nonprofessionals.
Among 12th Street's multifamily buildings, #31-33, the Ardea Apartments, stands out, with its rough cut brownstone, balconies and awning. It was built in 1891 by  dry goods magnate George Hearn (Hearn's would go on to dominate as a department store chain until the latter part of the 20th Century); by legend, it was given the name Ardea, or Latin for" heron," which sounds like "Hearn."
Throughout the 20th Century an amazing thing happened to the Ardea apartment building—almost nothing.  The exterior remains unchanged as does much of the interior.  The original staircase and newel post survive, the oaken built-in ice boxes in the tile-lined back halls, and the marble stair landings. Daytonian in Manhattan (which has some amazing interior photos)
Among its list of distinguished residents over the years was the great physicist, Marie Curie (1867-1934)
24 W. 12th Street was once the residence of General Winfield Scott, one of the USA's more prominent military men in the 19th Century: he participated in the War of 1812, the Black Hawk War, the Mexican War and lived to see the Civil War. Born in Virginia in 1786, Winfield Scott was a hero during the War of 1812 and the forgotten Black Hawk War (1832). He peacefully restored tranquility to the Canadian border during Martin Van Buren's presidency, and had a reputation for being as strong a peacemaker as he was an aggressor. In 1838, Andrew Jackson ordered him to enforce the Treaty of Echota. Scott voiced his disagreement, but ultimately followed the order and forcibly relocated the Indians. History refers to this incident as the Cherokee Trail of Tears (1838-1839). The travesty was the biggest blemish on General Scott's record.
His return to glory came when, as General-in-Chief of the Army, he successfully commanded forces during the Mexican War (1846-1848). He brought home many spoils, including the bell that hangs inside the Bell Tower at W. 249th St. and Henry Hudson Parkway in the Riverdale section of the Bronx. Scott was heavily involved in politics, and in 1852, set his eyes on the presidency. He bested both Daniel Webster and, surprisingly, incumbent President Millard Fillmore to win the Whig Party nomination. In the general election, he was defeated by Democrat Franklin Pierce.
In 1853, Scott moved to New York and brought with him the Army's command center. A group of his friends, led by Hamilton Fish, purchased a four-story Anglo-Italianate style house at 24 W. 12th St. in Greenwich Village, for him for the price of $26,000. (This site was entered into the National Register of Historic Places in 1973, and now houses the Italian Studies program of New York University.)
Reportedly, the Queens neighborhood of Winfield, now absorbed into Woodside, was named for the general.
First Presbyterian Church, 5th Avenue between West 11th and 12th, known as the "Old First," opened in 1846, the work of architect Joseph C. Wells. The south transept was added in 1894, is by McKim, Mead & White. It's one of the oldest congregations in NYC, founded on Wall Street in 1716. The church has Scottish roots, and was known as the "Church of the Patriots" during the Revolutionary era, because of the assistance its congregation gave to the American cause. King George III had refused to grant the Presbyterian church a charter, wishing to uphold the rights of the Anglican Church of England.
The former Macmillan Publishing and Forbes Magazine headquarters, 5th Avenue and W. 12th Street, was built as the HQ of Macmillan in 1925. Forbes, one of the USA's premier business news magazines, was founded by Scottish-born financial journalist B.C. Forbes in 1917; B.C. Forbes was editor-in-chief until his death in 1954, assisted by his sons Bruce and Malcolm. Forbes was later edited by Malcolm's son, Steve Forbes. New York University has owned the building since 2010. Malcolm Forbes was a collector of fine art, including jeweled Fabergé eggs, and his collection as well as other art exhibits is located in a public gallery in this building. Forbes Magazine moved to Jersey City in 2014.
#7 East 12th Street appears to be newer than it actually is since it was constructed with a Modernist facade in 1948 as the headquarters of Fairchild Publishing (the company behind Women's Wear Daily) in 1948. When NYU took over the building for its School of Professional Studies in 2011, this new glassy facade was added. All of Fairchild's publications were produced fro printing presses in the basement. My friend Brian B. worked here when he was getting started in the publishing business in the 1980s.
We're east of the Greenwich Village landmarked district, so this pair of townhouses with two entrances each, with awnings labeled 4, 4 1/2, 6, and "Eugene, John and Tony" will remain a mystery.
Had I staggered into Strip House, #13 East 12th Avenue, wearing my battered and patched Robbins Mens and Boys jacket I purchased in 1992, I'd be thrown out bodily. Fortunately, the restaurant's website has a gorgeous photo of its red-accented interior. The only meat on display at Strip House is actual meat.
#12 East 12th was built in 1907 by Master Builders Construction, who put their name on two pediments. I liked the "button" lamps on the exterior with the house number. The restaurant on the ground floor is Gotham Bar and Grill, where the fare is too sophisticated and expensive for my plebeian palate.
As is the custom when I want to photograph something, a sidewalk shed has obscured Cinema Village. Though I like its aqua neon sign and old school plastic letter marquee I'm not sure I have ever seen a movie here. Though it has a reputation as an art house showing European films, the 27th Spider-Man movie was playing the day I went by. Gotta make money somehow in the Pandemic Era!
I also took a shot of the wall above the theater, since we have the outline of the older house the theater replaced in 1957…when it was built as a firehouse! It became a theater in 1963. Here's a Street View without the sidewalk shed.
What we're gonna do right here is go back. Way back, back into time. 1976 in fact. That's the year I was on the varsity bowling team for St. Francis College. I was worst on the team and could barely average 150. Nonetheless, the coach, Jim McElroy, got on me for … bad grades and gave me a tongue lashing when I told him I was finding the work difficult. Nonetheless I raised my grades, though not very high, and thanked him later for it. My bowling didn't get any better though.
Where were the lanes? Rght here, as this parking garage for may years was Bowlmor Lanes. In 1976 it was a smokefilled dump. Only later did it acquire a hipster, party atmosphere and later move west to Chelsea Piers.
Here's a handsome Italianate building at the SE corner of University Place and West 12th. It has some handsome escutcheons on the ground floor identifying the cross streets. Which are of course hidden by sidewalk sheds. The building is known as the Textile Workers Union of America (TWUA) Building for the union HQ'd therein.
It occurs to me I've never done a thorough survey of University Place, which runs from Washington to Union Squares east of 5th Avenue. I'll consider it my next assignment. It was named the year after New York University opened in 1838. It was formerly the north end of Wooster Street, which runs as a pedestrian path through NYU territory.
What happened at the SW corner of University Place and West 12th is that a long-ago developer sought to build here but could only acquire the properties just off the corner, so he or she constructed an L-shaped building around the corner. Way off to the left is #82 University, the former Cedar Tavern, which I was in quite often in collegiate and postcollegiate years. I have already mentioned Brian B. who worked for Fairchild, and another friend, Gerry S., worked at Alan R. Liss (and then Wiley, which acquired Liss in 1989) which was HQ'ed on University. The Cedar Tavern was the descendant of the Cedar Bar, where several of the 1950s Beats used to congregate.
I liked the Beaux Arts #35-39 East 12th with the wrought iron faces on the ground floors. #35 was once the HQ of the American Communist Party and the great ballet dancer Mikhail Baryshnikov, who left Communist Latvia, part of the USSR in 1974, lived in the building.
#34 1/2 East 12th, now the Police Athletic League headquarters, was built as a school for girls in 1855 (Girls Technical High School) and, except for the air conditioners in the otherwise original windows, must look very much the same as it did then. It's been granted landmarks designation and is the largest building I know of that has a "1/2" house number.
The light was catching #826 Broadway just right when I got there. It's a brand new landmark, having been designated in 2019.
826 Broadway is an 11-story building designed by William H. Birkmire in 1902. The building is situated on the corner of Broadway and East 12th Street on an irregularly-shaped lot measuring approximately 43 by 154 feet. It is architecturally significant for its well-preserved Renaissance Revival facade that stretches around a corner site and for its steel skeleton-frame construction, both of which exemplify the stylistic character and technological advances in skyscraper architecture at the time it was built. In addition, 826 Broadway is culturally significant as the home of the Strand Bookstore since 1956, and historical association with the garment industry in the early 20th century. [LPC designation report]
The Strand itself had fought against Landmarks designation as its owners believed that Landmarks designation would cause burdensome regulations and jeopardize its future; we'll have to see. It is the last of the bookstores on "Book Row" centered on 4th Avenue between cooper and Union Squares in the 1940s and 1950s.
I have to confess, I've been in the Strand only once or twice, finding it a bit haphazardly arranged. For many years, in the 1980s and 1990s, my browse of choice was Forbidden Planet which has had several locations in the Union Square area, now at #832 a couple of doors down from the Strand. I would find sci-fi reading and comix there I could not find elsewhere. A highlight of my week was on Fridays, where before eating supper and reporting for work at the second shift (7 PM to 3 AM) at Photo Lettering uptown, I would take an hour or two for a pilgrimage to Forbidden Planet and many weeks, come away with a treasure trove.
In 2018, #817 Broadway, on the SW corner, designed by prolific architect George B. Post, was also designated a Landmark.
817 Broadway was designed by George B. Post, one of New York City's most prominent late 19th
century architects. Standing at the southwest corner of East 12th Street, this handsome store-and-loft
building was commissioned by the estate of William F. Weld. Fourteen stories tall, it occupies an irregular
L-shaped parcel that extends approximately 42 feet on Broadway and 132 feet on East 12th Street. Both
street facades are mostly embellished with tan colored Roman brick and terracotta reliefs inspired
by Italian Renaissance and American Renaissance sources. Like many early skyscrapers, the street
facades have a tripartite configuration, consisting of a rusticated multi-story base, an arched mid-section
with distinctive angled piers, and an elaborate crown that has a brick parapet pierced by round arched
openings. [LPC Designation Report]
The bell tower of St. Ann's Church is all that remains of the former church at #120 E. 12th Street between 3rd and 4th Avenues. The church was constructed in 1847, and was an Anglican church and later a synagogue before purchased by St. Ann's parish in 1870. Retaining the bell tower, architect Napoleon Le Brun demolished most of the existing building and built a new structure. After a demographic change, the church was re-established as St. Ann's Armenian Rite Catholic Cathedral, where masses were celebrated in Latin and according to pre-Vatican II rubrics. However, after the Landmarks Preservation Commission failed to designate the building, it was sold to NYU, which ripped down the church and built a dormitory, retaining only the original bell tower. "The effect is of a majestic elk, shot and stuffed," sniffs the AIA Guide to NYC.
Each January 21 (or the Sunday closest) a solemn requiem mass was celebrated at St. Ann's, in Latin, for the repose of the soul of Louis XVI, guillotined on that day in 1793. During the mass Louis' will was read from the pulpit. At the Paris mass for him on the same day in St. Germain-l'Auxerrois (the parish church of the Louvre when Louis was alive), all the men by tradition wore white shirts and black ties.
#126 East 12th is another block favorite for me because of the pair of entrance lampposts and brownstone goddess above the door.
The low-rise buildings on the NW corner of 3rd Avenue and East 12th are throwbacks to when much of the avenue featured buildings like it.
At #225 East 12th is a relic of Cow Parade 2000, a charity project that placed imaginatively painted bovines across the five boroughs. Originally a Chicago project, it has been held in many other cities worldwide since and returned to NYC in 2021, though not as prominently a1s the first time.
This theater was developed by Louis Jaffe in 1925 as the Yiddish Art Theatre, as part of the many theaters featuring productions in the Yiddish language spoken in Eastern Europe.  Composers Ira and George Gershwin got their start here, as well as Broadway and Hollywood's Paul Muni and Edward G. Robinson. After a turn as the Phoenix Theatre, it was later named for the developer and is now Village East City Cinemas.
It, too, has a classic marquee with plastic letters.
If you think the lettering of the 12th Street Ale House, NE corner of 2nd Avenue and East 12th looks familiar, I did too.
What's this thing? Many years ago there had been a classic "ice cream cone" fire alarm at 2nd and East 12th until the FDNY decapitated it and put another alarm elsewhere. They are usually painted red.
The classic neon sign belongs to John's, at #302, which has been around long enough to be a favorite of both Arturo Toscanini and John Lennon. The fare is traditional Italian with affordable prices, unlike the restaurants shown above.
I wanted to get a photo of this handsome building at #331 East 12th near 1st Avenue that's too large for a "full frontal," the Sirovich Senior Center, second-oldest of its kind in NYC. Conditions last year were reported as deplorable.
in a way that's hardly surprising as in modern culture the concerns of people of a certain age are dismissed as "OK Boomer!" and the odious Dr. Rick on Progressive Insurance commercials, no spring chicken himself, tries to get homeowners to "stop acting like their parents."
Here's #339-347 East 12th, built in or just after the Beaux Arts era, 1880-1910, when residences were allowed to look like this.
Barney Google fire alarm. The white "ice cream cone," actually a torch, is nonstandard.
Yet another building too large for me to include in one shot is the former PS 60 at 430-432 East 12th Street, constructed in 1923. If you think it resembles the work of early 20th Century schools architect C.B.J. Snyder, who executed multiple designs in the East Village including P.S. 64, 324 East 5th Street (113 East 4th Street, currently the Manhattan School for Career Development), PS 122 at 150 First Avenue, 265-275 East 4th Street (currently the George Daly House), PS 188 at 422 East Houston Street (446 Avenue D), PS 63 Star Academy at 121 East 3rd Street (150-160 East 4th Street), PS 15 The Roberto Clemente School at 333 East 4th Street, and PS 61 at 604-626 East 12th Street… you're right because it was designed by Snyder's successor and student William Gompert the year after Snyder retired.
I stumbled on another Eduardo Kobra mural at East 12th and Avenue A, this one of hop hop pioneers RUN DMC. By now Kobra has established himself as NYC's premier muralist even though his work also appears in other countries, and even David Bowie as Ziggy Stardust in Jersey City.
But this one is a bit different, as the local youth have set about scrawling over it. Where's the respect?
Though East 12th continues east to Avenue D with one interruption, I decided to tackle that stretch another time and headed north to the new Avenue A subway entrance on East 14th.
As always, "comment…as you see fit." I earn a small payment when you click on any ad on the site.
2/13/22