DESIRING a rather quick walk that would nonetheless allow me to get my air of a weekend — as a work from homer, I am chained to my computer during the week and the days when I could ramble freely on Tuesday or Friday or any day but Saturday or Sunday have ended for now. Today's walk took me up University Place, east on 14th, and then back west on 28th and scenes from all will eventually appear here; but today I'll concentrate on just University Place (and Washington Square East) where there were some interesting things to see.
Photos in batch: 129
Date of photography: February 27
University Place is actually three streets: Wooster Street, which begins at Canal Street in SoHo; Washington Square East; and University Place proper, which begins at Washington Square East at Waverly Place. Up until 1839 or so, as shown on this map, the whole route was known as Wooster Street, at least for a brief time; SoHo's north-south streets once had different names from the familiar ones such as Greene, Mercer and Wooster; many are named for revolutionary War generals. In 1839, University Place was named for the then-new New York University.
University Place isn't quite parallel to 5th Avenue and Broadway, which flank it to the east and west. That's because SoHo's street grid is ever so slightly askew to the main Manhattan numbered street grid above Washington Square. My thinking is that when Wooster Street was extended north, the desire was for it to meet Union Square at 14th Street in a straight line, and thus you find this not quite parallel situation going on. For example, the distance between 5th Avenue and University place is shorter on East 9th Street than it is on East 13th Street by a number of feet. Just a quirk of Manhattan geography that was likely planned that way.
During the 20th Century Wooster Street was interrupted by a number of projects that include University Village, Washington Square Village, and expansion of the NYU campus. Therefore, there's no traffic on Wooster between Houston Street and Washington Square; but the outline of the street is still there, as seen on this modern day map.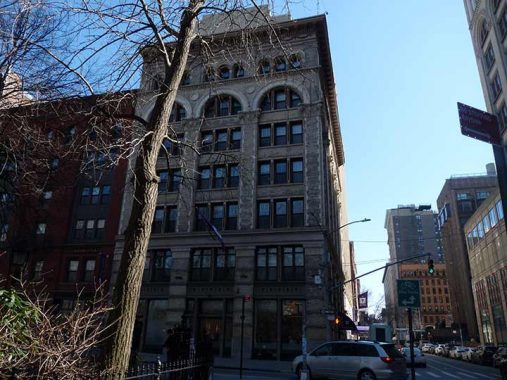 Pardon the rather extreme shadows: the sun is still relatively low in February and there's not a lot of diffuse light. The building on the NE corner of Washington Square East and West 4th is an NYU freshman dormitory hall: many buildings in this stretch house NYU students. Formerly Stern Hall, it was renamed in 1990 for recently deceased actress Paulette Goddard (1910-1990) stemming from her $20M donation to NYU, when that was real money. Goddard was married to co-star Charlie Chaplin and later, Burgess Meredith, the Penguin himself.
I liked this brick building at #80 Washington Square East with some nifty terra cotta figures representing the Muses of Music and Art (even though there was no specific Muse of Art in Greek mythology). Ironically when this building was constructed in 1879, these were as a rule the only two women to be found there! Originally the building was The Benedick, an apartment building admitting only single men, as it was notoriously difficult for single men to find places to live because of perceived rowdiness. (I ran into this difficulty when I was seeking an apartment in Brooklyn in the 1980s when I was in my 20s!) Why "The Benedick"? In Shakespeare's Much Ado About Nothing, Benedick was a lifelong bachelor who was secretly in love with Beatrice. The building was home to artist Winslow Homer and decorator John LaFarge. It was later the site of The Sewer Club, where clandestine trysts took place, many involving architect Stanford White. Indded the building itself was designed by McKim and Mead before White joined the firm. NYU purchased the building in 1925, using it for dormitories; currently it is home to the 80 Washington Square East Galleries. As usual, Tom Miller, the Daytonian in Manhattan, has the inside scoops.
If roads czar Robert Moses had got his wish, the circle around the Washington Square fountain, which was once used to turn 5th Avenue buses and was open to motor traffic when the Queen of Avenues was one-way, and the fountain would be moved to make way for a connector road between 5th Avenue and LaGuardia Place. Locals fought Moses tooth and nail (as they did against his proposed Lower Manhattan Expressway on Broome Street) and after a lot of vitriol, the Master Builder backed down. However, the fountain was moved anyway between 2007-2011, but not without a hue and cry I mostly failed to understand.
White, therefore, has monuments at both the north and south ends of the park, the Judson Memorial Church and the arch. When ground was being cleared for the arch, human remains were found underground, a reminder that Washington Square had once been a potter's field. I had not photographed the park from WSE before, so these are unusual views for me. I discovered that you can get a clear view of Judson Memorial Church from the NE corner of the park, which remains one of NYC's premier tourist attractions.
Shockingly, at least to me, the loft buildings found east of Washington Square later purchased by NYU fall in no landmarked district, and you pretty much have to make an in person visit to city archives to discover construction dates. #82 Washington Square East/#26 Washington Place is NYU's Joseph and Violet Pless Hall, likely named for donors. This amount of detail ended with the streamlined International Style that took hold after WWII and continues its stranglehold today.
The townhouses arrayed along Washington Square North between 5th Avenue and University Place are the most stories in their genre and among the first, if not the first, row of Greek Revival attached townhouses in the United States. Most were built in 1831 and their exteriors remain intact though the interiors have been altered in many cases.
#1, on the corner, as well as the adjacent #2, were built by William Beach Lawrence of the famed Lawrence family of Queens: family cemeteries in Astoria and Bayside survive to this day. Captain James Lawrence of the US frigate Chesapeake exclaimed "Don't give up the ship!" as the British attacked it during the War of 1812 (the crew then gave up the ship, and Lawrence had defied orders by attacking). NYC mayor Stephen Allen (1767-1852) acquired the house in 1835. He was aboard the steamship Henry Clay in July 28, 1852 when, after an ill-advised race with another vessel, it caught fire and crashed on the Hudson River, killing dozens of passengers including Allen as well as Nathaniel Hawthorne's sister and famed landscapist Andrew Jackson Downing. he is interred in NY Marble Cemetery in the East Village.
Architect Richard Morris Hunt, who designed Carnegie Hall, the Metropolitan Museum of Art and the pedestal of the Statue of Liberty, lived here from 1887-1895.
Many years ago I was on an Open House New York tour and we visited artist Edward Hopper's residence and studio in #3 Washington Square North, preserved as they were when he was there. Hopper was the last of the artists who lived in the building, which gained a reputation of an artist's residence after John Sloan and William Glackens, who occupied it in 1907, conceived of a plan to exhibit modern works after they were rejected by the National Academy of Design, which favored more traditional art. Famed literary commentator Edmund Wilson also lived at #3.
Hopper (1882-1966) depicted New York City scenes but imparted them with a sense of isolation and anomie, which makes him one of my favorites. You probably know his "Nighthawks" depicting a coffee shop late at night.
Washington Square house numbering is unusual: it begin at #1 here, runs west, then south, then east, then north, ending with #100, the Silver Center for Arts and Science.
Washington Mews is a through alley between 5th Avenue and University Place just north of Washington Square, and is lined with charming two-story cottages that were, at least on the south side, formerly stables used by the well-to-do residents of Washington Square North, the doings of which were described in 19th Century novels by Henry James. It is the only street in NYC called a "mews" though there are many mewses in London. It is marked by an old-style serifed street sign. The dwellings on the south side were constructed from 1850-1880 while the ones on the north side, in the 20th Century. Much more info can be found in the Greenwich Village Landmarked District Report, beginning on page 50. 
The term "mews" is unusual: it derives from a French word meaning "to moult" and mewses were originally  used in the 1300s to place cages confining falcons and hawks (used by royalty for sport) while they shed their feathers. Only later were the alleys used to house carriages. The 1920s skyscraper #1 5th Avenue is seen in the background.
#15 and #16 Washington Mews are occupied by NYU's Institute of French Studies and La Maison Française, with the IFS since 1979 offering three majors, French Studies and French Literature,  French Studies and History, and French Studies and Anthropology. Founded in 1957, La Maison Française has served as a forum for French-American cultural and intellectual exchange, offering contemporary perspectives on French and Francophone issues. #15 is the best-preserved of Washington Mews' stables, giving a glimpse to what the south side of the alley originally looked like.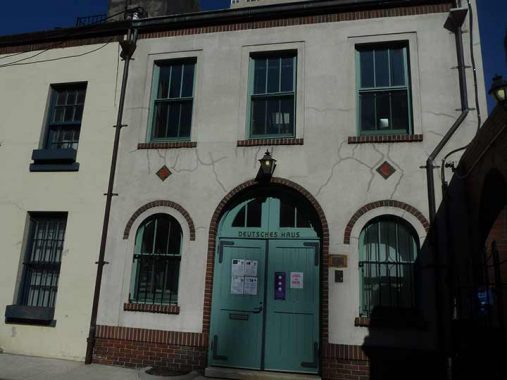 Directly across the mews at #42 is Deutches Haus, which since 1977 has offered instruction in German language and culture. It was built in 1854 but completely remodeled in 1916.
Washington Mews house numbering is also unusual, with #1 through #16 running east to west on the south side, and #42 through 68 running east to west on the north side. The south side doesn't skip numbers with the exception of 13, while the north side is even numbers only. What's the origin of this unusual situation?
As indicated shadows were stark as I looked up University Place from Washington Square. According to Songlines' Jim Naureckas, there was a restaurant called the White Turkey Town House in the scaffolded building on the right, with the gimmick of giving out molded white wax turkeys to paying customers that were filled with candy when you cracked them open. Fun for the kids!
The imposing, twin pedimented #13-19 University Place was built in 1930 and continuing a local theme, is NYU's Languages and Literature Building. Classes held here include instruction in Spanish and Portuguese.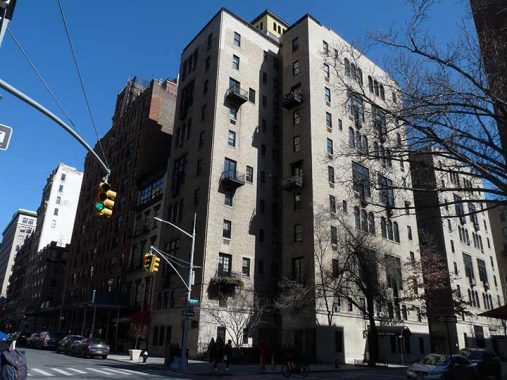 On East 9th Street between University Place and Broadway are a pair of massive 7-story apartment buildings at #29 and 35.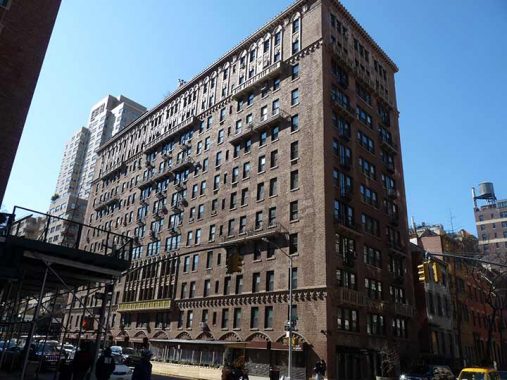 The Beauclaire co-ops is a lengthy brick apartment built in 1925 fronting on University Place the entire block between East 9th and 10th and entered from #25 East 9th. There is some attractive terracotta work on University Place midblock. Residents over the years have included author Jay McInerney ("Bright Lights, Big City"), and actors Susan Sarandon and Richard Gere. I loiked the sun agle so much I photographed it three times.
Another apartment building from the same era is The Wordsworth, built in 1923 at #21 East 10th. Amorino, on the ground fllor, si said to sell some of the city's best hot chocolate.
This is the 1924 addition to the former Hotel Albert, at the SE corner of University Place and East 11th Street. (see below). Originally called the St. Stephen, it was thought it acquired the name Hotel Albert because of its association with painter Albert Pinkham Ryder, who was a frequent visitor, but the name came from the hotel's owner, Albert Rosenbaum.
Over the years the Hotel Albert gained a reputation for bohemian and cultural figures that stayed there. In that way, it could be called the Hotel Chelsea of its era. Mark Twain, an East Village fixture, gave lectures at the hotel while Hart Crane wrote his paean to the Brooklyn Bridge ("The Bridge") while staying there. Anaïs Nin, Jackson Pollock, Rocky Graziano, and the Mamas & The Papas were all patrons. In the 1970s, it slipped into decrepitude and became an SRO, but it was revived into condo-hood a decade later.
This is the original section of the Albert, one block north at West 11th, constructed in 1883 by architect Henry Hardenburgh, whose most famous work is likely the Plaza Hotel at 5th Avenue and Central Park South. It was completed by additions in 1904 and 1924.
The Beaux Arts #67 University Place, midblock between East 10th and 11th, must have been one of the tallest buildings in the area at 10 stories when it was built circa 1900.
#74 University Place, corner of East 11th, has some terra cotta ornaments but looks like it could have had a lot other decorations stripped off; but a 1940 Municipal Archives photo proves it has remained relatively untouched.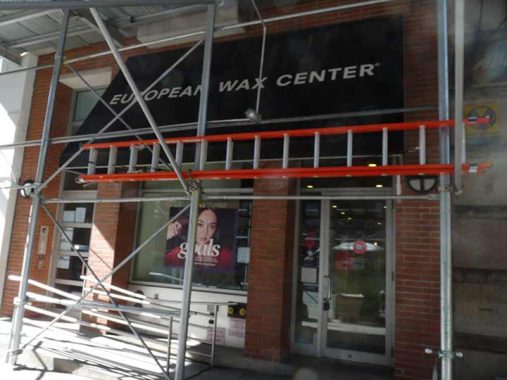 The west side of University Place was difficult to photograph due to ever-present sidewalk scaffolding. #82 University, home of the Cedar Tavern from 1963 to 2006, was a frequent gathering place in my post-collegiate era because friends worked at the nearby Allen R. Liss and Fairchild publishing houses. This was a descendant of the original Cedar Bar at #24 University Place near 8th Street, a gathering place for Beat writers such as Allen Ginsberg, Jack Kerouac,Gregory Corso, Frank O'Hara and LeRoi Jones.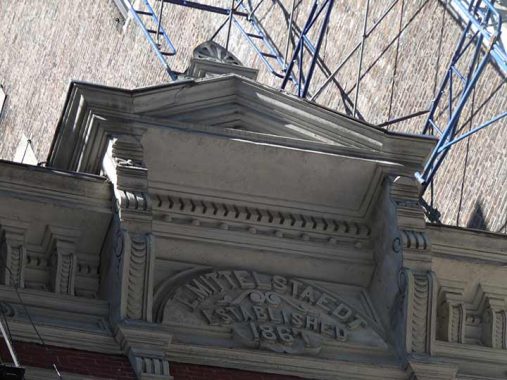 Scaffolding did not extend as far north as the roofline at #86 University, revealing the inscription "E. Mittelstaedt, established 1867." A business was established that year here by wigmakers Bernard Mittelstaedt and his wife Emilie. The company later expanded into hairnets of the type used at restaurants and places you wouldn't want to find human hairs in food. Their daughter Harriet gained some fame as a soprano opera singer, and lived in the building until her death in 1964.
A rather bland white residential skyscraper has replaced the parking garage on University Place between East 12th and 13th Street, much of which had been occupied by Bowlmor Lanes, where I was on the varsity bowling team for St. Francis College. in the Super Seventies. I was worst on the team and could barely average 150. Nonetheless, the coach, Jim McElroy, got on me for … bad grades and gave me a tongue lashing when I told him I was finding the work difficult. Nonetheless I raised my grades, though not very high, and thanked him later for it. My bowling didn't get any better though. However: I am a lettered athlete! In 1976 it was a smokefilled dump. Only later did it acquire a hipster, party atmosphere and later move west to Chelsea Piers.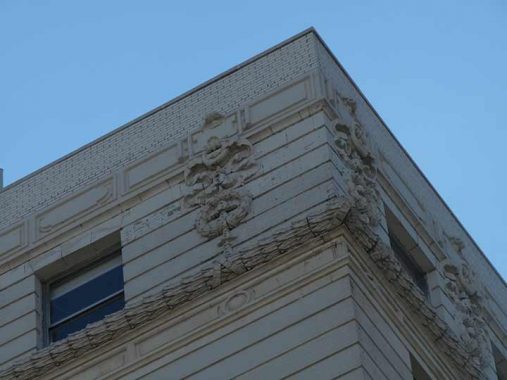 According to the Tate Museum in London, lithography is s printing process based on the fact that grease and water don't mix. The image is applied to a grained surface (traditionally stone but now usually aluminum) using a greasy medium: such as a special greasy ink – called tusche, crayon, pencils, lacquer, or synthetic materials. Photochemical or transfer processes can also be used. A solution of gum arabic and nitric acid is then applied over the surface, producing water-receptive non-printing areas and grease-receptive image areas. The printing surface is kept wet, so that a roller charged with oil-based ink can be rolled over the surface, and ink will only stick to the grease-receptive image area. Paper is then placed against the surface and the plate is run through a press.
The union Amalgamated Lithographers of America occupies some floors in a pleasant Beaux Arts building, #113-115 University Place at the SE corner of West 13th Street and a very colorful logo above the front door. The building seems bereft of much ornamentation unless you crane your neck and see the uppermost floor. Rather odd.
The roadbed of University Place continues north to Broadway at West 17th, but here it's always been called Union Square west. gtraffic has been reduced to one narrow southbound lane paved with retro versions of Belgian blocks.
The R.H. Robertson-designed Lincoln Building at #1 Union Square West on the corner of East 14th Street combines limestone, brick, granite and terra cotta in a visually intersting building festooned with griffins and other ornamentations at the front entrance. It was constructed in 1889, one of the best years for NYC architecture. It was son named for the Henry Kirke Brownstatue of Lincoln that was then positioned at the SW end of the park and later moved to the north end.
German immigrant C. Henry Spingler (1747-1814) was employed as a butcher and shopkeeper, married three times, and dabbled enthusiastically in real estate, buying and selling properties all over southern Manhattan. His vault can be found at St. Mark's church on 2nd Avenue and East 10th Street. Interestingly, his first wife, Jane Sloo Spingler (d. 1790) is buried in the churchyard at St. Paul's Church, Broadway and Vesey St. a fountain outside St. Mark's Church at 2nd Avenue and East 10th Street is dedicated to the memory of Henry's great-granddaughter Elizabeth Spingler Van Beuren. Elizabeth, who never married, was the last occupant of the former Van Beuren Mansion which stood on East 14th Street near Union Square for over a century.
The center building here on Union Square West just north of W. 14th St., now a mixed-use residential and commercial building, bears Spingler's name. The Spingler Institute for Young Ladies was built here in 1848 on land acquired from C. H. Spingler's heirs, and after it moved uptown it was succeeded by the Spingler House Hotel in the same building until 1878. Two new buildings, both bearing the Spingler name, were constructed in 1878 and 1896; the first such building burned down in 1891. The otherwise-obscure C. Henry Spingler's name has been preserved in two disparate parts of town!
Kantilal Patel's statue of Mohandas K. Gandhi (1869-1948) the spiritual leader of India during its independence campaign, was installed in the traffic triangle at East 14th and Union Square West in 1986. Union Square was chosen as an appropriate location for Gandhi's statue due to its history as a center for nonviolent protest.
Henry Kirke Brown's bronze mounted statue of George Washington was NYC's first major outdoor portrait statue. It was just the second mounted statue produced in the USA, following Clark Mills' Andrew Jackson in Washington, DC. This Washington portrays his reclamation of NYC from the British after their surrender in 1783, which was supposed to have taken place in the vicinity of where University Place meets 14th Street today. It was first set up in the middle of the intersection, protected from what was then mounted and wagon traffic by a fence, but it was moved soon enough to its current location facing East 14th. The statue does go against mounted statuary tradition in that one horse's leg raised usually indicates the rider died from wounds suffered on the battlefield; Washington died at Mount Vernon on 12/14/1799.
In one of Union Square's waves of renovation, unique station entrance canopies that are found nowhere else in the system were installed.
At the southern edge of Union Square stands a flock of castiron lamps that had drifted under my radar for several years. Their pedigree is the "Brighter Brooklyn" posts installed in that borough in the early 1900s. Gradually they had disappeared over the decades until only three were left. The city shipped one of them to the Spring City lighting company, which produced several reproductions that were installed in Union Square during the latest of several renovations in the late 1990s.
For much more on Union Square, one of the most infrastucturally interesting of NYC's public squares, see this FNY page.
As always, "comment…as you see fit." I earn a small payment when you click on any ad on the site.
3/6/22