BROOKLYN starts with Fulton Street, and almost ends with it, as well. Brooklyn began as a small Dutch settlement along the East River, with easy passage to Manhattan by ferry. In the early 1700s, an Indian trail was officially named Kings Highway and extended south and east. At one time, every vehicle and conveyance traveling to or from Manhattan to Brooklyn, or vice versa, and destined for any place on the island had to come to this point or else start off here.
What we know as Fulton Street east of Flatbush Avenue was once the Brooklyn and Jamaica Turnpike, and it can be argued that Jamaica Avenue/Jericho Turnpike/Route 25, which leads to Orient Point, the easternmost point of Long Island, was once considered Fulton Street's extension; Jamaica Avenue was once known as Fulton Street in eastern Queens. Officially, Fulton now ends at Eldert Lane and 91st Avenue at the Brooklyn-Queens border. (Jamaica Avenue received its name in 1920).
Prior to 1950, Fulton Street snaked southeast from the old Fulton Ferry landing, where it met the ferry that joined Manhattan's and Brooklyn's Fulton Streets until 1924, and wound through a Brooklyn Heights much different from today's. In fact, the change that came to Fulton Street is emblematic of the changes that were made to this part of Brooklyn between 1950 to 1960. An entire neighborhood was wiped out and made unrecognizable.
A look at any picture book of old Brooklyn will show you that Fulton Street from about 1850 all the way to about 1950 was the pre-eminent street of the borough, and featured such edifices as the Mechanics Municipal Hall, the Arbuckle Building (formerly Dieter's Hotel), the Park Theater, and the Kings County Elevated Railroad (later a part of the BMT), which covered Fulton Street from the ferry landing all the way to East New York from 1887 to the early 1940s. Brooklyn Borough Hall (formerly Brooklyn City Hall until consolidation with New York City in 1898), Gage and Tollner's Restaurant and the Dime Savings Bank at Fulton and DeKalb Avenues, are reminders of the pre-1950 days. Theaters, printers, insurance companies, and innumerable businesses lined Washington, Tillary, Concord and Nassau Streets east of the twisting path of Fulton Street; all were eventually wiped out.
In March 2022 I returned to Fulton Street between Adams Street and DeKalb Avenue for the first time in awhile. Most private cars have been banned from the roadway as far back as 1979, when the Fulton Street Mall was established; it thronged with affordable, some say cheap, establishments surrounding the flagship of Abraham and Straus, which was purchased by Federated Department Stores over two decades ago and became a Macy's.
Our family made a monthly, or perhaps once every two months, pilgrimage to Macy's in the Swinging Sixties when I was a kid, using the B37 bus, which ran down 3rd Avenue and then Fulton, where it stopped right in front of the store. I remember the elevators staffed with operators (are the elevators at that Macy's still personally operated?) and the formal restaurant on the top floor, where I would have the Salisbury steak and mashed potatoes. In any case I have not been inside that old A&S in what must be 40 years, though I've passed it often; my feeling is, I shouldn't be stalking around inside a store with my camera unless I'm buying something.
Time constraints this weekend are forcing me to limit the page to the Fulton Mall area, but I've been trying to put FNY's Sunday specials on a diet for quite awhile in any case. My walk today took me down Fulton Street and DeKalb, Marcy and Union Avenues as far as the G train at Metropolitan Avenue. Once again, as usual, clouds dominated and it was a less than optimal day for photography, and the rest of the images will be used at some other time.
Photos from March 20, 2022
Photos in batch: 98
Charles Gage & Eugene Tollner's venerable Brooklyn restaurant at 372-374 Fulton Street just west of Smith Street had been in business since 1879 and had occupied its Fulton Street brownstone building since 1892. Signs in the window proclaimed it as "New York's Oldest Restaurant" but that title is disputed; my Bible in these matters, Ellen Williams and Steve Radlauer's The Historic Shops and Restaurants of New York, claims that the Bridge Cafe, on Dover and Water Streets in Manhattan's Seaport area, has been a restaurant of some kind since 1794, but perhaps Gage & Tollner meant "oldest restaurant under its original name." A look inside provided a glimpse back in time, as moulded cherrywood, beveled glass windows and gaslamps converted to electricity gave it a distinct Victorian patina. Some of the waiters had been in service for decades. The restaurant closed in 2004, after a run of 125 years. The building then hosted an Arby's roast beef franchise and various trinket shops before the restaurant was revived.
Real estate records show that the brownstone building occupied by Gage & Tollner dates to 1875. Many such old buildings survive along this stretch of Fulton Street, but most of the top floors are abandoned and in any case have not been kept in the condition this one has been.
Gage & Tollner was known as a seafood restaurant with clams and oysters a specialty. The restaurant seemed to be a bit pricey, especially for the Fulton Mall area. Over time Gage & Tollner found it harder to attract customers, despite hiring a string of acclaimed chefs. This gradual attrition made it too difficult for its owner to keep Gage & Tollner open.
The Bridge Cafe was wiped out by Hurricane Sandy in 2012…but Gage and Tollner, after an absence of just over 17 years, reopened in April 2021 by restaurateurs St. John Frizell, Sohui Kim, and Ben Schneider. The menu, as it was previously, is a sophisticated one and is priced accordingly. Clams and oysters are still a specialty, but seafood is now one of a complement of offerings. When I have something to celebrate, I'll pop in for the roast chicken breast.
Nose pressed against the glass, I got a glimpse of the restaurant's classic cherrywood seats, lamps and side mirrors. When the lamps were first installed in 1888 they were both gaslit and wired for electricity, much like the ones in the C.O. Bigelow drugstore on 6th Avenue in Greenwich Village. There are no longer gas pipes in the lamps.
While the Fulton Mall's buildings are relatively unchanged for decades, Albee Square and Flatbush Avenue Extension in the 21st Century have seen ever-higher residential towers that dominate the skyline. Just as no building in Philadelphia was higher than City Hall for decades, the Williamsburg Bank Tower was the undisputed Brooklyn champion from 1928 until the dawn of the millennium. In my mind, it won't ever be dethroned as King of All Brooklyn Buildings.
Till recently a piece of the former Waldorf Cafeteria on the north side of Fulton, east of Jay, was uncovered when an awning sign was removed. If you look carefully you can see it on the right and left sides of this 1940 photo. The cafeteria chain was founded in Massachusetts in 1903, reaching NYC in the 1930s and lasted here until the 1950s.
Two doors down on Fulton is this storefront, a former pawn shop, but the Forgotten NY action is on the upper floors, where the metallic lettering identifies it as a former London Character Shoes, which ran the store and offered the brand exclusively. You can see the store in this vintage photo, as well as the nearby Waldorf Cafeteria sign. The company was founded in 1920 and lasted into the 1970s. Of New York has some vintage ads.
#386 Fulton, a.k.a. #1 Smith Street, is a substantial corner building apart from any landmarked district. I wonder what its original purpose was as it resembles a school of some kind, yet it has a smokestack. On the Smith Street side, you can make out a former tenant: Schrafft's.
Everybody went to Schrafft's. Kirk Douglas as a young struggling actor worked as a waiter in a Schrafft's. Movie stars, politicians, even Presidents (Truman) stopped into Schrafft's. Truman Capote got thrown out of Schrafft's (more than once) for being a nuisance to the clientele (joking around irreverently and laughing too loudly). James Beard admired "the precisely trimmed egg salad sandwiches. Mary McCarthy ate them. E.L. Doctorow's character "Billy Bathgate" ordered the crustless chicken sandwiches at a Schrafft's where he and his mother joined "all the fine people in the Bronx." Authors often placed their characters in Schrafft's, and often noting the specific choices on the menu because those were famously delectable to millions of New Yorkers and out-of-town visitors. [David Columbia, New York Social Diary]
This is the only tangible remnant of the myriad Schrafft's lunch counters that once dotted the NYC landscape, and it's only there because it's part of the metalwork at at Gothic-style building at #1 Smith Street, just off Fulton.
From FNY's Smith Street page:
The restaurant chain was founded by Frank G. Shattuck, who expanded William Schrafft's candy business founded in Charlestown, Massachusetts in 1861 into chain restaurant empire beginning in 1898.
Schrafft's was known for wholesome, all-American fare, served by fresh-faced Irish waitresses. Mothers and children ate there; so did movie stars. Schrafft's restaurants were located in high-end shopping districts, like Fulton Street in Downtown Brooklyn. But times changed, Fulton Street changed, and Schrafft's did, too. By 1968 they seemed quaint, almost dowdy. They hired Andy Warhol, of all people, to give them a snazzy new with-it image, and remodeled to emphasize their bars to snag the younger clientele. [McBrooklyn]
Schrafft's was purchased by the Riese Organization in 1978, the company that brings you T.G.I. Friday's (which until 2007 occupied the old Gage and Tollner landmarked space on Fulton Street in Brooklyn) and soon after their many locations closed. "Schrafft's" has since been reactivated as an ice cream brand. [NYCNosh: In Search of Schrafft's]
I'll get to A&S presently, but in former times Fulton Street was a department store mecca, the equivalent of today's suburban shopping malls. If you look carefully when walking Fulton you can still detect lettering or entire names that are still on the buildings. This impressive wraparound building on Fulton and Lawrence once had its own name, as witness the interlocking letters on its facade. The store was once known as Oppenheim Collins, hence the letters "OC Co." Till the late 1970s, E.J. Korvettes occupied the ground floor. The store, selling women's clothing, was founded in Manhattan in 1901 and opened this store on Fulton Street in 1922 and ha merged with Franklin Simon by the early 1960s.
The only survivor of Fulton Street's golden age of shopping is Macy's, which until about two decades ago (as of 2022) was still Abraham and Straus. A&S was begun in 1865 as a partnership between dry-goods salesmen Joseph Wechsler and Abraham Abraham and, after they moved to Fulton Street, by then under an elevated train, in 1885, Wechsler & Abraham was believed to be the largest dry-goods store in New York State. Between 1893 and 1920, Abraham was in partnership with the Strauss family of Macy's fame, which bequeathed the store a new moniker. In the 1990s, A&S was folded into Macy's under the Federated Department Stores banner. An art Deco addition, on the left in this photo, was added in the 1930s.
Through the decades A&S gradually took over a total of eight buildings along Fulton Street (which can be easily discerned when looking skyward at its multiform facades). A plaque denoting the present Macy's A&S heritage can be found by the entrances on Fulton and Livingston Streets.
A side note: the glass-paneled building above the cast iron facade, #181 Livingston Street (The Wheeler Building) will become the new home of my alma mater, St. Francis College, in September 2022.
This painted ad on the north side of Fulton, across from Macy's, stumped me for years, but Of New York has scooped me by identifying it as Russek's, yet another entry in the Department Store Museum of Fulton Mall. Russek's, which specialized in furs and the fashion designs of Suzy Perrette, was founded as early as 1886 by the grandparents of photographer Diane Arbus, with the Fulton Street store opening in 1937. As it turns out, the blue window awnings for the current occupant, Rainbow Shops, have the same initial as the original tenant.
To me, the Fulton Mall appeared less busy than usual on this March Sunday, but I assumed it was the temporary normal in the age of Covid.
The IRT Subway has run beneath Fulton Street since 1908, and an elevated train rumbled above it until 1942, producing an embarrassment of riches of mass transit, with the trolleys then running on Livingston, a block away. The vintage 1908 Hoyt Street station was given an ugly modern makeover in the 1980s. On Fulton and Bridge we have a pair of modern entrances, one of which still has its two-toned M symbol, since replaced by the "Doppler" MTA logo. The other entrance has an unusual situation with the green globe symbolizing 24/7 service stuck on top of the squarish stanchion that formerly held an M symbol sign.
Adolph I. Namm started a dry-goods store in Manhattan in 1876 and moved to Brooklyn in 1886. Namm's was on Fulton Street until 1957. Namm also had a wing named for him at Brooklyn Jewish (now Interfaith) Hospital. The Namm's name is still readily visible on the facade on Fulton in the outlines of a former sign. I hadn't noticed them before but the balconies have a pair of N sculptures. According to NYC Landmarks, the architects were Robert D. Kohn and Charles Butler. Namm's later united with rival Loeser's, and in 1957 was snapped up by Federated/Abraham & Straus, which in turn was renamed Federated/Macy's in the 1990s.
Given that the architects were Kohn and Butler, the mystery for me is the name T.H. Von Deilen, which appears on the curved corner above the Modell's sign. Anyone have any ideas?
Forgotten Fan Cheryl Lynn Blum has the answer: the Von Deilen family owned the property, witness this clip from the NY Times: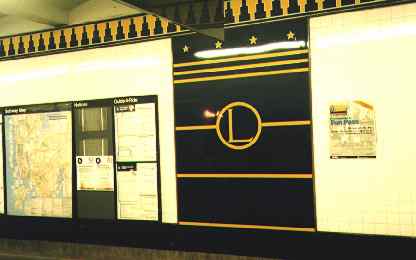 Another trace of Fulton's department store heritage can be found in the IND Hoyt-Schermerhorn Street subway complex, where you can catch the A, C or G, but not the L, which here stood for Frederick Loeser & Company Department Store, which had a number of branches. Loeser's was situated in a block-wide building bounded by Elm Place, Fulton, Bond, and Livingston Streets from the late 19th Century until it was sold in 1950.
The Liebmann Brothers building on 446 Fulton and Hoyt was built in 1888 by W. H. Beers. It's crowned by a cupola and six terra cotta urns (one has been lost). Beers wouldn't recognize the exterior now, as it's been extensively modernized.
The terra cotta extravaganza on Fulton between Bridge and Duffield Streets, dating to 1890 (the date is featured on the building's exterior) has been known both as the Wechsler Brothers Block and the Offerman Building. It's reminiscent of H.H. Richardson's Romanesque offerings of the late 1800s, some architecture experts say. Remember, the Fulton Street El rumbled past till 1940, so the upper-floor detail was easily visible then. It makes an impressive sight when viewed on Hoyt Street from the south.
Both initials of developer Henry Offerman, a sugar refiner who developed the building to house Wechsler's Department Store, can be seen in friezes. The OH was prescient since the building has been again developed as residences now known as the Offerman House. The "Offerman Building" name is spelled out of the Duffield Street side. Joseph Wechsler was an original partner of Abraham Abraham.
A group of buildings at 225, 231, 235, 223, 227 and 233 Duffield were believed to date to the Civil War era and are further believed by their owners to be former homes of abolitionists, if not stops on the Underground Railroad, as was the nearby 1846 First Free Congregational Church, later the African Wesleyan Methodist Episcopal Church on Bridge Street south of Johnson Street in MetroTech Center.
The city had plans to seize the houses via eminent domain, demolish most of the houses on this stretch of Duffield and replace them mostly with parking spaces, and further develop 500 new hotel rooms, 1,000 units of mixed income housing, more than 500,000 square feet of retail space and at least 125,000 square feet of new office space in the area.
Over time all buildings but #227 Duffield disappeared in favor of new development, but in 2021 NYC purchased #227; plans for it have not yet been settled upon.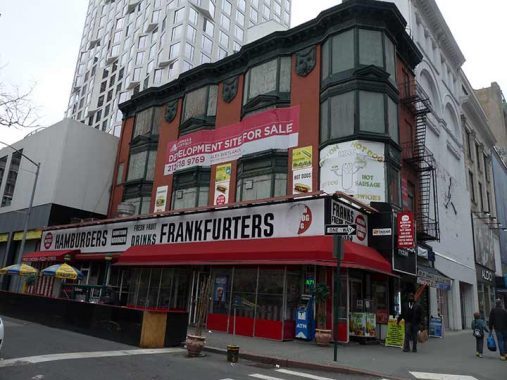 Fulton Hot Dog King has held down the corner of Fulton and Elm Place since 1914, now over a century, and has been owned and operated by the Shahzad family since the 1930s. Only Gage and Tollner has been on the Fulton Mall longer than that, and it's never been replaced by an Arby's during that time.
I don't think I've passed by the domed Dime Savings Bank at Albee Square, DeKalb Avenue and Fulton Street, during the past 20 years to see it unbothered by some kind of scaffolding. The Dime is an Ionic-columned neo-Classical money palace built between 1906 and 1908 by architects Mowbray and Uffinger. The interior is one of Brooklyn's most magnificent indoor spaces: the central dome is defined indoors by a ring of twelve marble Corinthian columns crowned, at the top, by gilded representations of the obverse and reverse of the "Mercury" Dime. Since "Mercury" dimes were issued between 1916 and 1945 these must have been added sometime after the bank was opened in 1908.
"Mercury" dimes don't depict the Roman messenger god; the representation of Miss Liberty wearing a winged cap merely resembles him, hence the nickname. The reverse is a design of a Roman symbol of authority, a bundle of birch rods tied together with an ax, known as the fasces. Unfortunately Italy's Benito Mussolini's authoritarian national party, the Fascists, co-opted the symbol as early as 1919.
The Dime is no longer a bank; it's owned by the developers (JDS Development Group) of the large object rising behind it, the Dystopian Brooklyn Tower, a 93-story, 1066-foot tall luxury residential structure, and will likely become a retail venue of some kind. The Brooklyn Tower immediately dwarfed City Point, the tower on the other side of Albee Square, which has a food mall in the basement centered around a Brooklyn branch of Katz's deli. If you're curious, here's more on the Brooklyn Tower.
Albee Square is an intersection, a street, and was a theater. If you're confused, see this FNY page for clarification.
This installation by artist Shervone Neckles, "Beacon," honors African-American inventor Lewis Latimer.
Latimer was born in Massachusetts to parents formerly held in slavery in Virginia. He enlisted in the U.S. Navy in 1864 and upon his release answered an ad for an office assistant from the patent law firm of Crosby and Gould, ascended to head draftsman, and discovered he had a knack for invention.
While still at Crosby and Gould, Latimer assisted Alexander Graham Bell, providing the drawings for Bell's patent application for the telephone; after leaving the law firm, Latimer joined the U.S. Electric Lighting Co., a chief rival of Thomas Edison. There he would produce a long-lasting carbon filament that was a major improvement on Edison's 1878 electric lightbulb; Edison's filaments, which used bamboo filaments, burned out quickly, making early bulbs impractical. Latimer also developed the first threaded lightbulb socket and assisted in the installation of New York City's first electric streetlamps, among many other inventions.
His house in Flushing, seen on this FNY page, has been preserved as a NYC Landmark.
Junior's Restaurant, so named because it was originally run by the sons of founder Harry Rosen, Marvin and Walter. Though its website and other reference volumes say it was founded in 1950, Rosen had run a diner here since 1929 at DeKalb and The Flabush Avenue Extension. Perhaps 1950 was the year the name was changed.
Though Junior's cheesecakes are as well-regarded and well-remembered as Ebinger's baked goods, I have to admit I've never had one, though my family and I were frequent Junior's customers when we shopped at nearby A&S on Fulton Street in the swinging Sixties. I'd marvel at the generous portions of coleslaw and pickles, the big burgers and, most of all, the incredibly huge onion rings. They were like onion fritters, they were so large. I imagine they're still prepared the same way.
The Brooklyn Paramount Theatre was an entertainment hub, 4000-seat vaudeville theatre and movie palace from its construction in 1928 until 1960, when it was purchased by Long Island University. LIU has retained many of the theater's interiors on its basketball court, including a massive Wurlitzer organ. The LIU Blackbirds played here until 2006.
The Paramount was host to early jazz shows, introducing Duke Ellington to Brooklyn audiences in 1931, as well as Yiddish kletzmer. Rock and roll/R&B package shows run by disk jockey/entrepreneur "Mr. Rock and Roll" Alan Freed were frequently booked from 1954-1959, and even after Freed fell from grace in a payola scandal (in which he accepted payments to plug different acts), Clay Cole presented the shows for a few years after that.
I will wrap it up with an unusual situation at the entrance to the DeKalb Avenue BMT subway. It was entered through one of the buildings at the SW corner of the Flatbush Avenue Extension and DeKalb that were razed, but the entrance had to be retained and any new buiding that goes up there will have to retain it!
As always, "comment…as you see fit." I earn a small payment when you click on any ad on the site.
4/24/22