AFTER nearly a decade when it was obscured by construction netting and scaffolding, the 1912 Jarmulowsky's Bank building, a "supertall" for its time, has completed a $190M restoration and has come out of its cocoon as a luxury residence, hotel and event space that will also host a number of bars and restaurants.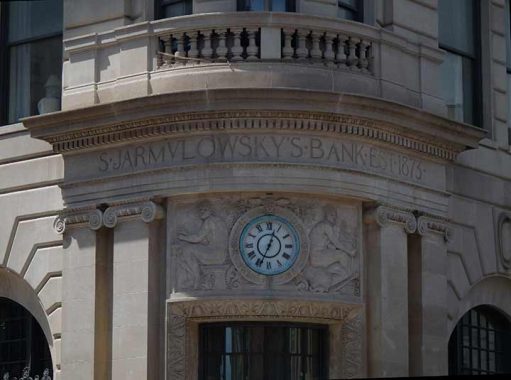 At the southwest corner of Canal and Orchard Streets stands a magnificent 12-story building with faux Ionic columns on its curved corner. Bas-reliefs above the doorway flank a now-restored clock. Cast-iron creatures resembling cherubs from the waist up and vines from the waist down gambol on the ground level above the Canal Street storefronts. The building's name is proclaimed in Roman-style lettering over the door: JARMVLOWSKY'S BANK EST. 1873.
In 1873, Sender Jarmulovsky, a traveling street merchant by trade, started a bank with his savings, catering to his fellow Lower East Siders of modest means. For its first few years, Jarmulovsky's bank was a genuine success in a neighborhood of savers, and he hired the architectural firm of Rouse and Goldstone to build a magnificent bank building. Sender Jarmulovsky passed away shortly after the building opened, believing he had started an institution that would pass the test of time.
It would all be over by 1914. When the Great War broke out in Europe, most of his depositors withdrew their funds and sent them to relatives in the old country; most of them demanded silver and gold coin, not paper money. The state superintendent closed the bank, depositors lost their life savings and rioted, and Jarmulovsky's sons fled for their lives.
The building was home to piecework shops and squatters occupied the upper floors when NYC was at its poorest in the 1970s and 1980s. But under new ownership, DLJ Real Estate Capital Partners, the building's original architectural elements have been restored, including the original banking floor and lobby on the first floor and original classical mini-temple, known as a tempietto, on the roof that had been removed in 1990 after it began falling apart. The whole story of the building's revival can be found at The Museum at Eldridge Street.
As always, "comment…as you see fit." I earn a small payment when you click on any ad on the site.
5/9/22