THERE are some spots in Manhattan in which entire blocks of streets have been lost in the name of urban renewal or urban planning. One such area was a warren of streets located both north and south of the Brooklyn Bridge and west of what is now the FDR Drive, most of which have been gone since the 1950s, their places taken by One Police Plaza, the Southbridge Towers, Chatham Green Houses, and the Al Smith Houses. Many of these streets were laid out in the days of horses and carts and were nothing more than single-lane, Belgian block paved alleys. Manhattan has gradually divested itself as most of its downtown alleys south of 14th Street, as many were disease-ridden, crime infested warrens; but local color has been lost in the transition, as the housing projects listed above are bland indeed. (Alleys can be rehabilitated, as the revivals of Extra Place and Freeman Alley show.)
A second area where entire blocks and in some cases, streets have been lost is the east end of the Lower East Side, as most of the north-south streets east of Pitt Street are now in the history books. Traces of them remain and modern day Sherlock Holmses can find them, minus the deerstalker cap, magnifying glass, pipe and cocaine.
The lost streets are plainly on view in this 1949 Hagstrom edition, which was made before projects such as the Samuel Gompers Houses, Masaryk Towers, Baruch Houses, Hillman Houses and Corlears Hook Houses rose beginning in the 1950s and eliminated them all. But not every little bit. On this map I have marked in red the spots where one can still detect ghost streets. Most ran pretty much uniformly from Grand north to Houston, though I will talk about a couple of streets north of Houston and east of Avenue D. Let's take them one by one from west to east…
Willet Street
Today Willett Street runs just from Grand north to Delancey, crossing only a ghost section of Broome that survives as a walkway. Before the Samuel Gompers Houses were built in 1964 it ran all the way north to Stanton, which itself was eliminated here decades ago in favor of public housing. Older Hagstroms had just one "t" in Willett, but that's been corrected in later editions, as the honoree, Marinus Willett, had two "t"s. Willett was a pre-Revolutionary cabinetmaker and sheriff, who later became NYC mayor in 1807 and was, in the post-Revolutionary era, a prominent landowner. A now-vanished adjoining street (Sheriff Street; see below) was also named for him. Since 1987, Willett has had to share street sign space with Bialystoker Place, named for the major edifice on the remaining piece of the street, the Bialystoker Synagogue.
Like many churches and synagogues in the Lower East Side this is a very old building that has been repurposed over time. It was built in 1826 as the Willett Street Methodist Episcopal Church in Manhattan schist, also a favorite material for church buildings in the neighborhood.
In 1905, our congregation, at that time composed chiefly of Polish immigrants from the province of Bialystok, purchased the building to serve as our synagogue. During the Great Depression, a decision was made to beautify the main sanctuary, to provide a sense of hope and inspiration to the community. The synagogue was listed as a New York City landmark on April 19, 1966. It is one of only four early-19th century fieldstone religious buildings surviving from the late Federal period inLower Manhattan. Richard McBee and Dodi-Lee Hecht have both written in-depth articles about the building. [many interior photos of the building can be seen at the link]

In 1988 the Synagogue restored the interior to its original facade, and the former Hebrew school building was renovated and reopened as The Daniel Potkorony Building. It is currently used for many educational activities. Our most recent project was the refurbishing of our windows. The Bialystoker Synagogue
Sheriff Street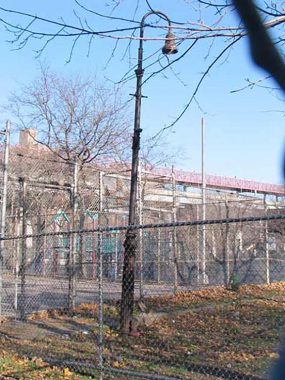 Very early in the Forgotten NY era, around 2000, I was wandering around in this area east on Broome Street, which becomes a walkway between Willet and Lewis Streets, when I spotted a rusted lamppost in an unclaimed strip of territory between Broome Street and The Luther Gulick Playground, and a rather rare one at that, it's a surviving example of a Type 6 BC, a variation on the Bishop Crook employed on narrow sidewalks. I deduced that it belonged on the NW intersection of Broome and Sheriff Streets (Sheriff was named for Marinus Willett's office) when both streets were open to traffic, mostly lined with traffic. The Municipal Archives, a fantastic resource, has photos of Sheriff Street as it existed in 1940.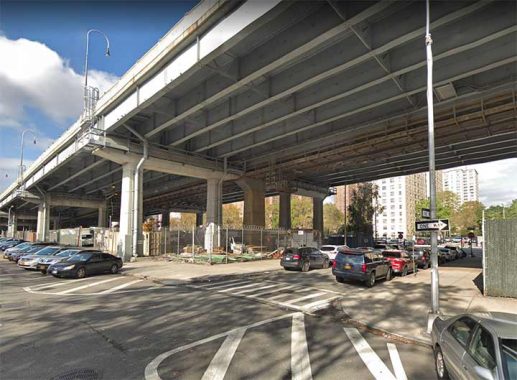 In what will prove to be something of a pattern, a small bit of Sheriff Street survives beneath the Williamsburg Bridge approach on Delancey Street, connecting its north and south sections. The DOT has provided a single street sign for this piece of Sheriff Street, out of the picture on the south side of Delancey.
Columbia Street
Allowed to remain intact, as it forms the boundary between the Masaryk Towers and Baruch Houses. However, traffic going north from Grand must turn right on Delancey, as the section under the Williamburg Bridge is one-way south. North of Delancey, Columbia is two-way and its traffic continues north on Avenue D north of Houston.
Cannon Street
A short piece of Cannon Street, between the Broome Street walkway and the south side of Delancey, has been allowed to remain as it borders PS 110, now known as the New Explorations into Science, Technology and Math, which has a #111 Columbia Street address. It is the only K-12 public school in Manhattan, serving young people in the Gifted and Talented program.
Cannon Street was named for Abraham Cannon, an 18th Century baker and tavernkeeper who had purchased land formerly owned the local bigwig, James de Lancey.
Lewis Street
Today, like Willett Street, only the section of Lewis Street exists from Grand to Delancey Streets. The street was named for Francis Lewis, signer of the Declaration of Independence and honored by the much lengthier Francis Lewis Boulevard in Queens, or his son, Morgan Lewis, a NYS Governor and a chief justice of the Supreme Court.
There's something different about Lewis Street. As this 1909 map indicates it once ran north of East Houston Street and broke into the John Randel Commissioners' grid, ending up all the way north at East 8th; that extension was made in 1828. Today, though, the path of Lewis Street is occupied by the Baruch, Lillian Wald and Jacob Riis housing projects.
Goerck Street
Running from Grand Street north to East Third Street, Goerck Street and named by surveyor Joseph Mangin (see below) to honor his partner, Casimir Goerck. Goerck died in 1798 before the survey could be finished.
Goerck Street was the epicenter of Lower East Side tenement living in the early days of the 20th Century. Conditions were crowded, bleak and depressing in the teeming district. Forgotten Fan Peter Sefton passes along an incident on Goerck Street, on which his family lived in the mid-1890s:
A curious group of eviction cases grew out of the determination of one Elias Russ, owning the tenement house at No.6 Goerck Street, to demand fifty cents a month extra rent for every baby on the premises after the beginning of March, 1905. The building was occupied by 30 families, who boasted of 150 children. The tenants refused to pay the increase. Dispossess writs were served. Mrs. Frederick Friedmann, one of the tenants, loudly cried: "What is it you would do? Should I turn my firstborn, Isaac, into the street, stab Rachael, strangle Moses, shoot Rebecca, drown Mira, poison Nathan, throw Lizzie from the roof, or hug the twin babies to death? Oh! monster of a man! " The tenants, with many of their children, went in a body before Justice Worcester of the Thirteenth Municipal District Court to protest. Mrs. Fannie Frank became one of the spokesmen and declared, "The landlord is against the Scriptures which bid men multiply." The justice gave the tenants only a stay until the following Monday, by which time they were to decide either to pay the increased rent demanded or to find other premises.
Author and playwright Bella Spewack, best known for the book of the Broadway smash Kiss Me, Kate, grew up in a series of tenements on the Lower East Side. She recalls Goerck Street in her memoir of the early 1900s, Streets:
I went several times to Goerck Street before we moved, compelled by fear and dread. It was a "tough" block. From there would come every offensive in the bottle fights that would visit Lewis, Cannon, Columbia, and Sheriff streets like some short, nasty pestilence. Bottle fights included every kind of weapon; some of the Goerck Street gangs used to throw rusty blades.

As a very little girl I would dare myself at night to go to Goerck Street and never get any further than the corner. Ours was and still is one of a row of red four-story houses, a fifth story being based on the stoop. There was a constant going and coming of moving vans and pushcarts ­ one family moved into one house and moved out of the next. The houses formed a drably indifferent village that on rainy days looked like a row of washed-out, badly patched petticoats….
Today, a piece of Goerck Street, renamed as the southern end of Baruch Drive, remains beneath the Williamsburg Bridge. When the Baruch Houses were built, named for Simon Baruch, the innovative physician who emigrated from Poland as a youth and settled in NYC in 1881, the father of financier Bernard Baruch, Baruch Drive was built as a curving drive connecting Delancey and Houston; it may have been conceived as a tree-lined boulevard but today it's anything but.
Most of Goerck Street was renamed Baruch Place in 1939, and a surviving piece can be found running south from East Houston to the easternmost piece of Stanton Street.
Mangin Street
Two pieces of this Lower East Side street remain: one, beneath the Williamsburg Bridge, and another one-block piece running south from East Houston to the easternmost piece of Stanton Street.
What accounts for the survival of these small pieces of Goerck (Baruch Place), Mangin and Stanton? An apartment complex separate from the Baruch Houses on Bruch Place as well as PS 97, now Bard High School Early College, on Mangin.
Mangin Street is one of the few streets in NYC in which the surveyor named a street for himself. Joseph François Mangin (1758-1818), a French immigrant, was a surveyor and architect who had a hand in New York's City Hall as well as the Park Theatre on Park Row, which stood until the late 1840s, and the old State Prison at what is now West and Christopher Streets, which stood from 1797 to 1827.
In 1803, Mangin, with partner Casimir Goerck, submitted a city plan for Manhattan to the Common Council of New York City. The ambitious plan straightened crooked paths and evened out the shoreline. Mangin audaciously named streets for himself and Goerck. Ultimately, Mangin's plan was passed over, in 1811, in favor of the Commissioner's Plan surveyed over the next decade by John Randel Jr. That plan is the familiar grid of numbered avenues and streets we have today.
Plan of the City of New York, Mangin & Goerck, 1803
Tompkins Street
Two more north-south streets were found east of Mangin Street before the East River/FDR Drive eliminated them: Tompkins Street, like Tompkins Square Park in the East Village and busy Tompkins Avenue in Staten Island, was named for Daniel Tompkins, three-term New York State Governor (1807-1817) and Vice President under James Monroe (1817-1825). Tompkins built Victory Boulevard (first called Richmond Turnpike) and instituted the first ferry service between Staten Island and New York City.
East Street
Gil Tauber in Oldstreets:
A waterfront street that, as projected on the Mangin-Goerck Plan, began at Corlears Hook and ran in a straight line to North and Lewis Streets. It was adopted almost intact in the Commissioners' Plan of 181l, but later greatly modified. As eventually built, East Street ran parallel to Corlears Street from Water to Grand Streets. From there it continued parallel to and one block east of Tompkins Street as far as Rivington Street. East Street was obliterated in the 1930s for what is now East River Park and Franklin D Roosevelt Drive.
Manhattan Street
Tiny Manhattan Street runs for one block, running north alongside PS 188 (The Island School) and pieces of East 3rd and Lewis Streets that surround the school were also preserved and appear in signage on the exterior of the school, which as built decades before the surrounding Lillian Wald Houses. Its accompanying Wald Playground also breaks the houses' dominance.
This wasn't the only Manhattan Street to be demapped or renamed . Up in Manhattanville, West 125th Street/Martin Luther King Boulevard was named Manhattan Street between the Hudson River and St. Nicholas Avenue for a century between 1820 and 1920. It was the main street of Manhattanville, which existed as a separate town before the inexorable northward march of the grid subsumed it.
As always, "comment…as you see fit." I earn a small payment when you click on any ad on the site.
6/12/22
Quick Page/Post Redirect