I always love it when I can uncover ancient street signage. One such sign is, or was until recently, right here on Oakley and Cubberly Places. It was a true Staten Island ancient artifact…a mounted yellow and black street sign that dates from Staten Island's first examples of standardized street signage. Examples of these are indeed precious and few today. I am not sure when these were installed but we can safely say it's somewhere between 1925 and 1950 judging from the lettering.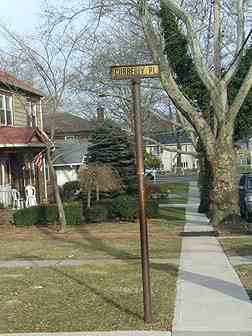 I had thought that the sign was safe from plunder as it was mounted on the lawn, technically private property, where the Department of Transportation in its pursuit of rigid conformity, couldn't touch it. Unfortunately, the sign has disappeared. I don't get out to this neck of New Dorp often, but Google Street View shows it in 2018, but not in 2021. Perhaps the property owners didn't want a rusty pole there anymore. In any case, it's gone and so ends the last of Staten Island's classic 20th Century street signs. Sic transit, Gloria!
Comments are open if you know where it went.
8/18/22