THIS handsome, 7-story, large, red-brick building at 320 West 12th Street on the southwest corner at Hudson Street has gone by many names during its century-plus existence. Currently, it's a luxury condominium building called The Abingdon, named for the nearby square where Hudson Street meets 8th Avenue (and for a colonial-era road). When constructed in 1906 it was called Trowman Hall after a businessman who built a hotel for single women, where they could be courted by rich suitors. Along the way, it was converted to a YWCA building and The Village Nursing Home.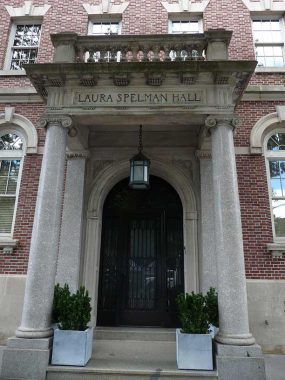 From 1920 to about 1955, when the YWCA controlled the building, it was renamed Laura Spelman Hall, after the wife of Standard Oil king John D. Rockefeller (1839-1937). Born in 1839, she made her name as an abolitionist, philanthropist and educator. According to Ephemeral New York, women living at the Spelman paid "$8.65 to $12.65 a week with two meals weekdays and three on Sunday." A penthouse in The Abingdon recently sold for $22M.
As always, "comment…as you see fit." I earn a small payment when you click on any ad on the site.
8/15/22