My visits to New Jersey have been sporadic. For 30 years, on occasion, I have spent a lot of time in Hoboken and even worked there for a year in 2016. Back in 2013 and 2014, I walked the length of most of its north-south streets, acquired hundreds of pictures, but didn't feel them to be compelling enough to post. Nonetheless, I did devise a Hoboken category, and do try to get there via PATH at least once per year. Ditto Jersey City. I have found Newark to be a tougher nut to crack and will likely postpone it till the current overall USA crime wave calms down somewhat. Other relatively recent forays have put me in Hackensack so I can say I ate at the White Manna. I have also been to Fort Lee (for Hiram's Hot Dogs on Palisade Avenue) and Spring Lake down the Jersey Shore. A cousin used to give annual Christmas extravaganzas at her home in West Windsor.
I have only walked in Trenton once. I was on the way to Philly and missed my SEPTA connection at Trenton so decided to get out and stretch my legs a bit before the next train in one hour. This was nearly two decades ago, so I don't remember a thing. However, recent street View meanderings have prompted me to perhaps give Trenton a try when I get the chance.
Forgotten Fan Edward Fitzgerald sent me a few photos of surviving ancient Trenton street signs. Most of them are located on West State Street west of downtown. (If you look at a map, East and West State Street are oddly laid out; East State Street in particular looks like a huge inverted V on the map. There must be a story why it was plotted that way in the early 1800s when Trenton's street map was devised.
The one sign that isn't on West State Street is the furthest west, at Labarre Avenue and Sanhican Drive. Edward Fitzgerald informs me that the sign has now gone missing; this Street View is from 2013.
West State Street and North Dean Avenue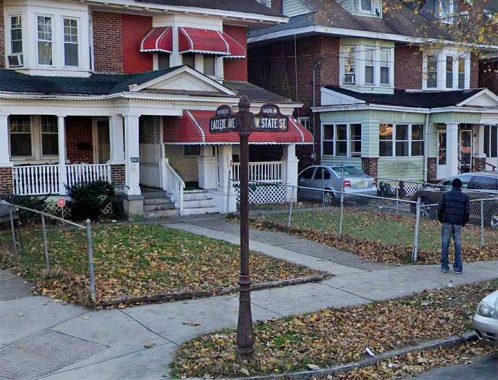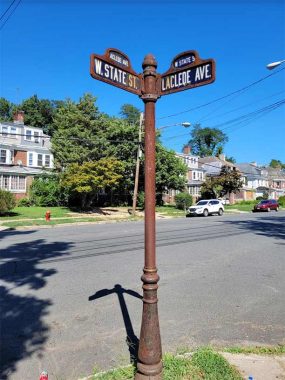 Two views of the signs at West State Street and Laclede Avenue. As you can see the blue and white enamel signs are well preserved and the iron posts, while rusty, are still stalwart.
The sign at West State Street and North Lenape Avenue (named for the indigenous Native American tribe who were here when Europeans arrived) also carries a One Way sign.
At North Overbrook Avenue, the signpost is staggering but not down for the count.
At South Westfield, the city has installed modern signs but has not removed the older signs. This is a marked contrast from the NYC Department of Transportation, which has relentlessly removed nonstandard or old signage (yet insists on leaving illegible sunbleached signs in place). None of the classic enamel signs like these ever fade in direct sunlight.
These navy and white classic signs greatly resemble the ones I remember in Brooklyn before the Vinyl Revolution began in 1964. A pattern I've noticed in NJ is that there are runs of classic street signs in other locales such as Jersey City and Hackensack. Those municipalities are fine with leaving nonstandard or historic signs where they are.
As always, "comment…as you see fit." I earn a small payment when you click on any ad on the site.
8/16/22