We have met the Creek and it is us. Here I am standing on the west end of 58th Road in a no-man's land (except for the many industrial concerns located here) at the far west of Maspeth, a block north of the ancient Grand Street Bridge. I am looking across to Brooklyn, where Maspeth Avenue can be seen on the other side.
The pilings and pier remnants are reminders that the Maspeth Plank Road, a connector from the City of Williamsburg(h) to Newtown once spanned the creek, but not since … 1875, though the bridge can still be found on maps from the early 20th Century. The giant Maspeth gas tanks could once be seen from this vantage, but they were imploded in a controlled explosion in July 2001 — an eerie precursor to events two months later. 58th Road is a remnant of the Maspeth Plank Road, which is represented by Maspeth Avenue (which was redirected about 40 years ago and no longer follows its former plank-paved route here).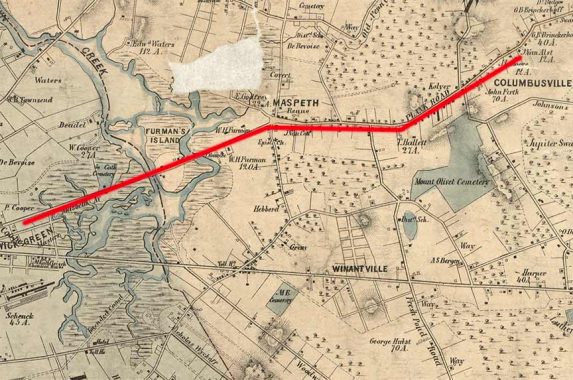 This is one of the oldest detailed maps of Queens available (for download on this page) produced by Dripps in 1852. I have outlined in red the route of the old Maspeth Plank Road, which not only had to traverse Newtown Creek, it also had to cross Furman's Island, which in 1852 was defined by Newtown Creek and its tributary Maspeth Creek. In the 170 years since, Newtown Creek has been redirected and Maspeth Creek has been dead-ended, with its waters flowing into the sewer system. NYS Governor and NYC Mayor DeWitt Clinton had a home within view of the Creek, which was much cleaner then but would soon see the industrialization begun in part by Peter Cooper begin to pollute it.
In time, the tolls were removed from Maspeth Plank Road and its bridge demolished. Today's Maspeth Avenue has separate Brooklyn and Queens sections, with the east end of the old Plank Road becoming Grand Avenue from 64th Street east to Queens Boulevard.
As always, "comment…as you see fit." I earn a small payment when you click on any ad on the site.
9/7/22