THERE'S a genuine log cabin in Canarsie at Flatlands Avenue and East 93rd Street. It was built by the Lloyd Doubleday family from 1936-1939 and was originally an ice cream parlor. Today it houses Fillmore Real Estate. Unfortunately, the present occupant, Fillmore Real Estate, seems to have done the best it can to cover up the exterior with an awning so that you have to take a second look to make sure that you are, indeed, at this artifact…Brooklyn's one and only building constructed from crosstimbers.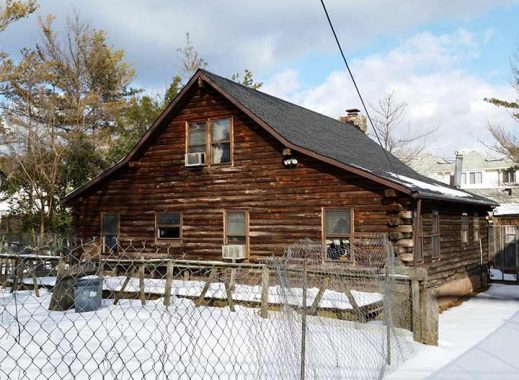 Matt Green got this shot of #17 Vulcan Street in Arrochar in southeast Staten Island for I'm Just Walkin' a few years ago. A look at Street View reveals that the building is still there, but is well protected from gawkers by a rather tall fence. I cannot tell you anything else about it.
With permission, I'm reprinting an item that appeared on the Pat Salmon Historic Staten Island Facebook page by Norman Paley…
Nestled in the forest at the far edge of the Eger campus in Egbertville [just east of Richmondtown] is a genuine Norwegian log cabin. The cabin, built in Trondheim, Norway, was shipped, unassembled, to Staten Island, and put together by a crew of volunteers in 1976.
An early name of the Eger Rehabilitation and Health Care Center was the Carl Michael Eger Norwegian Lutheran Home for the Aged. Eger still retains both its Lutheran and its Norwegian roots. The crest above the cabin door shows the seal of Martin Luther superimposed over the Maltese cross symbolizing Christianity (the cross), love and caring (the heart) and the circle representing eternal life. The flag of Norway still flies today on the Eger mast just below the American flag.
On October 8, 1975 His Majesty King Olav V of Norway came to Staten Island to dedicate the cabin's cornerstone. This was considered to be a very major event not only by the Norwegian American community of Staten Island, but also by the people of Norway and was attended by more than 1,500. As far as I can determine this is the only time that a reigning monarch has visited Staten Island for a specific purpose.
In 1957 Queen Elizabeth II and Prince Philip were on Staten Island briefly, but were only passing through on their way to Manhattan and the rest of the country. They came across the Arthur Kill on a Baltimore and Ohio Railroad special train to Tompkinsville Station. From there they traveled by automobile to Saint George, where they took an Army ferry across the harbor to Manhattan. King Olav V traveled specifically to Staten Island for the ceremony at Eger. (Some information above from the Eger Centennial Journal.) [This may be the final time the SIR North Shore branch carried a passenger train –KW, ed.]
Throughout his 33-year reign, King Olav was cherished and respected as a monarch. He knew exactly how to maintain the appropriate closeness to and distance from his subjects. He had a great ability to talk to people, and it was this and his genuine warmth that led him to become known as the "People's King." (From the Royal house of Norway website)
In addition to these, there are several timber "buildings" that serve as shelters in Central Park and by the Lake in Prospect Park.
As always, "comment…as you see fit." I earn a small payment when you click on any ad on the site.
9/30/22