THE Van Siclens, who spelt their name in two ways as was common in the colonial era before spellings were codified, settled in western Long Island in the mid-17th Century after arriving from the Netherlands, with a branch in Gravesend and another several miles away in New Lots, which, when they arrived, was still an eastern section of the town of Flatbush. The family has definitely made its mark, with no less than three streets, four subway/elevated stations, and a cemetery! I thought I would take a little trip via Google Street View and examine them.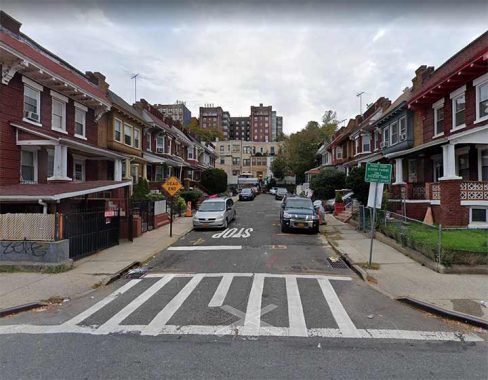 Van Siclen Court is a dead end on Jamaica Avenue located between Van Siclen Avenue (see below) and Hendrix Street. It was clearly a planned development several decades ago, judging from its grouping of identical porched houses. It rests on a severe upslope toward Highland Park. It has an identical twin, Schenck Court (pronounced skenk) a block to the east.
The Schencks were another old Dutch Kings County family and there are two separate Schenck Avenues in Brooklyn, one in East New York and another one in Canarsie.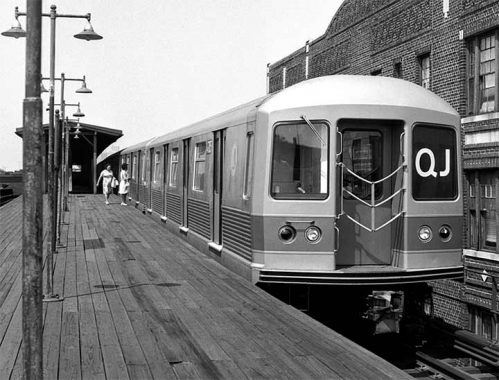 A look at the Van Siclen Avenue platform in 1969 from the nycsubway.org archives. The first Van Siclen Avenue station encountered when traveling south is the elevated at Fulton Street. This stretch of the Broadway-Fulton Street-Jamaica Avenue el serving J and Z trains is the oldest stretch of elevated tracks in the NYC subways and first opened in 1885. In 1969 there were several very old elements still to be found, like wood plank platforms and incandescent lighting.
But R-42 cars were brand new in 1969. They would continue to be used on what evolved into the J train until 2019!
The Q train, which presently runs from Brighton Beach to 96th Street and 2nd Avenue in Manhattan, and its iterations the QB, QJ and QT, form among the more complicated of letter designation stories.
The QJ ran local service between the old 168th Street Jamaica el terminal to Brighton Beach employing the Broadway el, Williamsburg Bridge, the Nassau Street line, the Montague Street tunnel, and the Brighton line. The QJ was eliminated in favor of the J in 1972 and the J didn't venture onto the Brighton for several decades, though reroutes saw it turning up there again in early 2010.
There were many interminglings of QJ and QB service over the years, but in general in the 1960s, the QB ran between Brighton Beach and 57th Street using the Manhattan Bridge connection to the Broadway Line. Today's Q matches this route, though the Q had flirtations with the 6th Avenue Line from 1988-1995 and again from 1999-2001.
Much more about retired subway lines here.


Just four blocks south of Fulton Street (why, you'd think the IND wanted to supplant the BMT), at Pitkin Avenue, you can board an A or C train at another Van Siclen Avenue station, this one an IND station and a newcomer by comparison, opening in 1948. The IND running under Fulton Street and Pitkin Avenue didn't open east of Rockaway Avenue until the 1940s and was only connected to the section of the Fulton Street El running over Liberty Avenue until the 1950s, when it was also connected to tracks spanning Jamaica Bay to the Rockaway peninsula.
Attached 2-story walkups on Van Siclen Avenue between Belmont and Sutter Avenues.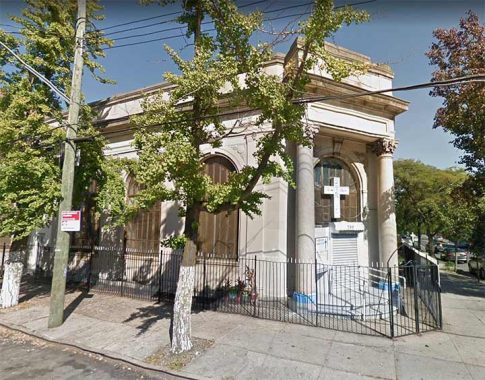 This corner church at Van Siclen and Blake Avenues was once a Manufacturers Trust bank.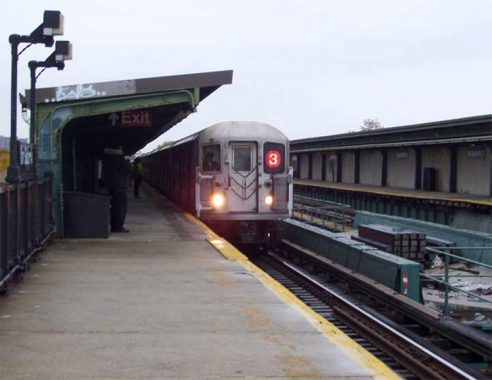 The final Van Siclen Avenue subway stop on the IRT can be boarded at Livonia Avenue, meaning there's a Van Siclen station on each of the old BMT, IRT and IND divisions. It falls between the BMT and IND stations in age and as I type this, it's a day short of being a century old, having opened 10/16/1922.
South of Riverdale Avenue, Van Siclen Avenue becomes much wider and could accommodate four traffic lanes, had the Department of Transportation not narrowed it by adding a painted median and bike lanes. This stretch takes it past the Linden Houses.
The southern stretch of Van Siclen Avenue forms the east end of Spring Creek Towers, which to me will always be known as Starrett City. The middle-class housing project was conceived as early as 1962 and opened in 1974.
Van Sicklen Street
In Gravesend, Van Sicklen Street, the one with a K, runs six blocks from Kings Highway south to 86th Street, paralleling McDonald Avenue and Lake Street but running athwart most of the overall street grid. At the corner of Village Road south, we see a corner of Gravesend Cemetery.
The ancient Gravesend and Van Sicklen cemeteries sit side by side across from the ancient Lady Moody House on Grav esend Neck Road; exactly how ancient the Moody house is in dispute, as some partisans say it's 350 years old, and some say a mere 200. Even its former ownership by Lady Deborah Moody, who was granted a patent in the region by New Amsterdam's Director William Kieft in 1643, is debated. The place has been there awhile, I'll put it that way. As has Gravesend Cemetery, established in the mid-1650s, and its neighbor the Van Sicklen Cemetery, which is a relative newcomer as it dates to 1842.
Unlike some other very old cemeteries in NYC which are overgrown with weeds or buried under parking lots, both of these cemeteries are well-maintained and cared for.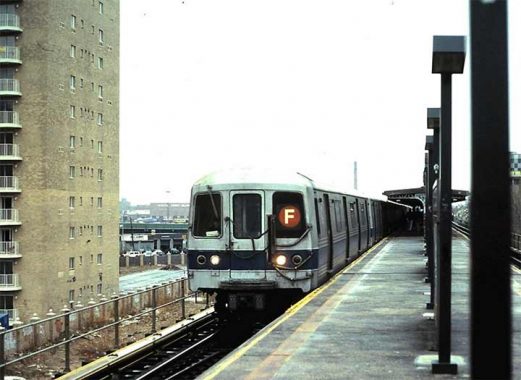 There's an elevated station on West 6th Street midway between Neptune Avenue and the Belt Parkway, pretty far removed from Neptune Avenue but named for it anyway. However, it had been named Van Sicklen… not Van Sicklen Street, which is nowhere near. What went on?
A colonial-era house belonging to the Van Sicklen family was still in existence at nearby Shell Road and Neptune Avenue when this elevated station was built in 1920. The Van Sicklens also operated a hotel nearby, which may or may not have been in this building: I am unsure. Thus, the station was named for the Van Sicklen properties.
The building came down decades ago, but because of official inertia, "Van Sicklen" the station remained until 1995, when it was renamed for the nearest major avenue, Neptune.
As always, "comment…as you see fit." I earn a small payment when you click on any ad on the site.
10/15/22