GLENMORE Avenue is a narrow, one-way route (running east to west) a block south of Liberty Avenue; it formerly was continuous to auto traffic, but in 1955 the Howard Houses, now part of New York City Housing Authority, was constructed atop its westernmost section, leaving only a dead end stub at Rockaway Avenue. When laid out in the 1800s, it was known as Baltic Avenue and South Carolina Avenue before its current name, Irish for "long valley" was settled upon. It was eventually extended east across the undefended border of Queens as far as Bayside Cemetery (which was named for its proximity to Jamaica Bay and has nothing to do with Bayside, Queens).
From Comments:
Glenmore Avenue appears to have been named for the Glenmore Rod and Gun Club of Long Island, which met in a building at the corner of Baltic (now Glenmore) and Vermont Avenues. This was an immensely popular shooting association in East New York during the late nineteenth century, to which nearly every political leader and business owner in the Town of New Lots belonged. The club may have taken its name from Glenmore, a champion race horse of the time.

Formerly known as Baltic Avenue, possibly in reference to a continuation of Baltic Street. In January 1887 the New Lots Board of Trade recommended to the Brooklyn City Council the renaming of 67 streets in the former town of New Lots, with the proposed names having the same initial letter as the original name. The name recommended for Baltic Avenue was Belmont Avenue; the Council instead chose Glenmore and used Belmont in renaming Bay Avenue. Renamed by the Council (to eliminate duplication with Baltic Street) on April 11, 1887, effective April 26, 1887.

The section between Alabama Avenue and Wyona Street was originally called South Carolina Avenue. Most of the streets on the 1835 John R. Pitkin map of East New York were named for states; Alabama, Georgia, Pennsylvania, New Jersey and Vermont Avenues running north and south, and Virginia (now Fulton Street), North Carolina (now Liberty) and South Carolina (now Glenmore) Avenues running east and west.
Despite its obscurity there are a number of interesting and historic buildings along Glenmore that you wouldn't suspect were there if you're unfamiliar with East New York.
In 1901, the Scottish philanthropist/industrialist Andrew Carnegie Foundation gave $5.2 million to New York City for its libraries across the five boroughs. This started a remarkable project that would go on to build 1,680 Carnegie libraries across the United States and another 800 plus in Canada, the United Kingdom, and elsewhere in the world. In NYC, Carnegie gave to the boroughs according to population. Since Queens was the least populated borough at the time, they got the least amount of money. The Queens Library trustees were able to go to Carnegie himself and present a plan that gave them more money, enabling the library to build seven of the eight libraries planned for the borough. Carnegie paid for the buildings, but the city would have to buy or acquire the land, buy the books, and provide for maintenance and upkeep, in perpetuity. Carnegie helped set up the library commissions and boards.
The Brownsville Carnegie library branch at Glenmore Avenue and Watkins Street opened in 1908 and was so popular that a second Brownsville branch was opened in 1914 on Stone Avenue (now Mother Gaston Boulevard).and Dumont Avenue. This photo shows its original context, long before the Howard Houses were built.
A lone survivor of sorts, at 160 Glenmore midblock between Sackman and Powell Streets.
I like a good onion dome. They're relatively few in NYC; I know about the Russian Orthodox Cathedral of the Transfiguration, on Driggs Avenue and North 12th Street in Greenpoint (seen on this page), and St. Nicholas Russian Orthodox Church on Clintonville street in Whitestone.
At Glenmore and Pennsylvania Avenue (Granville Payne Boulevard) is another great onion-dome, Holy Trinity Russian Orthodox Church. Believe it or not, it was built as late as 1935. East New York was famed for its Jewish complement in the early to mid 20th Century but there were also immigrants from Russia and what is now Belarus, who founded this congregation in 1909. the architect was Roman Meltzer, famed for his buildings in St. Petersburg. Russian immigrants have returned to East New York in recent years, giving added vitality to this congregation.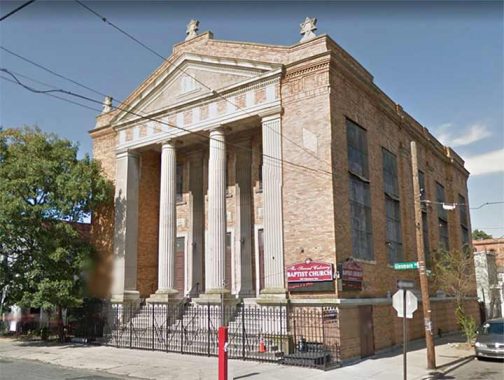 The Ionic-columned Agudath Achim B'nai Jacob Synagogue opened at Glenmore and Miller Avenues in 1921, and when the building was transferred to the Second Calvary Baptist Church in 1974, much of its Jewish iconography was retained such as the Stars of David and Torah on the roofline and pediment. A block away on Miller and Liberty Avenues, you can find the derelict 75th Precinct, built in 1892 and still standing as a ruin, its future in question.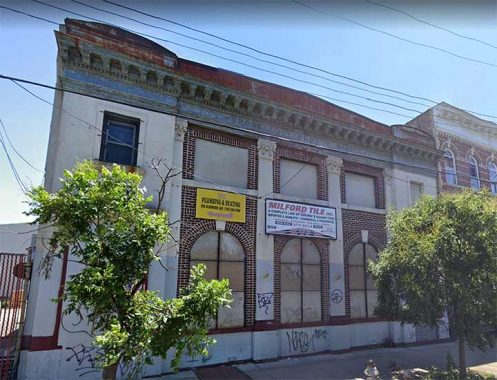 "New Lots" remembers a town that separated from Flatbush in 1852 and was annexed by the city of Brooklyn in 1886. Today, its boundaries are roughly New Lots Avenue, Flatlands Avenue, Louisiana and Fountain Avenues. In the Dutch colonial days, it was called Ostwout, or "East Woods" and it was here that farmers from Flatbush, which came to be called "Old Lots" in reverse parlance, moved when Flatbush became overcrowded and overtilled.
This used to be the New Lots Post Office, at #930 Glenmore Avenue between Fountain avenue and Crystal Street, now the offices of Milford Tile. The area post office is now a few blocks away on Sutter Avenue.
Amazingly the Glenmore Avenue Presbyterian Church at #994 at Doscher Street looks very much as it did when it opened in 1899 and even has the same congregation name. Much of East New York was open fields this far east at that time.
I plan on catching up in East New York and Brownsville as the months go on. Meanwhile here's a 2005 exploration I undertook with Mike "Satan's Laundromat" Epstein in 2005.
As always, "comment…as you see fit." I earn a small payment when you click on any ad on the site.
11/29/22