TRIBECA, at one time, was New York's primary center for foodstuffs imports such as butter, cheese and eggs…and tea, which was unloaded from ships docked in the Hudson River along West Street by the thousands. A long-gone wholesale market, known as Washington Market, once was located where today's Independence Plaza housing complex is today. For years, Washington Market's empty streets bore silent witness to the former market before a new school and apartment buildings west of Greenwich Street were built in the 1980s. However, some of the buildings in which wholesalers sold goods are still present east of Greenwich Street, now of course used for residences and retail.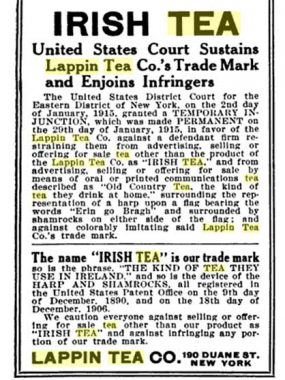 One of these buildings is #188 Duane Street, which by World War II contained the shipping offices of Lappin Tea. Around this time, Lappin Tea sued a rival company for advertising their tea as Irish in origin, using symbolism such as harps, shamrocks, and the phrase "Erin Go Bragh" on their boxes. The court found in favor of Lappin and enjoined the rivals from referring to Ireland in their ads.
If you look closely at the building front at #188 Duane, you can still see Lappin's slogan, the somewhat awkward, "the kind of tea they use in Ireland."
Have the Lappin painted ads been visible for over a century? No. As you can see in this 1940 photo, the entire front of #188 Duane was covered in white paint. But since then, the building hasn't been repainted and that white paint job has flaked off, revealing the Lappin Tea script that was beneath it, waiting out the years to become visible once again. That's how a lot of these very old painted ads are ultimately revealed.
See Tribeca Citizen for the complete story of 188-190 Duane Street.
As always, "comment…as you see fit." I earn a small payment when you click on any ad on the site.
11/26/22