UNLIKE the late, great Lou Rawls, I'm not a "natural" man. By that I mean that in my walks around NYC, I much prefer the more urban areas, as the architecture and infrastructure is what I find most interesting. I like a day with the trees as much as anyone, but had I been born in a rural area I would have long ago moved somewhere more urban or developed a completely different interest, and I'd be writing about magnolias, skunks or squirrels. Thus, I have always enjoyed places like Park Slope or Astoria because there are a lot of different architectural styles to check out.
I am not an architectural expert and cannot go on in technical terms with plenty of jargon, the type seen in Landmarks Preservation Commission reports, or articles by the late Christopher Grey or Francis Morrone; I can tell you that I like the color, or a historical allusion here and there. I can certainly tell you what I don't like, which is the blandness that has been a constant companion of styles over the last few decades, with all the glass facades brought on by cost considerations. Funny, but architects from 1880 through 1940 could make a building look good and keep costs under control at the same time.
On this early summer day, June 2022, I traveled down 8th Street in Park Slope (with a detour to 9th) and then up 7th Avenue and then to downtown Brooklyn, with the latter changing rapidly, almost by the day, with new "supertall" residential towers. Only two neighborhoods are changing more rapidly: Hunters Point, Queens and Greenpoint. I'll likely deal with 8th Street and some of 7th Avenue on this page and leave the rest for later.
Upon exiting the F or G train at 4th Avenue and turn north, you will spot this beautiful church on the corner of 9th Street.
One of Park Slope's more massive, and attractive, Roman Catholic churches is Holy Family/St. Thomas Aquinas, which merged two parishes in 2006. After many years in off-white, the church was recently restored to a brick masonry color.
In November 1884, the Rev. James Donahoe was sent to establish the Parish of Saint Thomas of Aquinas in South Brooklyn, the 47th parish in the Brooklyn Diocese. The first Mass was celebrated November 16, 1884 in a building on 9th Street near 5th Avenue. This building, known as the "Wigwam," had been erected by the Twenty-second Ward Democratic Association for their meetings during the National Election of 1884. On Sunday, June 28, 1885, the cornerstone of the present building was blessed by Bishop Loughlin in a ceremony witnessed by over 6,000 people. The church was built within one year at a cost of $90,000. The first Mass in the new church was celebrated on Passion Sunday, April 4th, 1886. A chapel was added in 1887 on the 8th Street side of the church to house the baptistry, sacristy and altar boys' rooms. NYC American Guild of Organists
I can't hit this part of Park Slope without checking on this Victorian mansion on 9th Street midway between 4th and 5th Avenues. On the outskirts of Park Slope, edging toward Gowanus Canal, stands a magnificent stucco house, a textbook Second Empire style with a slanted mansard roof, moldings, bay windows and best of all, a cupola open on three sides. It's been the home since 1981 of jazz musician and teacher Charles Sibirsky. When it was built, Park Slope was open country. Charles and his wife Vita have appointed the house with vintage furniture as well as two vintage pianos: a 1920 Steinway Model "O" in the cupola, and a 1913 Steinway Concert Grand in the downstairs living room. The living room features a room separation featuring Civil-war era cut glass, which, Charles claims, was repaired after an accident with the original cutting stone he located in Cobble Hill. It had been the home of ink maker Charles Higgins (more on him later).
Charles Sibersky's Slopemusic
Since I walked 8th Street from 4th to 7th Avenues, what's there to see between 2nd (the west end of the street) and 4th? At 3rd Avenue, there's bespoke pie shop Four and Twenty Blackbirds. When I went by on Thanksgiving 2021, by noontime whole pies had sold out. Fresh pies are baked daily. The shop was founded by sisters Melissa and Emily Essen in 2009. Typically, handmade whole pies here cost over $40. I have had a slice here once, in 2015, and it was terrific but I sensed my cholesterol going up with every bite.
One wishes one could enjoy more pies, but one has been controlling his carbs. More from a Gowanus Thanksgiving.
I'll admit to cribbing this from Street View since the watermarks are hard to remove here! 8th Street between 3rd and 4th Avenues. I always wanted to at least temporarily occupy one of these 3-story brick walkup buildings found in the area, which I call "the bread and butter of Brooklyn residential architecture."
Some years ago, in a frequent occurrence in Catholic parishes, St. Thomas Aquinas was forced to close its parochial school and sell the property. It is now PS 118, a.k.a. the Maurice Sendak School, named for the famed children's author ("Where the Wild Things Are") I keep getting him mixed up with Roald Dahl.
More of the simple brick walkups that I have an admiration for.
Directly in back of the Slopemusic mansion on 9th Street is the old Charles Higgins ink factory on 8th Street, now divided into apartments, accessible via a charming cul de sac, from where you can see the back porch. The inkmakers, though still going strong, moved out over thirty years ago. (My admiration of plain brick architecture also has me curious about what living here is like.)
Charles Higgins' inks are still sold today, and his mansion on 9th Street in Park Slope and adjoining factory are still standing. It was a dream of Higgins' to commemorate the Revolutionary Battle of Brooklyn, which raged from Bay Ridge to Flatbush through what is now Park Slope and Gowanus, in what is now Prospect Park and Green-Wood Cemetery. On August 27, 1920, Higgins unveiled Minerva and the Altar of Liberty in front of his mausoleum in Green-Wood, which had already been completed in anticipation of his interment, on the spot where one of the bloodiest skirmishes had taken place. The Roman goddess of battle was sculpted by Frederic Wellington Ruckstall; she faces the harbor and her left hand is raised in tribute to the Statue of Liberty, which is directly visible from Minerva through trees which are carefully pruned to preserve the view. Higgins passed away in 1929 and was interred on the hill behind his dream statue.
#300 8th Street presents a starkly different facade from the more ornamented residences elsewhere on the block. Though divided into residences, it is actually the back end of the former RKO Prospect Theatre, which was home to vaudeville shows and then films from 1914 until 1967. It has housed a number of supermarkets in recent years. The rear end is now condominiums.
Here's Park Slope has a full view of the place in its glory days.
Constructed on the site of a former synagogue and three apartment houses, the Prospect attracted the biggest stars of its day, including The Marx Brothers, Burns and Allen, Fanny Brice, and Bert Lahr.

In 1925 a comedian named Ted Healy played here in an act that involved three young hecklers who'd sit in the audience and pick fights with him and each other. His act became a huge hit, but the hecklers became more famous than Healy once they struck out on their own as the Three Stooges.
#315 8th Street also has a "Second Empire" slanted roof and could be from as early as the 1840s, as architects often added Second Empire elements to bring buildings up to date in the 1870s and 1880s.
Next door at #311 is the apartment building Roslyn Court, which I am pretty sure has nothing to do with the north shore Nassau County town.
From 8th Street you can see the rear of the 9th Street YMCA, where in the spring of 1968, my father bundled me off for swimming lessons. To my shame, I'll admit, I begged out after 2 lessons, because I was a yellow-bellied, lily-livered coward about the water and I cannot swim to this day. Michael Phelps or Jason Momoa I am not. I really should try again.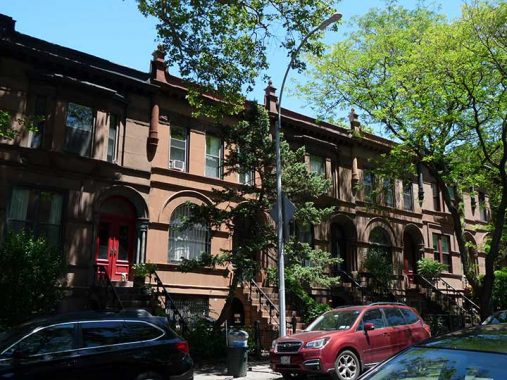 A sampler of some superior brownstones that run from #321 through 333 8th Street. Details are hard to come by since strangely, this block is outside the Park Slope landmarked district.
Though #339 8th Street resembles a church, it never was one. It formerly housed a branch of the Young Men's Hebrew Association and currently is home to Camp Friendship, which "provides quality, affordable after-school, homework help, mentoring, seasonal sports, and summer programming for youth between the ages of 5 and 14."
In the so-called Borough of Churches Park Slope checks in with some handsome entries such as the Park Slope United Methodist Church at the NW corner of 8th Street and 6th Avenue. I cannot find much online about its architect (comments are open) but the cornerstone indicates the congregation was founded in 1884 and the building went up in 1915.
A wealth of architectural gems can be found at 6th avenue and 8th and 9th Streets. The Prospect Branch of the Brooklyn Public Library opened in 1906, along with many other NYC libraries, with the aid of a grant from Scottish steelman/philanthropist Andrew Carnegie, and is one of 4 NYC libraries designed by architect Raymond Almirall (he also did the unexecuted design for the main branch at Grand Army Plaza). The interior is graced with stained glass, tiled fireplaces, wood panelling and marble mosaic flooring. [via Francis Morrone's An Architectural Guide to Brooklyn, Gibbs Smith 2001.]
In a neighborhood chockablock with rich architectural forms, Public School 39, at 6th Avenue and 8th Street in Park Slope, is a standout even among such nearby treasures as the Beaux Arts Park Slope branch of the Brooklyn Public Library a block away at 9th Street. The school opened in 1877 and is a prime representative of the French Second Empire style popular at the time; FSE buildings are recognizable by their use of slanted roofs, known as mansards in the architectural world. The school was subnamed for Henry Bristow (1840-1906), whose home was used as the school during construction of this building; Bristow was a local Congressman, school administrator, member of the Brooklyn Board of Education, and a police justice.
Architect Samuel Leonard added Italianate elements to the building such as arched windows, cornices with medallions, and paired brackets.
Unlike most public schools, whose websites do not talk about the schools' history and design, PS 39's website provides rich details such as a history of public schools in Kings County.Or rather, it used to; it's a 404 now.
Personally, I had spent a great deal of time in Park Slope in the 1980s and 1990s as two pals from college lived there, as well as a cousin and her husband. However, I never encountered this gem until just a couple of years ago!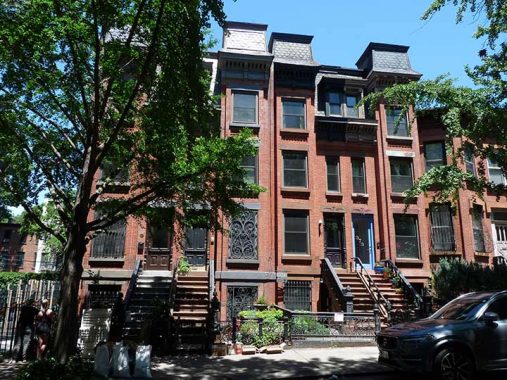 #369 and 373 8th Street, next to the school, are great brick "companion pieces" to the school, with 4 Second Empire "hats." Outside the landmarked district, probably go back to the 1880s.
Founded in September 1867, All Saints Episcopal Church at the NW corner of 7th Avenue and 7th Street opened its chapel Easter Sunday, 1870, and the present building, a "yellow brick and terracotta Romanesque-Moorish basilica with two distinctive towers, a bright barrel vaulted interior with ornate terracotta detailing, and many stained glass windows, including one by Louis Comfort Tiffany" holds forth today.
This is one of a number of corners in which a numbered Brooklyn avenue meets a street with the same number. This also happens with 3rd through 8th Avenues.
There seems to be a magnificent church on every 7th Avenue corner. Greenwood Baptist was founded in 1858 and named for the South Slope, which was called Greenwood then, presumably fot the vast Green-Wood Cemetery that borders the neighborhood. The present rough-hewn brick church was dedicated in 1900. There was a kerfuffle when cellphone equipment was installed on the tower in 2010, but the cries of traditionalists are becoming fainter in cases like this, and congregants say it allays costs of preserving the over 110-year-old church.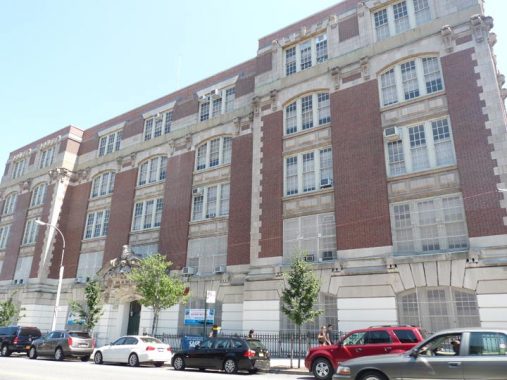 Outside John Jay High School, there was a nifty exhibition about its architect, C.B.J. Snyder. John Jay High School, 7th Avenue between 4th and 5th Streets, is now known as The Secondary School for Law, Journalism and Research, and has also been called Manual Training High School. Though I find the John Jay High School name a bit less of a mouthful, that school was shuttered for poor performance in 2004.
John Jay (1745-1829), for whom Brooklyn's Jay Street is also named, was President of the Continental Congress and later the nation's first Chief Justice of the Supreme Court and NYS Governor. Along with James Madison and Alexander Hamilton, he authored the Federalist Papers, a series of 85 articles promoting ratification of the U.S. Constitution. An early abolitionist, in 1799 he signed into law a gradual emancipation that saw the end of slavery in New York state by 1829.
The stonework above the entrance of the school features books, gavels, and other symbols of the law.
Joseph A. Ferris (1934-2020) was a five-term NYS Assembly Member from Brooklyn, He fought against redlining and chaired the Science and Technology Committee, where he advocated for projects utilizing reusable energy. He also co-founded the Slope Independent Democrats which would become the Central Brooklyn Independent Democrats, an important civic organization today…Additionally, he worked to preserve important cultural touchstones, namely the Old Stone House in Washington Park, and helped found the Brooklyn Irish-American Day Parade. He passed away from COVID-19. [Gil Tauber, Oldstreets]
Completed in 1891 by architect George L. Morse, The Old First Reformed Church is a flying buttressed, gabled, cinquefoiled, rose-windowed white limestone centerpiece of Park Slope's busiest avenue.
The First Reformed Church of Brooklyn dates back to 1654 with the arrival of Domine Johannes Theodorus Polhemus [a nearby short street is named for him], who served the people of Breukelen, Flatbush, and Flatlands. Worship was conducted under the trees, then in a barn. In 1666, the first church edifice was built in the town of Breukelen in the middle of a highway, now known as Fulton Street.

This building was replaced 100 years later and included a burial ground on land which is now occupied by Macy's [the old A&S]. The growth of the church by 1805 necessitated large facilities, and a building was erected on Joralemon Street. Within 30 years, this building was outgrown. It was razed and rebuilt on the same site in 1835. It remained in that location until 1886, when a chapel was completed at Seventh Avenue and Carroll Street. This chapel was expected to accommodate the congregation for some years to come, but the rapid growth of the neighborhood was reflected in increasing membership for Old First, and plans to complete the sanctuary were pushed forward. The church, at Seventh Avenue and Carroll Street, as it stands today, was dedicated on September 27, 1891. Old First
There'a a lot for northbound motorists to read on the corner of 7th Avenue and Union Street, with DOT signs in two fonts advising motorists to turn if they want to get to the Brooklyn Children's Museum, Brooklyn Museum, or the Brooklyn Botanic Gardens. The green DOT signs are in two fonts because in the mid-2010s the agency approved a switch to the Clearview font, installed thousands of signs, and then switched back to the superior Highway Gothic, which has been n use since the 1950s.
The Brooklyn Conservatory of Music (now officially Brooklyn-Queens Conservatory), #58 7th Avenue and Lincoln Place, has occupied this handsome brownstone since 1944. Presently a community music school, it was founded in 1897 as a formal conservatory by German-American immigrants. Many area public schools have been forced to cut their music programs and the Conservatory helps fill in for the loss. No. 58-60 was formerly known as the Brasher Mansion and later as the Park Slope Masonic Club.
Two churches face off on opposite corners at 7th Avenue and St. John's Place. Grace United Methodist Church was built in 1882-1883 in the Victorian Gothic with Moorish and Romanesque touches by prolific ecclesiastical architects the Parfitt Brothers to serve a congregation that originated in 1866. Its original steeple was blown down in 1944 by a hurricane.
On the SW corner 7th and St. John's Place, diagonally across from Grace Methodist stands Memorial Presbyterian Church, Its congregation was founded in 1866, like Grace Methodist, and this church opened in 1883, making it about the same age as Grace. Its 117-foot high spire has survived storms over the years.
Designed by the New York architectural firm of Pugin & Walter, it was be!nJn in 1882. The church is constructed of random ashlar Belleville brownstone from its lowliest block to the peak of its tall spire… [Landmarks Preservation Commission report]
In a neighborhood marked by exceptional architecture a case can be made for #21-27 7th Avenue, on the east side of the street south of Sterling Place, as among Park Slope's best. The Romanesque Revival buildings were built in 1887. Opera singer Lillian Ward resided in the corner building, #21. I would have enjoyed spending time n that corner turret and looking at the passing scene.
Had I been there on December 16, 1960, the passing scene would have included a crashing a United Airlines DC-8. The plane collided with a TWA Constellation in foggy weather over Staten Island, resulting in two plane crashes killing all souls aboard each plane as well as a custodian in the Pillar of Fire Church. A number of brownstones suffered fires and were razed. A stretch of newer buildings along the north side of Sterling Place west of 7th Avenue mark the site of the crash.
I reached Flatbush Avenue at this point but continued meandering as far as the F train at York Street, but the results will appear in a future page.
As always, "comment…as you see fit." I earn a small payment when you click on any ad on the site.
12/18/22