BY SERGEY KADINSKY
Forgotten NY correspondent
AMONG the important north-south routes in the Bronx is Webster Avenue, which was not named for the early American politician Daniel Webster, nor the linguist Noah Webster; instead it is apparently named for Allan Webster, an engineer in the Department of Public Works when the avenue was mapped, or possibly Joseph Webster, the surveyor on the project, according to Bronx historian John McNamara. Between the Cross-Bronx Expressway and Fordham Road, the avenue carries the U.S. Route 1 designation, giving it membership in a series of connected roads running between Fort Kent, Maine and Key West, Florida.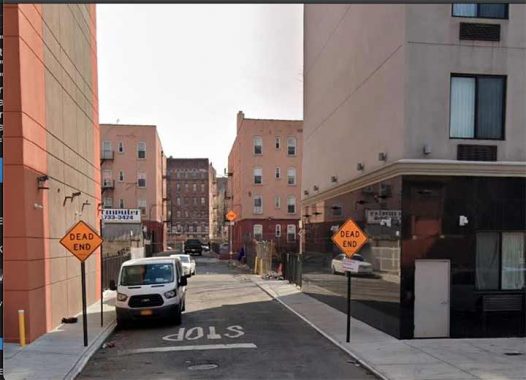 In the Tremont neighborhood, the major road has an obscure dead-end branching off from it, Alden Place. Having never before appeared on Forgotten-NY, it is truly a hidden item. It is located on the block between 178th and 179th streets. It is a block containing nondescript apartment buildings and a dollar store. Curiously, in the past decade, two hotels were built on either side of Alden Place: GWB Hotel and Alden Hotel. The former was built on an empty lot and the latter replaced a laundromat.
The neighborhood is far from a tourism magnet and there are signs in the lobbies of each hotel warning that "prostitution and related activities are strictly forbidden." They didn't get the memo that the newly-acceptable term for this activity is "sex work." Perhaps there are unhoused or undocumented people in need of a bed that explains the presence of two hotels deep in the Bronx, and far from any museums, stadiums, and amusements.
The only address on this alley is 412 Alden Place, an undeveloped lot zoned for residential use. On the opposite side are garages for homes on 179th Street. The alley has a city-issued fire hydrant and one lamppost, indicating that it is a public street.
Officially, Alden Place is a dead-end, but practically it continues as a private alley leading to Park Avenue, the Bronx extension of Manhattan's avenue of wealth as it parallels Metro North's Harlem Line. Why wasn't Alden a full-length street? Was there a stubborn property or a natural feature that resulted in its dead-end?
Looking at the planning map from 1873, Alden Place is not visible, so I highlighted it and marked Mill Brook which flowed alongside Webster Avenue, continuing south to Brook Avenue, Morrisania, Mott Haven, draining into Bronx Kill. Perhaps the dead-end is where Mill Brook used to flow! No traces of this hidden waterway remain today, aside Brook Avenue, Saw Mill Playground, Brook Park, and Millbrook Playground, all further south from Alden Place.
The atlas from 1901 shows a full-block Alden Place but no evidence of Mill Brook. Red indicates brick structures and yellow is made from wood. A window shade factory stood nearby on Park Avenue. None of these wooden residences survived the last century.
On the 1921 atlas, Alden appears as a dead-end with an open lot that allows for access to Park Avenue. The window shade factory is now a glove manufacturer. Mill Brook's course appears as a dotted line paralleling Webster Avenue. There is also another hidden road seen here: Quarry Road, which runs between Webster Avenue and 182nd Street near Third Avenue. It predated the numbered street grid. Today, only the portion to the east of Third Avenue remains on the map as a reminder of the borough's past industry that extracted building materials out of its bedrock.
According to John McNamara's authoritative book History in Asphalt, Alden Place is named for James Alden, a property owner who originally lived in lower Manhattan and bought a portion of Gouverneur Morris II's land in the 1850s, where this short street is located.
Sergey Kadinsky is the author of Hidden Waters of New York City: A History and Guide to 101 Forgotten Lakes, Ponds, Creeks, and Streams in the Five Boroughs (2016, Countryman Press), adjunct history professor at Touro University and the webmaster of Hidden Waters Blog.
As always, "comment…as you see fit." I earn a small payment when you click on any ad on the site.
2/12/23