Ads for this children's stomach remedy can be found all over the five boroughs. Most date back to the Teens or Twenties.
Charles H. Fletcher began selling his Castoria, a mild stomach remedy for children, in 1871. The medicine was heavily promoted on ads and billboards in the late 1800s and early part of the 20th Century, and evidently the paint used for the ads was of a very high grade, because several ads survive to this day all over town.
At left we see a Castoria ad in Chatham Square, where Park Row, the Bowery, and East Broadway meet, in a picture taken in 1900. An eight-story building constructed the same year obscured the ad, and since the building is still standing, this ad would still be visible if that building is ever torn down.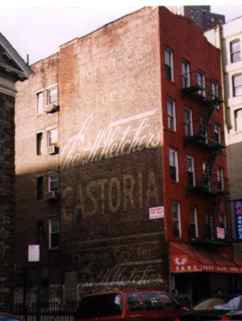 On Market Street, in the shadow of the Manhattan Bridge, can be found this vintage Castoria ad. The sign reads, "Children Cry for Cha. H. Fletcher's Castoria" in the florid, ornate script of the period.
This one bit the dust in mid-2003 as the building was whitewashed.
Fletcher "tagged" this building on Archer Avenue east of Sutphin Boulevard with a Castoria ad. He also put an ad on the opposite side of this building. It can clearly be seen by westbound LIRR trains headed for the Jamaica station, although the ad was put there before the route was elevated and the large Jamaica complex was built.
Compare the ancient Castoria ad to the modern awning advertising transmissions on the right, and the hair salon sign on its left.
Nearly unnoticed amid the bustle of busy Main Street in the heart of downtown Flushing is "Cha. H. Fletcher's" familiar signature. The ad marks its building as one of the older ones in the neighborhood.
In 1998 the building was renovated and the ad was subsequently obscured.
Here's the current Fletcher's Castoria packaging. Note Fletcher's signature at the bottom of the box. It's still distinctly his, although it's rendered in slightly less ornate fashion than on the building ads.
398 Third Avenue. Photo: Anne Bernstein
Also thanks to Forgotten Fan Chris Riley for help with this page.