Ads for the upscale East Side store painted 80 years ago are still good today!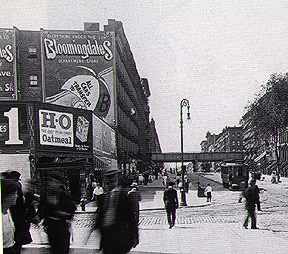 Picture is from New York Then and Now, © 1976 Dover Publications
In decades past, Bloomingdale's, one of the most famous stores in the world, used to advertise their location at Third Avenue and 60th Street with painted signs saying "All cars transfer to …" under a beach umbrella.
The picture above was taken in 1915 at the corner of Lexington Avenue and East 116th Street. The trestle in the distance is the New York Central Railroad, now the Metro-North. H-O Oatmeal is still around.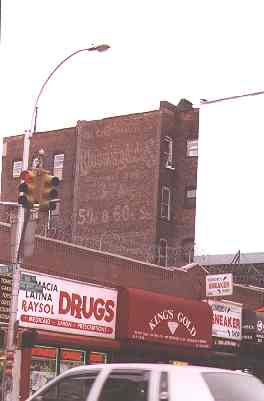 So here we are about 85 years later. Bloomies is still there, on 3rd and 60th, and so is that ad on Lex and 116th.
In the above picture, the umbrellas with "all cars transfer to" is long gone, but its partner on the left, seen partially in the picture, is still on the job.
Photo: Gary Fonville
Photo: Gary Fonville
So there are no less than three generations of wall advertising on display in this scene, on 149th Street at 3rd and Willis, "the Hub".
On the left, Michael Jordan makes one of his many endorsements. (In early 2000, Jordan claimed he was retiring from the endorsement business).
In the middle, an ad that looks like it's from 1950-1960 for Grand General Drugstore.
And, of course, it's painted over a large Bloomie's ad circa 1910-1915.
Possibly, both the Grand General and Bloomies ads were designed to be seen from the Third Avenue El, which went past here until 1955. (The el continued in service above 149th Street until 1973)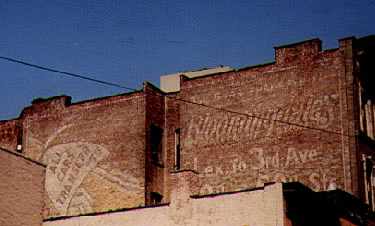 This vintage Bloomie's ad, just off Third Avenue south of "The Hub" at 149th Street in the Mott Haven area in The Bronx, is still clearly readable. It boasts the same umbrella design as in the above picture, and some color still remains. If you ignore the trolley reference, the ad is still doing the job it did 85 years ago!
Note the umbrella faces right in this ad instead of left as in the one above.