Every summer/fall, the NYC Transit Museum takes over Schermerhorn Street, outside the Museum, for its annual Bus Festival, in which buses from decades ago, right up to the present, are on display. Below are a few of the buses exhibited at the 1999 Bus Festival.
66 Court Street, the 3rd tallest building in Brooklyn, provides the backdrop for this GM Model 5101 which plied the streets of the city between 1949 and 1966.
This is the bus model that Jackie Gleason drove in publicity shots for The Honeymooners.
Interior of the above. Although soft, cushioned seats were featured in the 40s and 50s, vandalism forced the TA to install plastic seats like the ones pictured in the 1960s, a few years before the buses were actually taken out of service.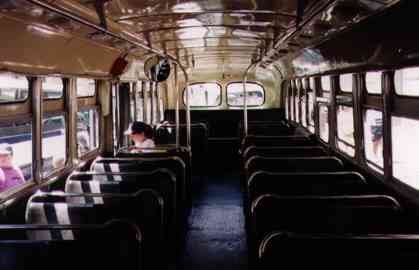 This interior shot of GMC Model 5106 is a more accurate representation of what the original seats were like.
Brother, it's hot in these buses with the air conditioner off and the sun beating in.
I forgot–early buses didn't have AC and you had to open the windows!
GM Model 5106 served the Fifth Avenue M4 & M5 routes between 1958 and 1968.
This double-decked bus was built by the Fifth Avenue Coach Company and served Fifth Avenue and 72nd St in Manhattan from 1917-1930.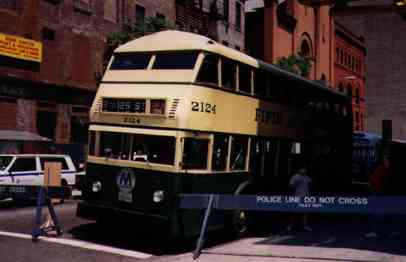 Yellow Coach Company Model 735 served Fifth Avenue in Manhattan between 1938 and 1953.
The first of the "fishbowl" type buses, GM Model 5301 reigned supreme in Brooklyn between 1961 and 1980.
Flxible Corporation built Model 53102-6-1 built this bus which ran in Manhattan and the Bronx between 1973 and 1990.
5/1/1999; revised 5/22/12