Decorative street clocks were often placed on sidewalks to attract business, especially jewelry stores. On this page we'll take a look at some of the ornamental clocks that grace the sidewalks of New York City. Many of these clocks still work!
The Barthman Jewelers store's embedded sidewalk clock on Broadway and Maiden Lane was first placed there in 1899. It has been attacked by vandals and been trodden on for years but it keeps on ticking (with the help of an electric motor.) William Barthman first set up shop in the financial district in 1884.  An organization known as the Maiden Lane Historical Society set up a plaque in 1928 at Barthman's depicting what Broadway and Maiden Lane looked like that year. In 1946, the NYPD estimated that fully 51,000 people stepped on the clock daily between 11AM and 2PM.

As far as I know, it is the only clock embedded ina sidewalk in the USA, although there is another in London.
Barthman's has since moved to the midblock of Broadway between Maiden and John Street.
The beautiful gold street clock in front of the Fifth Avenue Building at Madison Square is in the midst of NYC's toy district. It's been there since 1909 and replaced an earlier clock that had accompanied the Fifth Avenue Hotel, razed in 1908. In 2011 it underwent a complete restoration.
For decades the elegant Fifth Avenue Hotel at Fifth Avenue and 23rd Street attracted princes and politicians, moguls and millionaires. Directly in front of its entrance a tall sidewalk clock conveniently told the time to passing businessmen and nannies pushing baby carriages to Madison Square across the avenue.
But, as was common practice, when the Fifth Avenue Hotel left in 1908, the clock went too.
The builders of the Fifth Avenue Building that replaced the hotel at 200 Fifth Avenue wasted no time in erecting a new clock. In the busy neighborhood anchored by the relatively new Flatiron Building across 23rd Street to the south, a street clock was considered essential.
The clocks served several purposes. Not only were they a convenience for the neighboring shoppers and businessmen, they drew attention to the store or building and provided excellent advertisement.
Desiring their clock to be in keeping with the high tone of their new office building, the owners commissioned the esteemed Brooklyn firm of Hecla Iron Works to produce their clock case. Hecka (named after an active volcano in Iceland) had produced the 133 cast iron subway kiosks as well as important cast iron building facades like the B. Altman & Co. Department Store on 6th Avenue and the New York Life Insurance Building. Daytonian in Manhattan
Bomelstein's Jewelers installed this street clock on Manhattan Avenue in Greenpoint, Brooklyn, decades ago. Bomelstein's is gone, but the clock should be here indefinitely, having been landmarked by the city.
As of 2001 the clock has been restored and is running again.
One of the most important and essential parts of New York's historical fabric is its "street furniture" — lamp posts, street clocks, sign posts, and benches that enhance and maintain the intimacy and scale of neighborhood blocks. Perhaps the most striking of these street amenities are the oversize cast-iron post or sidewalk clocks that proudly dominate city sidewalks.
These clocks proliferated in American cities well after the turn of the twentieth century but many have since fallen prey to automobile accidents and sidewalk ordinances. One of the few that exists in New York today is the clock at No. 753 Manhattan Avenue in Brooklyn.
Introduced in the 1860s, cast-iron street clocks were popular both as everyday conveniences and as novel advertising devices. A small business concern that stayed in the same location year after year would buy a street clock and install it directly in front of the store, often painting the name of the business onto the clock face. When The business owners moved, they usually took their clocks with them.
Readily available from catalogues for about 600 dollars, street clocks were manufactured by several clock companies. At the forefront in the East were the Seth Thomas Company and the S. Howard Clock Company. Seth Thomas (1785-1859), who established The Seth Thomas Clock Company in 1861 (sic), was one of America's pioneer clock manufacturers.
Edward Howard (1813-1904), who founded the E. Howard Clock & Watch Company in 1861, developed an extremely successful clock business in Massachusetts, with a New York office located at 532 Broadway.
Howard with his partner Aaron L. Dennison created the first mass-produced pocket watch, and marketed banjo clocks, figure eight clocks, grandfather, wall, and tower clocks, all of his own design. The E. Howard Clock Company, which manufactured the clocks at No. 1501 Third Avenue and No. 783 Fifth Avenue, produced sidewalk clocks as late as 1964.
The company started to manufacture the street clocks around 1870 and at one time had a patent on them. Street clocks were operated by a mechanism based on a weight calculated according to the number of feet needed for its fall.
The weight was wound up into its highest position and would run for about eight days. Later the clocks were mechanized and operated from master clocks inside The building, and had secondary movements. Measuring about fifteen feet from the sidewalk to The center of the dial, the clocks were larger than human scale, handsome eye-catchers, and effective advertising devices.
Designed with two or four faces, the clocks conformed to a basic composition, with the large round faces mounted on classical columns and bases. Four of the city's extant clocks, all of which are the two-face variety, stand in Manhattan.
Brooklyn's only surviving sidewalk clock is the Bomelsteins Jewelers clock at No. 735 Manhattan Avenue in Greenpoint. It is a typical street clock example, with a rectangular beveled base, fluted column and double sided face. Part of the clock surround has been obscured by a contemporary sign.
–From the 1981 NYCLPC Landmark Designation Report. Photo: Emilio Guerra.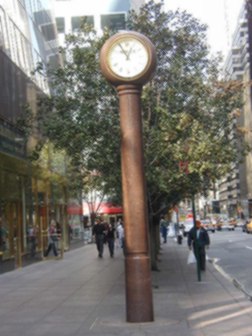 Madison Avenue and East 53rd, outside 520 Madison.
Jamaica Avenue and Union Hall Street in Jamaica, Queens is the home of this clock. It was in front of the old Gertz Department Store, which closed in 1976. It was thought to have been installed by Busch's Jewelers in the 1890s, and is a designated NYC Landmark.
This former clock on Sutphin Boulevard near the LIRR terminal has not had the same fate as the other Jamaica street clock. Its clock long vanished, it's used by a realtor for makeshift advertising.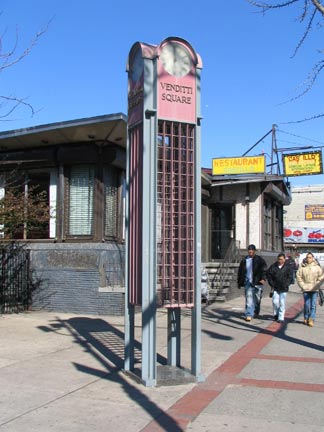 At Myrtle and St. Nicholas Avenues and Madison Street in Ridgewood, Queens is the first of the many odd-angled intersections so prevalent along Myrtle's eastern run. Detective Anthony J. Venditti Square is named for a NYC police officer allegedly killed by a mobster:
The detective grew up in the East Bronx and had been on the force for 12 years, specializing in illegal gambling and Mafia cases. On Jan. 21, 1986, heaand a partner were tracking Federico Giovanelli, reputed to be a member of the Genovese organized-crime family, who was suspected of running a gambling and loan-sharking ring. As Detective Venditti left a diner at Myrtle and St. Nicholas, he was surrounded by three men. His partner, Kathleen Burke, was shot in the chest but survived. Detective Venditti did not.
Mr. Giovanelli, who was seen running from the scene, was arrested with two other men. After three state trials and numerous jury deadlocks, the three were acquitted of murder. They were separately convicted of federal racketeering charges. New York Times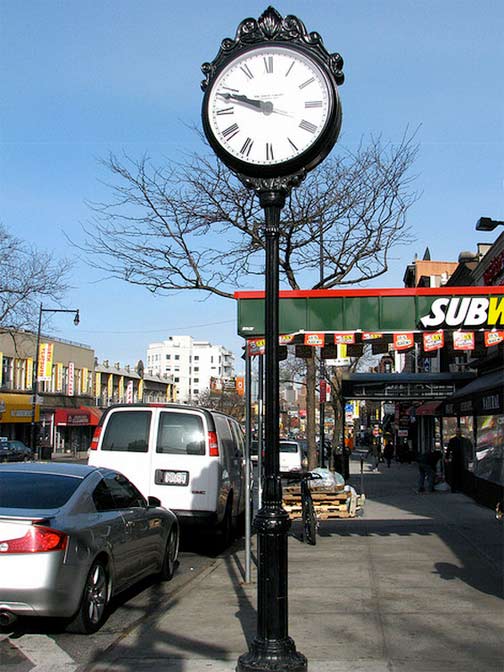 This clock at Flatbush Avenue and 8th Avenue in Park Slope is one of  a pair (the other one is at 6th Avenue) recently refurbished and restored. photo:  Uncle Catherine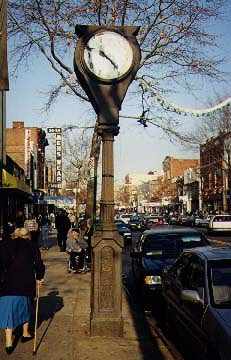 When I shot this clock at 30-78 Steinway Street in Astoria in 1999, it was always ten to five. One of the several clocks throughout New York City designed by Howard Post, the Steinway Clock was iron-cast 100 years ago and installed  in 1922.
In late 2007, it was completely rehabbed by Electric Time Co. of Medford, MA and reinstalled in early 2008, with a new watch face, matching its original design.
The  Yorkville Clock, on 3rd Avenue between East 84th and 85th Streets, celebrated its 100th anniversary in style–with a complete restoration! This story from the September 1996 Our Town weekly tells the story:
The 17-foot tall Yorkville Clock is a designated city landmark, and is one of only 9 remaining street clocks in the city.
After a century of New York street life, the clock had reached a perilous state of decay. Last November, it was dismantled and shipped to Utah for a ten-month, $18,000 restoration, paid for mostly by donations from Upper East Side families.
The Yorkville Clock was originally installed in 1898 as an advertisement for a jewelry store in the shadow of the old Third Avenue elevated train.
In 1985, a city employee mistakenly sold the clock as surplus to a Long Island collector. The Koch administration tracked it down and by1989 it was back in service, this time next to a McDonalds. But its troubles were not over.
"When I ran across it, one of its faces was smashed and it was covered with graffiti", said Margot Gayle, the leader of the volunteer group which adopted the clock.
At age 91, Gayle has a career of clock rescue behind her. Back in the 1960s, she organized Greenwich Village residents to save the Jefferson Market clock, and went on to advocate on behalf of clocks from City Hall's cupola clock to the timepiece on Staten Island's Borough Hall.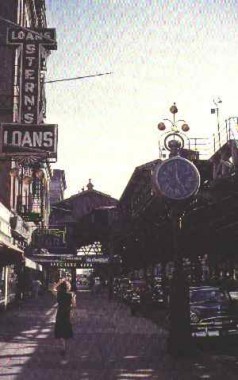 Here's the clock in 1955, shot by Lothar Stetler in the book By the El; the el was torn down that same year. 
A relatively new addition to the genre is the Tribeca Grand hotel clock (installed in 2000), at 6th Avenue and Church and White Streets.
At 146 Duane Street in Tribeca is one of NYC's most notable building clocks — look at the intricate metalwork on the bracket. It is a remnant of wholesale shoe company Nathaniel Fisher & Co. When a fire struck the headquarters in 1895, the NY Times reported that it had already been in business for 50 years. The clock may be nearly 150 years old.
Each side has a different clock face, likely a modern development.
5th Avenue just below 44th Street. Jim Naureckas of NY Songlines: The sidewalk clock here– once a common sight in New York–was built in 1907 by Seth Thomas, a clock company founded in 1813. 
The clock was in a photo by celebrated photographer Berenice Abbott in 1938.
Possibly the most unusual location for a street clock of this type is the one on the boardwalk at Riis Park.
This was taken on Super Bowl Sunday in 1999, on the deserted boardwalk.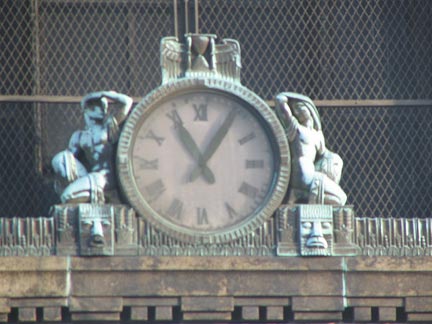 This is on a former NY Times printing plant and current school, on 3rd Avenue and Dean Street in Brooklyn.
Classic neon with clock, in Westchester Square, Bronx
Metropolitan and Forest Avenues, Ridgewood. The building was since demolished but the clock has been saved by the proprietor of Enchanted Florist on Grand Avenue.
5/1/1999; revised 5/22/12