I've been visiting the amazing Historic Richmond Town in the heart of Staten Island for a few years now — and if you haven't been there yet, I'd heartily recommend a visit to this enclave of 18th and 19th Century houses, businesses and establishments brought in from all over the Island. They're all lovingly restored to the conditions they were in when first built, and employees and volunteers in 18th Century dress are there to show you around. And, let's not forget the Staten Island Historical Society Museum, in an original 1848 building, contains an amazing amount of artifacts from early Staten Island, including some amazing maps.
Richmondtown, though, isn't what we'll be concentrating on on this page. Let's take a walk into the relative wilderness of Latourette Park, which is just west of the Restoration…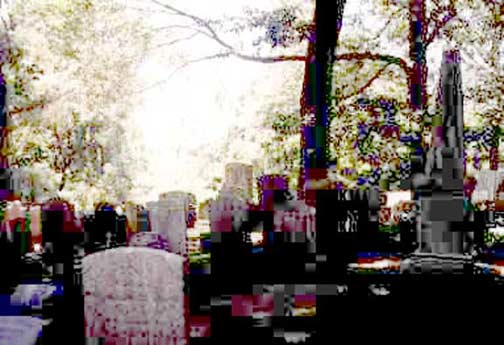 Begin at St. Andrew's Cemetery and Church on Richmond Hill Road, just north of Richmond and Arthur Kill Roads. It's one of the few reminders of New York's colonial past, having been established in 1709 and still in the possession of its original charter from Queen Anne. The church building itself dates to 1872 (replacing the original building). Many of these stones date back to the early 1700's.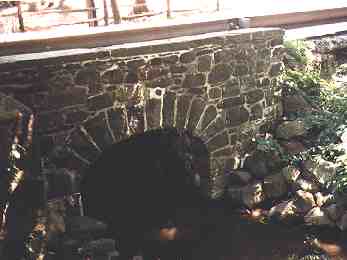 Richmond Creek, which flows through Richmondtown and Latourette Park, flows under Richmond Hill Road in the Cemetery. Here is the last remaining 19th Century stone arch bridge left on the Island, carrying Richmond Hill Road over the creek just after it negotiates two dangerous curves on its way down Snake Hill from the Latourette Park golf course. The bridge dates to 1845.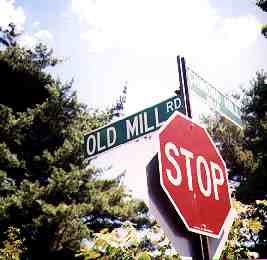 Just north of the cemetery entrance on Richmond Hill Road, you'll see a road called Old Mill Road trailing off into the distance. It looks like a dead end with a gate at the end of the street at the St. Andrews Church rectory. It is a dead end…but to cars only. For hikers and pedestrians, it's a gateway to the wilderness. Hike to the end of the road and step around the gate.
Once you're through the gate, Old Mill Road becomes the stagecoach and cart path it once was before electricity, radio, mail delivery, victrolas, and other 20th Century conveniences. Old Mill Road was once the main route between Richmondtown and New Springville and Travis, on the other side of Staten Island.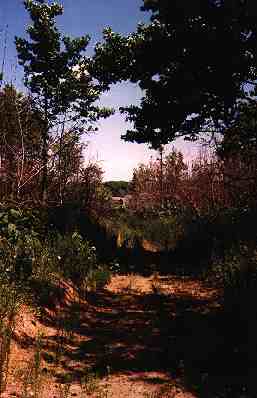 LEFT: looking on Old Mill Road towards Richmondtown
Richmond Creek, at this point, is shielded from view by the tall grass, reeds and phragmites. (Note: when walking this trail in the summer, bring bug repellent and check for ticks after your hike. Lyme ticks are rare in these parts, but not the usual dog ticks.) We are walking on a thin soil cover over rock called serpentine, which is actually a rare rock as rocks go, being found in quantity only here and in Pennsylvania and Quebec. Near this point is the ancient seam that differentiated the continents of North America and the northern point of Africa when they were in close proximity as recent as 230 million years ago.
In about a mile you come to a clearing and you find a fork in Old Mill Road. At this point once stood a fruit orchard and two grist mills. The ruins of these mills can still be found in the marshland up ahead, but I'm unsure where. Continue along the road on the right and continue forward for about half a mile. You'll come upon the end of Old Mill Road at a rather wider path where you have the option to go right or left. This is the original path of Forest Hill Road. Forest Hill Road was redirected some decade ago and is now a major feeder road into the Staten Island Mall complex (you can hear the traffic at this point) but here, it's peaceful and quiet.
LEFT: the fork in the road is just before this point. How much sky can you see in other parts of New York City.
Continue to your RIGHT along the old Forest Hill Road path. Judging from the Budweiser cans I found with 1960s and 1970s label designs, this stretch of path isn't exactly visited all that much.
You will eventually reach this unnamed brook with a stone bridge. At this point reverse course and follow Forest Hill Road down to its intersection with Old Mill Road. If you continue forward you will reach the modern busy intersection of Forest Hill and Richmond Hill Roads.
Once returned to Old Mill Road, retrace your path back to Richmondtown for a short distance. But we'll be taking a detour on one of the trails, the Blue Trail, set up by the Parks Department to aid hikers.
NOTE: the trail we are about to take a look at is for the sure-footed only. If you are unsteady or handicapped, do not use the Blue Trail; return to Richmondtown along Old Mill Road.
The Blue Trail is an amalgamation of nature trails that begins in Clove Lakes Park, 5.5 miles to the northeast.
Look carefully on the left side of Old Mill Road as you're going back to Richmondtown. You will see a narrow path that is marked by a bright blue "blaze" on one of the trees. This is the Blue Trail. It is marked at intervals by blue marks on trees, rocks, or blue ribbons on branches.
The Blue Trail leads you through thick woodland, up and down hills for about one and a half miles. Occasionally you will have to deal with branches across the path and an unsteady surface. The path twists and turns, so carefully follow the blue blazes!
The Blue Trail leads you past the unmarked site of Fort Hill, a British fort during the Revolution. Be persistent and you will eventually come across a clear spot with the Latourette Park Golf Course on your left, and a gorgeous vista on your right.
In this view from the crest of the cliffs overlooking Old Mill Road and the rest of Latourette Park, the twisting, turning Richmond Creek is plainly visible (and available for canoeing). Beyond that is the Staten Island neighborhood of Eltingville.
Looking southeast from the same spot, you can get a magnificent view of old Richmondtown that this 72-dpi rendering doesn't do justice to. Note the spire of St. Andrews Church on the left.
Follow the Blue Trail along another twisting path and you will come to its apparent end at the golf course and Richmond Hill Road. At this point, you have the option to call it day, return to Richmondtown and get the bus back to the ferry, or continue on into the very interesting neighborhood of Lighthouse Hill. Of course, I did the latter.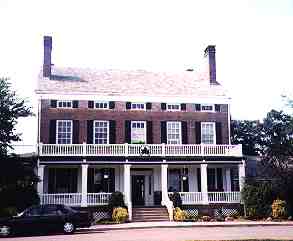 The Latourette House, now used as a clubhouse for the golf course, dates to 1836 (the golf course itself to 1934). The Latourette family continued to farm in this area until 1910, and the family sold the property to the City in 1928.
Exit the golf course parking lot at Edinboro Road and follow it until you reach Rigby Street. Turn right on Rigby and follow it till you reach the bend in the road to your left. On Manor Court, you find a beautiful, unusual house.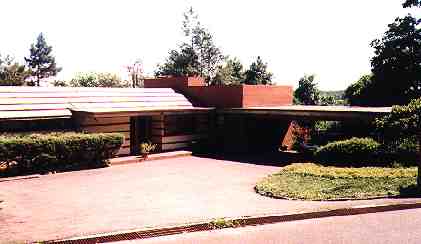 This is Crimson Beech, the only New York City residence designed by legendary 20th Century architectural master Frank Lloyd Wright. The house is named for a copper beech tree that originally graced the property. A 1967 hurricane felled the original tree, but a new one was planted in its place.
The building is at the edge of Lighthouse Hill, 200 feet above sea level, and takes full advantage of the spectacular ocean views. It is of Wright's famed "prairie" design ranch houses and was built in 1959. The house was commissioned and built for New York personnel agency president William Cass and his wife Catherine. It has been sold twice since this page was written, most recently in 2002.
Wright died in 1959 and did not see the completed house.
They don't call it Lighthouse Hill for nothing.
The Ambrose Channel Range Light was built in 1912. It's more commonly known as the Staten Island Lighthouse and is the largest of Staten Island's lighthouses. Even though it's far inland, its light can be seen far out to sea, as it stands on one of the Island's highest hills.
The view at left is from Manor Court, up the block from Crimson Beech.
From here, I wandered around Lighthouse Hill a bit. It's an area of great wealth, but in some ways, it's still emerging from its original rurality; you expect to see a country general store or little red schoolhouse. There is the occasional corral for horses. Richmond Creek still gurgles its way through the area.
Sources:
Secret Places of Staten Island, Bruce Kershner, Kendall/Hunt 1998
Richmond Town and Lighthouse Hill, Margaret Ferrer, Arcadia 1996
8/6/1999