Once upon a time, trolleys clang-clanged their way through the streets of Brooklyn, Manhattan, the Bronx and even parts of Queens and Staten Island. Trolleys ruled to the degree that the thin peninsula of Coney Island could boast not one but two east-west trolley routes! One of them ran down Surf Avenue from West 37th Street east till it joined up with the trolley that ran on Gravesend (McDonald) Avenue.
The other, known as the Nortons Point line, ran in a right of way between Surf and Mermaid Avenues from a terminal at the Stillwell Avenue elevated complex west into the private community of Sea Gate. Two trolley lines on virtually the same route, though, finally proved redundant and service ended in December 1948. For a few years, the old right of way was kept open as a street named Railroad Avenue, but this too was soon closed and for the last forty years the old route has been made nearly invisible by new construction. But… if you know where to look, a trace or two of the Nortons Point line is still there!
The title card shows the Nortons Point trolley crossing a Coney Island cross street is a fairly rural scene almost unimaginable today.
This 1938 Geographia map shows Coney Island with the Nortons Point line visible as a dotted line between Mermaid and Surf Avenues.
Grooves in the paved roadbed at Oceanic and Surf Avenues reveal the path of the Nortons Point trolley line.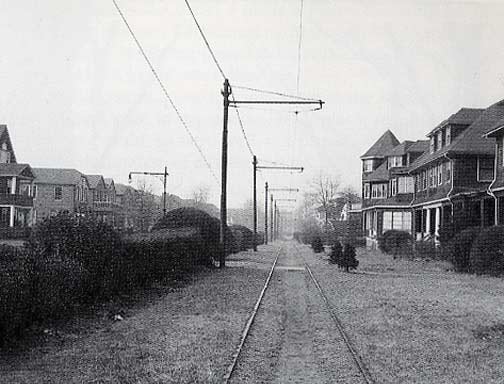 The Nortons Point line runs through Sea Gate in the 1930s.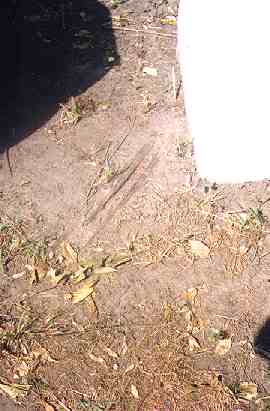 This is one of the wooden railroad ties left over from the Nortons Point Trolley.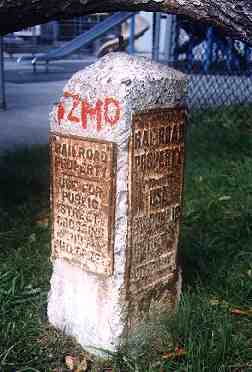 Need further proof that a trolley once ran here? This marker is just inside the gate. It reads:
Railroad Property
Used for Public Street Crossing Not Authorized
I honestly don't know what function this marker actually had, but it's 'railroad property'–so the trolley ran right here.
I first shot this page in September 1999 — I haven't been in Sea Gate since, and I'd like to know what became of these artifacts!
orig.10/14/99
Photos: Confessions of a Trolley Dodger from Brooklyn, Stan Fischler, H&M Productions 1995