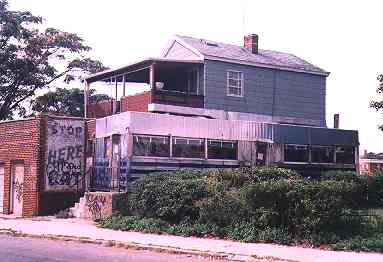 In 1999 I found this abandoned diner on 91st Avenue and Rockaway Boulevard in Ozone Park. It could have been abandoned a week before or ten years before…it's all the same. The dishes were stacked neatly inside, the stalls are ready for customers that would never come again. Perhaps there were decades worth of ghosts of diners past waiting to be set free in there.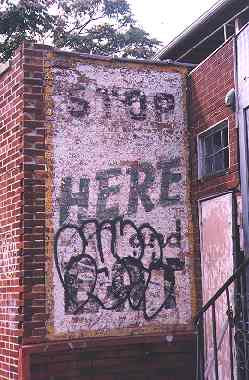 I suppose you could still "stop here and eat" but you couldn't do it in the diner.
Rockaway Boulevard, where the diner was, is a main thoroughfare between the Rockaway peninsula and eastern Brooklyn. Its importance was lessened after Robert Moses constructed the Belt Parkway in the late 30s and the Cross Bay Bridge was built, but it must have been pockmarked with diners like this one at some time.
The sign on the front door says "closed due to illness" in this photo, taken in mid-1999.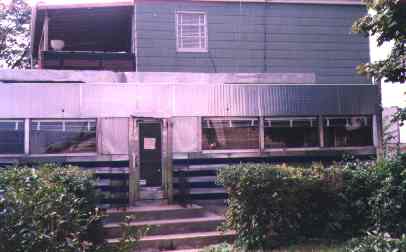 When I came upon it the diner appeared to have been hastily evacuated. Piles of dishes were still piled on the counters. Though I had heard from various Forgotten fans about it, in 2006 I received what is likely the definitive story behind the Abandoned Luncheonette from Forgotten Fans Steven Turczyn and Lori Anderson.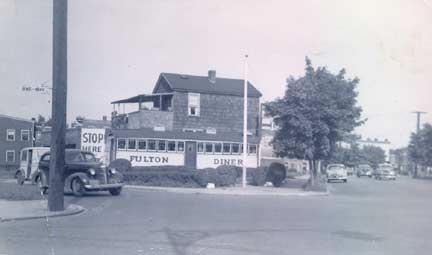 Steven: "It was originally named "Walter's Diner." My family (The Schulz) bought the diner around 1940 (when this photo was taken). It was named the Fulton Diner ever since."
Note: original "Stop Here and Eat" sign
"When my grandfather passed away, my dad and mom, Pete and Eleanor Turczyn, continued the family business."
above photo: 1994.
Lori: "Steve's dad suffered from a stroke (I believe late in 1997). In 1999 his father died of a heart attack (8/99) just a few days shy of their anniversary. Six months later his mom passed away peacefully in her sleep (12/99)."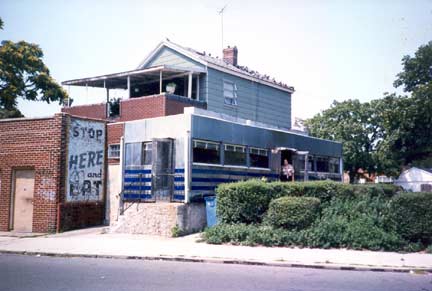 above two photos: 1994
The Abandoned Luncheonette was torn down in late 2000.
Another casualty in the increasingly anonymous New York City.
10/9/99