I sometimes hear the musical question, so what was at JFK Airport before JFK was built?
Well, there was something there, though not a whole lot. Before the 1940s, the huge area that became home to the airport was basically a big marsh with creeks running though it, with small settlements dotting occasional roads that ran through the marsh.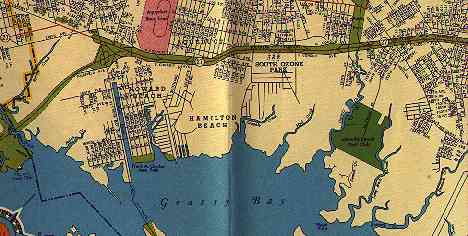 This 1940 H.M. Gousha map shows JFK before JFK was there. (I can't make it any larger, or else it would take forever for it to show up on your screen). The green line at the top is the Belt Parkway. Howard Beach, at left, is still there, as is Hamilton Beach, but everything east of that has runways and seagulls on it now. The green patch at right was the Idlewild Beach Golf Club. Small creeks ran into Jamaica Bay, at bottom; from left to right, they are Shellbank Basin, Hawtree Basin, Doughty Creek, Mud Creek, Cornell Creek, Denton Creek, Long Neck Creek, and Hassock Creek. The first two are still there, but the others have been landfilled out of existence, with a new one, Bergen Basin, created.
The area along the New York, Woodhaven and Rockaway Railroad (later the LIRR Rockaway Branch, and even later, the IND "A" train) had several small settlements clustered along it. It was ideal for fishing, shellfishing and bathing due to cleanliness of the waters. Glove manufacturer William Howard built a resort-hotel-recreation complex near what is now 165th Avenue and Cross Bay Boulevard that became a playground for the rich and famous. The resort burned down in 1907, though, and Howard set his sights on developing a new neighborhood to the immediate west, which became known as Howard Beach.
However, in 1916 Jamaica Bay was closed to all recreational activities because of advancing pollution. Though Howard Beach continued to thrive, gradually, the little settlements and towns along the railroad became ghost towns, and disappeared.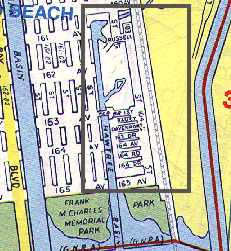 What concerns us today, though, is the little region of Queens wedged between Hawtree Basin and the IND.
Hawtree Basin was dredged by William Howard soon after his hotel and resort burned down in 1907. The area west of Hawtree Basin had a grid network of streets built in it, and had model homes built on it. What's east of Hawtree Basin has retained a great deal of the appearance it must have had 100 years ago, however.
This is the very old Ramblersville section, before William Howard or any other developers arrived. It's known as West Hamilton Beach these days.
Russell Street is the only way to get into Hamilton Beach by car. You turn left from the end of 102nd Street, go down Russell, and then turn right on 104th, and you're there.
By train, take the A to Howard Beach and walk down 102nd Street south.
Just before you get to Russell Street there is a dead end called Remsen Place. This street commemorates local landowner Colonel Jeramus Remsen, who headed the Queens County regiment during the Revolutionary War. Ramblersville was known as Remsen's Landing just after the Revolution.
Hamilton Beach has its own system of short alleys and twisting streets that don't turn up on NYC official maps. "Broadway" straddles 102nd Street just south of Remsen Place.
You are never far from the water in this part of town. Small channels and canals meander through the area and boating is chief recreation. Shacks, some abandoned, some on stilts, face the channels.
On occasion, a boardwalk bridge is necessary to get from one house to another.
165th Avenue, the southern end of Hamilton Beach, has the distinction of being the highest numbered avenue in Queens.
A boat is sometimes a better bet in Hamilton Beach.
Street signs are strictly home made in Ramblersville.
Among other unmapped streets here are Rau Court, Davenport Court, First Street and Bayview Avenue.
A short cut is this rickety, precarious boardwalk, stretching from Russell and 104th north to the A train station, who knows how many decades old, that runs between the canal and the subway tracks. Watch your step!
2003: The city has replaced this treacherous wooden walk with concrete.
4/9/2000