Forgotten Fan Jeff Saltzman (of the Streetlite Nuts website) accompanied me in the summer of 2000 on a tour of the tiny neighborhoods, barely in Queens, that cluster around Rockaway Boulevard east of JFK airport, as well as a trip out to the deserted Edgemere section of the Rockaway peninsula. These locales are barely acknowledged in NYC annals and guidebooks…and constitute the last frontier of NYC (outside of some sections of Staten Island). One of them contains the only bridge between New York City and Nassau County.
The Road to Meadowmere
First Presbyterian Church, Springfield Boulevard and 137th Avenue. Several old churches and cemeteries are scattered along the boulevard, which runs through St. Albans, Cambria Heights and Rosedale. Parts of these neighborhoods used to be known as Springfield. Though much of the area was settled in the 1940s, this church, from the early part of the century, remains from the early days.
Springfield Boulevard, along with Linden Blvd., Farmers Blvd. and Merrick Blvd. were the first roads through what became Springfield Gardens.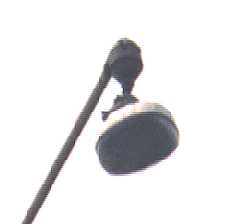 When we passed by in 2000, this post sported GE Form 109 luminaires. These were rare in NYC, though they were used in the early 1960s on Manhattan's 6th Avenue lampposts before being replaced by GE M400s and the occasional Westinghouse OV-10s.
Speaking of lampposts…as befits a last frontier of New York City, before you enter Nassau County, some bizarre leftovers from previous eras prowled here like tyrannosaurs on Borneo.
Amazingly enough, a castiron survivor. Until the 1980s Rockaway Blvd. had a few dozen of these poles along its route, but this stood until 2003 as a reminder of a more ornate era. It came complete with two vintage highway signs.
Heading southeast on Rockaway Boulevard, at its intersection with Brookville Boulevard…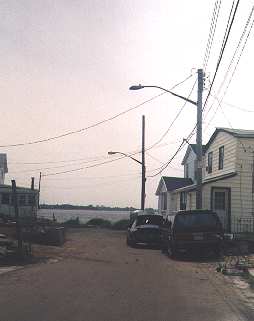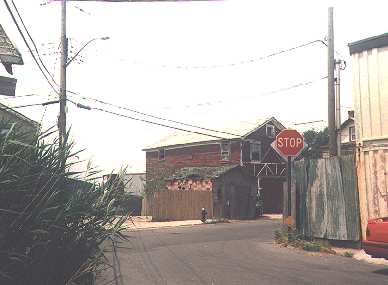 At Rockaway and Brookville Boulevards is a small community of mixed use–homes, auto parts stores, and one restaurant–centered on two unmarked streets known as Bayview Avenue and Broad Street, which meet at the corner shown second.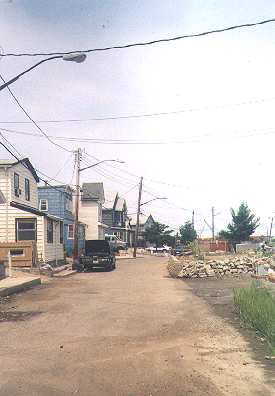 Unpaved Broad Street stretches toward Thurston Basin.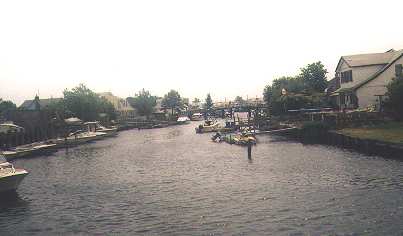 Pressing further down Rockaway Boulevard you come to an inlet known as the Head of Bay. It forms the border between Queens amd Nassau counties as it stretches north into Rosedale.
Across this inlet is a Nassau County community known as Meadowmere Park.
A quirk of geography allows a small lip of Nassau County to forge north into Queens, separated from the NYC borough by the Head of Bay. At one point you have to travel west from Queens to get into Nassau County.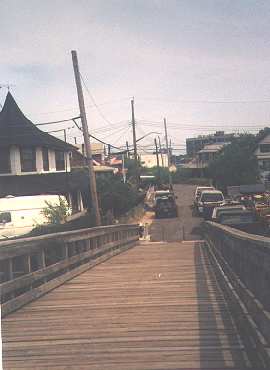 Footbridge between Queens and Nassau. Left, the Nassau side and at right, facing Queens.
Two other bridges connect Queens and Nassau, but this is the only one that is divided evenly between the city and its neighbor to the east, or west in this case.
A small neighborhood has existed on the Queens side for the better part of this century. It's politically in Queens County but for all intents and purposes, it's a part of Nassau. I'm unclear as to what the exact name of the neighborhood is; the Nassau side is called Meadowmere Park.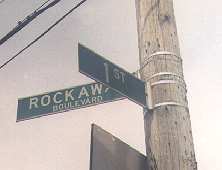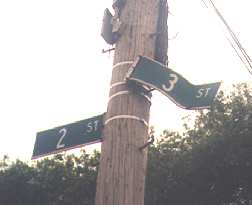 Its street naming system has nothing to do with the rest of Queens.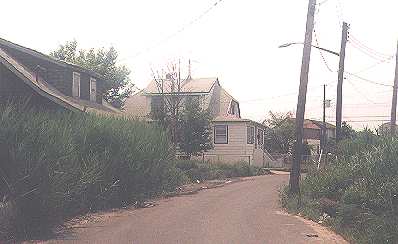 A look down weedy 1st Street, and a vintage school bus.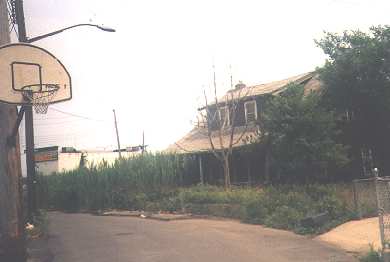 1st Street and Meyer Avenue
A look at Meyer Avenue from the footbridge. The ancient Victorian-era house must have been one of the first houses built here.
Leaving Meadowmere, Rockaway Blvd. becomes Rockaway Turnpike once you get into Nassau County. A drive west through Far Rockaway leads to Edgemere, one of the eeriest places in New York City, where a once-bustling seaside community with a boardwalk and bungalows was leveled by bulldozers decades ago. Now Nature is taking over again.
After a drive west on Beach Channel Drive, we wound up in the Hammels area in the Beach 60s, which has since built up as Arverne By the Sea, but was then acre after acre of emptiness.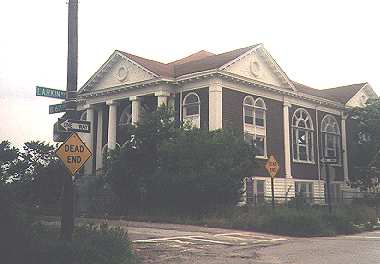 At Larkin Avenue and Beach 67th Street, an abandoned synagogue stands above the encroaching dunes.
The synagogue burned down in 2003.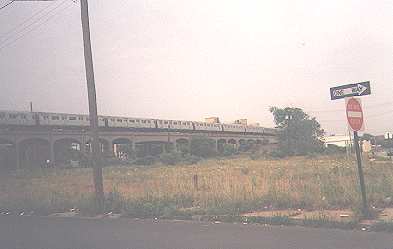 The IND subway, on a right of way purchased from the Long Island Railroad in 1956, rumbles near the empty lots at Larkin Avenue and Brach 67th Street.
Above, Beach 65th. A few streets in the area have been inexplicably repaved, despite the fact that there are no buildings on them and virtually no auto traffic.
Beach 67th.
Beach 67th.
Beach 69th.
Above, another lamppost fossil: a two-light stoplight, of which there were a few dozen on the Rockaway Peninsula. A double red and green stands for yellow. There were a number of these on Rockaway Beach Boulevard and Edgemere Avenue, but they were changed to standard three-color stoplights in the early 2000s.
A visit to Connolly's Pub, once a hotel on Beach 91st Street, completed the journey.
9/3/2000; rev 2012