The LIRR Bushwick Branch, probably the least-known active railroad in New York City, runs from Bushwick Place and Montrose Avenue in Bushwick, Brooklyn to its junction with the Long Island Rail Road Montauk Branch near Flushng Avenue and Rust Street in Maspeth, Queens. At some points it's smooth and well-maintained, but at others, it's overgrown with weeds.

Hard to believe it now, but this building, since demolished, was the last vestige of the passenger terminal of the Bushwick Branch at Montrose Avenue.
Here's a view of the Bushwick passenger terminal in a picture from the 1910s. Steam engines served the station until 1913. This was one of two Brooklyn terminal buildings; the one at Flatbush and Atlantic Avenues lasted until 1988.
There's not even much indication that there's a LIRR presence here except for this sign.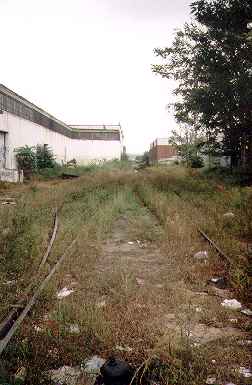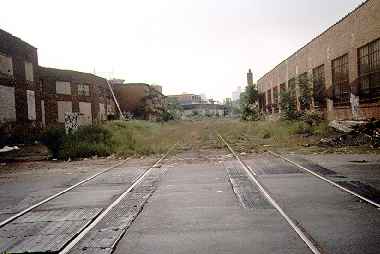 Both sides of the Morgan Avenue crossing. The Bushwick Branch is overgrown with weeds at this point.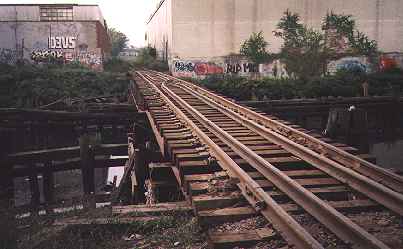 This rickety bridge takes the Bushwick across the English Kills, a tributary of Newtown Creek. I did NOT attempt to cross this bridge since, as you can see, there are numerous gaps in the ties.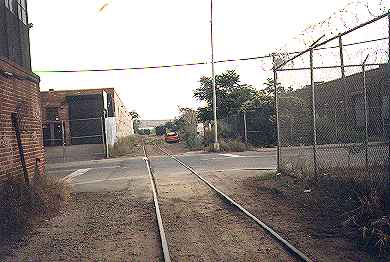 The Varick Avenue crossing features a relatively well-kept right of way.
This rusting footbridge, from which an impressive view of Manhattan can be obtained, is at Scott Avenue. The footbridge still has its original light fixtures. The bridge dates to 1952.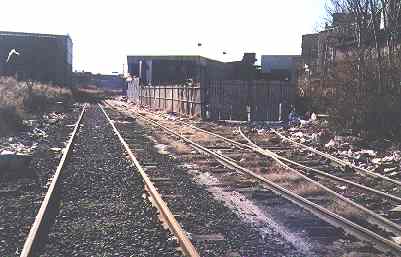 Metropolitan Avenue features a muddy, garbage strewn right of way.
RR Crossing signs are haphazardly posted at Metropolitan Avenue, but they do the trick.
The Bushwick joins the Montauk Branch, whose own passenger service west of Jamaica was cut back drastically in 1988, underneath a building in Maspeth.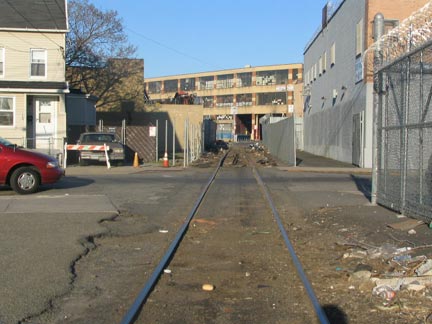 The right-of-way crosses 55th Street. Flushing Avenue is directly ahead. In March 2004, a locomotive that wasn't secured got away here.
Andrews Avenue Bridge, before and after reconstruction.
For more on the Bushwick Branch, see Bob Andersen's LIRR History page.
Sources:
Victorian Railroad Stations of Long Island, Ron Ziel and Richard Wettereau, 1987 Sunrise Special Ltd.